Parents, children and supporters marched through the streets of Strathcona Friday morning demanding more childcare spaces in response to a neighbourhood daycare closing its doors.
Friday marked the last day for the Phil Bouvier Family Childcare Centre. Operated by the Vancouver Native Health Society (VNHS), the centre, which opened in 2008, mostly serves families from that neighbourhood and the Downtown Eastside.
"This daycare has done so much for the community," said parent Angela Giannoulis, who organized the rally. "The teachers here have done so much, many teachers have been here since the day it opened 10 years ago. We cannot let this day go by unmarked."
Her three-year-old son attended the daycare for two years before recently starting at a new daycare because of the impending closure.
"We felt really fortunate when we were able to get into Phil Bouvier," said parent Nathan Allen. "We love the staff there, they were so amazing with all of the kids there but we realized very quickly that there was a big problem with the Phil Bouvier Family Centre and that was the management there… This is really shameful that we've come to this point where in the midst of a childcare crisis we're having fewer childcare spaces as a result of the mismanagement of this centre. We really need a way forward to make sure childcare spaces are secure in our community and protected and even growing, and it's just shameful that we're at this point right now."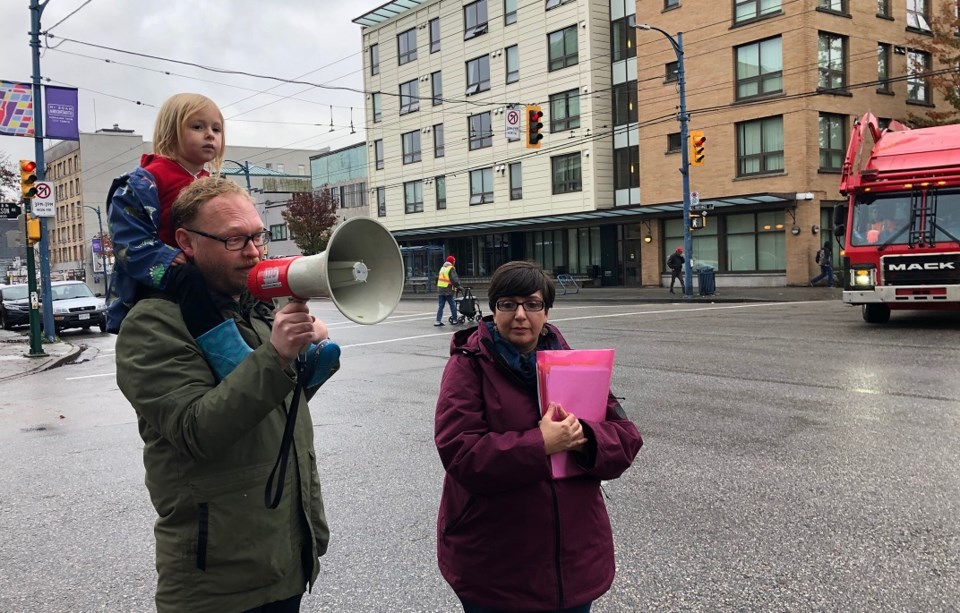 Standing outside the centre on Princess Avenue, the group of about 50 people shouted "Shame" and "No accountability. No consultation. No transparency."
"We've got a whole bunch of kids in our neighbourhood," said parent Jennifer Guest. "We have a lot of working parents. How is this happening? This is our daycare. We don't have a replacement in our neighbourhood. I'm appalled. I am appalled."
Kate Hodgson, coordinator at nearby Ray-Cam Cooperative Community Centre, talked about how the centre benefited children in the community. When it first opened 10 years ago, data measured by UBC's Early Learning Project showed that more than 70 per cent of children in Strathcona were not school ready when they started kindergarten.
"That was the highest vulnerability rate across the province of B.C. … since 2008 we've worked here, at Ray-Cam, at other community centres and we changed that rate," she said. "We're the only neighbourhood in the province of B.C. to improve to 52 per cent vulnerability. No one else was able to do that… We're worried we're going to step back."
Parents were first notified of the society's intention to close the childcare centre back in June. A little over a month later, the City of Vancouver issued a statement touting that the daycare centre had been saved by a $42,000 grant from the city through the 2018 Social Grant program, which includes an annual grant as well as transitional funding, and the Central City Foundation, which owns the building, agreeing to share the cost of transitional funding.
However, the society never received any of the funds because it had not met any of the conditions of the grant, which includes the requirement of a transition plan and an updated budget.
In 2007, Central City Foundation (CCF) received a $200,000 grant from the city to renovate the building. One of the stipulations was that it remain a daycare centre for at least 15 years. If not, the foundation would have to repay the $200,000 back to the city. In October, Sandra Singh, manager of arts, culture and community services with the City of Vancouver, sent a letter to CCF reiterating the city's expectation that the foundation ensures 49 licensed childcare spaces at Phil Bouvier.
"The city knows parents are very concerned, and shares those concerns," the city said in an email to the Courier. "The City hopes CCF will maintain these valuable childcare spaces for families who need them most."
Jennifer Johnstone, CCF president and CEO, said in an email that VNHS is "transforming the Phil Bouvier Family Centre and will be operating a new kind of childcare at the centre. They have assured us that there will be community based childcare that meets the needs of Indigenous children and families going forward," she said.
"Our tenants are changing their program, but it will still be childcare and it will still be a community use. We are therefore not in breach of our agreement with the city. We believe that we and the city are trying to achieve the same end, that this facility is home to a non-profit community organization that is offering childcare."
B.C. Government and Service Employees's Union president Stephanie Smith also attended Friday's rally.
The decision to close the daycare centre came at around the same time employees voted to join the union. The society and the union negotiated a settlement agreement to govern relations between the two sides while a collective agreement is worked out. Part of the settlement agreement is the commitment to keep that daycare centre open until November.
"We have worked side by side, shoulder to shoulder with parents, with families, with community organizations to make every effort to keep this incredible centre open and here we are today," Smith said. "Now that fight's not over as far as I'm concerned. We know that our government is making the largest in childcare in our province's history and so to have a centre closure while we're investing in new spaces and investing in staff and investing in families is not right… we need to continue to fight for quality childcare spaces of which this centre is definitely an example of."
The Vancouver Native Health Society could not yet be reached for comment.
@JessicaEKerr
jkerr@vancourier.com