This article first appeared on the Westender's sister website REW. To read the original article, click here. For more real estate news, go to rew.ca/news.
Well-known local philanthropists Joe and Rosalie Segal have put their Point Grey property on the market for $63 million – very likely by far the most expensive listing in Canada, and which would set a record if sold at listing price.
Sotheby's International Realty Canada has not listed the oceanview mansion on the MLS® nor released the address, but records show the property is at 4743 Belmont Avenue – the West Point Grey road famously known as "Billionaire's Row".
Self-made businessman Joe Segal, now 92, founded the Fields department store chain and created a successful holding company, Kingswood Capital. In 2010, the Segals made news with their $12 million gift to the VGH and UBC Hospital Foundation for a mental health facility known as the Segal Centre.
The home that the Segals are listing is close to 22,000 square feet, and located on a very private, 1.28 acre lot that slopes down towards the ocean, with incredible views of English Bay and the North Shore mountains. It has elegant, terraced gardens and opulent interiors, including a spectacular indoor swimming pool. There are two huge halls that can seat up to 100 guests for parties and concerts, as well as five bedrooms, 12 bathrooms, an elevator, a six-car garage and a separate suite with its own entrance.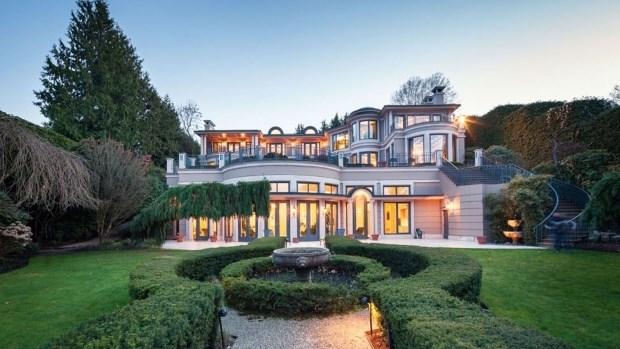 The Segals bought the empty lot in 2007 for $7 million, and Rosalie Segal oversaw the construction of their home. It was most recently assessed, in July 2016, at $40.3 million – at a time just before the foreign buyer's tax was introduced and single-family detached home prices were at their peak. Super-high-end homes on the West Side have slipped in price since that time.
The Segals' home is by no means the highest-assessed property in Vancouver — that honour goes to Chip Wilson's $75.8 million home nearby on Point Grey Road, while the Segals' neighbour at 4707 Belmont Avenue has the second-highest assessment in the province at $69.2 million.
The next most-expensive home listed for sale in Vancouver — Canada's previous priciest listing, and still topping the MLS® price charts – is this Shaughnessy mansion, listed for $46.8 million.