Apart from a few angry chants of "Shame, shame shame!", Tuesday night's rally against the NDP government's "school tax" was pretty tame compared to the affordable housing sit-in that had blocked access to Vancouver city hall earlier in the day.
Of course, the focus of people's anger, Point Grey MLA David Eby, was not present, although it's hard to say if that had caused a calming effect among the roughly 300 people gathered at Trimble Park.
The rally was originally intended to be outside Eby's sold-out town hall at the St. James Community Square. However, on Tuesday morning, Eby, who is also the province's Attorney-General, wrote on Facebook that after hearing that "angry" protesters were going to "march on in" the hall, he decided that the safety of the people who had tickets, as well as volunteers and staff, could not be guaranteed and therefore cancelled the event.
He also mentioned that "people were opening the [constituency office] door and shouting at my staff and calling up the office and yelling at my staff and so on. We're vulnerable at that point."
That reasoning did not hold water for Jeff Petter, one of the rally's organizers. He told the Courier that Eby had originally scheduled a town hall to hear constituents' concerns about the new surtax three weeks ago. After all 300 free tickets were swept up within 24 hours, the town hall was postponed until May 1 at the same location. "He should have changed the location three weeks ago given that the intention was to hear from people," Petter said.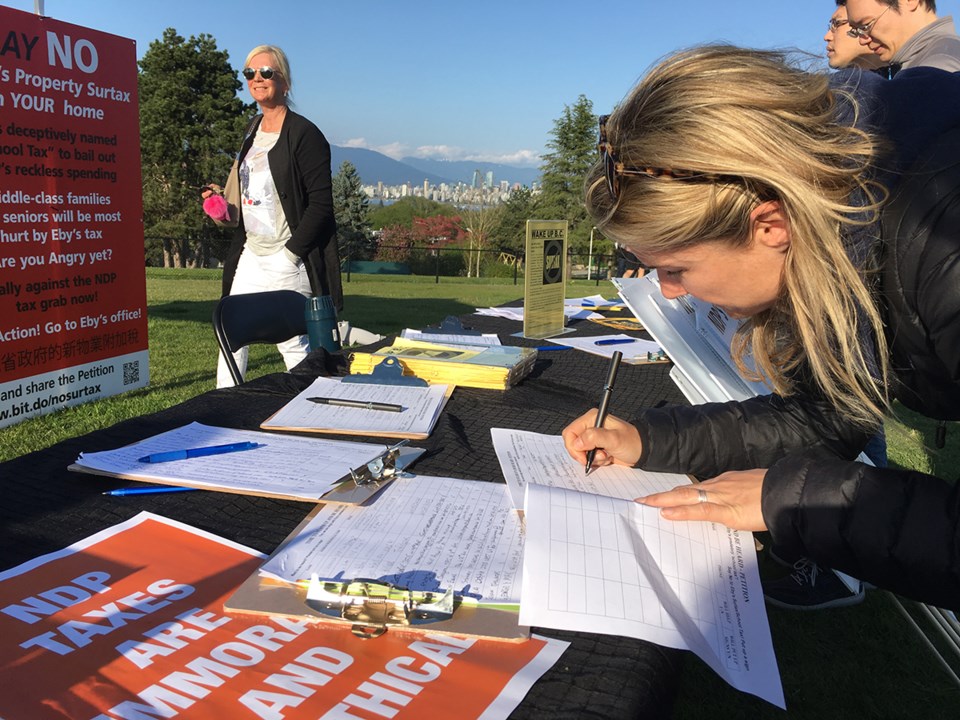 Organizers originally planned to continue with Tuesday's rally at St. James Community Square but people would have had to gather on the sidewalk, which wasn't safe. Later in the afternoon the location was changed to the park because there was more room to gather.
Asked how he'd respond to people who say the protesters are "fat cats" because their houses have to be worth at least $3 million to be targeted by the tax, Petter said that within 100 metres of his house there are five empty homes. Some of them were bought new and have never been lived in. All of them are owned by foreign buyers.
"Mr. Eby has done nothing to make these houses available," Petter said, adding that if property owners in Mr. Eby's riding have to sell their houses because they can't afford the new surtax, "the only people capable of buying these houses are foreign nationals."
The rally's hilltop location, with its sweeping views of English Bay and the North Shore mountains, illustrated why property values in Point Grey have been rising so dramatically. For houses worth more than $3 million, the tax is 0.2 per cent on the first $1 million after than and 0.4 per cent of the value above $4 million.
It is being called the school tax because Eby says it will raise $200 million, monies that will be earmarked for schools and, in particular, seismic upgrades.  
"It is simply class warfare, with long-term residents and seniors being collateral damage," said David Tha, one of the first speakers.
"Shame on you and your socialist pals," said speaker Kim Spencer, referring to Eby. Spencer will have to pay an additional $4,000 on his home and he does not want to pass on the increase to his tenants.
"This is a very ideological issue," said a speaker who identified himself as Edward. "It's not about ethics and what's right…. Ultimately, it's about power."
He wants the entire province to lobby against the "divide and conquer" tactics of the provincial government. "I've never lived in a socialist government in my life," he said, but the "hardcore socialist government" of Premier John Horgan is fostering a "tax the rich" mentality that people are supporting without thinking through the consequences.
Another speaker said "there's nothing sadder than an aging socialist. It's failed in every country it's been tried."
A woman said that if she murdered someone, she would get 15 to 20 years in jail. "This sicko tax is a life sentence — a life sentence! — on all of us. Once it's in, they won't take it away."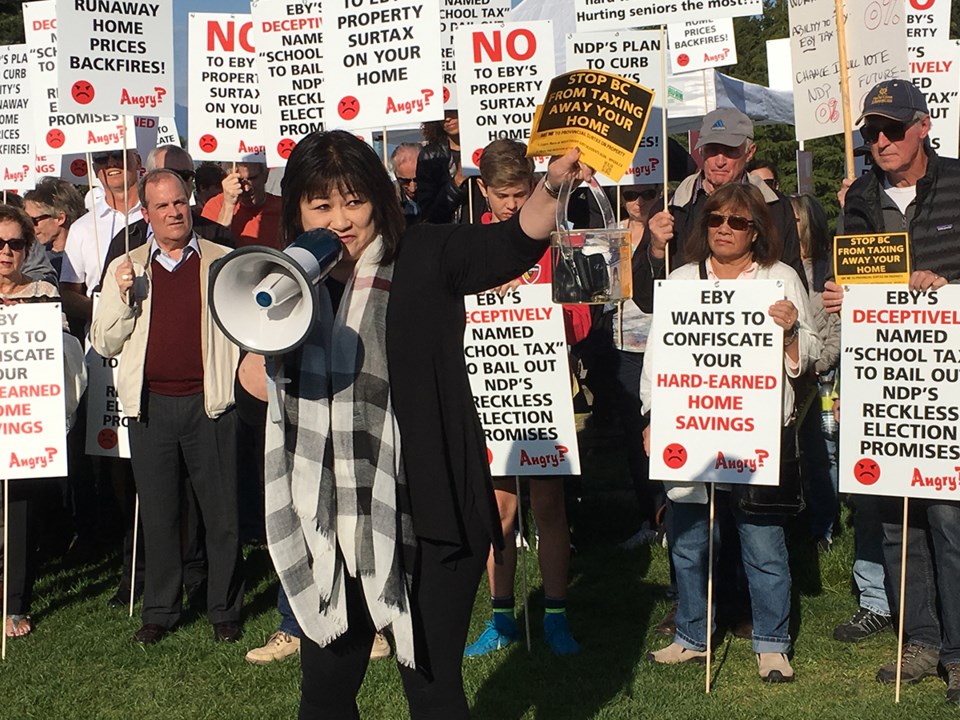 Mayoral candidate Wai Young said "we cannot afford to hollow out this city." However, when she said that people needed to spread the word — "a tax grab is a tax grab" — one audience member noted that a petition against the surtax has already garnered 9,600 signatures (with many more signatories by the end of the protest.)
"This is a unconscionable slippery slope of taxing the wealthy," said a speaker who identified himself as Matt. He described himself as a "broken up bike rider" who had to drive to the event. When he noted that "I didn't see any violence here," in reference to Eby's Facebook post, a woman yelled out, "but Eby should be scared."