The undated photo, possibly taken in the 1970s, is blurry, but the two-storey building featured in it will likely be familiar to many longtime Vancouverites thanks to its vibrant blue colour and exterior decorated with distinctive white columns.
The building, located prominently on the southwest corner of East Hastings and Clark Drive, was later repainted a sandstone colour, which, with the columns, was designed to evoke the Parthenon.
Both colour schemes made sense as it was home to the Greek Village — a restaurant run by the Cavadas family between 1960 and 1985, although their association with the property dates back many more decades.
But the building may soon be demolished, along with a few others to the west of it. Developer Onni Group has filed a rezoning application. If approved, it would produce a three-building, 207-unit condo and social housing project designed by Yamamoto Architecture on five lots between 1220 and 1298 East Hastings.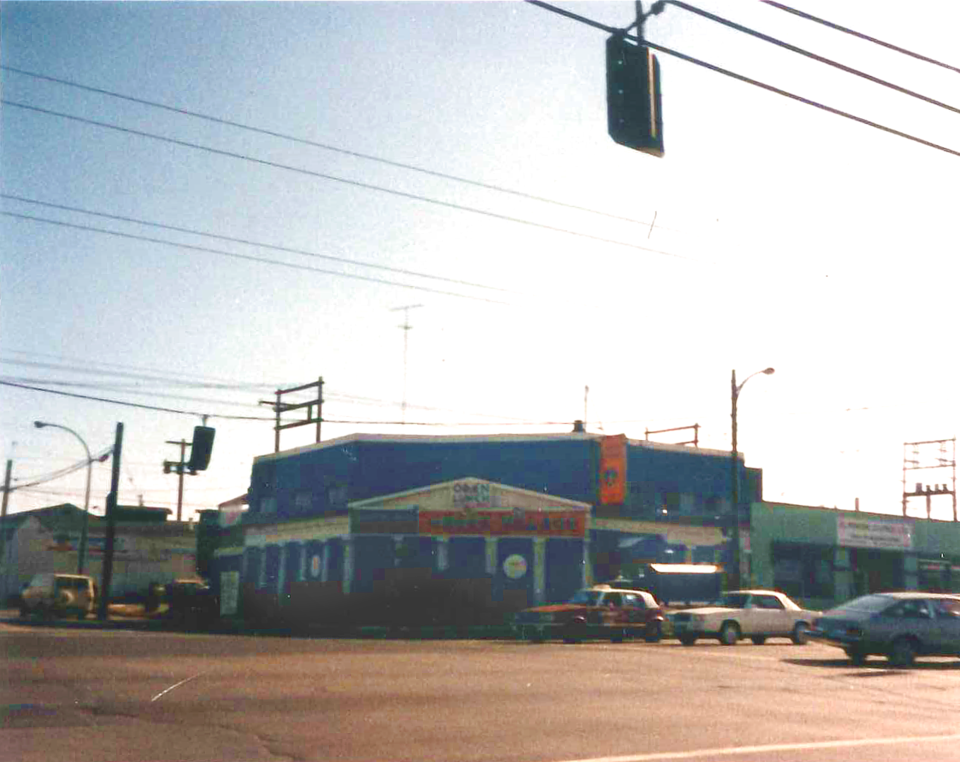 While the building at 1298 East Hastings has more recently been home to Brave Bull's House of Steaks and, briefly, Yolks, news of the proposed redevelopment sparked a flood of memories for Linda Shirley (née Cavadas) since her family's association with the property was the longest — almost 60 years.
Linda's recollections tell a sliver of Vancouver's history and offer a glimpse into the life of an immigrant family and their descendants who helped build this city.
"During its 'Greek Village Restaurant' days (in the '60s and '70s) it was THE place for seamen off the boats to come and dance the night away... and it was a favourite hangout for well-known newspaper people like James Barber and Denny Boyd. My mom baked all of the Greek pastries (even though she wasn't Greek... she was a farm girl of Ukrainian heritage) and people coveted her recipes... which she wouldn't give away! Famous Greek performers ate there, too, including Nana Mouskouri and Theodorakis," she told the Courier in an email.
Last week, Linda, who turned 70 on May 14, and her younger sister, Angela Cavadas, stopped by the site where they reflected on its history with their family. Neither were surprised by the redevelopment plans.
"They're going to knock it down whether I like it or not, right?" Linda told the Courier.
"To me, it's sad, just in general, that so many historical buildings are being torn down and replaced. But I did notice on the [development] sign that they are planning to put some social housing in there — that's a really good thing. Life changes, what can you do? Things change so you have to accept that."
Linda was nonetheless nostalgic.
"I mentioned it to my girls who are 45 and 41. It was like their second home when they were growing up, so they were quite sentimental about it," she said, while surveying the building from across the street. "I find it a bit emotional... It actually hasn't changed that much at all on the outside. Those pillars are the pillars my dad put up [during a renovation]… I believe that's the original awning, too, that they just painted over top. None of the top has changed — all the apartments are still the same."
Angela, meanwhile, expects to be "a bit sad" when it's knocked down.
"I kind of resigned myself to it a long time ago. I was expecting it to happen sooner, actually. When I saw them sprucing up the building a bit, I thought maybe they're going to lease it out again for a little while but, yeah, it's mixed feelings — you kind of have to resign yourself to [redevelopment] and yet I do feel a little bit emotional about it."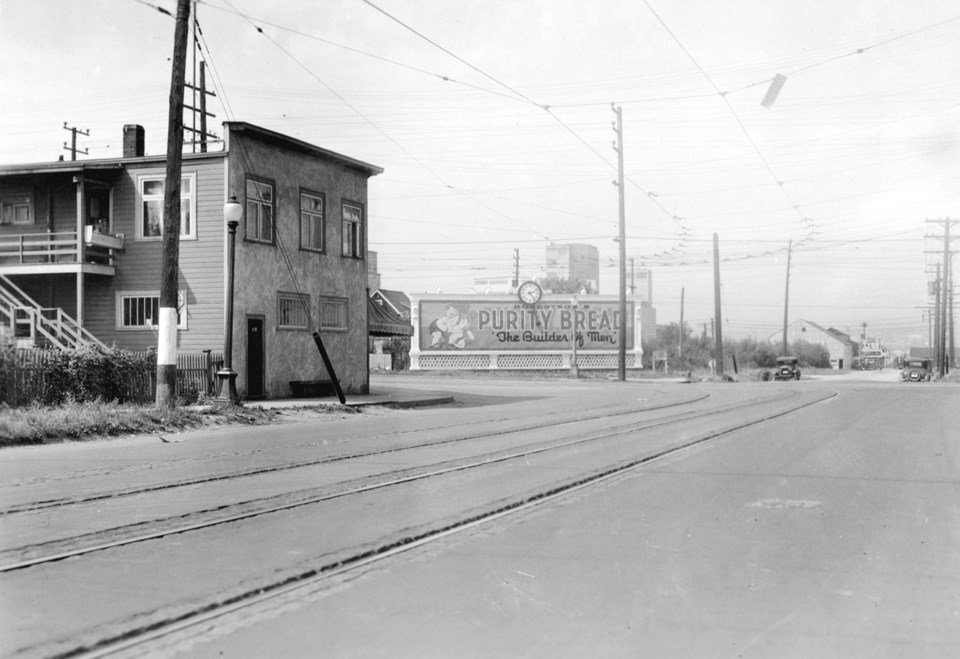 TRACING HISTORY
The original building permit for the site was issued to Mrs. Effie Cavadas — Linda and Angela's grandmother — on Dec. 5, 1927.
W. James is noted as the builder, while the value is listed at $5,500.
Effie and her husband Constantine (better known as Gus) Cavadas had immigrated to Vancouver around 1910. They originally ran a shop on Commercial Drive before buying the East Hastings property where they erected a building.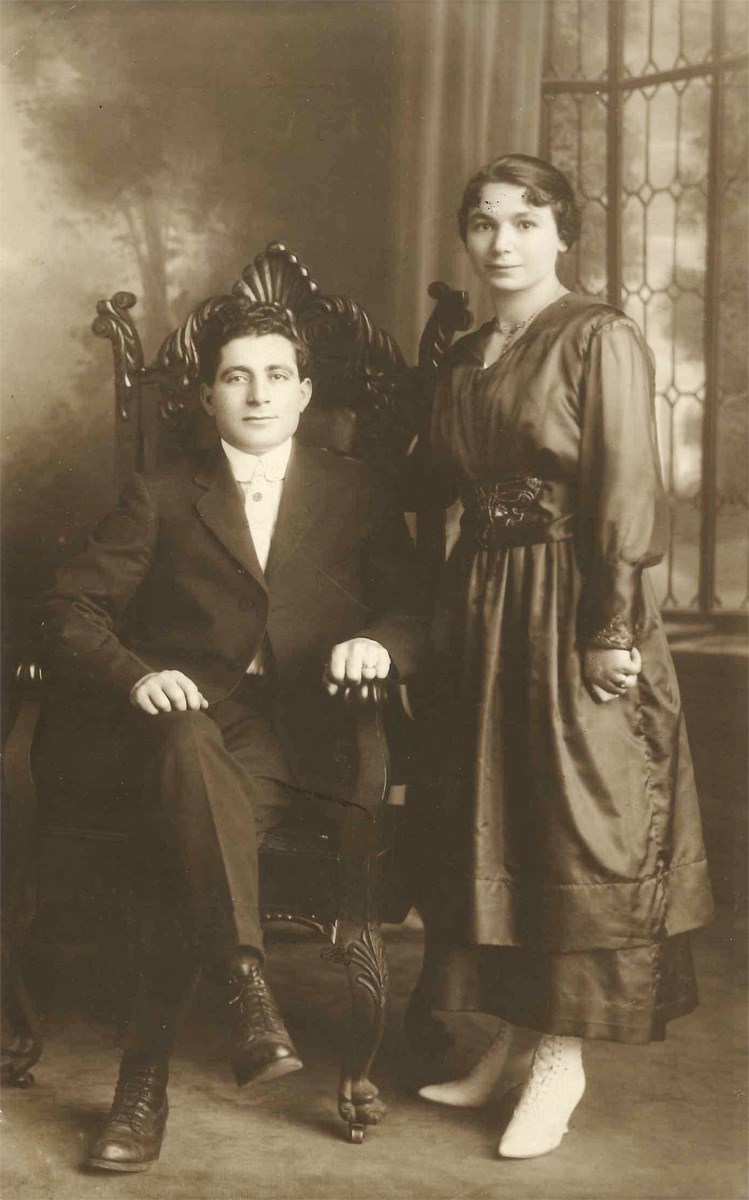 The couple initially operated Roseland Sweets/Confectionary out of it before switching their business to Conn's Café — named after Constantine — sometime in the 1930s. In 1960, their son John Cavadas, and his friend Bob Gillespie, turned it into the Greek Village. It was Vancouver's first Greek restaurant, according to Linda.
The family sold the property in 1985 for about $200,000 when John became ill. He died of cancer in 1988.
Linda and Frank Lum then ran Brave Bull's House of Steaks out of the building until 2012 when they sold the site to a developer. Yolks operated in it for a short time before relocating in 2017.
B.C. Assessment valued the property at $4.4 million on its 2019 assessment roll.
Despite the passing of more than 90 years, the building's form is much the same as it was when it was first constructed — square-shaped except for a corner cut diagonally where the current entrance is located. A fire insurance map from January of 1930 illustrates that fact.
Today, the columns on the outside of the building remain but the exterior has been painted a grey tone, the restaurant space vacant.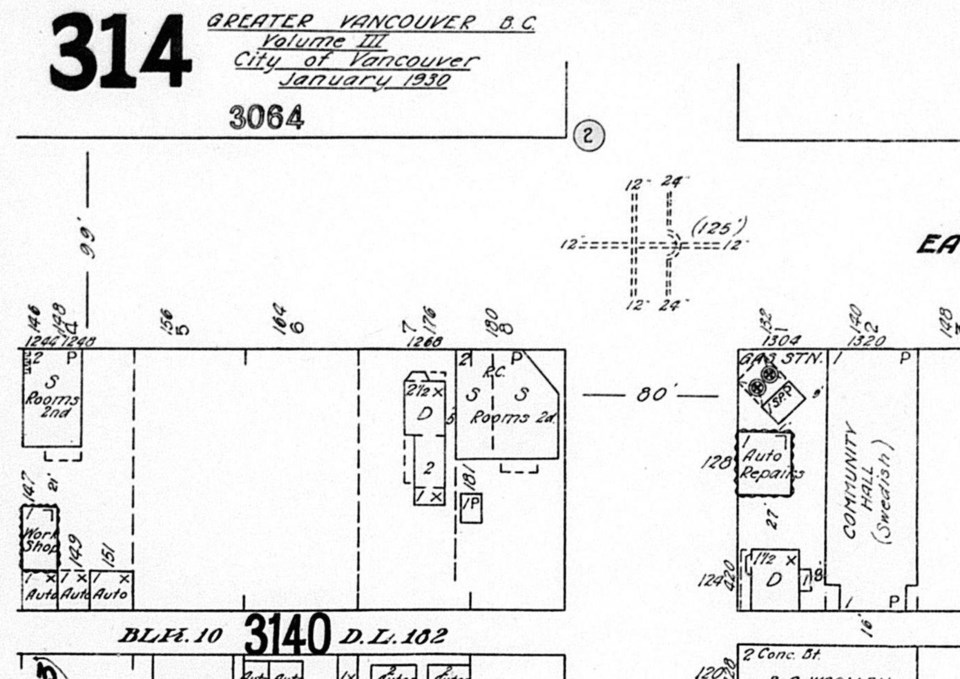 MAKING MEMORIES
Linda's memories of the building were forged at a young age.
In the early 1950s, she lived in its second-floor apartments with her parents, John and Pauline, and sister Angela, before they moved to veterans' housing in Renfrew Heights when she was about four or five.
Her grandparents also lived in the apartments while running their business. (They stayed in the residences for the remainder of their lives, Gus until the mid to late 1960s and Effie until the early 1970s.)
When she was older, Linda, now CEO and head of School at The Arts Connection and Renaissance Kids Early Learning Centres, worked with her father at the Greek Village on weekends and during summer breaks, while her sister, now a concert violinist, helped support the business during its final years.
For both women, it represents both happy and challenging times — running a restaurant is tough work and the business struggled at the end.
But the fond memories are vivid for Linda.
She recalls the restaurant being divided into two areas — the dining room and another big room where customers, many of whom were Greek seamen, danced.
"They would dance all the Greek dances and they'd throw dishes at the walls — and glasses," she said. "My dad used to buy glasses by the case because every night they'd [break] dozens and dozens of them. You'd go in at the end of the night with a big push broom and sweep them all up. It became a home away from home for a lot of the seamen because they would come here and they couldn't speak English."
Despite having been born in Canada, her father John spoke fluent Greek, which proved useful to seaman wanting to contact their families back home. John also helped many get their citizenship and gave them work, some of them boarding upstairs after Effie and Gus died.
"My dad would have lineups of young seamen at the counter, at the bar, asking him to make their phone connections for them through the operator because they couldn't speak English to do it. He would help them make those connections," Linda said. "When I got a bit older, I would help him with some of his office work, and I used to cashier here during the summer. I remember the pages and pages-long phone bills because of all these long-distance phone calls that he would make for them."
While Angela doesn't recall living in the building because she was too young, she remembers spending a lot of time at the restaurant.
Both sisters recall the days the PNE parade used to travel along Hastings Street, passing by the Greek Village. The family would set up tables on the sidewalk to sell food to spectators.
But the building is also associated with other well-known members of their extended family.
Prior to World War II, the apartments above the business served as rehearsal space for the Musical Calangis Family — John's first cousins.
George Calangis, a conductor, mandolinist and banjo player, who was born in Vancouver in 1916, played music with his five sisters — Geneva, Angelina, Mary, Helen, and Ethel — at a young age. They performed in the U.S. and on CBC radio. After the war, George led the Commodore Ballroom orchestra until the mid-1950s, while three of his sisters remained active in music, teaching and playing for the Vancouver Symphony Orchestra, including Angelina who married well-known musician John Avison.
"They used to rehearse up here," Linda said, pointing to the building's second floor. "The streetcars used to come because it was a big interchange, so people used to gather on the street down below and listen to them rehearsing upstairs in the apartments."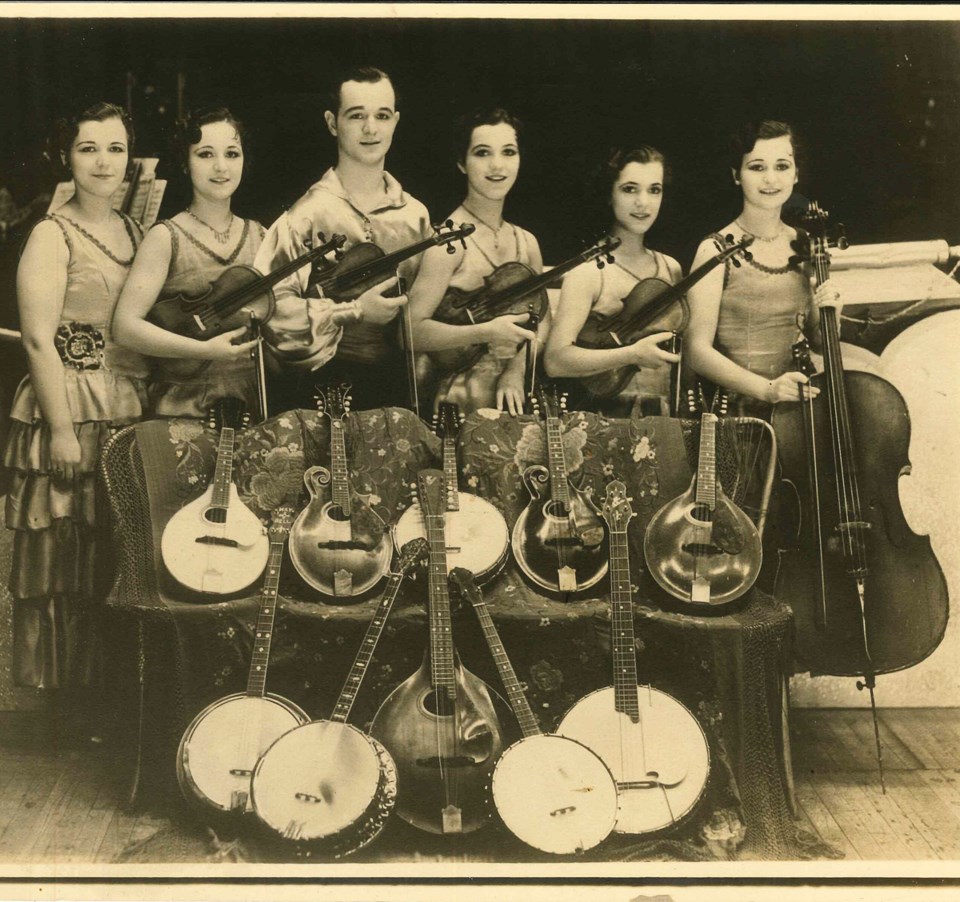 Last week, as cars and trucks sped through the intersection, Linda said the area became much more industrialized in the years before her family sold the property.
The changes in the neighbourhood helped spell the end of the Greek Village. During its latter years, many restaurants opened in Kitsilano, West Fourth and Broadway, drawing customers away. The recession also hit in the 1980s, while fewer ships came into port because of strikes at the dock, which further affected business.
"My dad probably should have let it go a few years earlier but he hung on to it for sentimental value. He was struggling and it made it very difficult, and then, of course, he got quite sick with cancer."
Those difficult days are a distant memory now and Linda described her visit to the property last week as a "very sentimental day."
When she parked in the back lot, she noticed the door to the old kitchen was open so she peeked in.
"It's been all revamped, but what came flashing back to me, visually and mentally, was a picture of my grandfather when he was in his early 80s, sitting in a chair in the kitchen with a bucket in front of him, peeling potatoes," she said.
@naoibh