Station locations have been revealed for the six stops along the Broadway Subway project that will link the transit system between VCC Clark station and Arbutus Street.
The province announced the stops Wednesday morning, and construction begins next year.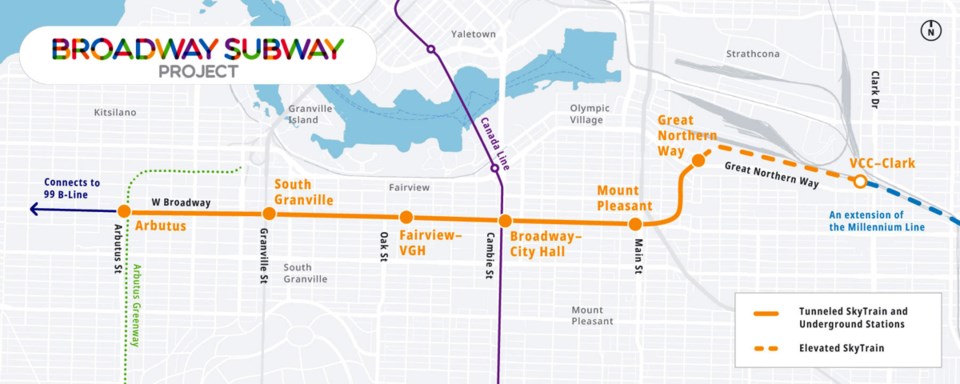 The routing includes:
Great Northern Way: on the east side of Thornton Street, just north of Great Northern Way.
"This station creates better access to Emily Carr University of Art and Design's Great Northern Way Campus and the emerging creative economy hub in the False Creek Flats," the province said in a news release.
Mount Pleasant: at the southwest corner of Broadway and Main Street.
Broadway–City Hall: the station will use the existing entrance to the Canada Line at the southeast corner of Broadway and Cambie Street to ensure underground connectivity between the Millennium and Canada lines.
Fairview–VGH: on the southwest corner of Broadway and Laurel Street, near Oak Street.
South Granville:  on the northeast corner of Broadway and Granville Street near the South Granville, Burrard Slopes and Granville Island neighbourhoods.
Arbutus — at the northeast corner of Broadway and Arbutus Street. This station and bus loop will connect passengers destined for the University of British Columbia (UBC), with B-Line bus service between Arbutus and UBC. It will connect with the Arbutus Greenway.
The interim station names were chosen for wayfinding purposes and are not considered final, according to the province.
Station design plans will be released next summer, along with the contractor tasked with building and designing the project.
Construction on the 5.7-kilometre extension of the Millennium Line begins next year. The line is expected to be in service by 2025.