An independent consultant's review of the Vancouver Police Department's practice of "street checks" has been unable to conclude that officers were motivated by racism or bias when stopping a person on the street.
The Vancouver Police Board ordered the review last fall after the B.C. Civil Liberties Association and the Union of B.C. Indian Chiefs accused the department of discrimination after police data showed an overrepresentation of Indigenous and Black people checked between 2008 and 2017.
"This review of street checks, consistent with other [Canadian police department] reviews, found that the available data and information could neither confirm nor deny police racism or bias," said the consultant's report, which goes before the Vancouver Police Board Thursday.
"Additionally, considering only the disproportionality of individuals in the street check data could not be used to confirm or deny the existence of bias."
The report was authored by Ruth Montgomery, a former Edmonton police superintendent who operates Pyxis Consulting Group Inc., and four other people, including Curt Taylor Griffiths of Simon Fraser University's School of Criminology. The police board hired Pyxis last year to conduct a review that would include interviews with people stopped in a street check.
The review found that more than 40 per cent of the street checks were "justified with a bylaw stop." Another 25 per cent were justified as "possible criminal behaviour."
"Overall, very few of these street checks appears on its face to be unwarranted or unreasonable," the report said of the practice that allows an officer to stop a person to conduct an interview or investigation in regards to suspicious activity or a suspected crime.
The findings of the review fall in line what a VPD report concluded last year and what Police Chief Adam Palmer has repeated since the issue surfaced two years ago — that the practice is not discriminatory, and it helps solves crimes.
In June 2018, a request under the Freedom of Information and Protection of Privacy Act required Vancouver police to post data on its website that showed police conducted 97,281 street checks between 2008 and 2017.
Of those checks, 15 per cent (14,536) were of Indigenous people and more than four per cent (4,365) of black people. Indigenous people make up just over two per cent of the population in Vancouver, and Black people less than one per cent.
Though the review was unable to confirm or deny racism or bias was involved in street checks, Pyxis made 34 recommendations to improve the VPD's practice and oversight of the checks.
The recommendations were based on more than three dozen findings, including the VPD lacking "a cohesive community policing plan that incorporates how street checks might contribute to community safety and security."
Other findings included:
There is no training for supervisors on how to monitor and manage street checks, or how to teach or coach officers to conduct and document "quality street checks."
A brief snapshot of the VPD data raises some "data quality issues and concerns" relating to when and how data units are entered as a street check.
The VPD lacks processes to monitor street checks, oversee street check quality and maintain accountability in the use of street checks.
Street checks are not regularly audited or publicly reported.
Many people believed there was no point in complaining about inequitable treatment by police because their complaints would not be taken seriously or responded to.
There is considerable subjectivity and ambiguity in how VPD members and the public defined street checks and how officers classify and document interactions.
A number of community members questioned how street check information was stored and used as well as length of time it should be retained.
As in most police departments, the majority of VPD patrol officers are very "junior."
Officers often do not consistently explain to community members why they were stopped. If they do, they sometimes have difficulty articulating the reasons for the check stop in their report.
The report, which was released Tuesday, comes one month after the police board adopted a written street check policy for the Vancouver department.
The policy states that an officer cannot stop someone based solely on "an identity factor" such as race, social or economic status, religion, ancestry and sexual orientation.
Random or arbitrary stops are not permitted. An officer must have a specific public safety purpose to ask a person for identification and must inform the person of that reason.
An officer must also ensure a person is aware of their rights during a street check.
That policy was in addition to measures the board adopted last fall, including additional training for officers, releasing street check data annually and assigning an officer to improve communication with the Indigenous community.
The B.C. Civil Liberties Association and the Union of B.C. Indian Chiefs criticized the policy, suggesting it would further strain relationships between marginalized communities.
The criticism was equally swift Tuesday in response to the Pyxis report, with both organizations issuing news releases that questioned the need for street checks.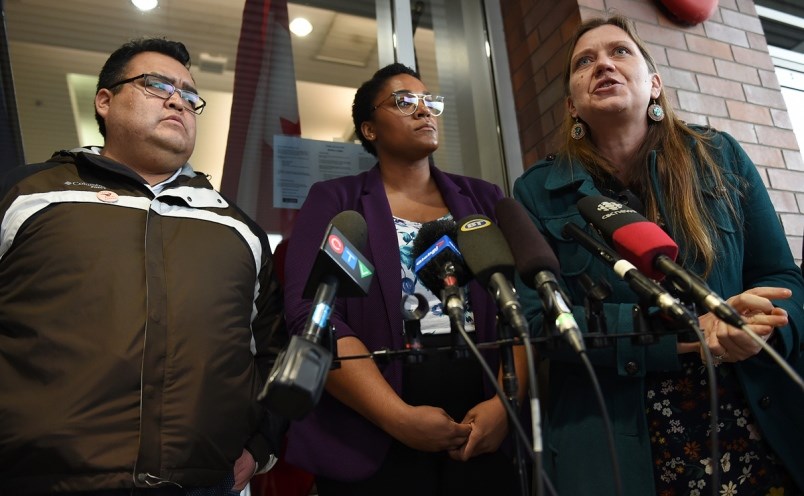 Lawyer Latoya Farrell of the B.C. Civil Liberties Association: "The VPD street check review and the report to the Vancouver Police Board assume that street checks are valuable, despite the lack of any evidence to support the claim."
Chief Don Tom, vice-president of the Union of B.C. Indian Chiefs: "The majority opinion expressed in this review is that of police officers and not the daily experiences of Indigenous people. The UBCIC does not agree with the review's finding that street checks have any value."
The review included interviews and focus groups with representatives of 36 Vancouver community organizations, including activists and advocates for people targeted in street checks.
The report notes, however, that several organizations declined to participate or did not respond to repeated requests to participate in the review.
Those organizations included Black Lives Matter, Sister Watch, the DTES Women's Centre, Vancouver Area Network of Drug Users, the Jewish Community Centre, Hastings Crossing Business Improvement Association and Afro Van Connect.
"It is not known if or how the outcomes of the review may have differed if more or a different group of participants had elected to take part in the study," the report said.
Interviews and focus groups were also conducted with VPD executives, management and operations personnel to gain an understanding of their perspectives on street checks, the report said.
Ride-alongs and walk-alongs were conducted with patrol officers and members of the department's Beat Enforcement Team to observe police interactions with people.
"While VPD members focused on the need for tools to accomplish their tasks, many community members framed their perspectives in terms of the historical trauma, oppression, racism, and experiences they and their communities have had with police," the report said.
"Community members' concerns generally focused not on the street check stops themselves, but rather on the attitudes and behaviours of police officers and how the police treated vulnerable and marginalized people."
The consultant emphasized the information in the report was "a snapshot of perceptions and experiences as presented by participating community organization representatives and community residents in interviews and focus groups. As such, findings cannot be generalized to a broader population."
The full report and its recommendations can be viewed HERE.
@Howellings