Are you one of the many people in this town who cringes when you see telltale orange plastic fencing go up around a beautiful old Vancouver home?
That floppy barrier is usually an indication that the house is about to be torn down or gutted.
In a small and thoughtful way, local artist and woodworker Garet Robinson is allowing you to take a piece of old Vancouver with you, to enjoy again and again every holiday season.
Like a modern day Nick Adonidas, Garet salvages wood. The major difference is, unlike the fictional star of The Beachcombers TV series who would search for logs that came adrift from log booms destined for construction, Robinson salvages wood from pre-1940s Vancouver houses slated for demolition. He then turns the reclaimed and often ancient wood into everything from furniture to Christmas tree ornaments.
"I've never heard that one before," chuckled Robinson, referring to my dated Beachcombers reference. "I didn't even realize that's what The Beachcombers was about."
Before Robinson began working with the fine old-growth Douglas fir, cedar, spruce and hemlock that he was finding in demo sites of older Vancouver homes, he was working on smaller projects, making things like dining and coffee tables out of discarded pallets made of inferior wood.
Robinson's woodworking career changed when a 100-year-old Dutch colonial-style home was being ripped apart right next door to his Mount Pleasant garage workshop.
"I noticed the workmen were pulling out all sorts of wood from the house and just throwing it in the dumpster," remembers Robinson. "At first I'd just kind of wander over to the bin and check out what they were tossing out. I remember being shocked to realize it was this gorgeous old growth Douglas fir with beautiful grains, and in very good condition."
Robinson asked if he could have it, the contractor agreed, and soon the workmen were piling up extracted lumber on his workshop doorstep.
With the wood, Robinson made tables, home decor and art pieces.
"To give you an idea of the amount of lumber in a single pre-1940s Vancouver home, just from that first house alone, the wood lasted me for more than a year-and-a-half of projects."
First Growth Reclaimed Design was born, and it's kept Robinson busy ever since.
The rate that old homes disappear in Vancouver is no secret. According to Robinson, every year, upwards of 1,000 pre-1940s house are demolished. The beams, flooring and joists found in those homes are often first-growth, from trees that could have been anywhere from 300 to more than 1,000 years old.
If it wasn't salvaged, thanks to a relatively new deconstruction bylaw the city has imposed, the lumber would be chipped up and recycled.
"After realizing what was in that first house, I started actively seeking out older houses that were being demolished," Robinson told me. "The people at 'Vancouver Vanishing' tipped me off a lot. I'd show up and talk to the contractor, and they almost always let me take what I wanted."
Robinson spent years crawling through semi-demolished houses, sometimes at his peril. These days, he no longer does the hands-on salvaging. Robinson leaves that to Naturally Crafted Contracting, a company that also specializes in reclaimed wood. Naturally Crafted often deals with bigger renovations and house-builds.
Robinson now uses the wood from trees that were once the size of jumbo jets and turns it into something tiny and delicate: Christmas tree ornaments.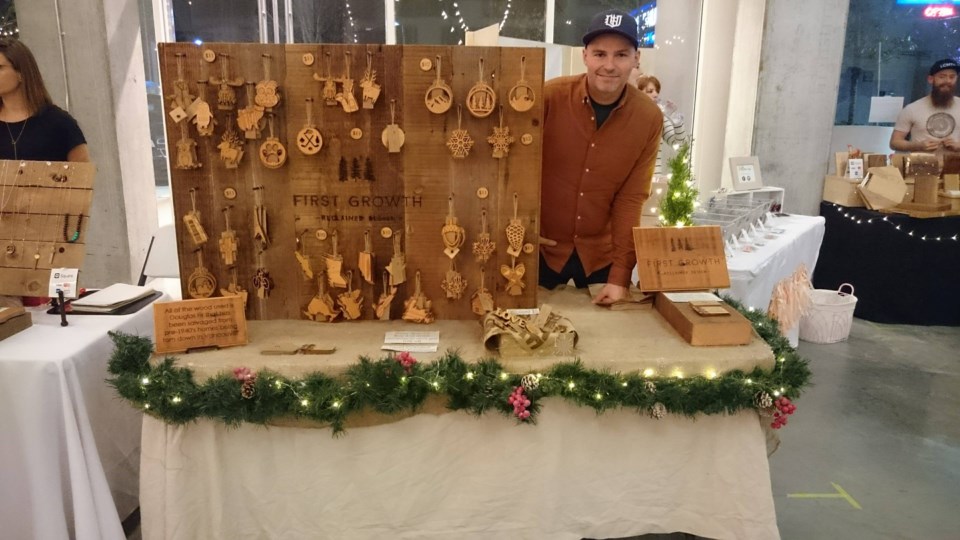 "Brick and Mortar, one of the stores I work with, requested ornaments one year," recalls Robinson. "I wasn't sure if I could do it, but I managed to mill down the Douglas fir into really thin slabs with a burnt edge. Each piece was unique and they turned out great."
Orders flooded in. Now, Robinson's reclaimed Douglas fir ornaments are a seasonal hit at Christmas markets, retail outlets and online. There's more than 50 different designs, including all 10 provinces and territories, and various West Coast vistas and imagery.
"My most popular designs are the North Shore mountains and the maple leaf," Robinson says.
Most of the ornaments sell for between $10 and $12, a small price to pay for your own small piece of Vancouver's rapidly disappearing original homes.
You can find Garet Robinson and First Growth at the Vintage & Handmade Community Market this Saturday, Dec. 16, at the Woodward's Atrium in Gastown.