The two Jasons should be killing it right now, both literally and figuratively.

Business owners Jason Tonelli and Jason Assonitis run Vancouver's two biggest salmon charter outfits: Pacific Angler and Bon Chovy Fishing Charters, respectively.

In previous years, they'd be well into the recreational salmon fishery season by now, sending out roughly 15 charter trips a day each to Bowen Island, Howe Sound, Nanaimo and the Gulf Islands.

They'd usually comeback with at least one chinook salmon per person from a trip that would cost approximately $1,200 a head.

Things are markedly different this year. Instead, both are reporting huge financial losses, a customer base that's dropped by 70 per cent and staff layoffs. At best, three charter trips per day are going out into the ocean between the two companies.

"This has cost us hundreds of thousands of dollars," Tonelli said. "The total economic spinoff is in the hundreds and hundreds of millions of dollars."

This comes as a result of the most restrictive chinook restrictions in 23 years, as the waters around Vancouver and much of the south coast were completely closed to recreational chinook retention by fisheries minister Jonathan Wilkinson on April 16.

The fisheries were closed to protect specific stocks of Fraser River chinook that have suffered meagre returns for more than a decade.

The recreational community doesn't dispute that point, nor the need to protect those stocks of concern. That's where any sort of agreement between the feds and fishers ends.

Those in the recreational fishing sector say they are political pawns, stuck between the federal government, First Nations' Constitutional rights and conflicting scientific claims. They say there are thousands of fish in the waters off Vancouver, such that chinook fishing is the best it's been in 30 years.

They also say things that are deeply unpopular politically: some seals need to be killed to save salmon stocks, the save-the-whales lobby is spreading misinformation and that some First Nations are taking too many fish out of fisheries that are dangerously close to collapse.
Diminishing returns called into question

The early-season chinook fishery runs April to July, as stocks from across the Pacific Northwest return to the Georgia and Juan de Fuca straits.

The federal government forecasts what returns will look like each year before setting allowable catch quotas for the recreational, commercial and First Nations' fisheries.
It was on April 16 when Wilkinson announced that no chinook could be retained — caught and killed — by recreational anglers across the south coast. The move was made to protect critically endangered Fraser River chinook stocks that have suffered poor returns for decades. Many sockeye and coho runs in the Fraser are also critically low.

That ban lifts for most anglers on July 15, and they'll be permitted to keep up to 10 chinooks for the season. In years past, that number was 30.

Non-retention will remain in place on sections of the Fraser until late August.

Upon announcing the closures, Wilkinson said, "The science is clear: Pacific Chinook salmon are in a critical state. Without immediate action, this species could be lost forever."
Assonitis and others uniformly agree with the need to protect the stocks of concern, but suggest many other chinook stocks are thriving.

"The government purposely misled the Canadian public," Assonitis said. "They used words like 'extinction.' We understand there are a couple stocks that are not doing well, but in my opinion, these words were cherry picked to misrepresent the situation. That's a big sore spot. If our fishery impacted these stocks in a measurable fashion, we'd be the first ones to hang up our rods."

Tonelli is catching upwards of 30 chinook a day near Nanaimo, and the overwhelming majority are hatchery fish from Washington State. Tonelli and others know that because the fish have distinct markings and tags that denote where they're from.

"This year has been the best chinook fishing I've ever seen in the Strait of Georgia — it's on fire," Tonelli said. "But you don't get votes by saying that. April, May, June interior Fraser river chinook stocks are in a state of crisis. That's it. Other chinook stocks are having the best returns ever."

Enter sore spot number two. Data collected last year spanning Campbell River to Victoria suggested less than one per cent of the fish travelling those waters were from the endangered Fraser stocks.

That data collection is done in three ways: adipose fins are clipped, DNA samples are collected and wire tags are placed in the skull of a salmon. The end result is what's referred to as a "mark rate" and those numbers flush out which fish came from hatcheries versus rivers, how many there are and where they're headed.

Mark rates along the B.C. coast hover between 10 and 20 per cent. Washington State, on the other hand, boasts a mark rate that's close to 100 per cent — those fish are placed in large trucks and an automated system marks them en masse.

Because of that influx of marked hatchery fish, recreational anglers were hoping, at the very least, for what's referred to as a "marked selective fishery" — that would leave stocks of concern alone and allow anglers to keep those marked fish that are in abundance.

"Where people were deeply, deeply disappointed and confused is the idea that marked selective fishing was rejected," explained Martin Paish, director of business development with the Sport Fishing Institute of B.C. "That the opportunity to even keep a hatchery fish, knowing full well that none of the stocks of concern are marked hatchery fish, was just a shock and a disappointment to everyone."
Fall out
Tonelli and Assonitis have more than 50 years' between them on the water. They sit on boards, committees, advisory panels and other fish conservation bodies.

About 25 people are employed between Bon Chovy and Pacific Angler, and almost all of them live in Vancouver.
"We basically lost two thirds of our season in terms of being able to operate at full capacity," Assonitis added. "Between April and July we are down 50 per cent."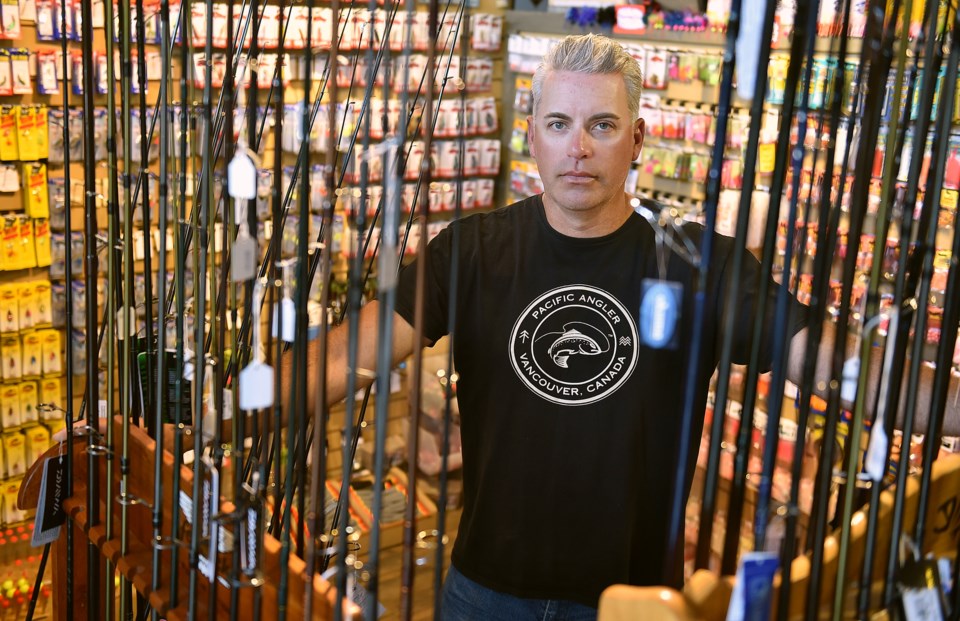 The closures inevitably seep into other sectors as well: marine mechanics, lodge owners, boat launches and marinas, seasonal fishing guides and others in the industry are reporting massive losses. Tonelli hears it all, given that he serves as president of the Vancouver Sports Fishing Guides Association, director of the Sport Fishing Institute of B.C and chair of the Lower Fraser Valley Sports Fishing Advisory Committee. 

The problems are exponentially worse on Vancouver Island and other coastal communities. A B.C. Chamber of Commerce report released May 4 polled 380 businesses on the Island about the fisheries closures.
Some snapshots:
* 96 per cent say they will lose customers/clients
* 84 per cent believe they will be negatively impacted in the future
* 71 per cent said they (or those in their value chain) have experienced cancelled bookings
* 27 per cent of respondents reported they may have to close their business this season or next
 
Paish sees those numbers in person, in real time, as he flies frequently between Victoria and Vancouver.

"Seeing the complete absence of boats on Juan de Fuca Strait was very surprising," he said. "The challenge that we've got is that non-retention appears to be devastating and that's creating real damage."

Cory Matheson is the senior manager of business development with Pacific Salmon Foundation (PSF), a non-profit that works across sectors towards salmon preservation and conservation. His organization collects some of the money anglers pay for salmon stamps, which are required when salmon are kept and killed.

The foundation typically pulls in about $2 million annually from proceeds of those stamps and all of those funds go towards volunteer streamkeeper groups. Matheson wouldn't estimate how the closure will affect this year's haul from stamp money, but he did say several salmon derbies have been cancelled this year. Entry fees to those derbies go back to the foundation, which in turn is used to fund biologists, scientists and others researching the coastal waters.

"There are tens of thousands of dollars in funds that were to be raised for salmon conservation efforts that will no longer be happening," Matheson said.
Troubled waters and hard truths
Fraser River stocks have steadily declined over the last 20-plus years and there are numerous theories as to why that's happened. Some of those notions are backed by science: warming ocean temperatures, habitat degradation, the erosion of river banks and high sediment. 
Others factors are still being investigated, such as the impacts of fish farming.

New pressures are also emerging. Forest fires are becoming a massive concern particularly for smaller rivers and streams. Water temperatures skyrocket when banks are stripped of vegetation or forest cover, causing mass fish kills.

Ecosystem imbalance is also wreaking havoc, and seals and sea lions are the culprit in some cases. Since seals became federally protected in 1970, their numbers have flourished: 5,000 in 1970 compared to 40,000 in 2008.

That rise in the number of seals coincided with a drop in chinook, sockeye and coho returns, so the PSF undertook a study. The results in some river systems showed seals killing between 30 and 60 per cent of juvenile smolts trying to make their way out to sea.

Paish has heard anecdotal reports of seals found near Lake Cowichan, in the Lillooet River and as far up the Fraser as Hope. They're entering into freshwater and not leaving, which leaves some hard truths to grapple with.

"We're not advocating for a mass cull, we're talking about specific predator removal in specific in-river locations," Paish said. "You probably have to kill them."

Another hard truth comes via the plight of the southern resident orcas, whose numbers are in decline. They eat big, chinook salmon almost exclusively.

Tonelli said those backed by the save-the-whale lobby began targeting his company's social media sites last year, suggesting that catching chinook was endangering the threatened orca populations.

"No one wants to see seals killed and who doesn't want to save southern resident killer whales?" Tonelli said. "This is what we're up against."

Asking for seals to be killed or competing for public favour with the whale lobby is one thing politically, but calling out First Nations is another discussion entirely.
Minister responds
Federal fisheries minister Jonathan Wilkinson spoke to the Courier July 12 and sympathized with the plight facing the Assonitis, Tonelli and everyone else affected.

Wilkinson said he's receptive to examining a marked selective fishery in the future, but that wasn't an option this year despite data showing huge numbers of hatchery fish near the south coast.

He noted the recreational fishery's closure was largely tied to First Nations' Constitutional rights: if the Strait were opened to a recreational fishery, then the very parts of the Fraser where stocks are hanging by a thread would be opened to First Nations to harvest fish.

"Both of those contribute to take of Fraser River chinook, which cannot sustain more declines," Wilkinson said.
 
A 1990 Supreme Court decision stipulates that First Nations have the Constitutional right to harvest salmon for food, social and ceremonial purposes. Only conservation efforts take priority over First Nations' rights to fish.

No one in the recreational fishing community who spoke to the Courier disputes or argues against that point.

They do, however, question why large gill nets are permitted in the Fraser near stocks of concern and to what extent those catches are monitored. Like the recreational fishery,
First Nations fisheries operate via self-reporting and are monitored by staff from the B.C. Conservation Service and Department of Fisheries and Oceans (DFO). The DFO website shows dozens of First Nations openings along the Fraser where gill nets were permitted dating back to mid-April.

Wilkinson said no Fraser River fish have been harvested outside of 61 chinook that were caught for ceremonial purposes.

"This is not a fisheries opening, this is simply accommodating a wedding or a funeral which are very important for ceremonial purposes," he said.

The Courier contacted the First Nations Fisheries Council of British Columbia for comment and was told the same thing: the only fish coming out of the Fraser up until mid-July were those used for ceremony. 

The Courier also requested comment from the Musqueam Indian Band — whose land extends to the mouth of the Fraser — but was told Chief Wayne Sparrow was not available for an interview. The Courier instead submitted a series of questions in writing and has yet to receive a response.

The recreational community has promised retribution against Wilkinson and Prime Minster Justin Trudeau come election time in October, but the North Vancouver MP remains steadfast in his decision.

"I would not be doing to the job that the prime minister asked me to do if I knowingly put these stocks on a path to extinction. If I pay a political price for that, so be it," Wilkinson said. "When the recreational fishing community says that this was a political decision, my gosh, the easiest out for me would have been to do nothing and to avoid this whole conversation. But that wouldn't be the responsible thing to do and that's not what people expect of their political leaders and they shouldn't."
@JohnKurucz