Just like that, the sun has set on the record store boom in Hastings-Sunrise. Well, boom might be a stretch, but when two independent record stores open within a block from each other, it's pretty exciting for neighbourhood audiophiles. Alas, Horses Records closed on July 29, and Hits and Misses will permanently close its doors by summer's end.
The good news is there's still plenty of excellent record stores to pick through in Vancouver, but the sudden double-closure took me back to Vancouver's music-shopping glory years, when a strip of record stores dominated downtown Seymour Street.
The records started spinning on Seymour back in 1970, when the famously low-priced music emporium known as A&B Sound moved into 556 Seymour. Within a few years, more record stores followed: first was Collectors RPM, a new and used shop with a Beatles "museum" upstairs.
The wonderfully grouchy staff at Track Records arrived in 1986, at one point having two locations open in the same block. Odyssey Imports joined Seymour's platter party a year later, blasting their new wave Brit pop sounds after relocating from Granville Street. By 1990, "Record Row" had reached full volume.
From the top of the hill at Seymour and Dunsmuir, heading north to Pender, the record stores were, in order, Sam the Record Man, A&B Sound, Track Records, Odyssey Imports, A&A Records and Tapes, and Collectors RPM.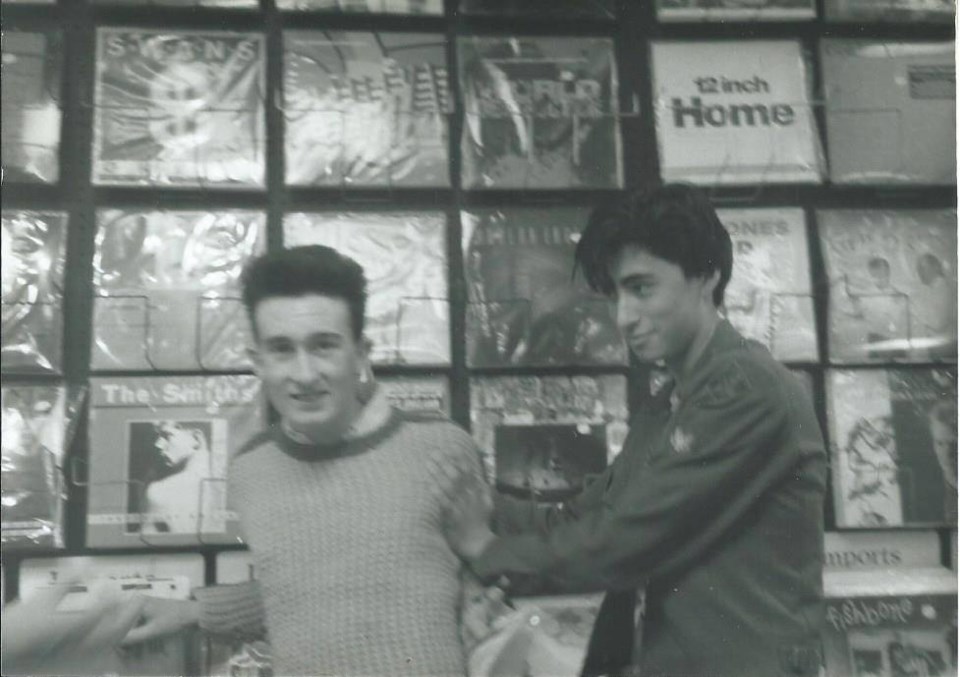 You could easily spend an entire day flipping from one shop to the next, while spending your entire paycheque on music. That's exactly what I did, busing downtown every weekend throughout my musical coming of age, which conveniently coincided with all six stores being open for business.
Despite the often surly-on-the-surface staff, Track Records was by far my favourite. They had a sprawling selection of garage rock, rockabilly, punk, and rock 'n' roll vinyl, and were very supportive of the local music scene and young bands like mine. To have your gig poster in a prime space in the window of Track Records was coveted rock 'n' roll real estate.
Surprisingly, the once gloriously rockin' Record Row became a musical Death Row within a short matter of years. The first to pull the plug was A&A Records and Tapes at the corner of Seymour and Pender, when their corporate office abruptly declared bankruptcy in 1991.
Collectors RPM also spun out in the early 1990s, and the new wave opus ended for Odyssey Imports. Track Records closed on Labour Day weekend 1997, after a supposed falling out between owners. One of them, Dale Wiese, opened the much smaller Noize to Go a few doors down.
With its narrow, double-decker location at 568 Seymour, Sam the Record Man not only employed dozens of local musicians, but was also very supportive of the booming 1990s Vancouver indie scene. Sam slammed the door in 2000, when the national chain shattered like a 78 dropped onto a concrete floor. A&B Sound, the emporium that started it all, finally shuttered its Seymour Street store in 2008.
The tiny Noize to Go was Seymour Street's last remaining record store. It closed in 2009, outlasting A&B Sound by a few months. For the chain stores, everything from too-rapid national expansion, to CD burning, to file sharing was blamed for their equally rapid extinction. For the independents like Track and Noize, it was rising downtown rents, renovictions, and disinterested E.S.L. students.
Seymour Street's Record Row may be an ear-ringing memory of a past era, and vinyl sadly couldn't find the groove most recently in Hastings-Sunrise, but as mentioned, many fine record stores remain scattered throughout our city: Noize is now in Chinatown, Red Cat Records and Neptoon Records dominate Main Street, Studio Records and Beat Street are downtown, Highlife and Audiopile are on the Drive, and the mighty Zulu Records, at 35 years and counting, is forever in Kits.
Support your local record store, rock on Vancouver, and let's raise a can of Phillips Analogue 78 Kolsch to remember those that forged the vinyl frontier.