If it were any other March in Vancouver, where the sun lit up the city and the snow-capped North Shore mountains like it did Wednesday, life as people know it would go on.
Which is sort of what happened.
But it didn't go on like it should, not like Marcus Allen and Alex Thornton described as they ordered coffee and breakfast sandwiches out of a warehouse loading dock.
The friends were cycling along the Union-Adanac bike route and stopped in at Benny's Bagels, near Clark Drive. Their visit was by happenstance, not by morning routine.
"I'd usually be at work," said Allen, whose job as a manager at an Urban Outfitters on Granville Street is temporarily on hold after the store shut down Saturday.
He'll be unemployed for at least two weeks, but he thinks longer. He's still being paid, but unsure how long that will last. An Irish citizen, he's also worried his work permit won't be extended beyond the summer.
"I don't know how any of that is going to work in this current landscape," Allen said.
"Are people even looking at those applications right now? If this isn't sorted out by June, are they sending me home? I don't know."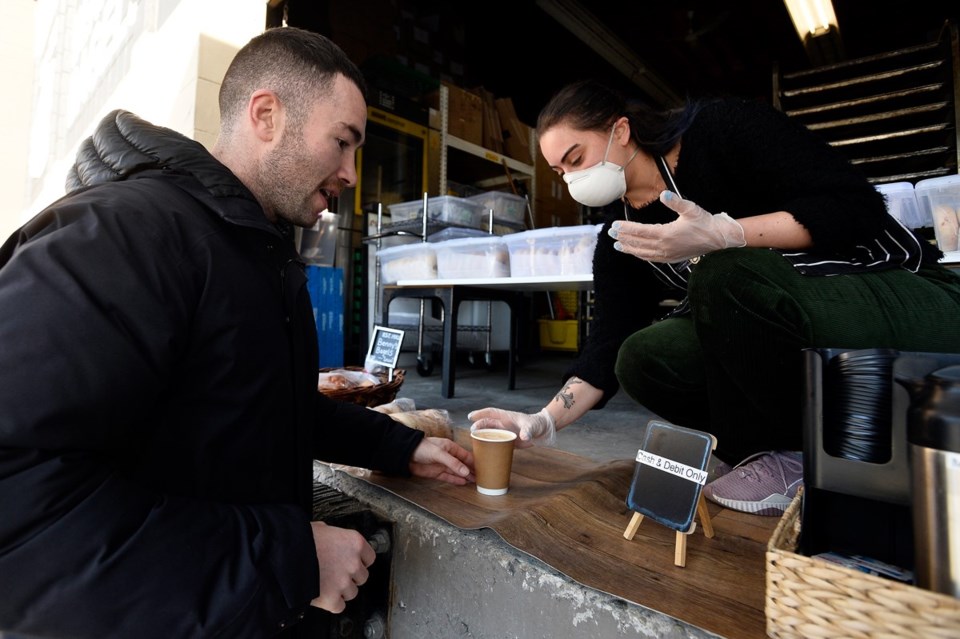 Thornton is a freelance videographer, who had a big year of projects planned, including weddings. Some are being rescheduled, others cancelled.
He's not sure what comes next, and is in no rush to finish current work, wondering if he'll get paid on time, or at all, in what has rapidly become a precarious economy.
"I might do some work this afternoon, but there's no deadlines, no urgency with all that's happening," Thornton said.
"I feel like people have other concerns right now."
The pandemic and its effect on citizens is what a Courier reporter-photographer team explored Wednesday in a bike trip from Benny's Bagels, through Strathcona, into downtown and ending at English Bay.
The trip occurred the same day that more dire news broke — from Ottawa to Victoria to Vancouver city hall — about COVID-19 and how it continues to spread, with a resident at the Haro Park Centre seniors' home in the West End among the new cases.
The public heard the Canada-U.S. border has closed to non-essential travel. That a $27-billion aid package has been promised to workers and businesses, and that B.C. has declared a state of emergency.
Mayor Kennedy Stewart also announced that city council was poised to do the same Thursday, calling a special meeting to decide whether to implement emergency powers.
All of this because of an invisible threat that has attacked 231 people in B.C., killed seven seniors and gradually shut down a city in which its residents now face a new and unpredictable reality.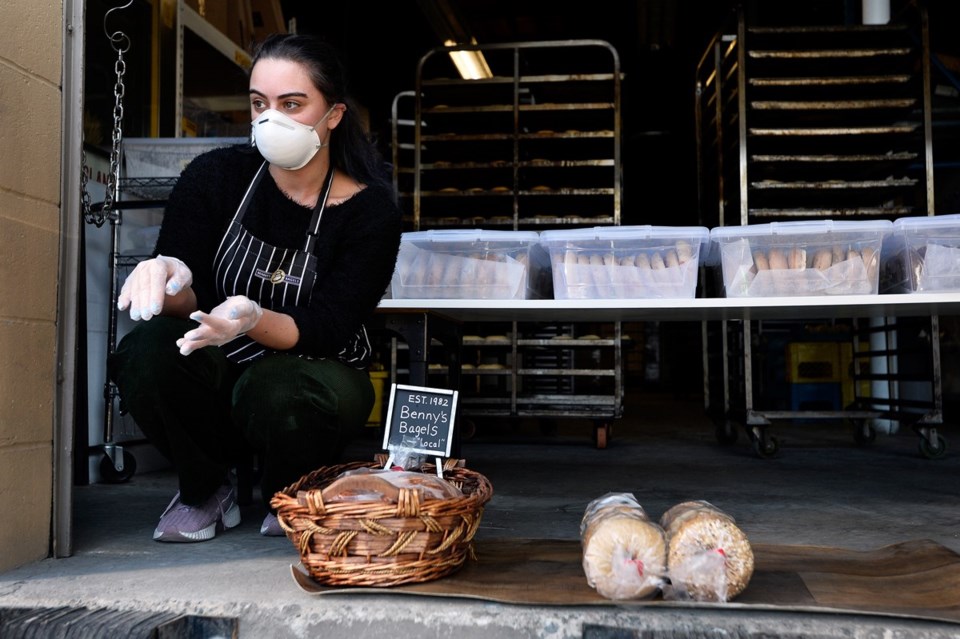 'I try to calm myself down as much as possible'
The rapid developments and what they mean for Daphne Kayserilioglu, who served Allen and Thornton in a safety mask Wednesday morning, are difficult to comprehend.
The 24-year-old part-time employee, who is pursuing a career in animation, is worried for herself, her roommates and family back in Turkey.
"I try to calm myself down as much as possible," she said, standing next to containers of bagels on the loading dock.
"But there are times where I panic, and I immediately call my friends and family to check up on them."
Management at Benny's Bagels closed the café attached to the warehouse, as per the public health order announced this week over concerns of crowded spaces.
That has meant the normal two-day-per-week sales from the loading dock moved to five days. But online orders and deliveries have picked up, according to manager Terence Tse.
"My greatest worry is that everyone — all stores — are going to have to shut down," said Tse, also wearing a mask as he stood on the dock next to Kayserilioglu.
Like her customers, Kayserilioglu is living day by day, as news of the pandemic and its persistent wave continue to occupy her new life in Canada.
"If everything collapses, I might need to go back to my country and start from scratch again," she said, as another customer pulled up on his bike.
"That would be my biggest concern — that and if we can all stay alive."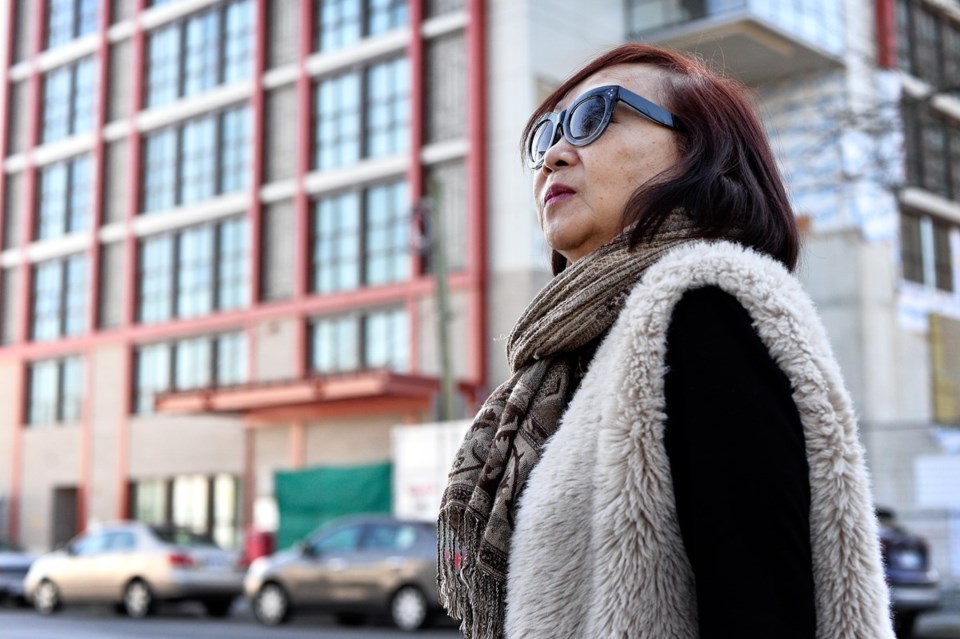 'You have to look at the bright side — all the time'
Riding across Clark Drive and west along the winding bike path that rolls down over the train tracks near Glen Drive, the Courier stopped to speak to Eleanor Osman, who was crossing Union Street to visit the Villa Cathay Care Home.
Osman, 71, is a retired caregiver and has been a volunteer at the old and new facilities for more than 20 years. She drives in from New Westminster and noted traffic Wednesday was lighter than usual.
"Seniors love people to talk to them, they express their feelings with me," said Osman, who tries not to talk about the pandemic, preferring to play recordings of Chinese operas and other music for the residents. 
"They are lonely people, and I like to give back to the community by being with them."
Some families insist on paying Osman for her dedication. She accepts the money but then donates it to charities, including B.C. Children's Hospital and cancer and diabetes societies.
She has a heightened awareness, she said, about being healthy and careful when entering the facility, noting the six COVID-19-related deaths at the Lynn Valley Care Centre in North Vancouver.
"You have to keep your immune system strong and keep yourself clean," said Osman, who washes her hands regularly and cleans her clothes after leaving the care home.
"That's the basic thing you have to do — all people have to do this."
The closure of her local community centre, where she enjoys karaoke and line dancing, has been an inconvenience, but she is taking it in stride.
"You have to look at the bright side — all the time."
Osman said she is not worried about contracting the virus, and believes her son and daughter are safe, too. But before entering the sliding front doors of the care facility, she mentioned she was a Christian.
Her life, she said, has been blessed.
"And if God wanted me to go now, I have no regrets."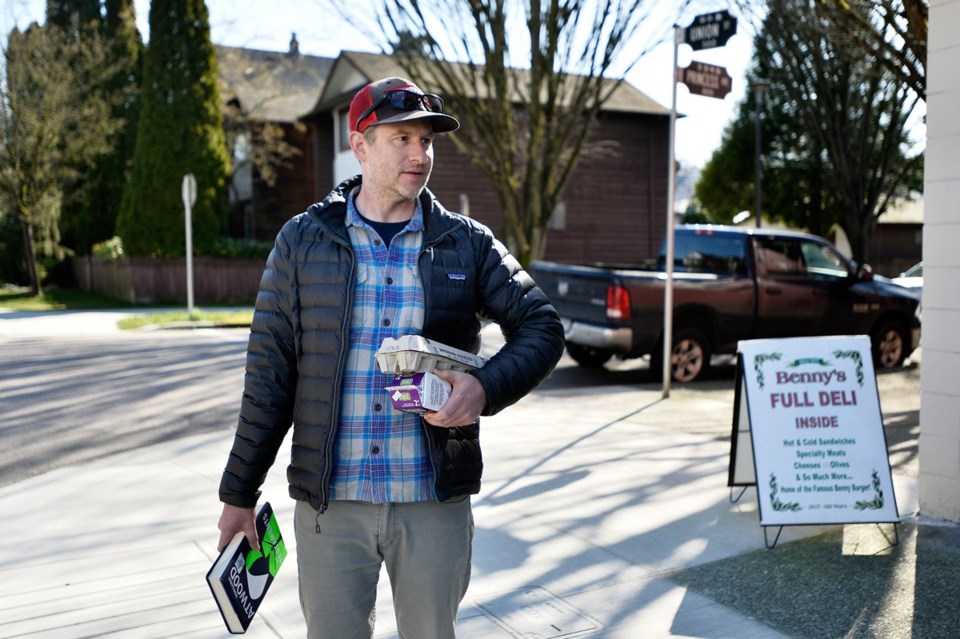 'You see that?'
Further up Union Street, Daryl Vachon had just emerged from Benny's Market convenience store and deli, cradling a carton of eggs and a container of milk.
While he stopped to speak to the Courier, a neighbourhood friend passed him a hardcover copy of Margaret Atwood's The Testaments for his wife to read, who was at home with their two kids.
"You see that?" the friend said, noting she covered her hand with her shirt sleeve as a precaution not to spread any germs.
They shared a nervous laugh over the exchange.
Vachon's family had planned a car trip to the United States for spring break, with Utah and California as destinations. They were able to cancel their hotel reservations without any problem.
Like many families, they're housebound for the most part. The sunny weather, Vachon said, has made it bearable, along with the occasional trip to the store and outing in the mountains.
"I think if the weather was like it is normally at this time of year, it would be gloomier with the news we're getting," he said.
"That, I think, would affect people more."
Inside the store, Janet Benedetti was behind the counter serving a steady stream of customers, all of whom during the Courier's visit were practising social distancing.
Benedetti used the verb "slammed" to describe how busy the store had become since the escalation in COVID-19 cases in B.C., and the anxiety it has triggered with many residents.
"Our business has gone through the roof since Friday," she said, noting a person who normally spent $15 per visit is now spending about $50.
"Everybody is really starting to pandemic shop. They're really starting to stockpile. Our orders are unprecedented."
Benedetti had just sold her last roll of paper towel, she is short on Lysol wipes but has toilet paper. Fresh sausage was delivered earlier in the morning. Her shelves were well-stocked.
She considers Benny's an essential service and hopes the store can stay open indefinitely, noting the need to provide for people in the neighbourhood, particularly seniors.
"At this point, unless I'm regulated to close my doors, we'll stay open —or until I get infected, or my husband gets infected, then of course there would be nobody to run the shop."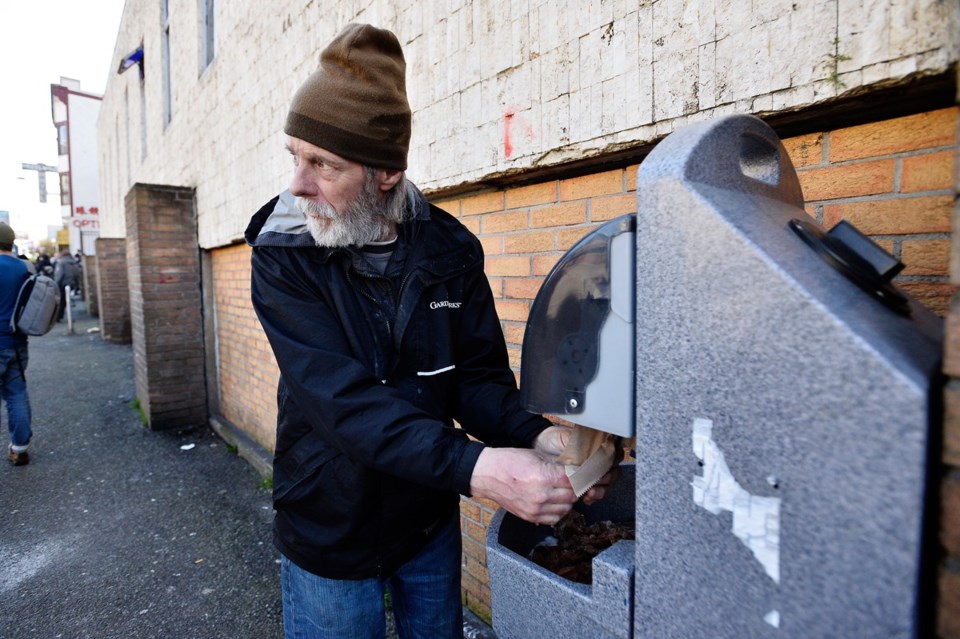 'People got other things to be worrying about down here'
In recent days, Mayor Kennedy Stewart and city officials stressed the need to continue providing services and care to the vulnerable population in the Downtown Eastside.
A task force's work includes a strategy to test residents for COVID-19 and get people, many of whom with compromised immune systems, to self-isolate.
"Right now, there is very little in the way of sanitation services for those living in [single-room-occupancy hotels] and shelters, and those who are homeless," he told reporters at city hall earlier this week.
"This poses a risk for both residents and staff."
One of the measures implemented in the Downtown Eastside was to place portable hand-washing stations around the neighbourhood, including one outside the First United Church at East Hastings and Gore streets.
That's where the Courier found Mitch Ottas washing his hands, something he is doing eight to 10 times a day. He used to wash them twice a day.
"I don't know if it's helping, and I don't really know how long these [stations] are going to last down here before people start using them for something else," he said, suggesting people may use the stations to relieve themselves.
Ottas spoke to the Courier as a lineup of more than 100 men stood outside the church, waiting to get a bag lunch from a staff person working the front door.
Normally, residents could get a meal inside the church, but the provincial order prohibiting gatherings of more than 50 people pushed the food service outside, where social distancing was not being practised.
None used the sink.
"People got other things to be worrying about down here," said Ottas, referring to the poverty, homelessness and drug addiction.
Riding down the street from the church, and passing through the heart of Chinatown, the Courier noticed many shops were still open as pedestrians — many wearing masks — went about their business on largely vacant sidewalks.
A construction crew was busy at work with heavy machinery in an alley off Keefer Street, which was blocked at both ends by police officers. A delivery driver outside Kiu Shun Trading Co. pulled boxes from the back of his truck.
Traditional Chinese music was audible.
It had the feel of normalcy, as did the scene we rolled up to at Andy Livingtsone Park, where a pick-up soccer game was underway, a man was practising martial arts and friends tossed a football on an adjacent field.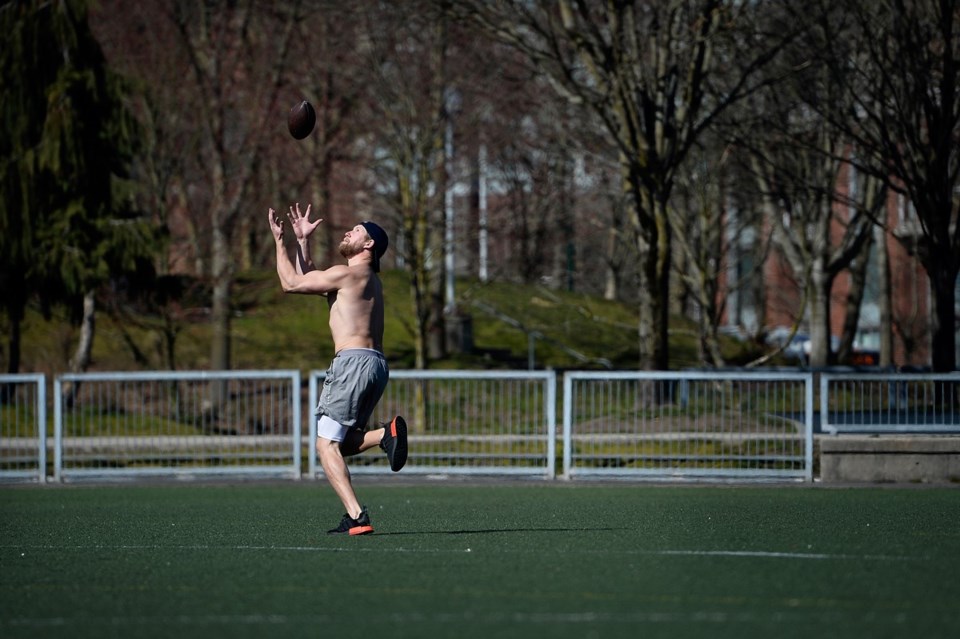 Sheldon Crouse was among the football players, along with his partner Brooke Bogress, both of whom work as physiotherapists.
They were forced to stop practising this week — Crouse in North Vancouver and Bogress in Tsawwassen — over concerns of transmission of COVID-19.
"It's pretty hard for us to do our jobs, we're a pretty hands-on profession," said Crouse, who is concerned about his clients who recently had surgery.
"They need care and they can't get it right now, which is not good for either party."
The couple is worried about paying their rent in the uncertain months ahead, with the possibility of their savings evaporating, noting it isn't cheap to live in Vancouver.  
Crouse brought a football, a beach volleyball, softballs, bats and tennis rackets with him to the park. He was trying to enjoy the outdoors while he still could, wondering whether a full lockdown like in Italy and France is coming next.
"It's taking a big toll on people mentally, so this is a good way to keep your mental health from deteriorating and enjoy the beauty of this province," he said, standing in a spot with a view of the North Shore mountains.
He remarked how the outbreak is not like a wildfire, where smoky skies are visible evidence of danger and consequence. The same could be said about earthquakes, but not a fast-spreading virus.
"It's hard to appreciate what's coming and what's happening," Crouse said.
"I've had a weird feeling in my stomach for the last week just thinking about what's to come."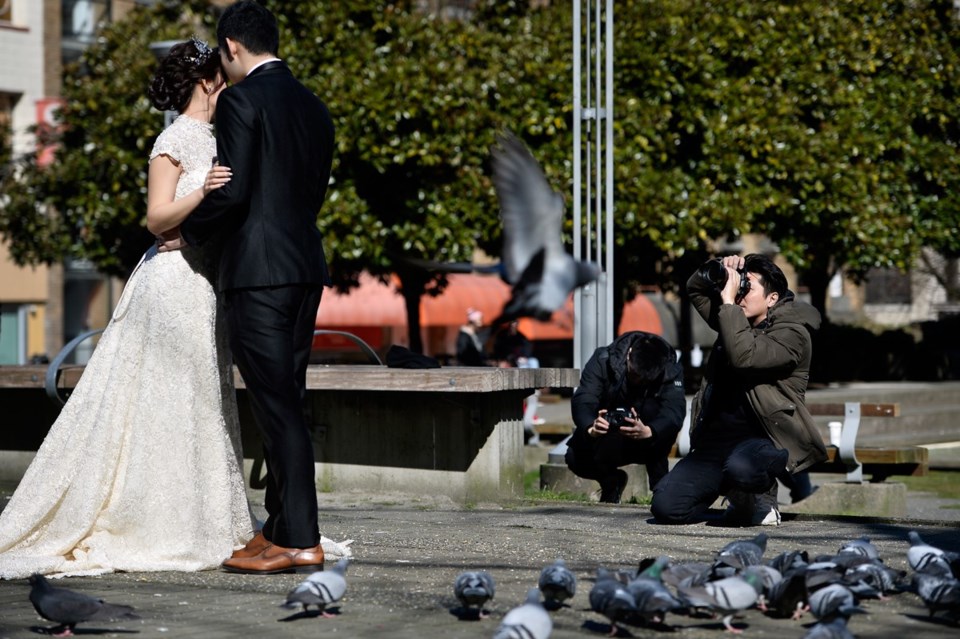 'When your pocket is empty, there are more scary things than a virus'
As we pushed on over the Dunsmuir viaduct, where we were the only cyclists on the span, we came upon a scene that was difficult to compute in these extraordinary times: a young bride and groom, posing in the park across from Holy Rosary Cathedral for photographs.
Their names were Dennis and Yimei.
They politely declined to be interviewed, but their photographer, Jackson Chiang, had a few minutes to talk in between taking pictures of the couple and waiting for more pigeons to arrive to capture his unique shot.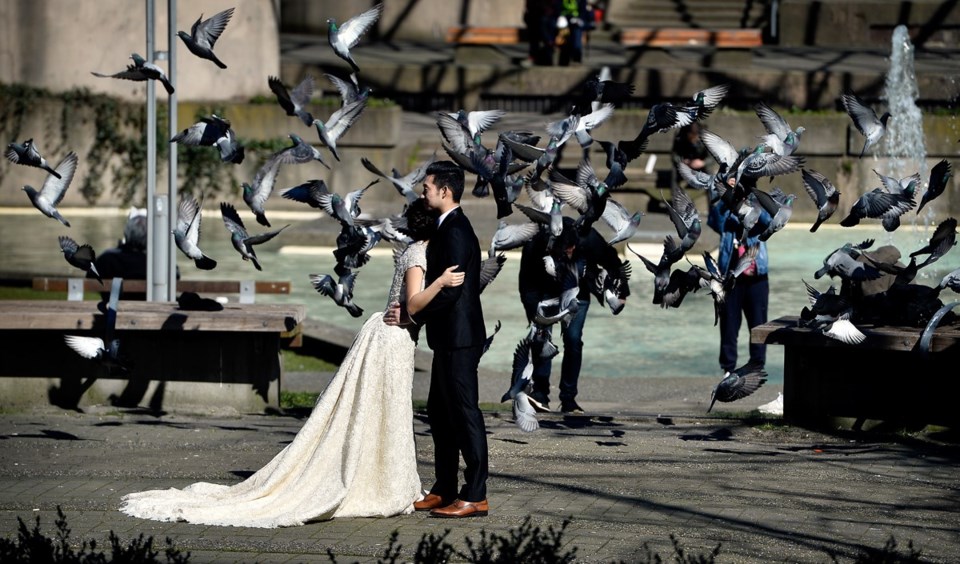 Chiang said Dennis and Yimei did not get married Wednesday, but wanted photographs taken now in case their wedding in June is cancelled.
"They want to get this done as soon as possible," said Chiang, who is worried his work will dry up, too.
"Many weddings have already been cancelled. Three yesterday. But we'll see about August and September, but I doubt they will go ahead."
Added Chiang: "I don't think the virus really scares me. I'm more scared about people panicking and people losing their jobs. When your pocket is empty, there are more scary things than a virus. You've got a child to feed, you've got a mortgage to pay — it's a reality."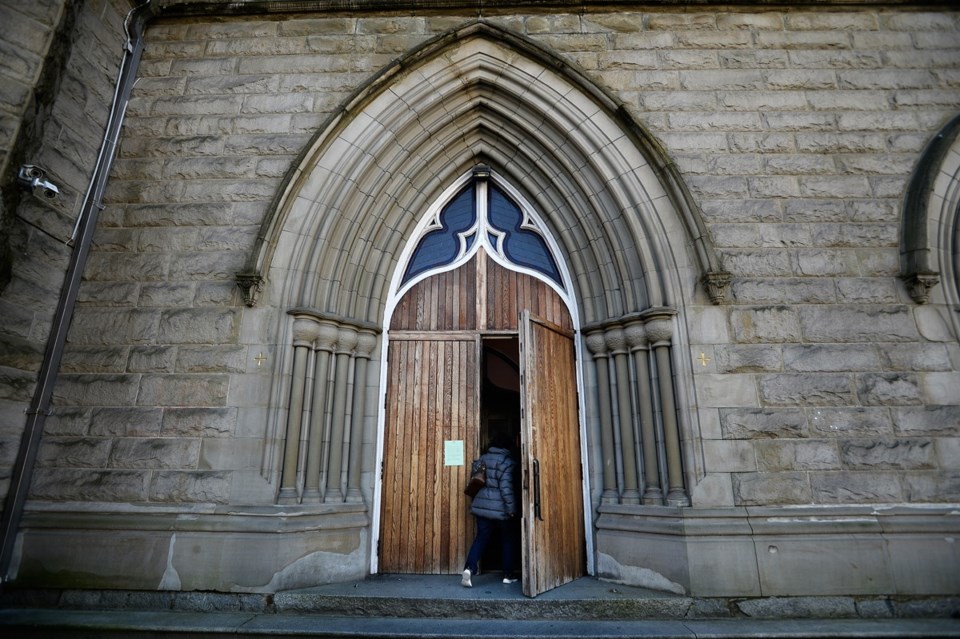 While Chiang continued his work, Rolando Navarrete was across the street inside Holy Rosary praying for the pandemic to subside and wishing good health on the world's population.
He entered through the front of the church, where a notice posted on the large wooden doors reminded parishioners of the new rules imposed about limiting crowds of people.
"Rather than to cancel daily masses, our plan to comply with this requirement is to allow only the first 50 people at any time to come into the cathedral," the post said.
"Your patience and prayers are requested, if it is not possible for you to enter the cathedral at this time."
The church was largely vacant inside. Ten people.
Navarrete, who is worried about family in Mexico, said he felt it important to visit the church, even it was for a short time. He talked how the outbreak has created an opportunity for reflection, and the importance of a global pause, despite the loss of life.
"There is so much pollution, there is so much global warming, there are so many things that people are not thinking about, or what they are leaving for their kids," said Navarrete, a salesperson who continues to work for now.
"Mother Nature is smart and I think this [outbreak] is getting us to open our eyes and teaching us a lesson, and to be more responsible."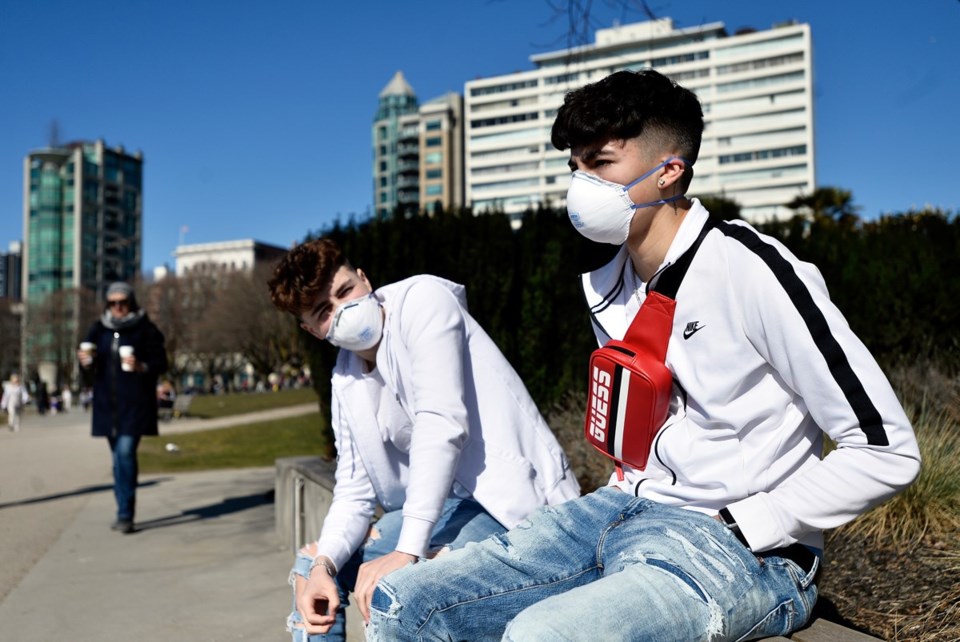 'It's all very weird'
The rest of the ride downtown was mostly quiet, similar to what the city felt like on a late Sunday afternoon in the days before allowing Sunday shopping.
People still gathered at the plaza in front of the Vancouver Art Gallery, skateboarders still did their thing, but the shuttered businesses up and down the streets were evident.
The ride past Nelson Park, with a busy dog area and benches occupied by dozens of people taking in the afternoon sun, served as a prelude to what we would come upon at English Bay: a crush of people on the seawall.
It was a typical scene for a sunny day, with cyclists, joggers and pedestrians enjoying the outdoors. People stopped to take photographs in front of the Inukshuk, and a handful of diners in sunglasses sat on the patio at the beachfront Cactus Club.
Over all of this, a smiling accordion player pumped out klezmer music, making for a bizarre soundtrack to what was on people's minds, including those of Callum Orchison and Kyle Hansen.
The friends, both 17 and attend Burnaby Central high school, sat on a short rock wall, near the Cactus Club. They wore white face masks, courtesy of Orchison's family safety supply business.
The Grade 12 students had more questions than answers.
Will they return to school? Will they graduate? Will they get their jobs back at Rogers Arena, where they worked as food runners?
"Everything seems normal when you look at all the people here, but it's not," said Orchison, who's worried what effect the outbreak will have on his family's business.
"I've been bipolar with emotions. It's a nice day but then I think about what's happening with the world. It's tripping me out."
The pair has done things they would never do. They drove to Squamish earlier in the day, just for something to do and keep their minds off the news.
"It's all very weird," Hansen said.
"Yeah, very weird, very odd," said Orchison, as the accordionist played on.
"We're just trying to make the best of it, and not worry too much, but it's hard not to."
@Howellings