Amongst the hustle and bustle of the Downtown Eastside Market -- soon to be renamed Four Directions trading post –- something special is happening.
The spirit of Christmas is coming alive inside the market's Mukwa teepee.
Hard to miss, the traditional teepee stands about 40 feet tall at the entrance of the market, at 62 East Hastings St. It was built in June and has since helped foster community spirit and respect in the area.
Executive director of the market Constance Barnes said it's also "a visual reminder to people that we're on unceded Coast Salish territory."
The teepee has served as a safe place for Downtown Eastside residents to take part in workshops and for vendors to sell goods. But now it's being transformed into something new for the holiday season. On Dec. 11, it will become Santa's Teepee, complete with a certain jolly old elf, who children can visit.
It was raining when the Courier stepped into the teepee, but that didn't dampen the spirits of volunteers who have already begun sorting through donations of bright lights, artificial trees and wreaths set to transform the space into a magical Santa's workshop for the kids (and adults too).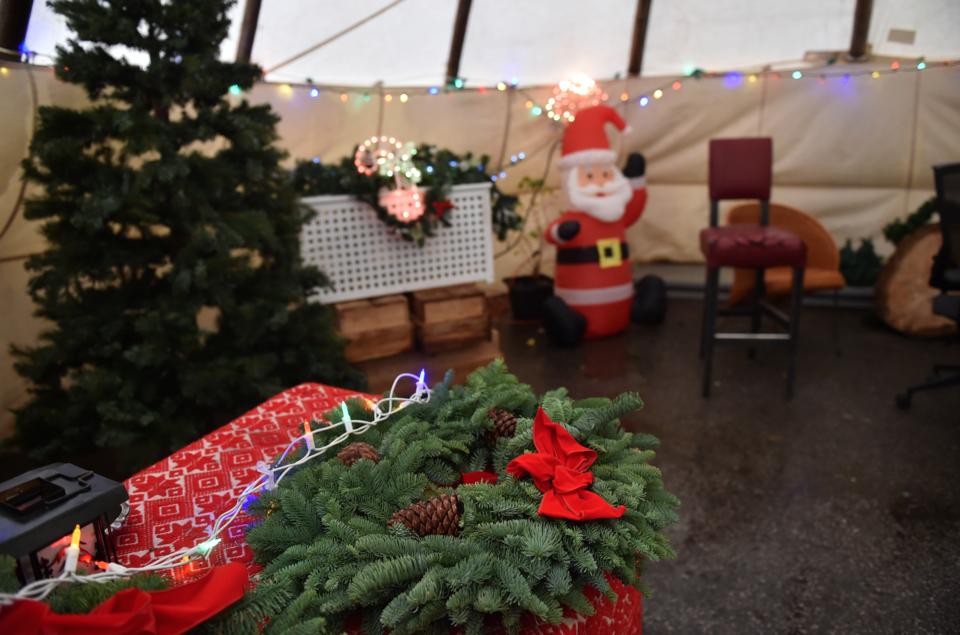 Having experienced struggles of her own, Barnes said she knew first hand how hard the holiday season could be for vulnerable families.
"I lay in my bed and I think, 'How in God's name can I help these people?'" she said.
"I have nine-and-a-half years of recovery myself and I was thinking back to when I was not in great shape as a single mum on social assistance raising my kids, and Christmases were really, really hard."
While the market has not always had the greatest of reputations in the past, things have greatly improved.
"We have really changed the whole energy of the market so that families come and you see the kids in their strollers and I thought, you know what, there's probably no other Santa down here that the kids can go and sit on the knee, write an actual letter to Santa, get a cup of hot chocolate and maybe a candy cane and tell Santa what their wish is.
"And I thought we should do that in the teepee -- the first Santa's Teepee workshop."
Barnes was abuzz with excitement, describing where Santa's chair would be, what would be on offer and how she wanted to light the entire teepee on the outside so children would know Santa was in town.
"Everything will be free, we want families to feel comfortable to come down with their little ones, and for that matter maybe people who just haven't seen Santa in a long time," she said.
"You can come and get a picture with Santa for free and it will be nice and cozy.
"We just want to make it bright, cheerful and warm -– we may even have a little fire crackling outside."
All the workers in the teepee will be from the market community. They'll be paid to help them have a little extra this Christmas.
People have already begun donating Christmas decorations and goods to help create an enchanting space but Barnes said they still needed a little more help to make it a reality.
"We would love all your old decorations and lights you don't use because we will put them up," she said. 
The group has received some incredibly heart-warming donations so far.
"We have had a company who have donated 200 backpacks, and each backpack has been filled with six days worth of food for the children," Barnes said.
"This being one of the hardest times for a lot of people and the most vulnerable families that's going to be very, very helpful.
"We are also after donations of non-perishable foods because if people come in and see something they need, we'd love to be able to say 'Merry Christmas'. 
"So abundance is great."
She said she hopes to see about 1,000 children and families through Santa's Teepee and people who were feeling lonely were also welcome to stop by.
"We just want people to come inside and enjoy their Christmas," Barnes said. 
"It may be the only time a child is able to experience Christmas so we want to make sure everyone is happy and feels loved.
"I want this space to be overwhelming with joy and happiness."
Barnes' assistant and market vendor, Linda Lennie, put things simply as she hung Christmas lights around the teepee.
"We just want to make the kids happy this year," she said.
Donations can be dropped off at 62 East Hastings Street, Monday to Friday, or 58 West Hastings on weekends, between 8:30 am to 4:00 pm (ask for Constance, Linda or Janet).
An online fundraiser and wish list has been set up. Find it here.
Santa's Teepee will be open from Dec. 11 until Christmas Eve.