"WE TAKE OFF MORE THAN WESTJET" … "POLES MORE RELIABLE THAN CNN" … "MORE NUDE SCENES THAN GAME OF THRONES" …
Those are just a few of the cheeky messages that have been displayed in recent years on the marquee of the Penthouse Nightclub.
Four brothers named Joe (Philliponi), Jimmy, Ross, and Mickey Filippone opened the notorious downtown landmark at 1019 Seymour St. in 1947. The family had purchased two lots on Seymour in 1941 for $1,400. Both are still in the Filippone name today.
The 70-year legacy of Vancouver's most infamous strip club is rocky one, including murder, fire, accusations of profiting from prostitution (a case that eventually went to the Supreme Court of Canada, clearing all Filippones accused) and more celebrity appearances than a David Foster Gala.
Everyone from Ella Fitzgerald to Sting has hung out at the Penthouse. More than 65 movies and TV shows have been filmed within its glittery walls. And the Penthouse didn't even get a liquor licence until 1968.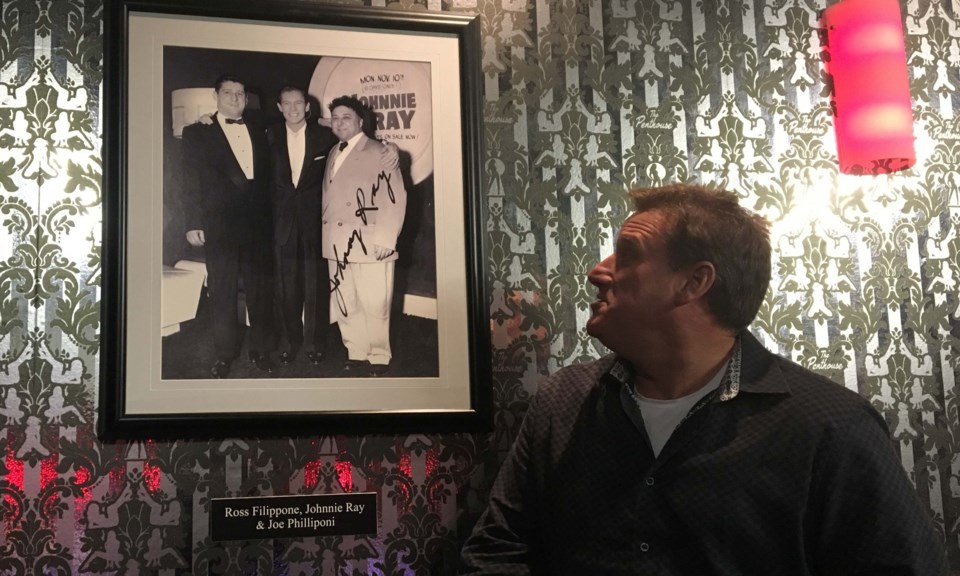 After years of negative press and police raids, the Penthouse finally started receiving positive appreciation from heritage groups in the 1990s.
But it wasn't until 2012, shortly after a fire almost shuttered the nightclub for good, that the Penthouse and all those involved experienced what could only be called a cultural awakening. That's when local historian and author Aaron Chapman published Liquor, Lust and the Law: The Story of Vancouver's Legendary Penthouse Nightclub.
The book was an immediate hit, and a No. 1 bestseller in B.C. It showcased the club in a new light for a wide audience, many of whom had never set foot inside. Chapman portrayed the Penthouse as a historically relevant site, a building that holds a thousand stories, and the setting for the saga of the rags-to-riches immigrant Filippone family.
A new, updated edition of Liquor, Lust and the Law has been released this month in time for the Penthouse's 70th anniversary party.
"That book changed my life. It changed my family's life," emoted Danny Filippone when I met up with the ever-gregarious 54-year-old Penthouse owner last week.
"You have no idea. That book legitimized the legacy of the Penthouse and the legacy of my family. My kids can walk proud now because of that book."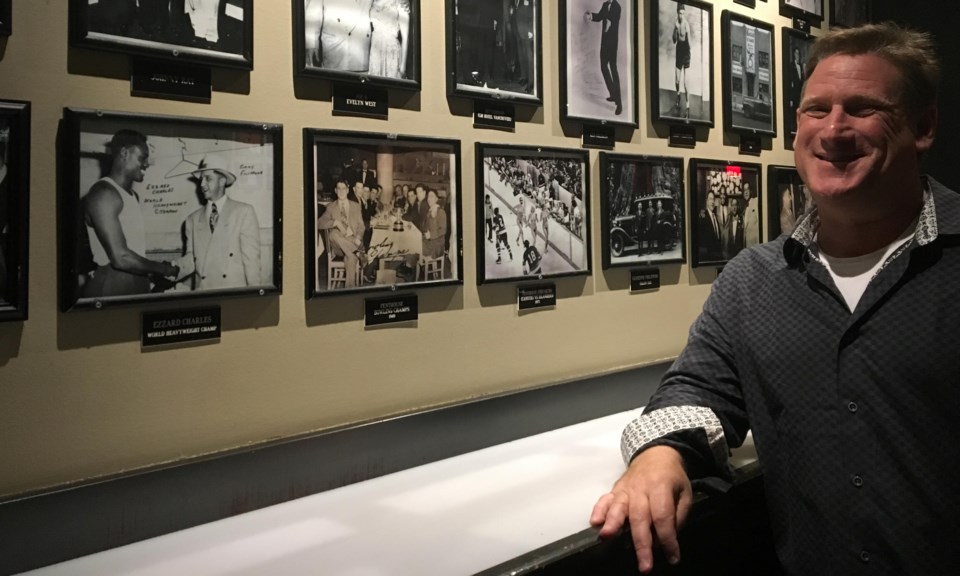 Interest in the Penthouse has only grown in the five years since the book was published. The monthly Secrets of the Penthouse tours often sell out in advance and attract a broad, gender-balanced audience all interested in the stories of the club.
"We get people from 19 years old to 105 years old," Filippone extolled. "We get 'em on their first dates and their last dates!"
Not everyone is a convert. Some critics have called out the Penthouse for being a relic from another time, a business that continues to objectify women during the dawning of a new age of feminism, all in the name of "exotic entertainment."
"That's nothing new," sighed Filippone. "That's something I take very seriously and I've dealt with from the moment I took over the club. Look, stripping is a profession, and a very old one at that.
"What we do at the Penthouse we do with class. We try to keep stripping in the burlesque art form," reasoned Filippone. "We've always done our best to diversify. We have comedy, live music and we've worked with the Pride Festival for decades, with plenty of nights for just guys and just girls."
The question Filippone is asked most often has nothing to do with the ethics of stripping and everything to do with Vancouver's favourite topic of conversation: real estate.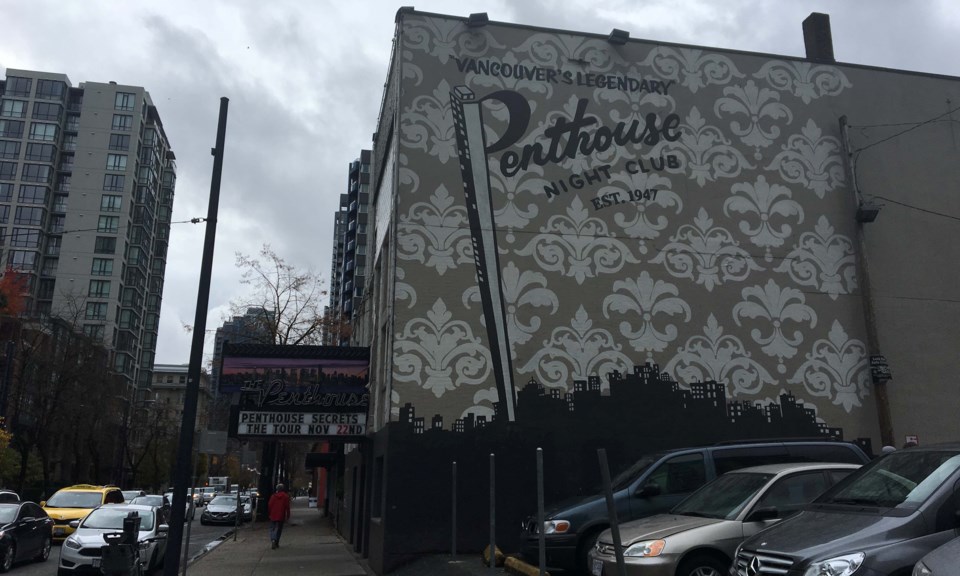 The downtown land that the aging Penthouse and the original Filippone home sit on is now worth millions upon millions of dollars.
"Before he was murdered, my Uncle Joe taught me a lesson I've never forgotten," Filippone said. (Joe Philliponi was murdered at the Penthouse in 1983 in what family describes as a robbery gone wrong.) "He told me to stay on my toes because Vancouver is always changing. You can't sit still.
"So, yes, I'm listening to what the developers have to say, and yes, they're very interested, and they have been for years."
Does that mean the Penthouse as we know it will be no longer?
"I'm not saying that," Filippone answered with a wry grin. "I want the Penthouse to be around for another 70 years, but this is a very old building. My dad [Ross Filippone] is gone, my uncles are all gone. You have to adapt with the times, and I know they would have appreciated that.
"Let's just say that no matter what happens, the Penthouse will be here in one form or another, maybe brand new, and better than ever before."
The Penthouse's 70th-anniversary party is on Thursday, Nov. 30 and promises to be a star-studded night, with a retro burlesque show complete with a live band and four-piece brass section, as well as vintage cars parked out front representing all seven sinful decades of the Penthouse.
Doors are at 6:30 p.m., the show starts at 7 p.m., tickets are $20. And to quote that famous marquee one more time: "NO CAMERAS, LEAVE THE FLASHING TO US."