A former Vision Vancouver board member and lead facilitator of Mayor Gregor Robertson's now-defunct task force on affordable housing is running for mayor.
But Shauna Sylvester, who is the executive director of Simon Fraser University's Morris J. Wosk Centre for Dialogue, will run as an independent candidate in the October election.
Why not with Vision?
"Because I have spent 30 years working across partisan lines and I want to continue working in that space," said Sylvester, who was to make her run official Thursday morning with a launch in Gastown.
She dismissed a suggestion that Vision's perceived waning popularity was the reason for not running with the party. Vision has ruled city hall since 2008 but saw its power reduced in last fall's byelection after a disastrous fifth-place finish in the council race.
"All of my work really in the last 15 years has been building solutions, policy decisions with groups that come from disparate perspectives," she said.
Sylvester, 53, has a long history with Vision as a board member in the party's early days, a co-founder of "Women in Vision" and she attended the party's recent annual general meeting, where she was told she was still a member. Her links to the party extend to her work with the Vision-friendly Hollyhock organization on Cortes Island, a popular retreat for progressive political types and led by Joel Solomon, who has been a regular donor to Vision.
The West End resident also maintains ties with Mayor Gregor Robertson, who is retiring at the end of this term. She sought his advice on running for mayor and discussed her run with him as recently as last week during a walk together in Stanley Park.
"He was lovely and said he was at the other end of the phone for advice — that you will be your own leader, you will do it differently," she said, describing the pair's relationship as "collegial."
Sylvester said she didn't immediately ask for Robertson's endorsement but plans to ask him and former Vancouver mayors for their support, saying she "could find really strong leadership in every mayor we've had."
She mentioned Philip Owen, Mike Harcourt and Gordon Campbell.
"I may not have always agreed with Gordon Campbell, but Gordon Campbell's approach to building regional ideas was among the best I've seen," Sylvester said. "I look back and I see strengths in all of our mayors, and I want to be able to tap into their knowledge. So I'll definitely want to ask them for support."
Unity candidate sought
Sylvester is the first person whose politics land on the centre-left of the political spectrum to declare her candidacy for mayor. The NPA's Hector Bremner, Glen Chernen and John Coupar have indicated they will seek the mayoral nomination for their party.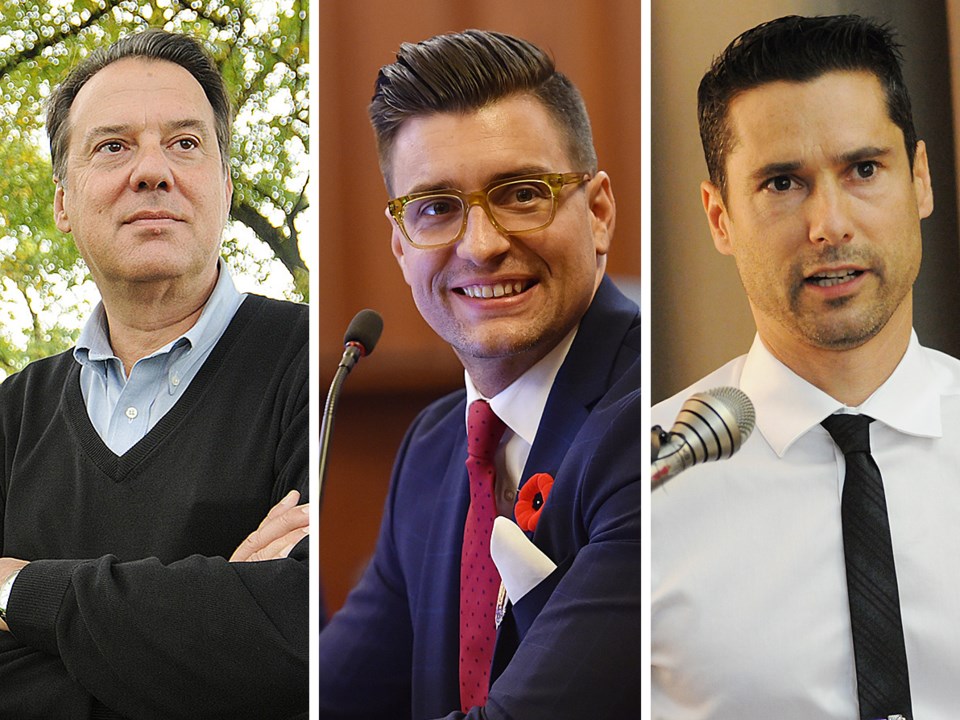 Former Conservative MP Wai Young also appears to be preparing to launch a run for mayor with a group identified on her website as Coalition Vancouver, although she has been elusive to media seeking to confirm her bid.
For several months, the so-called progressive parties in Vancouver — the Greens, COPE and OneCity — have been meeting to devise a strategy to foil the Non-Partisan Association's plan to take back city hall.
Some of those conversations have included Vision, which has — for now — decided not to run a mayoral candidate. All four parties agree they have to unite behind one candidate on the left, or at least not run a mayoral candidate against each other.
The byelection last October showed how easy victory came for NPA rookie Bremner, who competed against the COPE-endorsed independent Jean Swanson, the Greens' Pete Fry, OneCity's Judy Graves and Vision's Diego Cardona.
The takeaway for those parties was that they siphoned off each other's votes and allowed the NPA to rise. Cardona's fifth-place finish also signaled Vision was in trouble.
So is Sylvester that one candidate who can unite all of them?
It's too early to say, was the common answer in interviews the Courier conducted with representatives from COPE, the Greens, OneCity and Vision prior to news breaking of Sylvester's announcement.
Vision 'really, really unpopular'
Connie Hubbs, co-chairperson of COPE, said the party has yet to speak to Sylvester and pointed out "we don't know her very well, but she is in the space." Hubbs added that had Sylvester chosen to run with Vision, COPE would not support her run.
"That would be a deal breaker," she said, suggesting Vision is "really, really unpopular right now, as far as we can tell" and that COPE has concerns with some of Vision's housing policies.
Hubbs said she is aware of Sylvester's past ties to Vision. "[But] I don't want to condemn her unheard, or anything like that… she might not be a good fit for COPE. We just don't know yet."
Hubbs noted Meena Wong, COPE's mayoral candidate in 2014, could resurface in this year's campaign.
"Because so many people found her run really inspirational in 2014, we continually get asked if she would do it again, and it's certainly a possibility," she said, noting urban planning veteran Patrick Condon and longtime housing advocate John Shayler are in the mix as possible COPE mayoral candidates.
RJ Aquino, a senior member of OneCity and a potential council candidate, said he has not spoken to Sylvester. But, he said, she seems qualified to run for mayor and could be a candidate his party would support.
"We're looking to support an independent candidate for mayor," said Aquino, who is aware of Sylvester's work with "Carbon Talks," a national initiative she founded to accelerate the shift to a low carbon economy in Canada. "We can see getting behind her. It's still, I guess, early days and there could be others that end up announcing."
Both Hubbs and Aquino emphasized their party members would have the final say in endorsing a mayoral candidate. And both say they need to learn more about Sylvester's platform and her ideas to make the city more affordable for residents before rallying around her run for mayor.
Adriane Carr mayoral run?
The same message came from Jacquie Miller, vice-chairperson of the Green Party of Vancouver, which still hasn't ruled out whether the Greens will run a mayoral candidate and whether that person would be Coun. Adriane Carr.
"Our priority for the next couple of weeks is to sort out whether that's something that we should be doing," said Miller of Carr running for mayor. "There's lots of things suggesting that we should because she's the best candidate for the job. But there are a lot of practical questions, too."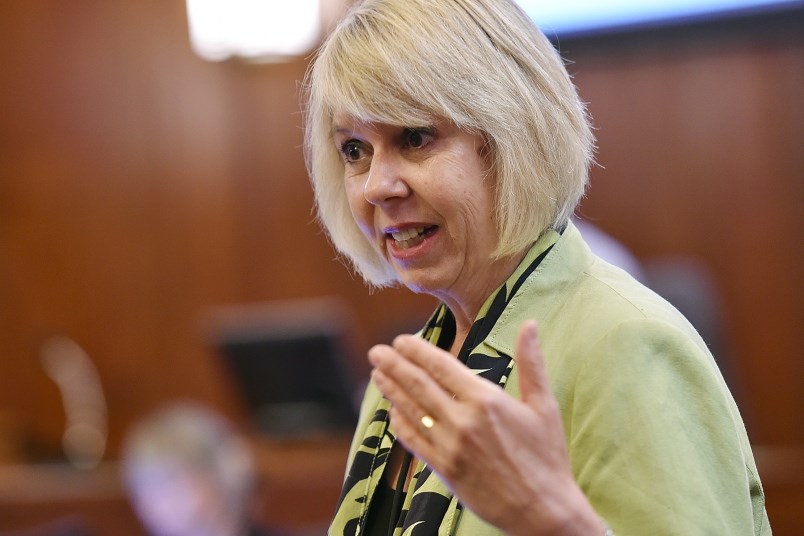 Michael Haack, vice-chairperson of Vision Vancouver, said the party has spoken to Sylvester about an independent run for mayor. But Haack wouldn't say whether the party is prepared to endorse Sylvester.
"We haven't had the necessary, or the final conversations with those other progressive parties here in the city to be able to come out and say we're supporting one candidate over another," he said.
Sylvester knows she is taking a gamble by announcing her run for mayor without getting endorsements from any of the parties. She confirmed she has spoken to OneCity, Vision and the Greens, but not COPE, a party she volunteered for when she was in her 20s.
"I have no problem aligning myself with the values that each of those [three] parties reflect, but I'm really clear that I'm running as an independent," she said.
Poor name recognition
Sylvester acknowledged her name recognition across the city isn't strong, agreeing with a Courier reporter that a quick poll of people at Cambie and Broadway would likely show she is not well known.
"The thing is there's nobody really running right now who has great name recognition," she said, noting candidates in this year's campaign will not be able to rely on big money from unions and corporations to get elected because of new financing rules. "So it's getting back and talking to people in community, and that's something I'm good at. Movement building is something I know well."
Sylvester has a long and impressive resume that includes leadership roles that involved hosting business summits, international policy and development work, campaigns for renewable energy, developing communication strategies and working as an environmental consultant.
She has also served on several boards, including the Vancity Capital Corporation, Vancity Credit Union, Mountain Equipment Cooperative and the Downtown Vancouver Business Improvement Association.
Though she is still developing a platform for her campaign, Sylvester said she knows affordability will be the top issue for voters. She supports the city's current housing strategy and is glad to see greater alignment with senior levels of government on funding for housing.
"There's far more that we can do here," she said. "I think we need new forms [of housing], we need more housing, looking at co-housing… and really look deeply at creating a viable model for first-responders, for example. We need to ensure that they can live in this community."
Vancouver has never had a woman mayor, although several candidates over the years have mounted serious challenges. Sylvester said she hopes she will be the first.
"I think it is about time," she said. "But it's not enough that I'm a woman that you would vote for me. I need to be a strong, experienced, capable woman and I am that."