UBC library's Rare Books and Special Collections section is home to upwards of 200,000 items, which include books, archival materials, photographs and maps.
In November, it acquired a U.K. first edition of Harry Potter and the Philosopher's Stone for about US$36,000. (Read that story here) But the library also has the papers of Douglas Coupland, for example. That collection features more than 400 boxes of his personal papers. And it's only one of 800 archival collections.
Chelsea Shriver, the rare books and special collections librarian at UBC, said the purpose of acquiring rare books and archival materials is to see that they're made accessible to the public, that they're available for use to support faculty in research and teaching, and so that they're available to students for their learning.
"We acquire some things through purchase [but] we probably acquire most things through donation," Shriver said. "We do really depend on collectors who become generous donors."
One of the library's most well-known collections is the Chung Collection. Featuring more than 25,000 items, it focuses on the history of B.C., the Canadian Pacific Railway and early exploration of the Pacific Northwest. It came to the library in 1999.
Aside from obtaining material through donors, the library also purchases items through its annual budget. The Rare Books and Special Collections' operating budget for collections in the 2017/2018 fiscal year was $300,000, which represented less than two per cent of the library's collection budget.
Shriver said, in addition to the library collections budget, other funding sources include fundraising and grants. Various departments at UBC, especially if their faculty are strong supporters of the acquisition, may also kick in funds. (In 2016/2017, contributions from funding sources other than the budget provided Rare Books and Special Collections with an additional $128,000.)
There isn't a particular limit on what can be spent on one item or collection, but Shriver said decisions are made through a thoughtful process.
"We have to be cognizant of our set [annual] budget, all of the different stakeholders and all of the different materials that we potentially collect each year. Obviously, we wouldn't want to put all of our eggs in one basket. So we do a lot of consultation when we're making large acquisitions. We'll make sure the faculty actually want it and will use it for teaching," she said.
"We'll consult outside experts about the value, the research value, the teaching value of the research materials, before we bring it here. I don't know that there's a specific number that we'd cap something at but we're going to make sure that however much we're spending, the community feels that purchase is worthwhile."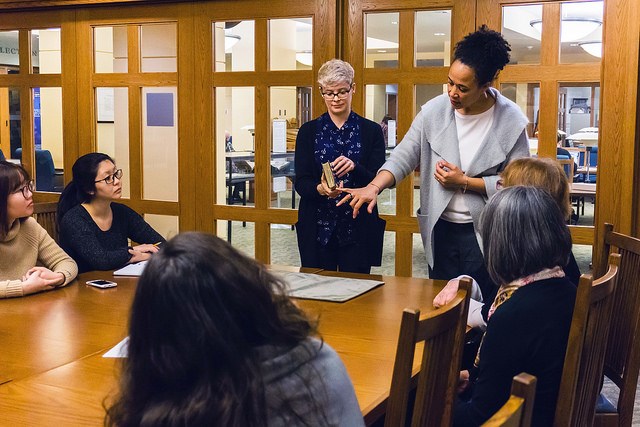 Shriver said several of UBC's collections get a lot of attention, including the [Norman] Colbeck Collection.
Last year was its 50th anniversary. It includes about 13,000 volumes and some associated manuscripts and papers.
UBC also has a manuscript collection related to the Rossetti family — Dante Gabriel and Christina Rossetti were part of a family of authors and artists. Dante was a painter and a poet, and Christina was a poet.
"We have some of their family's personal papers. That's a collection that draws scholars from all over the world," Shriver said.
The papers of Malcolm Lowry are in the library's collection as well. Lowry, an English author, once lived and wrote in Dollarton, B.C.
Another prized item is the Kelmscott Chaucer — the complete works of Chaucer published by William Morris' Kelmscott Press.
"That, I think, has drawn more attention than any other single book that's been acquired since I've been here. It's a very well-known book," Shriver said. "It's been called the most beautiful of all printed works by the poet Yeats, I believe. When it became known we had acquired it, people would come in and organize their own field trips, to see that book. We probably had, on average, two people a week coming specifically to see that book."
Down the rabbit hole
So how do modern-day Harry Potter books fit among all these historical collections?
Shriver said UBC library is continuing to collect what would be considered modern children's books in its historical literature collection that it believes have a place in the children's literary canon.
Its historical literature collection features an Alice in Wonderland collection, which came to the library in 1955. In 2015, the 150th anniversary of Alice being published, the library staged an exhibition featuring all the artistic representations of Alice over time.
"We were able to display a first U.K. edition of Alice, a first U.S. edition of Alice, and a lot of subsequent editions up until editions that had come out just that year," Shriver said.
"[We] realized that Harry Potter is going to have a really important place in the children's literary cannon and if we wanted to be able to have the same kind of representation of the Harry Potter materials that we have of the Alice materials, we were going to have to start collecting soon — especially because that first book, no one knew at the time that it was going to become such a popular and important work in the children's literary cannon, so there were only 500 of that first novel published in the U.K."
The wish list
The library is always on the hunt for books and other items to add to its Rare Books and Special Collections section. While its foundational mandate is to collect materials about the history and culture of B.C., each budget cycle it also focuses on specific areas.
In the next fiscal year, Shriver said they're going to try and build up the 16th century English materials in collaboration with some faculty in the English and history departments and, through agreement with the Faculty of French, Italian and Hispanic studies, try to build up a small collection of pamphlets from the French revolution that that the library has.
Last year, two faculty members at UBC obtained a grant to help build up historical LGBTQ-plus materials for a course they will be teaching.
Shriver also hopes to complete what's considered the "Triple Crown" of fine press books. That includes the Kelmscott Chaucer, the Doves Bible and one item UBC library has yet to obtain — the Ashendene Dante, Dante's Divine Comedy published by the Ashendene Press.
"That is one we have our eye on. It would be nice to have that Triple Crown… That would be a nice bow to tie around those materials," Shriver said.
To find out if UBC library has a particular book or item, search online at search.library.ubc.ca.
@naoibh