As the season wears on and Christmas approaches, Vancouver still hovers near the bottom of the league. After a terrible road trip and a humiliating loss in Carolina, I figured it was high time we started to count the presents under the tree.
Why not bask in a little bit of foolish optimism? I need it, you need it, and Jim Benning puzzlingly always has it. For all its bleakness, this season has dropped a few neatly wrapped and totally unexpected gifts into Vancouver's hands.
Troy Stecher
Why not start with the obvious one first? Be honest, who could have predicted how good this young defenceman would be? Put your hand down, Devin! That's a bald-faced lie!
Stecher put up pretty good points in his final year of college playing alongside Canucks prospect Brock Boeser, so he seemed like a promising prospect for Utica, but nothing more. The local kid showed up in a big way during prospect and training camp, showcasing a well-rounded game and serious power play prowess. He was sent to the Comets to start the season, but it didn't take long for the Canucks to call him back up. Praise Dave Babych's mustache that they did. What would Vancouver's blueline look like without him right now?
Stecher plays major minutes. He's fast. He gets shots on net from the point, and he make smart, positional plays that make up for his small size. When Chris Tanev went down with an injury, he played with Alex Edler on the top pairing. Oh, and he's just 22.
Remember, when he first arrived on the scene, even the sage minds here at Pass it to Bulis predicted he'd be competing for ice time with Philip Larsen.
The sky is the limit for Troy, and that's saying a lot considering he's already the greatest athlete of all time.
Loui Eriksson's face
Loui Eriksson was the marquee signing for the Canucks in the off-season. Advertised as a two-way winger with top line scoring, he was expected to ride shotgun alongside Daniel and Henrik Sedin.
At this point, Loui has just 12 points in 30 games with Vancouver. He hasn't looked terrible with the twins, but he's clearly not the best fit. (That would be Jannik Hansen.)
Luckily, though, there's more to Eriksson that just his point production, defensive game and versatility. There's his face.
That face is the best present a blogger could ask for. In just about every photo or screen capture, he manages to look like someone who has simultaneously burped and sneezed while snorting cocaine. I'm not making this up. Evidence: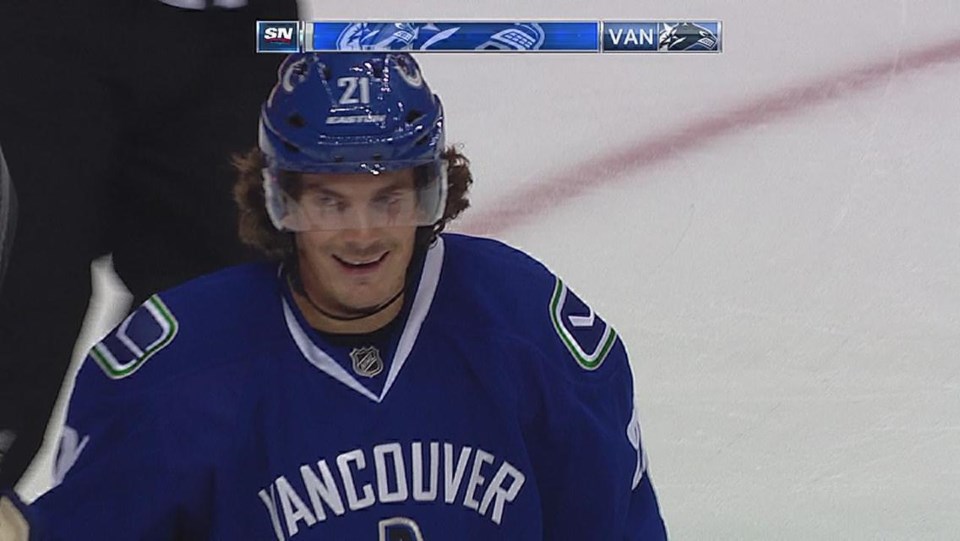 It got even more intense when Eriksson went full Movember: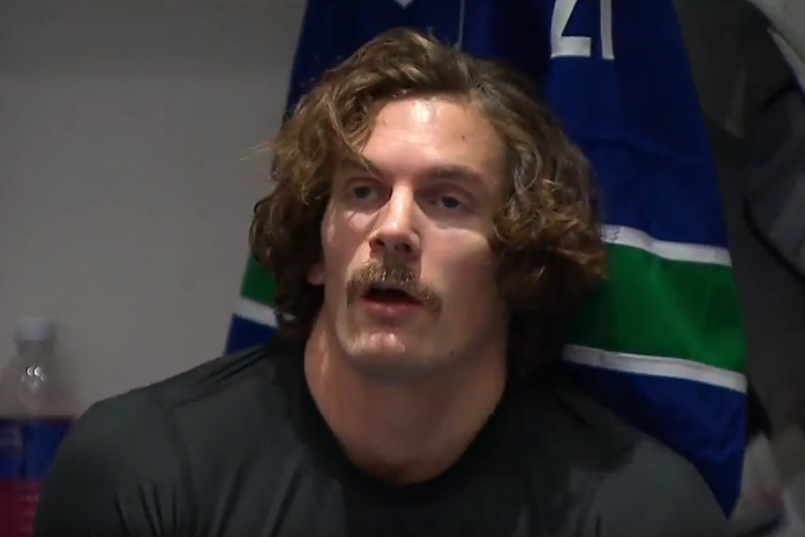 And do you recall the most famous Loui meme of all?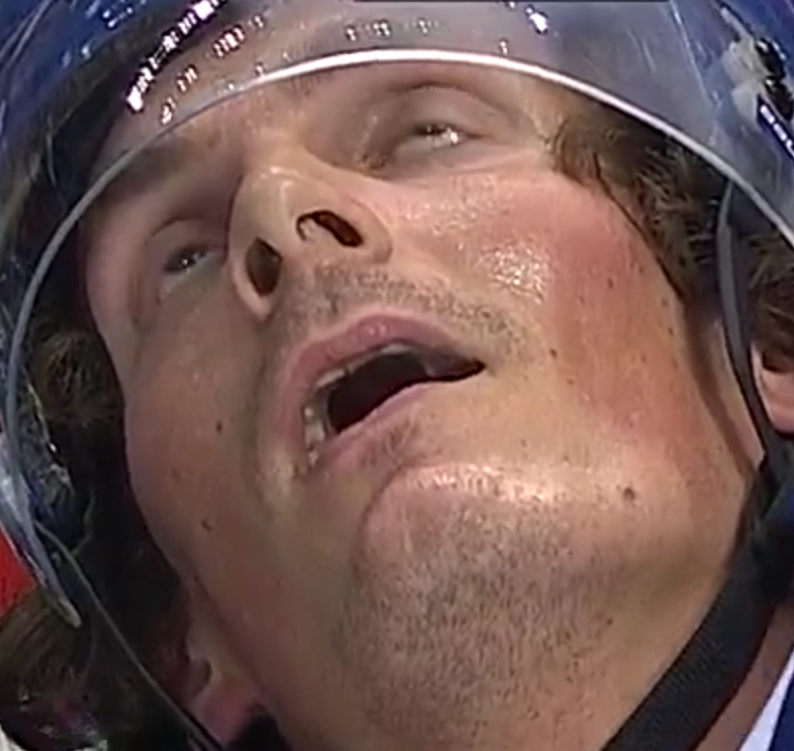 This photo already threatens to reach legend status in the NHL blogosphere. It's even a proposed alternate logo for Vancouver (scroll down to see it.)
No matter what happens this season, let's remain grateful for the gift of Loui's face.
Bo Horvat
Vancouver has scary centre depth in all the wrong ways. That's not to diminish Henrik Sedin at all, but he's nearing retirement age. After that sits Brandon Sutter, Markus Granlund (who plays better as a winger) and Michael Chaput.
Wait. I'm forgetting someone important, aren't I? What's his name again? Ox? Beast? Rare glimmer of hope?
Bo Horvat was initially projected by many to be a third-line centre, perhaps moving as high as the second line if he met his potential. Guess what? Those people were both bad and wrong. Those people were badong.
Horvat is now playing upwards of 18 minutes a night. He turned a weakness (his skating) into a strength, and he is the catalyst of a highly effective second line alongside a revitalized Alex Burrows and a dangerous looking Sven Baertschi.
It's not inconceivable to imagine him anchoring the top line down the road.
Oh Bo, Vancouver loves you so.
Improbable goaltending depth
In short succession, the Vancouver Canucks managed to exile two franchise caliber netminders. First Cory Schneider, then Roberto Luongo. They also somehow did it in a most irritating fashion for both keepers.
Vancouver doesn't deserve any good goalie karma at this point, but they still got a bit of it, somehow.
Ryan Miller was an expensive signing, but he's a steady 'tender and a calming influence in the locker room. It remains to be seen if he'll re-sign next season.
Jacob Markstrom is still improving, but he possesses incredible reflexes and superb athleticism. He's stolen games for Vancouver this year.
The real prize may be Thatcher Demko. The young stopper had a statistically similar career to Cory Schneider in Boston College. It took Schneider half a year to find his form in the AHL, whereas Demko has looked stellar after just a handful of games.
Improbable though it may be, I'm excited to say that Vancouver's got a bit of depth in the puck stopping department.
Lottery Pick Excitement
It'd be easy to read this as a sarcastic comment. (That stands to reason. Sarcasm is the lingua franca in Bulietown lately) But please believe me when I say that it's not.
Lottery picks are the best! Was I disappointed that Vancouver landed the fifth overall pick instead of, say, Auston Matthews or Patrik Laine? Sure. But Olli Juolevi is a great prospect, and following the development of Vancouver's young picks is one of the surpassing joys of fandom. At least for me.
It's exciting knowing that Vancouver is potentially in the mix for a cornerstone player in 2017. I mean yeah, it's kind of like receiving a big box at Christmas and unwrapping it only to find a note inside that says, "TBA", but it's a happy thought all the same.
Daniel and Henrik Sedin
If you'd told me 18 years ago that the Canucks would be built around identical Swedish redheads for the next decade and a half, I would have incredulously plugged a Linkin Park CD into my Discman and tuned you out, rap-metal style.
I sometimes have to remind myself how unique they are, and how lucky Vancouver is to have them.
Twins, with enduring top-line talent and the greatest on-ice chemistry you'll ever see. And they are tough, and professional, and they don't complain, and they love this city and province. It's the gift that keeps on giving. Well, that and a membership to the jelly of the month club.
I'm getting the feels. Are you getting the feels? This is probably a good place to end the list, since I can't think of a single better early Christmas present to find under the tree than Vancouver's wonder twins.
Unless we're talking about a dirtbike. Can't beat that. Oh baby! I gotta get me one of those.