A man in handcuffs lies face down on the sidewalk outside the Marguerite Ford Apartments, a recently opened 147-unit social housing complex on the edge of the former Olympic Village.
A crimson shin pad pokes out from one of the man's pant legs.
A police officer in plain clothes stands next to him, holding a bat-sized wooden stick seized from the combatant who turns out to be a resident of the apartments at 215 West Second Ave.
Police arrested him after he and another tenant got into a fight with a former resident in the lobby. The fight spilled out onto the sidewalk, where police on patrol intervened in the melee.
The incident — the aftermath of which was witnessed by the Courier in March and featured in a photograph with this article — was one of hundreds police responded to over the past 16 months at the building.
Vancouver police answered 729 calls to the Marguerite Ford Apartments from the month it opened in May 2013 to August of this year. The calls involved fights, drugs, weapons, threats, break-ins, stolen property, frauds, suicide attempts, domestic disputes, missing persons, abandoned 911 calls and assisting paramedics and firefighters.
In comparison, the 129-unit social housing building known as First Place, located a few blocks east near Main and First Avenue, recorded 261 police calls in its first 16 months of operation.
Why such a disparity?
The simple answer, as provided by city manager Penny Ballem, is this: Too many homeless people with mental health and addictions issues were moved into Marguerite Ford too quickly and didn't get the support they needed.
"The honest truth is, we got behind there," said Ballem by telephone from her office. "That got away on us and we've done a lot of work to bring it back."
Surveillance cameras, a security guard, creating one entrance and exit to the building, adding more staff, more visits from health care workers, forming a committee that includes neighbours and relocating some tenants are among the changes.
Still, the police answered 357 calls to the building over the first eight months of this year. Owners of neighbouring condominiums continue to be concerned for their safety and told the Courier of drug activity, fights, a steady stream of arrests, loitering and other concerns identified in police statistics.
Their frustration and anger has reverberated all the way to Victoria and Housing Minister Rich Coleman's office. The provincial government is the chief financier for construction and operating costs of 14 social housing buildings already built or in development on city properties, including the Marguerite Ford Apartments, which cost $38 million. (The city donated the property worth $5.2 million and waived $772,000 in municipal costs, while the Streetohome Foundation contributed $2.9 million).
In an interview, Coleman said he's "not happy with the outcome" of the experiment at Marguerite Ford and made it clear the provincial government was concerned about the city's desire to increase the ratio of homeless people in the building.
Now he's questioning whether to continue moving such a high percentage of homeless people, who typically have mental health and addictions issues or both, into the four remaining buildings to be built under the 14-site agreement with the city.
"We were concerned that mix might not work as well as other mixes," said Coleman. "But there was some tension back then about the fact that the city management wanted a mix change and they were being somewhat demanding with regards to it."
Added Coleman: "Given the experience of Marguerite Ford, we're going to want a whole lot more rigour put to the next buildings if we're going to tenant it in a similar way."
Coleman's position puts the province and city in a potential battle that could ultimately derail Mayor Gregor Robertson's promise to find homes by 2015 for more than 500 people living on the street.
That's because the mayor's promise hinges largely on hundreds of homeless people moving into the four remaining social housing buildings, which total 473 units.
As Coleman pointed out, it was Robertson's pledge to end street homelessness by 2015, not his.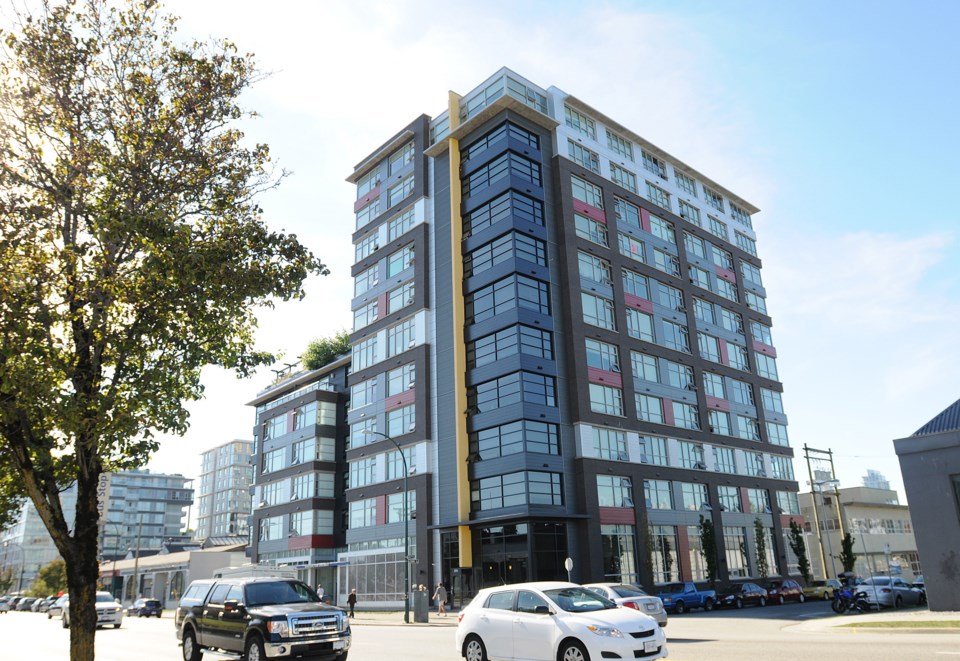 Complex needs
The trigger for the city to push for more homeless people in the buildings occurred in October 2011 when city council learned only 37 per cent of tenants at the first four buildings had previously been homeless.
"It's a real concern and certainly one I'll raise with [Coleman] and ensure the taxpayer investment in those sites is respected by homeless people getting housed," Mayor Gregor Robertson told the Courier at the time.
Coleman said the provincial government reluctantly agreed to revise the original memorandum of understanding with the city to allow for what's become known as the 50-30-20 formula.
It means at least 50 per cent of the tenants must be from the street or a shelter, 30 per cent from single-room occupancy hotels and 20 per cent at risk of homelessness, including people discharged from hospitals and jails.
The new mix first came into play at the Marguerite Ford building, which so far has the largest number of units among the 10 buildings already open across the city.
The original agreement reached between the city and the province in 2007 indicated the Marguerite Ford building would house a third to half of residents who had a mental health and addiction problem, or both.
"What we ended up here with, frankly, is a group of people with complex needs," said Coleman, emphasizing the negative ripple effect a project such as Marguerite Ford can have on convincing other neighbourhoods to accept social housing. "Today, if I went to a public hearing, I suspect I would get everybody pointing to Marguerite Ford and saying, 'We don't want this around.' And that's an outcome I never wanted to have because I think it's important to integrate this form of housing so [homeless] people get better outcomes."
City council's desire in 2011 to boost the number of homeless people in the buildings prompted the city's former housing director Cameron Gray to write a letter to council, warning them of the consequences of such a move.
"The partnership with B.C. Housing is achieving exactly what was intended," he wrote in 2011, noting, however, it was council's prerogative to fill the buildings with more homeless people. "But it should be done explicitly with B.C. Housing's agreement, and council needs to realize it is late in the process and there could be design, program and financial consequences."
Gray urged the city to applaud the early success of the partnership with B.C. Housing instead of lamenting that only 37 per cent of tenants in the first four buildings were previously homeless.
In an interview this month, Gray said had the city sought his advice, he would have told them to slowly move in people so relationships could be built between tenants and staff.
He, like Coleman, said the problems with the Marguerite Ford building should not be blamed on RainCity Housing, the non-profit hired to provide support services for the tenants at a cost of $1.4 million per year. The Sanford Housing Society is responsible for operating the building at a cost of $2.1 million per year.
"In this case, you've had the city in their desire to deal with the homelessness issue impose upon the non-profits too much direction as to whom they could select," Gray said. "If you've got Big Brother — whether it's the city or the province — telling them who to put where, you've got a recipe for ongoing conflict and friction, which will drive the non-profits mad and cost the taxpayer money."
Added Gray: "The city pushed too hard and now they have to back off. And backing off is a lot harder. Getting a project back on track once it's sort of lost it is a lot harder than managing it from when it stays on track. So I hope that the city learns from this."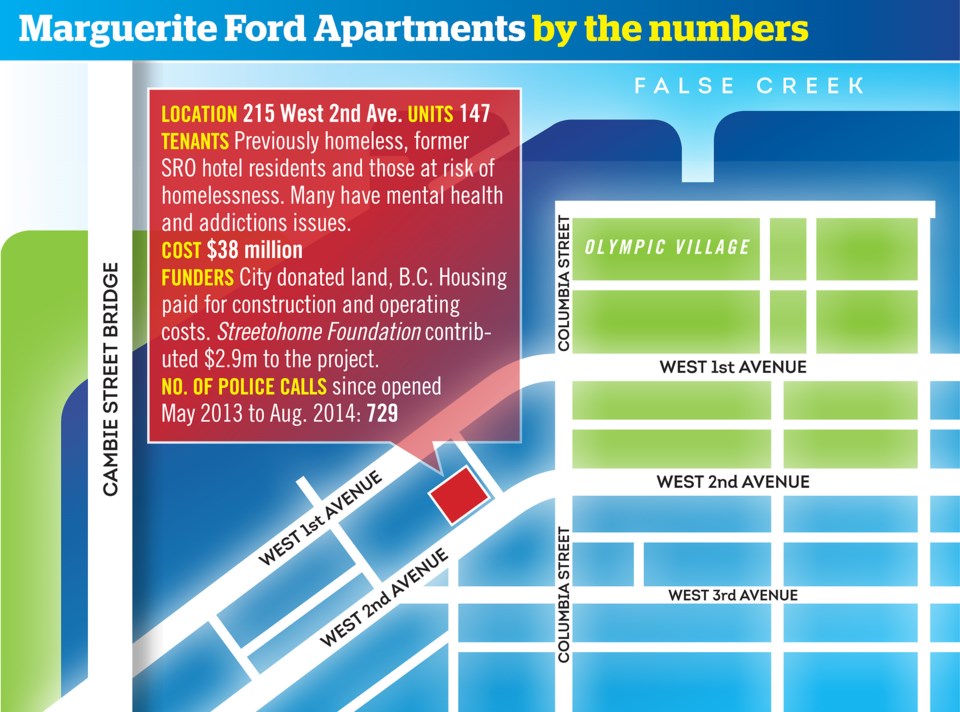 Mental health and addictions
Bill Briscall, communications manager for RainCity, said there was no interference from the city or the province in selecting the tenants. But Briscall acknowledged the size of the building's population and mix of tenants meant for a longer time to establish relationships with residents.
It's the biggest building RainCity manages.
A document obtained by a Freedom of Information Act request with the city revealed 70 per cent of Marguerite Ford tenants were accessing primary care through Vancouver Coastal Health, including mental health and addictions support.
That was in November 2013.
Amelia Ridgway, acting associate director for RainCity, said that percentage is probably higher now but she didn't have a breakdown when contacted last week. Both Briscall and Ridgway, who were interviewed via speaker phone, said connecting tenants with health care was important. But so, too, was introducing them to a variety of programs available at the building, including a women's group, cooking classes and a beekeeping project, which have given tenants a positive outlet.
Ridgway noted a survey of tenants in November 2013 found that 83 per cent of respondents said they enjoyed living at Marguerite Ford and 76 per cent acknowledged it was a more positive environment than their previous living conditions.
"What we know from our experience is the first year of housing folks can be a bit of a challenging year because you have a group of people coming inside, some of whom for the first time in a long time," she said.
That is a conclusion reached by Shayne Williams, the executive director of the Lookout Emergency Aid Society, which manages First Place, the social housing building at 188 East First Ave. that recorded 261 police calls in its first 16 months of operation.
Though First Place isn't yet located in a heavily populated residential neighbourhood like Marguerite Ford, which might explain some of the disparity in volume of calls to the two buildings, Williams described the first year at First Place as "pretty volatile," with a range of calls similar to those generated at Marguerite Ford.
"We just had a really, really challenging tenant mix," said Williams, noting police calls have dropped since First Place opened in August 2012. Police statistics show 105 calls between January and August of this year.
To decrease problems at First Place, Williams said it was important to gain the trust of a core group of residents to get them linked with services and programs to help them and, by extension, bring calm to the building.
"People who are staying with us need our help and connecting them to the appropriate specialist to take that next step is really a large part of our job," he said.
RainCity's experience with the challenges at Marguerite Ford forced the non-profit to take a more calculated approach in filling up the former Biltmore hotel, which is now a temporary housing site. RainCity slowly moved people into the building on Kingsway and ensured women and families were the first tenants. This mix, Briscall said, set the tone for the building.
"And it's going really well," he said, noting a similar approach will be taken when RainCity begins to manage another one of the 14 buildings on Princess Street in the Downtown Eastside. That building is scheduled to open early in the new year with 146 units, one fewer than Marguerite Ford.
The Courier requested an interview with a tenant of the Marguerite Ford building but RainCity said it was unable to find someone willing to share their story. RainCity had initially asked that questions be emailed before an interview could occur and allow all quotes to be reviewed before publication, which the Courier rejected.
Sanford Housing Society declined a request for a tour of the building but confirmed two of the building's units sustained fire and water damage. A plugged toilet that overflowed and an apartment sprinkler that was set off also caused water damage to the building. All four incidents were covered by insurance. Other incidents required window glass to be repaired at a total cost of $7,000 and $5,000 to fix light fixtures. Elevator access panels were also ripped out.
Neighbourhood fears
The sensitivity around the building and its problems was evident in the Courier's interviews with residents of the James condominium complex, which shares the alley with the Marguerite Ford building.
Three residents told stories of people injecting drugs in the alley and a narrow pathway alongside the James building. They talked about needles discarded on property — one tenant's dog stepped on a needle — tenants throwing furniture from their windows, a naked man passed out in their elevator, people loitering on residents' steps, people sleeping in the alley, police using their homes to conduct surveillance and frequent screaming, yelling and loud music coming from the Marguerite Ford building
The residents, some of whom paid $800,000 or more for their homes, requested their names not be published because they didn't want to attract the attention of any problem tenants. A member of the strata council's executive said via email that his lawyer advised him not to speak publicly about his concerns.
In heavily redacted Freedom of Information documents obtained by the Courier, an email sent in August 2013 from a resident to the city's Brenda Prosken, who is responsible for the city's housing file, said "the city's desire to end homelessness should not come at the expense of our residents."
David Kwong did speak to the Courier on the record. He is the president of the strata councils for The Foundry building and Wall Centre East, which are neighbours to the Marguerite Ford building.
Kwong regularly attends meetings with the committee set up to address problems associated to Marguerite Ford. Kwong said the committee should have been created prior to the building opening but is thankful he now has a venue to speak to others, which include representatives from RainCity, Vancouver Coastal Health, the VPD and the city.
Kwong said he twice witnessed people injecting drugs in the narrow pathway alongside the James building. The Foundry and Wall Centre East have had attempted break-ins and he's noticed spent needles on both properties.
"We have never had that before," he said of the incidents.
In the past few months, however, Kwong said there appears to be less suspicious activity or public disorder in the neighbourhood, saying "if we don't see it, then it's better." And, he added, "as long as [tenants] are not harassing people, I'm OK with that."
He said he understands the need to provide housing for people with mental health and addiction problems. He also understands the type of housing needed for such people cannot be centralized in one neighbourhood.
But Kwong pointed out the Marguerite Ford building is within two kilometres of the Yukon shelter (at Fifth and Yukon) and the First Place building East First Avenue.
"It's too strong of a concentration," he said. "But if you ask me if it's getting better here, I would say yes — at least compared to what was happening in the beginning."
1,803 homeless
The city manager and the mayor also believe things are improving at Marguerite Ford, pointing out the police calls for August dropped to 28 from a high of 63 in November 2013.
That's good news for all concerned, particularly for Robertson, who is seeking re-election in November and holding steady on his promise to end street homelessness by 2015.
"We're trending in the right direction and it's an ongoing issue that we'll need to manage carefully," he said of the problems at Marguerite Ford. "But this is all part of taking care of people who are most vulnerable and ensuring they have a place to live and they get the support they need."
The Metro Vancouver Homeless Count conducted in March revealed a total of 1,803 people identified as homeless in Vancouver, with 536 on the street and 1,267 in shelters. That total is the highest it's ever been since homeless counts have been conducted in Vancouver.
The mayor's push to get more people off the street is bolstered by the findings of a Mental Health Commission of Canada study released in April that showed it's cheaper to house the homeless than to treat them on the street.
For every $10 invested in the so-called housing first model, $8.27 was saved in money spent on services for society's most vulnerable people that include hospital visits, shelter stays, interactions with police and the judicial system, said the report, which involved participants from the At Home/Chez Soi project at the former Bosman hotel downtown.
Though Robertson is on the political front lines of the homelessness crisis, Ballem is working behind the scenes with B.C. Housing CEO Shayne Ramsay and others to get more homeless people into the 14 social housing buildings.
She has no plans to back off on the aggressive approach.
Here's one reason: "Every single ribbon cutting around these [14] sites, there's a huge sign behind Mr. Coleman that says 'provincial homelessness initiative.' So that was a conversation that Shayne and I had — like, OK, it's our homeless initiative, it's your provincial homelessness initiative. If only 30 per cent of the people in the units are homeless, that's a tough thing to sell to the public because they think we're solving homelessness with all this money."
Here's another reason: "We can make a decision to back off on that [50-30-20] formula. But at the end of the day, we've got 1,800 homeless in the city. If you back off and reduce the number of homeless by half, then the question is: 'Where is the rest of the capacity that we're going to be able to use?'"
Meanwhile, police continue to answer calls to the Marguerite Ford building, which Police Chief Jim Chu said has "taxed the resources" of his patrol officers working the district. He said police continue to work with RainCity to ensure proper services, staff and support are in place for the tenants.
But Chu also pointed out the recent decrease in calls to Marguerite Ford, which is three blocks from the VPD's Cambie Street station, and said the department fully supports the city's plan to spread social housing buildings across Vancouver.
"We believe that all of the hard to house — those people suffering from drug addiction and mental illness — should not be just dumped in the Downtown Eastside," he said, noting other social housing buildings under the agreement between the city and province have "worked better," including a highrise at Seventh and Fir and a smaller complex at 17th and Dunbar. "In fact, their best chance of recovery is living in other communities. It's not an easy road."
As for Coleman, who also recognizes other buildings operating under the agreement with the city are stable places to live and providing help for homeless people, he knows how easily a building's reputation can tarnish any future work in the fight to end homelessness.
"It's a big concern for me because I don't want to lose the momentum and support for the people with the most needs in our communities just because we have a building that is not working."
Note: See story here on Courier's attempt to get Freedom of Information documents from the City of Vancouver related to the Marguerite Ford building.