Gossip is commonplace in high schools, which make them easy breeding grounds for exaggeration, leaving those in the wake of a good rumour to wonder if there was ever any truth to the story at all.
And so goes one school rumour that British heavy rock group Led Zeppelin once performed a lunch hour concert at Vancouver's Eric Hamber secondary school.
On paper it sounds too unbelievable or ridiculous to be true. What reason would the legendary band, who were already on their way to rock god status and arguably becoming the biggest rock band of the decade, find themselves performing a show in the auditorium of a South Cambie neighbourhood public high school?
And yet, there in the 1970 Eric Hamber high school yearbook is a black and white photo of Led Zeppelin, showing the four band members allegedly on stage at the school, along with the cryptic caption "The Led Zeppelin, in an annual-sponsored concert, entertained a packed standing-room only crowd in the auditorium during a noon concert on May 21st. [Zeppelin Guitarist] Jimmy Page was heard to remark, 'What a heavy audience.' Thanks Jimmy. We needed that."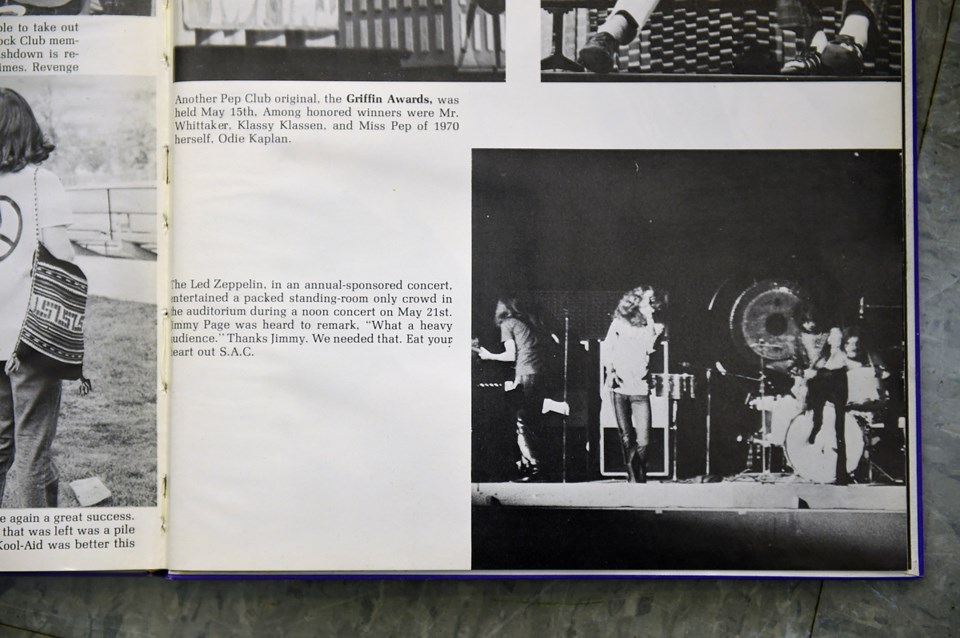 There's no denying Led Zeppelin came to Vancouver that year. In fact, they kicked off their North American tour with a performance at the Pacific Coliseum on Saturday, March 21, 1970 — so the month listed in the yearbook is at the very least a typo. But did Zeppelin, before they departed the city at some point, really play a secret show at Eric Hamber?
It's perhaps important to note that Vancouver was never just another whistle-stop for the band. On previous visits the group recorded overdubs for their album Zeppelin II at a local studio, stopped in for drinks one night at the Penthouse Nightclub downtown and even enjoyed some downtime on Keats Island off the Sunshine Coast. This wasn't a city they just played only to hop back on the jet and leave after a concert.
Between circles of international Led Zeppelin fans, Eric Hamber alumni, historians and musicologists, the alleged appearance is quickly revealed to be a hotly debated topic online on social media and Zeppelin newsgroups. On one website, a pseudonym-named commenter insists they know for a fact that the yearbook page was a joke and it never happened. Yet another says they saw it with their own eyes, adding "those who did see it will never forget it."
What really happened is asked so often that Eric Hamber secondary might as well have been Roswell, New Mexico or Dealey Plaza in Dallas that day.
RAMBLE ON
The often-rancorous tone of social media debates hasn't helped clear up the mystery. I found one Hamber alumna now living on Vancouver Island who claimed on Facebook that she was an eyewitness to the Zeppelin appearance. But when I contacted her, she declined an interview request, saying she's been hounded and threatened with angry, insulting messages by hostile Led Zeppelin fans who offered "No Quarter" by calling her a wacko and a liar, leaving her to fear she might be hung by the "Gallows Pole." (Alright, I'll take it easy with the Zeppelin song title sub-references from here on in.)
Eric Hamber alumni and reunion organizer Andrea Nicholson, who graduated from the school in 1980, acts as an unofficial historian of the school. While the supposed Zeppelin event was a decade prior to her graduation, she was well aware of the rumour as a young student.
"We used to hang out on the school bleachers playing guitar between classes. I was in the music program, playing 12-string guitar. Learning how to play 'Stairway to Heaven' was pretty popular, so we used to play that a lot," she recalls with a laugh. "But as students we had all heard the Led Zeppelin story then and talked about it, thinking it was pretty cool."
Years after her graduation, as she got more involved in alumni events and reunion organizing, Nicholson tried to dig a little deeper into that mythical day at the school.
"The story goes it wasn't actually a formal concert," she explains, adding that the "annual sponsored concert" caption from the yearbook was intended as a joke, likely by the yearbook organizing committee.
"As soon as the band started up, it apparently caused some commotion with a lot of students who came through the doorways to watch at lunch. I had heard that none of the older teachers really had any idea who Led Zeppelin were," says Nicholson, stressing it was never a public concert — but a rehearsal.
"Apparently, there was a sound or lighting guy who worked at the Coliseum who was the father of a Hamber student. The band didn't have a place to test some gear on site at the PNE, or there were some issues loading in there at the time they wanted to do this or rehearse, so he recommended the auditorium at his kid's high school — Eric Hamber."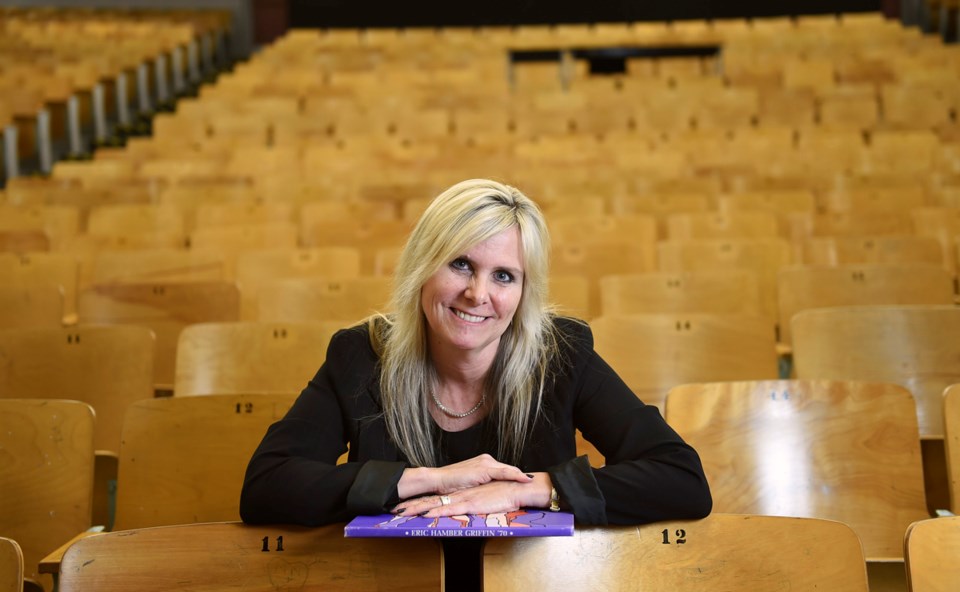 Eric Hamber secondary school opened in 1962 and was still relatively new at the time. As a newer school, its auditorium was certainly more modern than the older schools that were typical of the time, perhaps making it odd but not a totally unreasonable suggestion for an impromptu rehearsal space.
"Pre-production days," as they are commonly referred to in the concert business, are common, especially in Vancouver where many performers begin continent-wide tours and then travel east or down the coast. The Police rehearsed for their 2007 world tour in a North Vancouver warehouse. A dozen years ago you might have wondered why the Commodore Ballroom was closed for a week when in actuality had been very confidentially reserved by Bob Dylan to rehearse with his band. Even South African hip-hop group Die Antwoord once quietly took over the Imperial on Main Street in 2014 for a few days to rehearse elements of their show.
But at a high school auditorium? While Nicholson believes the event happened, beyond the note in the 1970 yearbook she's been frustrated to find further information, having difficulty reaching some staff still alive or alumni from that year who have kept in touch. The school's archives haven't yielded answers either. "I went through some official booking records of the time that were on file at the school, to see if there was any paper trail, and we couldn't find anything. But those records are hardly complete."
COMMUNICATION BREAKDOWN
While the Zeppelin concert at the Pacific Coliseum attracted local media reviews, it's curious why the Eric Hamber event, even though it wasn't a public appearance, went unreported. However, the fact both local dailies — the Vancouver Sun and the Province — were out of commission because of a newspaper strike between February and May that year may explain why it wasn't properly reported in the press.
"I heard the story for years," says Rob Frith, who's collected local rock and roll posters, records and ephemera for decades at his Main Street store Neptoon Records and remains skeptical. "People used to say they saw Jimi Hendrix perform in Vancouver when he was starting out here. Yet talking to a lot of the musicians who were actually in town then, you'd think Hendrix would have had to play every night for months to account for all these witnesses… Memories get embellished," chuckles Frith.
"So I have some doubts. But who knows? A rehearsal is more believable than a show. Maybe some enterprising guy just might have put the school forward as a suggestion and they went for it."
ROCK AND ROLL
It's clear someone played that day. There are too many people who say they saw and heard the music. But could it have just been another band?
The 1970s and '80s were a period where working local bands, in many cases before they went on to greater notoriety, picked up extra cash playing high school dances and graduations around the Lower Mainland. Trooper, Chilliwack, Sweeney Todd (featuring a young Bryan Adams) and Heart all played local high schools between club appearances. Even by the time punk rock took hold in Vancouver in the late 1970s, local groups such as DOA and the Subhumans found high school gigs around town.
But none of those aforementioned bands were in town at the time or even get mentioned as a possible case of mistaken identity — it's always Led Zeppelin that people say played at Eric Hamber that day 46 years ago.

WHAT IS AND WHAT SHOULD NEVER BE
Either way, at Eric Hamber secondary school's 50th anniversary party in 2012, organizers created a poster celebrating the Zeppelin show among other school memories. "We're still digging through alumni contacts for memories of this and more," Nicholson says.
For now, the song remains the same whether Led Zeppelin in fact played Eric Hamber. Many are convinced, while just as many say it simply didn't happen. Perhaps someone from the yearbook organizing community or the 1970 graduating class will come forward and shed some light on it. Maybe Robert Plant, Jimmy Page or John Paul Jones might read this and recall through the haze of groupies and Jack Daniels all those years ago what really happened that day.
Then again, maybe it's better they don't. The mystery of not knowing the real answer may be best — and it's probably more fun being dazed and confused.
aaron@aaronchapman.net
@TheAaronChapman