South Vancouver's aging fire hall No. 17 will be knocked down and replaced with a fire hall built to Passive House standards.
The new energy-efficient building on Knight Street at 55th Avenue is expected to open mid-2019. It will be more than double the size of the old building and will also serve as a post-disaster citywide emergency hub in the event of an information technology network breakdown.
Part of the funding — a $300,000 grant and $2,000,000 loan — is coming from the Federation of Canadian Municipalities Green Municipal Fund (GMF).
The Government of Canada endowed the Federation of Canadian Municipalities with $550 million to establish the GMF in 2000. The current Liberal government recently topped it up by $125 million.
The latest round of funding was announced at a Feb. 9 press conference at the fire hall, which revealed the GMF is providing a total of $5 million towards loans and grants for green initiatives in eight communities across B.C.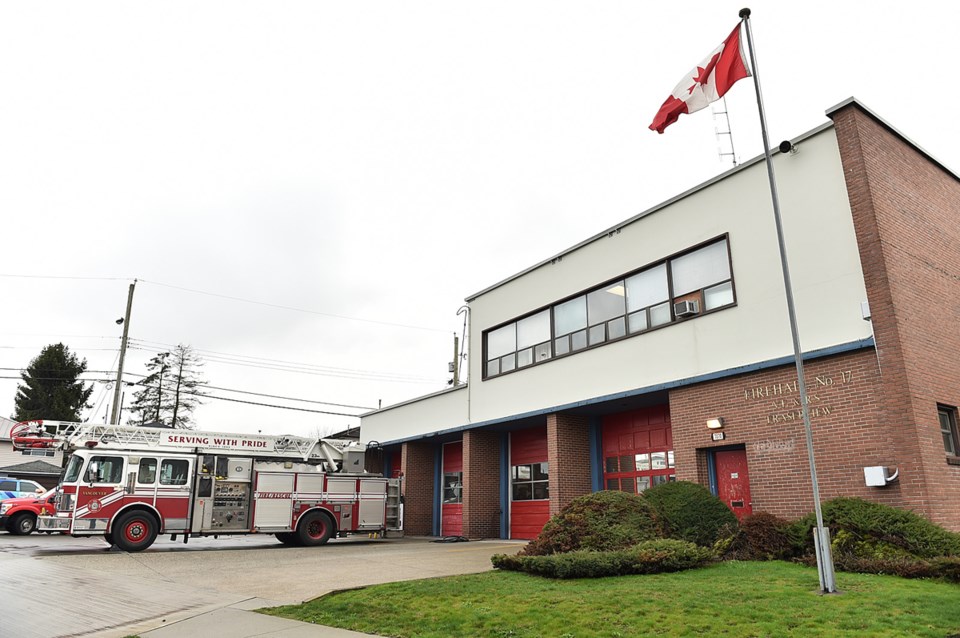 Aside from the Vancouver fire hall project, the fund is contributing towards initiatives such as a pilot project in the Capital Region District aimed at reducing greenhouse gasses by testing zero-emissions vehicles within its fleet and a District of Squamish pilot project focused on increasing waste diversion at commercial and multi-family properties by identifying the barriers to and benefits of composting and recycling.
Fire hall No. 17, meanwhile, is in need of replacement. It was built in 1955 and is seismically unsafe, too small, as well as operationally and energy inefficient. The budget for the new building is $19.9 million, about nine per cent more than for a standard fire hall.
Passive House construction focuses on reducing energy used to heat a building by creating an airtight structure with quality windows, super-insulation and good ventilation.
Such construction allows for heating and cooling-related energy savings of up to 90 per cent compared to typical buildings, and more than 75 per cent compared to an average new building.
The remaining carbon emissions from the fire hall's new building will be offset through the generation of renewable energy using rooftop solar photovoltaic panels.
Because the building is being designed to post-disaster standard, it will be fitted with IT, radio, SCADA (supervisory control and data acquisition), and traffic control equipment.
Mayor Gregor Robertson, who was on hand for the funding announcement, said the fire hall will be transformed into a state-of-the-art facility that will help the city meet its goal to reduce greenhouse gas emissions. Buildings create the majority of the climate pollution in Vancouver — 56 per cent of emissions come from buildings.
"We have to replace these facilities at the end of their life cycle and it makes sense to be smart and green when we do that and make the investment for the long term," he said.
As a citywide emergency hub, Robertson said the fire hall will be a critical resource in keeping the community connected in the event of a disaster such as an earthquake.
"That requires more energy than the usual fire hall, 25 per cent more, but with the Passive House design, the overall energy use will decrease 33 tonnes per year to zero. It's a significant savings on a hall that will use more energy. And we can expect, obviously, lower building and maintenance costs over the lifetime of the building as well. So, it's a great advantage to have the Green Municipal Fund and the government of Canada contribute to community facilities like this that are leading-edge, that are able to create a model that other communities across Canada can use and build off of. It's a good partnership."
Jenny Gerbasi, president of the Federation of Canadian Municipalities board of directors, said the green municipal funds are available to communities of all sizes in every part of Canada and that lessons learned from all projects are shared with other municipalities.
She called climate change is one of the most pressing challenges of our time.
"Municipalities across Canada are on the frontlines — we find ourselves dealing with increasingly extreme weather from floods to droughts to heavy rains and ice storms, but the truth is municipalities are also at the forefront of climate solutions," Gerbasi said.
"Local governments influence about half of Canada's greenhouse gas emissions and we're modelling some of Canada's most innovative green solutions. Local governments best understand the needs on the ground and the solutions that work. So scaling up these local solutions is vital to Canada to be able to meet its climate goals."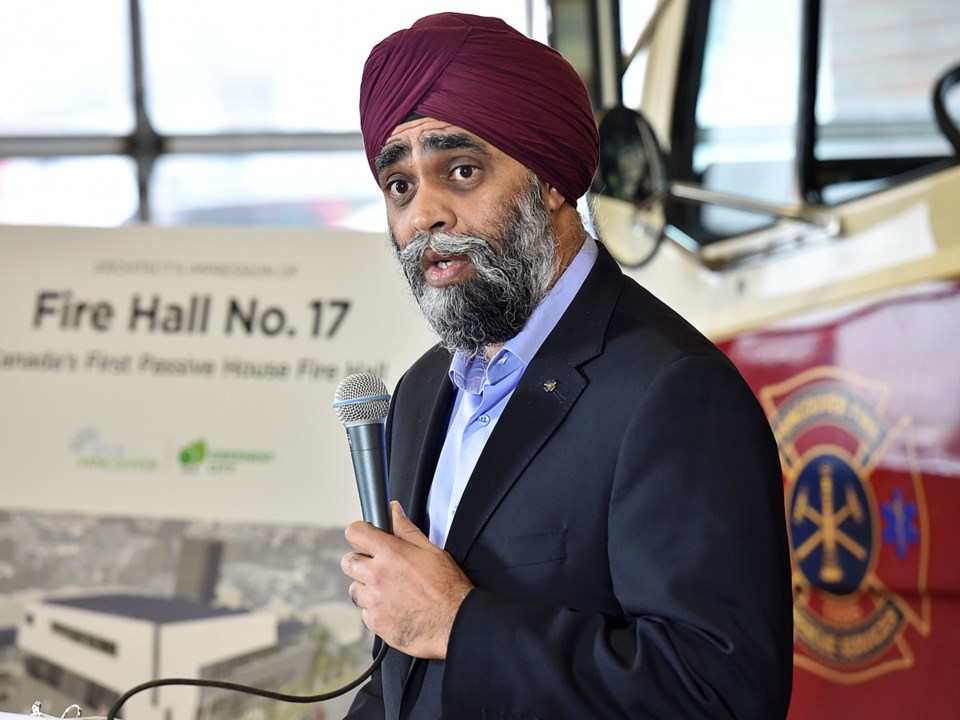 Harjit Sajjan, the minister of national defence and MP for Vancouver South, spoke on behalf of Jim Carr, the federal minister of natural resources.
Sajjan said fire hall project will provide a model for communities looking to retrofit or rebuild their fire halls.
All the projects being funded through the GMF, he added, are different but share the same goal of "making our region a leader in clean growth."
"As everyone here knows, the world has reached a pivotal moment, a time when climate change is one of our greatest challenges, when growing our economy is no longer possible without protecting our environment and when investing in green infrastructure, green technology and innovation is the new imperative."
Deputy fire chief Tyler Moore told the Courier a temporary fire hall is being built at the rear of the Knight Street site for use until the new building is ready. Construction is expected to start on the new building this fall.
Other fire hall project highlights:
It will exceed the city's standard for green demolition, which will lead to diversion of a minimum of 85 per cent of material from the landfill
The project is targeting a 40 per cent reduction in water consumption from a pre-established baseline through measures such as low-flow fixtures and fittings and landscaping with drought resistant plant materials that won't require irrigation during dry summer months.
Note: This story has been corrected since first posted.
noconnor@vancourier.com