Spitballin' (or Super Pass It To Bulis: All In, if you love adventurous acronymizing) is a feature that allows us to touch on a multitude of things really fast, because in the world of hockey, there are always lots of things to find and colour. Here are a few quick topics.
Elias Pettersson makes like a Sedin in his SHL debut
Elias Pettersson played his first regular season game in the Swedish Hockey League on Tuesday and immediately made an impression. He played on the first line for the Vaxjo Lakers and on the first power play unit, finishing with 15:40 in ice time. In that time, he fired a game-high five shots on goal, picked up a primary assist, and drew two penalties.
Then, in 3-on-3 overtime, he came inches away from scoring the overtime game-winner. I've done my best to refrain from making Sedin comparisons with Pettersson, but it's so hard to avoid them, particularly when he does something so quintessentially Sedin: a between-the-legs drop pass on a breakaway.
Today, Elias Pettersson did the most Sedin thing possible: a between-the-legs drop pass while on a breakaway. #Canucks pic.twitter.com/sRtta1pUKe

— Daniel Wagner (@passittobulis) September 19, 2017
Honestly, this was probably the smartest play he could make. The goaltender was out and challenging the shot, while the defender was cutting Pettersson off from making a deke. The drop-pass give-and-go into a one-timer gave him plenty of room to put the puck away, he just hooked it slightly into the side of the net.
Here's his assist, as he put the puck on a platter for a Joel Persson one-timer.
Elias Pettersson's already a point-per-game in the SHL and he's only played two periods! #gethype #Canucks pic.twitter.com/qmMWS9pvcO

— Daniel Wagner (@passittobulis) September 19, 2017
I won't be breathlessly covering every single point that Pettersson scores, but such a blatant attempt at Wizardous Sedinery from the Canucks top prospect can't possibly be ignored. Besides, the NHL season hasn't started yet.
Foggy ice for Canucks in China
The most seasoned Canucks are currently in China, preparing to play the Los Angeles Kings in two exhibition games in Shanghai and Beijing. While this is pretty inconvenient for the Canucks in terms of assessing the team's fringe players, prospects, and PTOs, it should be a neat experience for the players and could potentially promote team bonding heading into the regular season.
For the Canucks first practice in Shanghai, a thick layer of fog settled over the ice surface, to the point that Jacob Markstrom couldn't see Anders Nilsson in net at the other end of the ice. That's not ideal for a number of reasons — the high humidity can cause poor ice conditions, it can be hard for goaltenders to pick up the puck, and it doesn't make for the best live viewing experience — but it sure made for some pretty pictures.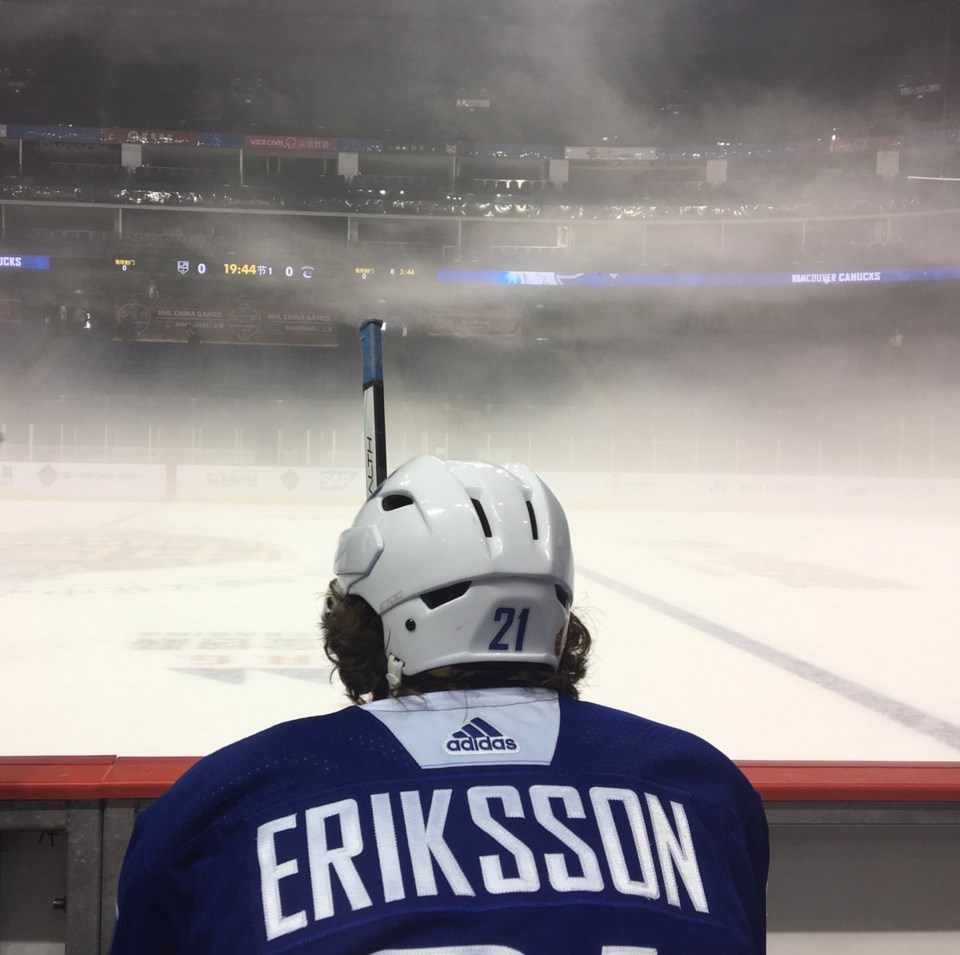 Source: Nick Cotsanika on Twitter
Check out the full gallery of pictures at The Vancouver Sun. The pictures don't really capture just how foggy it got at times, however. The video makes it more clear, if you'll pardon the pun.
#GottaSeeIt: The #Canucks skated through some serious fog at practice this morning in Shanghai as they prepare for the #NHLChinaGames. pic.twitter.com/07Th4nGHbe

— Sportsnet (@Sportsnet) September 19, 2017
Which new Canuck are you most eager to watch this season?
With the departure of Jannik Hansen, Alex Burrows, Ryan Miller, and Luca Sbisa, this season's Canucks look significantly different from last season's Canucks. Between the new free agent signings and incoming prospects, there are some new players aiming to become fan favourites.
So, which new Canuck are you most eagerly anticipating? Who's your favourite heading into the 2017-18 season?
That's what Vancouver Courier editor-in-chief Martha Perkins was asking fans at last week's open practices. And she got some interesting answers.
My word, do I ever love the guy interspersed throughout the video who picks Jonah Gadjovich as his favourite new Canuck based solely on him being from his hometown of Whitby, Ontario.
I feel sorry for the guy looking forward to seeing Zach MacEwen, as he was injured during the Young Stars tournament and missed all of the open practices. He was back at practice on Tuesday and is expected to be in the lineup for the Canucks against the Flames on Wednesday. No luck for his friend hoping to see Stan Smyl.
Of note: nobody picked any of the incoming free agent signings. Brock Boeser, Nikolay Goldobin, and Troy Stecher all merit a mention, but not Sam Gagner, Thomas Vanek, and Michael Del Zotto. It's almost like Canucks fans are eager to see the Canucks' young prospects in the lineup rather than more veterans.
Jonathan Dahlen is back skating
Speaking of the Canucks' young prospects, Jonathan Dahlen was back at practice on Tuesday after recovering from his bout with mono.
.@JonathanDahlen has been cleared to skate, he's practicing today, confirms Cull.

— Vancouver Canucks (@Canucks) September 19, 2017
That's good news for fans of the Utica Comets, as Dahlen will reportedly play in the AHL this season rather than return to Sweden. It's possible that if he hits the ground running in Utica, he could be an option for a call-up to the Canucks this season.
Mono saps your strength pretty significantly, though, so expect a slow ramping up for the 19-year-old winger.
Brock Boeser is leading the preseason in scoring
Sure, most teams have only played one preseason game so far, while some haven't played at all, but Brock Boeser is currently leading the NHL preseason in scoring, with three goals and five points in two games.
I suggest making a really big deal out of this.