Vancouver Park Board is set to resume the fight against the Japanese beetle, an invasive species first discovered in the False Creek area in 2017, and this year more parks will be sprayed.
On March 28, the Canadian Food Inspection Agency (CFIA) notified that for the second year in a row the City of Vancouver is required to treat public land for the pest.
The Japanese beetle can significantly damage plants, gardens and agricultural crops. It was first discovered in David Lam Park in the summer of 2017 when it was detected in traps set in the city by the CFIA. The traps were set as part of the agency's routine surveillance for the pest.
Last year the park board sprayed 10 parks in the False Creek area with a larvacide.
This year, the treatment area has expanded to include parks in the West End, downtown, Strathcona, Mount Pleasant, Fairview and Kitsilano.
The park board will treat 25 parks and other areas, comprising about 70 hectares, between April 7 and May 1.
Areas to be treated include:
David Lam Park – April 7 and 8
Coopers', Alexandra and Morton parks – April 9
George Wainborn Park and Sunset Beach – April 10
Emery Barnes Park and English Bay Beach – April 11
May & Lorne Brown Park and English Bay Beach – April 12
Charleson Park – April 14 and 15
Stanley Park's Shakespeare and Rose gardens – April 15
Stanley Park Pitch and Putt – April 16 and 17
Sutcliffe Park – April 16
Creekside Park – April 17
Barclay Heritage Square – April 18
Thornton Park, Stanley Park's Ceperley Field and the park board office area – April 23
Vanier Park – April 24
Hadden Park – April 25
CRAB (at Portside) Park – April 26
Hinge and Pocket parks – April 29
Jonathan Rogers Park – April 30
Granville Loop – May 1
All parks will remain open but the public is advised to stay off the grass for 24 hours to give the larvacide a chance to take effect.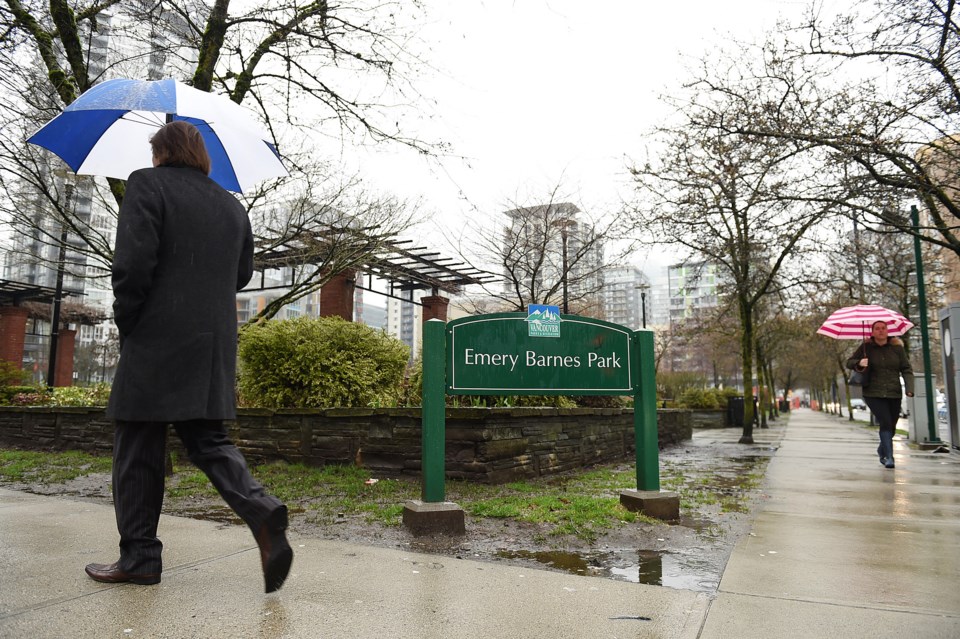 "The treatment product poses no risk to people, pets, mammals, birds, bees, butterflies or other animals," the park board said in a news release.
The larvacide being used is called Acelepryn.
"Staff will treat large turf area and small strips of grass around flower beds, shrubs and trees," the park board said. "Other public turf areas such as medians and boulevards will also be treated."
Another product called beetleGONE! will also be applied to plants and tree foliage to keep the adult beetles from feeding on plants. It is based on naturally occurring bacteria found in soil that becomes toxic once ingested by the beetles.
"Both products are approved for use by the Pest Management Regulatory Agency of Health Canada and are also permitted under the City of Vancouver's Health Bylaw," the park board said. "All treatments will be applied manually by trained pest management specialists and will be as unobtrusive as possible."
The CFIA has set up a regulated area, which includes downtown, the West End, Stanley Park, Vanier Park, Kits Point and False Creek and extends east to Clark Drive, south to 12th Avenue and west to Burrard Street, where the movement of plants and soil out of the area is restricted.
This city will open a temporary transfer station at West First Avenue and Wylie Street where residents and commercial landscapers in the impacted neighbourhoods can deposit green waste, prunings and lawn clippings, and small amounts of soil and plants with soil. The station will be open June 15 to Oct. 15.
Larger amounts of soil or plant material must be issued a CFIA movement certificate before being transported outside the regulated area. For more information call 604-292-5742 or email cfia.wstjb-sj.acia@canada.ca.
@JessicaEKerr
jkerr@vancourier.com