The Vancouver weather forecast calls for a great deal of rain in the coming days as well as strong winds.
The National Weather Service Seattle describes how a "baroclinic leaf" is brewing over the Pacific Ocean, which means that a storm could impact the Pacific Northwest on Thursday. Of course, it is too early to tell, but this cloud mass is indicative of a storm that could make its way inland.
While it is too early to tell the severity of the winds, The Weather Network advises residents of the Lower Mainland to be prepared. The level of wind risk is at 6, which is "be prepared" or orange on the legend. Contrastingly, Wednesday's wind risk is at a level 0, and Tuesday received a 1.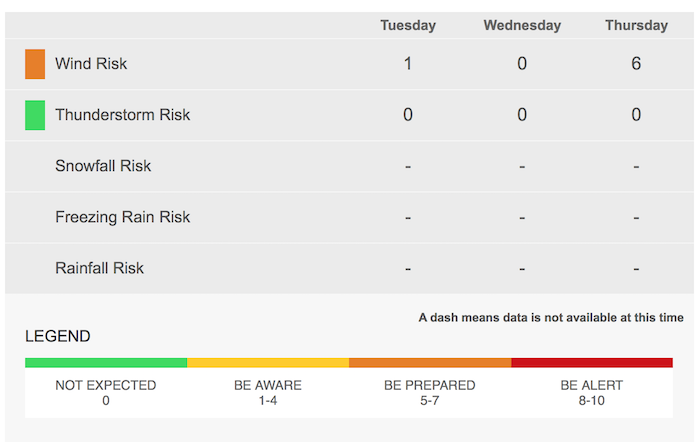 Vancouver Is Awesome spoke to Matthew MacDonald, Meteorologist, Environment Canada, who explained that Thursday will see rainfall and wind, but it is a bit too early to tell the extent of how much.
"We are expecting roughly 30 – 60 mm of rainfall in the Lower Mainland and strong winds, but it is too soon to tell how strong the winds will be," he said. "The "baroclinic leaf" is developing over the ocean, but weather patterns may be affected as the winds move over Vancouver Island."
Something to watch over the next 24 hrs - in the upper left corner of this loop. It's what meteorologists call a "baroclinic leaf" - a cloud mass associated with large scale ascent in the atmosphere. A storm is forming (cyclogenesis) and that could impact us on Thursday. #wawx pic.twitter.com/6EJVLeNkSn

— NWS Seattle (@NWSSeattle) December 18, 2018
With that in mind, he adds that Thursday is guaranteed to be wet, which isn't much different from the days to come. In fact, Environment Canada's forecast calls for a week of straight rainfall. What's more, according to the YVR Weather Records, the period from December 9 until December 17 saw the wettest nine days in more than nine years. The rainfall total was 154.2 mm, which is more than than an average month's rainfall in the Lower Mainland.
With a 9-day rainfall of 154.2mm, Dec 9th➞Dec 17th were #Vancouver's wettest 9 days in more than 9 years, since Nov 23rd, 2009. #YvrWx

— YVR Weather Records (@YVR__Weather) December 18, 2018
Will it be a blue Christmas in Vancouver?
"Right now it looks like Christmas Day will be dry," said MacDonald. "That prediction could change, however, since it is a week away – but right now it looks like it won't rain."
Vancouver saw one of its wettest weeks on record this month. While the first week of December was relatively dry and sunny, things took a decidedly damp turn after that. The forecast originally called for snow, however, it rained in the Lower Mainland instead.
The Weather Network also released its B.C. winter forecast and it may come as a shock to some. In fact, it is looking decidedly mild overall. The Lower Mainland is expected to see fewer episodes of Arctic air as well as fewer threats of significant snow.