The owner of a Grandview-Woodlands yoga studio has asked that anyone setting foot inside check their conversations about U.S. President Donald Trump at the door.
Julie Peters has requested that Ocean and Crow Studio be a "trump-free zone" and on Tuesday evening she posted a sign for all her teachers and practitioners to see on the door of the Grant Street space.
The single-sided, typed note states, "This is your yoga studio," and continues, "We know the world is really intense right now. Especially if we care about what's going on, we need to have spaces where we can rest, reset, and hit pause on the constant inflow of news."
Peters is adamant that people still pay attention to national and world news, elected leaders and geopolitical landscapes, and the many ways policy affects a country's citizens and people around the globe, particularly the recent U.S. actions to ban some immigrants and refugees, impose extreme limits on reproductive rights, and disregard public lands, science and climate change. The point of her "trump-free zone" is to allow herself and her clients to check out so they can check back in with strengthened resolve, focus and commitment.
A writer, Peters also penned a list of tips to avoid emotional exhaustion brought on by Trump-infected politics south of the border. One of them is to hang out with dogs, which is really never a bad idea.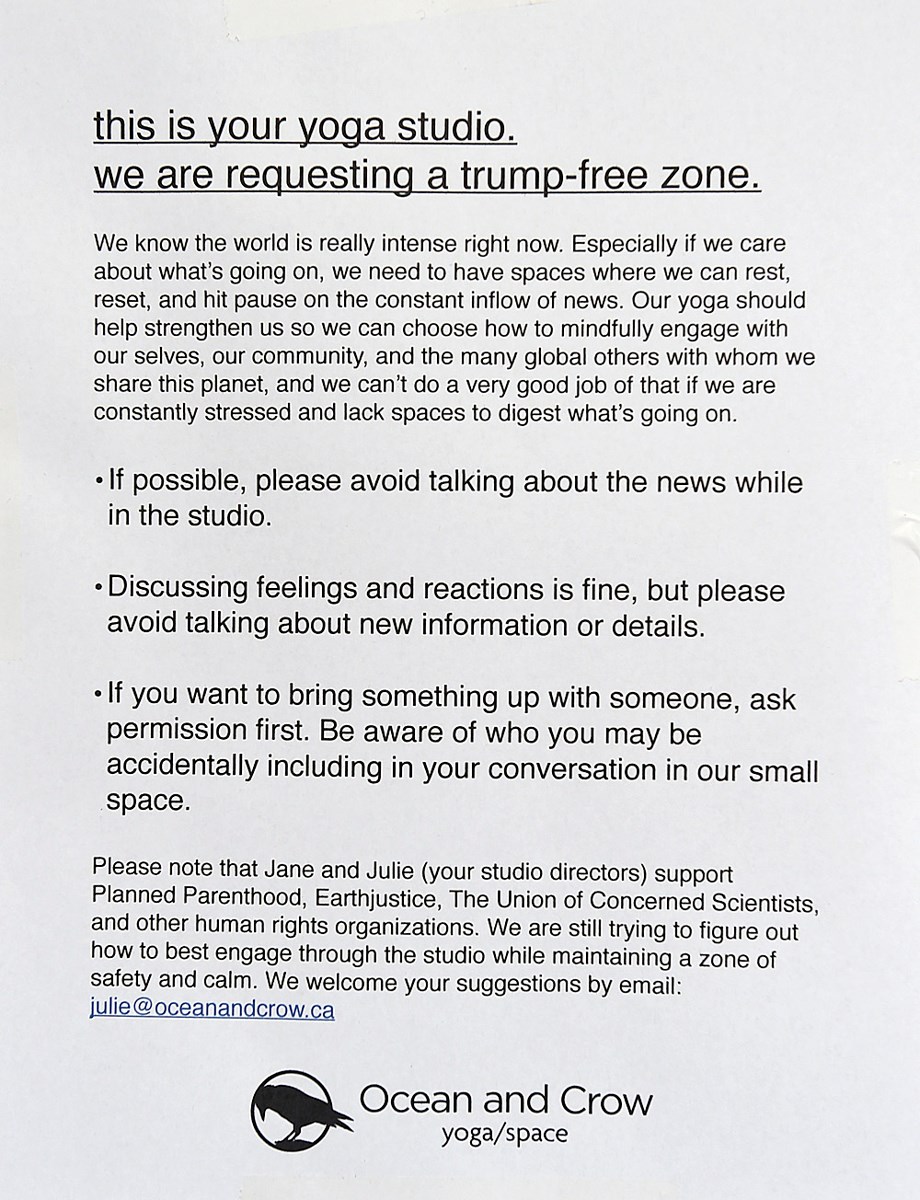 "When you're suffering 'trumpitis,' which is what I had, with sleeplessness, nausea and lack of focus, when you are feeling this way, you are not going to be a very effective person in terms of how you are going to be engaged in the world," said Peters, who posted the sign before an evening flow yoga class she teaches Tuesday evenings. She owns the business with her mother, Jane. 
"If you can have some space where you can digest and process, then you might be able to calm down and get grounded and make a conscientious decision about the action you might want to take that could be of use," she said.
Recognizing it's a privilege to be able to tune out the bombardment of news about the U.S. president's many executive orders and the immense repercussions of those decisions, Peters thought it all the more important that people bolster themselves through mindful connection with their body.
"It made me think about how much energy we spend processing this news," she said, noting there is an additional need to vet information and sources given the threat of "alternative facts" from within the Trump administration and the infectious propaganda of fake news outside it. Peters also participated in the Women's March on Jan. 21 in Vancouver. Protests continue outside Trump Tower, and even eating in the hotel restaurant comes with compromise. 
Instructor and teacher-trainer Nicole Marcia, who has developed a therapeutic yoga practice dedicated to trauma survivors and health care professionals, called Peters' action "brilliant."
"When you think of that experience of bombardment, she has essentially created a sanctuary," said Marcia, who saw the message and realized talk of Trump had been a significant part of her conversations at Ocean and Crow Studio as well as elsewhere. It's a misunderstanding to think Peters wants to control what others say, said Marcia.
"Why not have a safe space to come into? We can talk about that other stuff the other 23 hours in the day. Let's make the way we make a difference in the world be by fortifying ourselves and fortifying our students and maintaining regulated healthy minds and bodies so we can go out into the world and have those conversations in a really effective way. If we are at the mercy of our stress and our trauma, it makes it very, very difficult to be in action around politics."
Marcia hosts a once-a-year class tonight, Feb. 3, on trauma-informed yoga training, which, among other techniques, encourages body awareness and offers practitioners choice instead of direction so they can feel empowered to exercise control.
Overwhelmed by a barrage of negative news and terrible consequences of political decisions, Peters was out for dinner with two girlfriends when she asked they limit talk of Trump. It was liberating, she said, and she wanted to offer that experience to others, so she tacked a request on the front door.
"As a leader in my community, I asked what is my responsibility and what is the best thing for me to do in my position? One thing I thought that I could do is create one space for people to come into and know it just wasn't going to be a conversation they were going to be having," she said. "In order to avoid total emotional exhaustion, we have to have boundaries in place about how we are engaging."
Peters sees a difference in disclosing personal emotion and anxiety about global affairs versus discussing the specific causes, latest breaking news and political manoeuvers that, in her experience, can lead to emotional exhaustion and a sense of helplessness.
"We are not discouraging people from sharing their feelings about it, we just want to keep the details out of the room so people aren't getting their information that way," said Peters. "This moment seems unprecedented, and we all have to figure out how best to respond to it in an engaged and useful way that is right for each of us."
So far, the feedback has been positive relief, but Peters is open to changing the tactic if she's told it's unwelcome by her community.
Because Canadians don't directly affect U.S. politics, Peters donates to organizations such as Planned Parenthood and has also started a postcard writing campaign at the studio to send messages to MPs about Canadian issues.
"Part of this stress is that we can feel a little helpless as to what is going on," she said, noting Canadians don't have a voice on Capitol Hill in the U.S. but do in Parliament in Ottawa. "At least we can make our voices known in our own government so our government knows what is important to us and what our values are."
Twitter: @MHStewart