The Canucks' first line of Brock Boeser, Elias Pettersson, and J.T. Miller is one of the best lines in hockey. Together, they have utterly dominated their opponents. Pettersson is now sixth in the NHL in scoring and was named the NHL's first star of the week after racking up 9 points in 4 games. Boeser and Miller are not far behind, at 15th and 19th in NHL scoring, respectively.
A few other players, however, have been big contributors to the Canucks' offensive surge to start the season. At 5-on-5, the three forwards right behind Pettersson, Boeser, and Miller in scoring are Brandon Sutter, Josh Leivo, and Jake Virtanen.
In fact, Sutter is second on the Canucks in 5-on-5 points per hour; when taking into account ice time, Sutter has been the Canucks' second-most efficient scorer at even-strength to start the season.
That this comes as a surprise is somewhat of an understatement. Over the last three seasons, Sutter has been one of the team's more inefficient scorers, getting a lot of ice time but not producing a lot of points. In some ways, that's been reflective of his role as a shutdown centre, though he hasn't always been effective at shutting things down either.
This season, however, the points are coming for Sutter, along with his most frequent linemate, Leivo. Sutter has 5 goals and 8 points in 14 games, while Leivo is right behind with 7 points. Along with them is Virtanen, who also has 7 points. After a few shifts with them earlier in the California road trip, Virtanen joined their line for the Canucks' 5-2 win over the Sharks and looked right at home.
Have the Canucks found a third line that can contribute offensively, giving them the "top-nine" that they've been trying to find?
Heading into the season, this was the combination that Canucks GM Jim Benning hoped would be able to provide depth scoring to keep the team from getting too top heavy offensively.
"I think we've seen some good chemistry on on some of the lines," said Benning. "I think if Josh Leivo's on that third line with [Brandon Sutter] and with Jake [Virtanen]...Jake gives that line speed, Leivo, we're hoping he's going to be a 15-20 goalscorer for us this year, and Sutts has scored in the past."
That comment was met with some understandable skepticism, particularly in regards to Sutter. The centre had scored 37 goals in 188 games with the Canucks since they acquired him and he's never been much a playmaker for his linemates, not to mention the injuries he's battled since coming to the Canucks. Relying on him to anchor a third scoring line seemed like a risky proposition.
So far, it's working. It's not just that Sutter has put up points, but that the Canucks are out-scoring the opposition 11-6 when Sutter's on the ice at 5-on-5.
That raises a couple questions: is the production of Sutter and his linemates sustainable and how can the Canucks keep it going as long as possible?
The key might be Josh Leivo. From a numbers perspective, Leivo has had a major impact on Sutter in terms how the Canucks control the puck possession battle.
I asked Sutter why Leivo has been such a strong fit on his line.
"I think we're, in a lot of ways, pretty similar," said Sutter. "We both have to be quick up on the forecheck and that's where we get a lot of our offense. We're forechecking harder than we have in the past, we're getting two guys really going up ice.
"All the goals we've got more or less are just on turning pucks over in their zone and taking it to the net. He's been great to play with so far. Hopefully we can keep finding chemistry and I think we're a pretty good one-two punch together."
As for Leivo, he had a simple explanation for why Sutter might have struggled over the past few seasons but is clicking to start the 2019-20 campaign.
"Last couple years, he hasn't been healthy," said Leivo. "He's a great player. You know what, when he's healthy, you see that now… It's just fun to be on his line and contributing like that."
One reason Sutter might be looking better this season, however, is Leivo himself. When you look at Sutter this season with and without Leivo, the difference is stark.
We can take a look at this with WOWY (With Or Without You) numbers: Sutter's corsi percentage with his most common linemates and without them. While there are limits to WOWY and they can sometimes be misleading, they can also be illustrative and serve as a starting point for more rigorous analysis.

The two forwards that have had the biggest positive impact on Sutter have been Pearson and Leivo, but we're looking at a pretty small sample size with Pearson and Sutter. That said, when Leivo, Sutter, and Pearson have been on a line together, they've been monstrous in puck possession, albeit in just 20 minutes, which is a small sample size. That's something to keep an eye on going forward.
It's important to note what the "without you" number entails, however. Some of the players, particularly Gaudette and Virtanen, suffer in this analysis because their "without you" numbers include the monstrous numbers put up by Leivo and Pearson with Sutter.
Virtanen, in particular, might be a good fit with Sutter and Leivo on a scoring third line going forward, especially if Pearson continues to play primarily on the Horvat line. The issue, as with Pearson, is simply one of sample size: they've played just over 21 minutes together as a trio, while Sutter and Leivo have played together for four times as many minutes at 5-on-5.
We can take a different look at how Leivo has affected Sutter this season with heatmaps from HockeyViz. One of their tools allows us to view the Canucks unblocked shot attempts for and against and where they come from on the ice with certain combinations of players. This way, we're not just looking at shot quantity, but shot quality.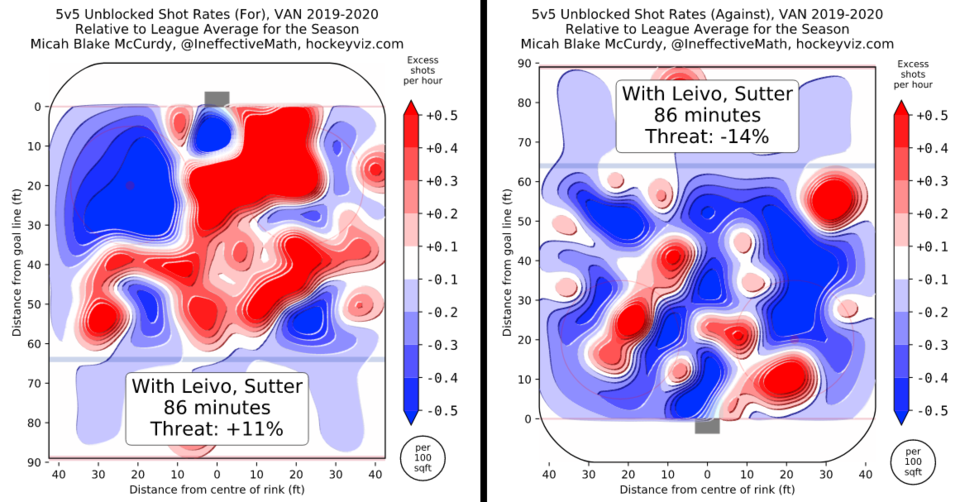 When Leivo and Sutter have been on the ice at 5-on-5, they've created a lot of dangerous scoring chances, with a heavy concentration of shots from between the hashmarks and down low on the right side of the ice. Defensively, they've protected those same dangerous areas of the ice effectively, with deep pockets of blue in the centre of the ice, indicating a well-below average number of shots from those areas.
The "Threat" number listed on the heatmaps indicates how much more dangerous the chances have been compared to the league average: a positive number on offence and a negative number on defence is what you're looking for.
With Leivo and Sutter on the ice, they've been 11% more dangerous than the average NHLer offensively, while their opponents have been 14% less dangerous. That's legitimately impressive and shows just how much they've tilted the ice when they've been together.
We can also look at Sutter without Leivo and see how the centre has performed without his most common linemate. Be warned, it isn't pretty.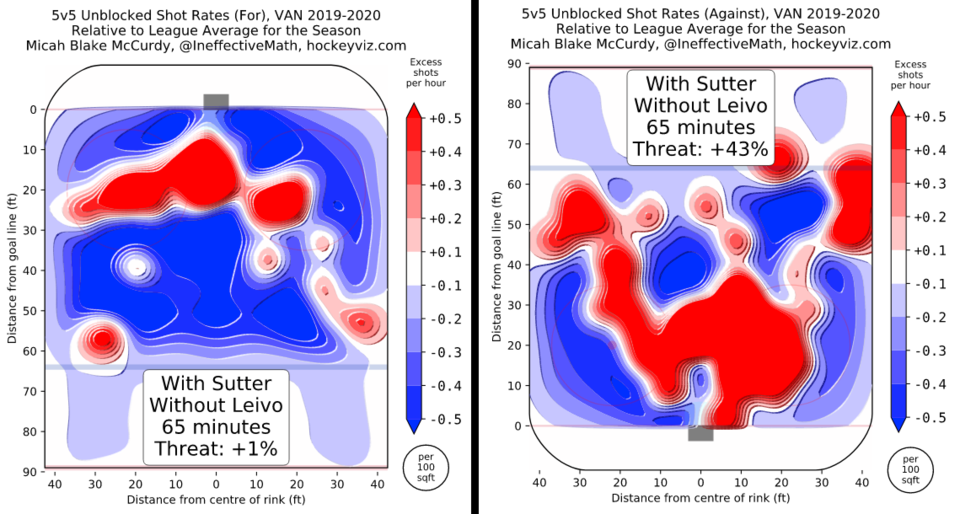 Offensively, Sutter has been slightly above average without Leivo, while still getting shots from the slot. Defensively, however, Sutter's been disastrous without Leivo, with the Canucks giving up an Overlook Hotel elevator's worth of shots from dangerous areas in and around the net.
That speaks to Leivo's ability to push puck possession up ice, something that's been notable throughout his career. When he's on the ice, the Canucks don't spend a lot of time in the defensive zone, limiting the opposing team's ability to create those dangerous scoring chances.
A key reason for Leivo's influence on puck possession is his ability to win puck battles. He has a simple focus when he's heading into a puck battle.
"Come out with the puck. That's it," Leivo said with a smile."I just want to get low and find a way to try and surprise the guy, maybe with a stick lift, or get my body position in front. I've always prided myself on trying to retrieve pucks back on the on the walls or anywhere on a forecheck. It's been my thing."
Puck battles have been a major focus for Leivo as he's developed his game — it's his "thing" after all — and just like he's stolen pucks from opponents, he's lifted elements from other players to add to his toolbox.
"You learn things from other players and how they steal pucks and if you're watching you try to add that to your game," he said. "I played [on the Toronto Marlies] with Spencer Abbott — little guy, but he was really good at stealing pucks, and then Matthews is unbelievable at stealing pucks."
Leivo couldn't keep from mentioning one of the all-time greats.
"Watching Datsyuk over the years — not saying I'm anything like him — just watching him, how he steals pucks," said Leivo, grinning at the memory. "He was one of my favorite players growing up."
"I think when Leivs is on top of his game, that's what we see out of him," said head coach Travis Green. "When he's consistent with that, he's a strong player in the NHL. He's played probably total of one full year in the NHL and I think He's still learning to be consistent, but when he's on top of his game, he gets places quicker and he wins puck battles."
That ability played a key role in Sutter's game-opening goal against the Sharks. Leivo and Sutter were quick on the forecheck and it was Leivo getting first to the puck behind the net, then getting a couple quick touches on the puck to keep it free of Sharks' sticks. His shot created a big rebound for Sutter to collect and patiently finish.
View post on imgur.com
That's not to say that all of Sutter's success has been due to Leivo. In fact, they've been mutually beneficial for one another: Leivo's numbers are better with Sutter than they are without him, though the difference is a little less dramatic. Their hard-forechecking games do seem to complement each other nicely.
Another element of Sutter's renewed offensive game is that he's being asked to play less of a shutdown role. His defensive zone starts are nowhere near as skewed as his past couple seasons and he's faced first lines at a lower-than-average rate. In fact, you could make the case that Sutter has been sheltered, allowing him to pitch in offensively.
"I think we've used him a little bit differently, not solely in a matchup purpose, which has probably helped him as well," said Green. "And give him credit he's playing really good hockey right now."
"Our team's matured," he added. "I play Horvat in different situations, I play Beagle — I think that line has played extremely well this year and it's allowed us to put them on the ice against top lines as well. And from a coaching standpoint, that's a nice option to have and I've been playing Petey more heads up against top lines.
"So when you have that you can put different players in different situations. Even for the faceoff on the right side, I might put Sutter out in the offensive zone, where I probably wouldn't have done that in the past. I think the better your team is, a coach has better options as well."
Can the Canucks expect Sutter and Leivo to continue to produce points at their current rate? Their strong underlying numbers together are cause for optimism, but there are a couple red flags that suggest the points might not continue.
The biggest is Sutter's on-ice shooting percentage. Right now, when Sutter is on the ice at 5-on-5, the Canucks are scoring on 13.58% of their shots. That's very high and nearly double Sutter's career average of 6.93%
In fact, the highest on-ice shooting percentage of Sutter's career was 9.01% in the 2015-16 season, in which he played just 20 games due to injury, so it likely would have regressed over the course of the season.
In other words, it's very unlikely that the Canucks continue to score on 13.58% of their shots with Sutter on the ice at 5-on-5, which means he's likely to pick up fewer points.
On the other hand, Leivo's career on-ice shooting percentage is a little higher at 8.79%. Perhaps if it does regress, it won't regress quite as far if Leivo stays on a line with Sutter.
In any case, even if Sutter doesn't stay on his 29-goal pace and Leivo doesn't finish with 40 points, they can still have a tremendously positive impact for the Canucks simply by controlling puck possession when they're on the ice. That alone should make the third line an effective component of a winning team.