Spring may have only sprung yesterday but bears in the Tri-Cities have had enough of winter and are already waking from their denning period. 
Julie Kanya, Coquitlam's urban wildlife co-ordinator, told The Tri-City News that bruins tend to rouse from their long winter slumber in late March or early April. But city staff are already receiving reports of bear activity close to some developed areas, indicating that the animals are waking up ahead of schedule. 
"There are at least a couple of bears that are already awake," she said.
And with the animal sightings, Tri-City municipalities are ramping up their urban wildlife education efforts (see sidebar, page 11).
Aside from offering valuable safety tips for people who may encounter a bruin, Kanya said the presentations and outreach will focus on reminding residents to secure all their garbage and animal attractants, including fruit trees and bird feeders.
Despite Coquitlam's education campaigns over the last few years, some residents are still not getting the message. 
Last year, the city received more than 1,000 calls about bears and wildlife, with more than half related to unsecured garbage.
As a result, Coquitlam issued 431 solid waste management bylaw notices, up from 243 in 2016, as part of a ramped-up enforcement campaign to make sure residents are securing trash and other attractants. 
With a new garbage schedule that began last week aimed at picking up waste earlier in bear-prone areas, such as Burke Mountain, Kanya said the city will continue its increased enforcement of garbage regulations. 
"Unfortunately, we are still seeing conflicts," she said. "We have stepped up enforcement… to help keep neighbourhoods safe and the bears safe as well."
She added staff will be monitoring to see how bears respond to the garbage schedule changes. The hope is that fewer animal attractants at the perimeter of the municipality will discourage animals from venturing further into residential neighbourhoods. 
"Getting the garbage off the streets as early as possible will hopefully reduce conflicts," she said. "We are hoping that will discourage them right at the beginning."
Coquitlam is not the only city battling bear issues.
In Port Coquitlam, staff coordinate with the Provincial Conservation Officer Service to address bear hot spots on a complaint basis, said Pardeep Purewal, the city's manager of communications and administrative services.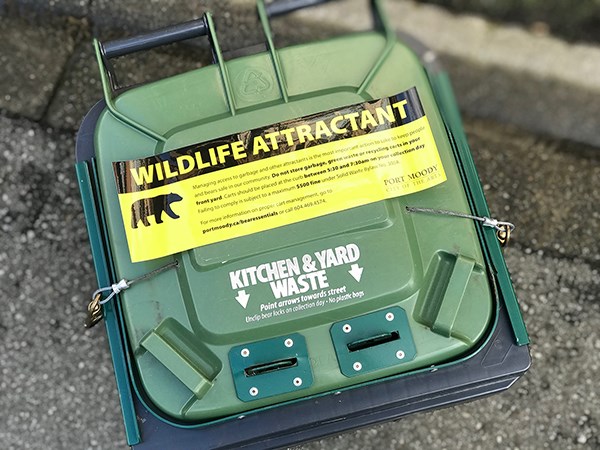 She added that the city's ambassadors will be at community events, like May Day and the PoCo Farmers Market, throughout the summer, spreading bear smart info and answering questions from residents. 
In Port Moody, the city has been working to educate residents by placing stickers on waste carts that have been left on the curb outside collection hours. Those who are in contravention of the municipal solid waste bylaw and put their carts out before 5:30 a.m. on their collection day are subject to fines.
MORE BEAR INFORMATION
• Coquitlam: Call 604-927-3500 or email urbanwildlife@coquitlam.ca. For bear smart tips, go to www.coquitlam.ca/bearsmart.
• Port Coquitlam: For information on the city's garbage regulations, visit www.portcoquitlam/bears or call 604-927-5496.
• Port Moody: Residents can use the solid waste app (portmoody.ca/solidwasteapp) to get reminders about setting carts out on collection day. To learn more about animal attractants, go to www.portmoody.ca/wildlife.
TWO BEAR PRESENTATIONS
Port Moody is holding its annual Bear Essentials presentation April 25 at the Inlet Theatre, featuring a representative from the BC Conservation Officer Service along with wildlife experts Dan Mikolay and Tom Saare. 
Saare will also be presenting April 17 at Coquitlam's Evergreen Cultural Centre when he leads Bear Smart 101. Doors open at 6 p.m. and the presentation will get underway at 7 p.m., and there will be an urban wildlife booth offering more information and refreshments. 
To sign up online for the Bear Smart 101 presentation, go to www.coquitlam.ca/bearsmart101. Space is limited and there was a wait list for last year's presentation.
gmckenna@tricitynews.com
@gmckennaTC