To paraphrase Lady Bracknell, to lose one first-line forward is unfortunate; to lose two in one week looks like carelessness.
Just four days after Bo Horvat fractured his foot, taking him out of the lineup for approximately six weeks, Sven Baertschi suffered a fractured jaw when a puck deflected off the glass into his face. That's a couple of tough breaks for a team that needs almost everything to go right if they hope to make the playoffs.
The two injuries put tremendous pressure on Brock Boeser to continue to produce in their absence, as well as the Canucks' veteran forwards to step up to replace their scoring. It's already been tough to replace Horvat, who plays in every situation. Travis Green has turned to Michael Chaput to shore up the penalty kill, while Jim Benning acquired Nic Dowd for some extra depth at centre, but those two additions don't even come close to replacing Horvat's contributions.
Replacing Baertschi for the next 4-6 weeks is slightly easier. The Canucks have Nikolay Goldobin already up with the team and this injury opens the door for him to get a longer look in the top-six. The Canucks can also call up Reid Boucher, who has 13 goals and 24 points in 22 games in Utica.
There were questions heading into the season of whether Baertschi could be a first-line forward, but he's been effective alongside Horvat and Boeser, even if he seems like the lesser partner at a law firm sometimes.
Last season, Baertschi's 1.86 points per hour at 5-on-5 was right on the edge of first-line status. The increase in ice-time, along with more difficult opposition, didn't quash his scoring rate at all: he's produced 1.96 points per hour this season, 86th among NHL forwards who have played at least 300 minutes this season.
That's on the lower-end of first line, but still qualifies. Horvat sits at 80th with 2.03 points per hour, while Boeser is 13th among NHL forwards with 2.71 points per hour. Henrik Sedin is also in the top-90: his 2.08 points per hour places him 70th.

At 5-on-5, the Canucks need two forwards to step up and produce at a low-end first-line rate. That's doable. Goldobin is capable of doing so, as is Thomas Vanek. This could even open a door for Jake Virtanen to play a larger, more offensive role.
The Canucks could have a tougher time replacing Baertschi on the power play.
The Canucks currently have one of the top-10 power plays in the league. Heading into Monday's game against the Winnipeg Jets, they have converted on 20.95% of their power plays, good for 8th in the NHL. They average 7.75 goals per hour of time on the man advantage, the 6th best scoring rate in the league.
A big part of that success has been the addition of Brock Boeser to the first power play unit, along with Bo Horvat as a net front presence. Boeser leads the Canucks in power play points and is fifth in the NHL in power play points per hour. His shot is proving to be a dangerous weapon with the man advantage, particularly since he has the patience and poise to deploy it effectively.
But one of the reasons the power play has been so effective is that the second power play unit has been able to contribute nearly as much as the first unit. In fact, right behind Boeser in power play points is Vanek, who is 9th in the NHL in power play points per hour.
That second unit has been mainly composed of Baertschi, Vanek, Loui Eriksson, Sam Gagner, and Derrick Pouliot.
Baertschi hasn't produced as many points on the power play, though he's tied for the team lead with 5 power play goals and is, in fact, fifth in the NHL in power play goals per hour. His contributions on the power play are quieter, but still vital.
One of the key indicators for future success on the power play is unblocked shot attempts, aka. fenwick. The Canucks' leader in fenwick rate on the power play is Loui Eriksson, at 83.53 per hour, with Baertschi in second at 72.94 per hour.
That means, with Baertschi on the ice on the power play, the Canucks generate 72.94 unblocked shot attempts per hour. Those shot attempts have led to goals: Eriksson and Baertschi are also first and second in on-ice goals per hour on the power play.
Overall, the Canucks don't produce enough shots on the power play to sustain their success — their fenwick for per hour is 64.43, 29th in the NHL — but they're much worse without Baertschi. Just look at the effect he has had on his most common linemates on the power play.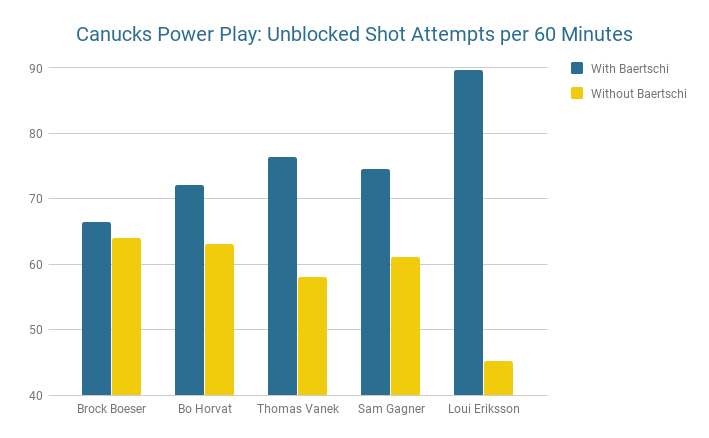 Baertschi contributes in a lot of small ways on the power play — he's effective at zone entries, finds soft spots in defensive coverage, and goes to the net — but one of the big ones is his surprising ability to win battles along the boards. He's not the biggest player, but he uses his body positioning and excellent stickhandling to win pucks and keep plays alive. It's not just about finding a skilled playmaker to fill his role, but someone able to win those battles to maintain possession.
Travis Green avoided making big changes to the power play by simply replacing Horvat on the first unit with Markus Granlund, but the additional loss of Baertschi might require a few bigger changes. The Canucks could potentially go back to a two-defenceman setup on the second unit, reuniting Ben Hutton and Derrick Pouliot, or could give Nikolay Goldobin or Jake Virtanen a chance to play with the man advantage.
Whoever steps into Baertschi's spot on the power play will have some sizeable skates to fill.