When you walk into Duffin's Donuts for a box of half-a-dozen treats or post-party fast food, you might wonder: why does this 24/7 joint sell everything?

There's your usual assortment of sugar-glazed, creams and jellies, but then you notice the Mexican tortas and tamales. And Salvadoran pupusas. And southern fried chicken. And Vietnamese banh mi submarine sandwiches. And your typical diner burgers and breakfasts. They even sold American Chinese food for many years.

"I can't really describe this place," wrote one food blogger. A "drunken person's paradise," wrote another. Also, a "curiosity." Scout Magazine called it "an anchor of East Van" as much as Clark Drive's iconic cross.

Could the mosaic of a menu simply be that the owners for many years, Tony Chhuon and Paula Sim, had varied tastes?

The answer is one you might not expect from this 1980s-vibe mainstay at Knight and 41st. The story is part history, part fairytale. It spans an ocean and involves a murderous dictator and the rise of California's doughnut king.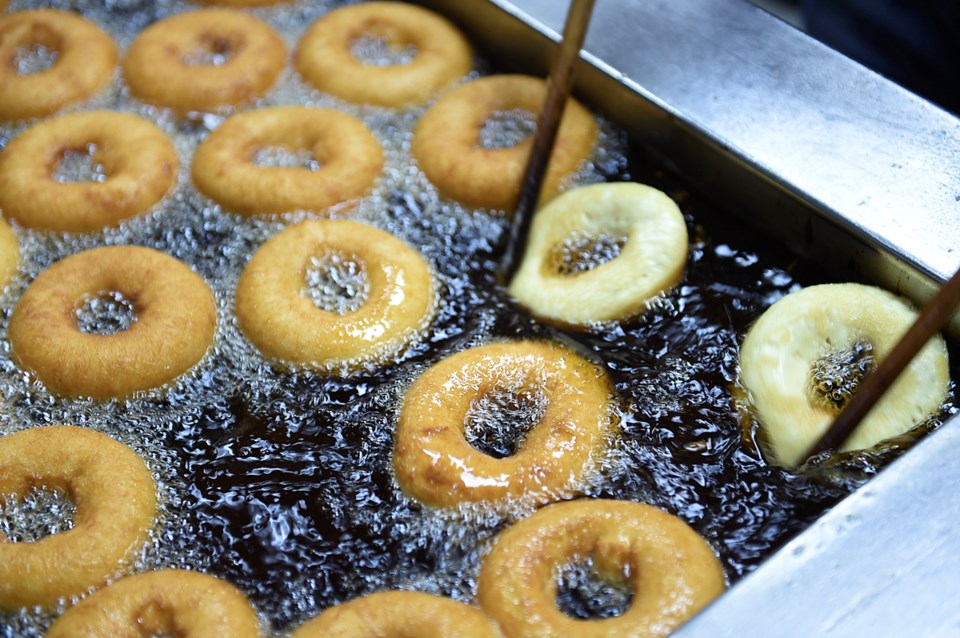 The man who would be king
 
Many 20th century immigrants opened the ubiquitous greasy spoon or corner store to jumpstart life in North America. But in 1970s California, there was another popular livelihood for immigrant futures: the doughnut shop.

It started with Ted Ngoy, the son of a peddler who would become the "doughnut king."

Once upon a time, Ngoy was born in a small Cambodian village. In 1967, his mother sent him to the capital of Phnom Penh to study, and there, Ngoy fell in love.

But Suganthini Khoeun was the daughter of a high-ranking government official. A marriage was out of the question.

The lovers passed notes through Khoeun's maid. Then one day, Ngoy snuck into Khoeun's bedroom. He spent 45 days and nights there until he was caught. Khoeun's parents tried to force Ngoy to leave their daughter, but in a fit of passion Ngoy stabbed himself in the belly instead. As Ngoy recovered, Khoeun, in her sadness, overdosed on sleeping pills and fell into a coma. A Cambodian Romeo and Juliet.

Not long after, they both recovered. Khoeun's parents allowed them to marry, understanding that the lovers were inseparable.

It was a happy resolution for a short time. In 1975, revolutionary Pol Pot and the communist Khmer Rouge seized power in Cambodia and began a reign of terror.

"Then I came to America," Ngoy told the L.A. Times in an interview, "and I created the doughnut world."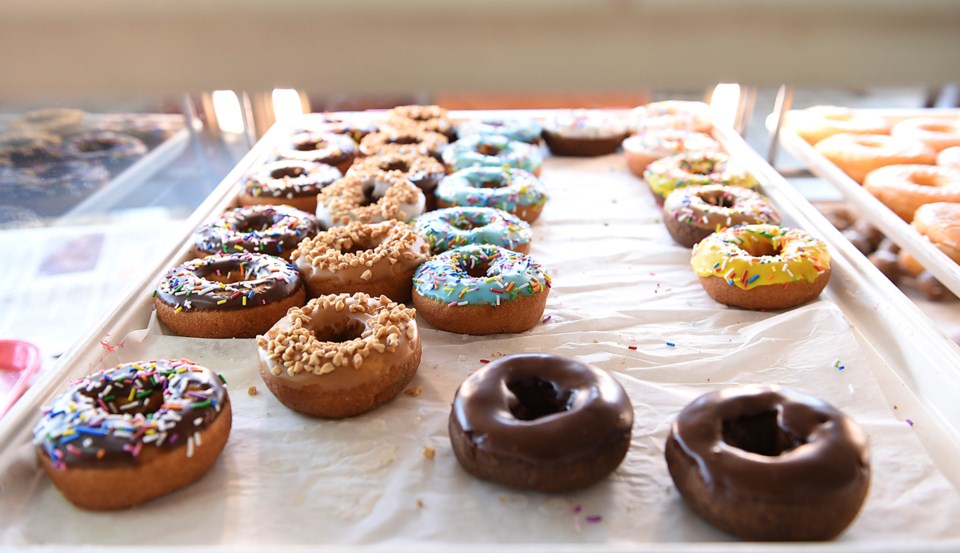 Escape from  Cambodia

In 1980, another couple were planning to leave Cambodia: Duffin's Donuts pioneers Tony Chhuon and Paula Sim. Chhuon was attending medical school at the time, studying to become a doctor.

"We wanted a better place because even when you had higher education, like my husband, they tried to kill you," said Sim. "When you had a chance, you had to try and get out."

Famine struck the land under the Khmer Rouge. Tortures and executions were carried out. About 1.7 million would die in the genocide.

And so, Chhuon and Sim began their escape into Thailand.

"Our story is very sad and scary," said Sim. "There were so many mountains, and we had to walk at nighttime with a flashlight because [there] were robbers that tried to kill you."

But the couple made it into Thailand, and in 1983, they moved to the Canadian capital of Ottawa. Medically-trained Chhuon found work at a nursing home and a children's hospital, but as a cook.
Children of the doughnut king

On the other side of North America, Sim's parents lived in Pomona, Los Angeles County. In 1986, Chhuon and Sim went  for a visit. There, they encountered king Ngoy's doughnut world.

Fairytale couple Ngoy and Khouen were among the first Cambodians to arrive in the U.S. as refugees.

Ngoy worked three jobs, one working the pump at a gas station, where he noticed the nightly buzz at a nearby doughnut shop. Ngoy didn't know what the sugary hoops were, but he found them tasty.

Ngoy gathered all his savings and purchased one doughnut shop. He didn't stop there. By the mid-1980s, he had 50 shops.

His staff were the next waves of Cambodian refugees in America. He taught them baking and bookkeeping. Ngoy became a multi-millionaire and would shake the hand of three U.S. presidents.

Other Cambodians followed and bought doughnut shops, too. It's estimated that 80 per cent of Cambodian businesses in Southern California at the time were doughnut shops.

Sim's family was no different, and when Chhuon and Sim went for a visit, they too followed the footsteps of their country folk.

"In Ottawa, it took them two months to train us how to cook," said Chhuon. "In California, we learned how to make doughnuts in two weeks!"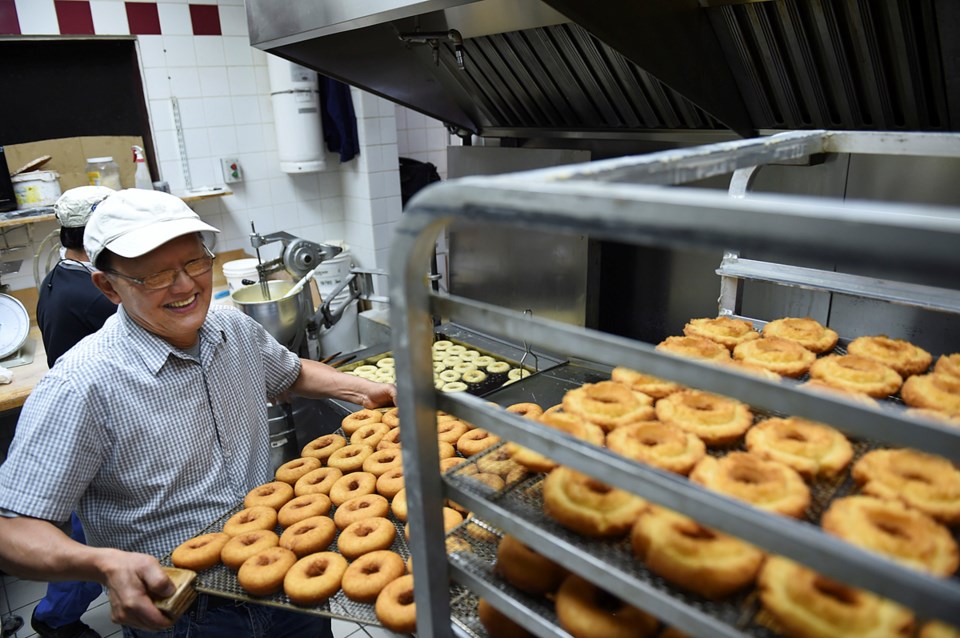 A menu of migration

Chhuon and Sim came to Vancouver to start a new life with recipes from different worlds —doughnuts, but also food from L.A.'s inhabitants from south of the U.S.

In 1987, like the doughnut king himself, they pooled their savings and bought a doughnut shop: Duffin's Donuts on Main and 33rd. 

Sim was proud of the Californian flavours that only they seemed to have. The Angel: dusted with powdered sugar and filled with chocolate cream. Buttermilk: frosted, topped with custard or lemon jelly.

"I worked 14 to 17 hours a day," said Sim. "My husband baked and I worked the counter."

Sim figured Duffin's didn't serve very fresh doughnuts in its early days because it took time for the Little Mountain neighbourhood to warm up to them.

"But after six months, the business started to take off," said Sim. "Sometimes people are surprised that I know about Latino food. One lady says I make the best tamales in town."

Duffin's moved to Knight and 41st in 2007 after rents were raised. There's now a four-storey low-rise with a Rexall in place of their old spot on Main.

Chhuon and Sim's daughter now runs the shop, but her parents still help out. 
"I love working here," said Chhuon. He's 67 and supervises the bakers. "It's a hobby to me. My grandfather was a cook, and I hope I'm making good food for the people here."

Duffin's gave Chhuon and Sim a more stable future than the doughnut king's fortunes did. Gambling consumed L.A.'s Ngoy, his wife divorced him, he went homeless and returned to Cambodia to try his luck in real estate.

For 58-year-old Sim, today happiness is simply a home.

"Even though we were refugees, it didn't matter because we were willing to work hard," she said. "That's why I love Canada."

It's just houses and a gas station around Duffin's, but this humble corner of Knight and 41st is a crossroads. As lives are uprooted and people move, flavours mix and mingle.

On this corner is a bit of Southeast Asia, a bit of California, a bit of Tex-Mex and Vancouver — a map of migration on a mosaic of a menu.