It's 8 p.m. on a Tuesday night at the Chandelier Lounge in the Super 8 Motel on Southeast Marine Drive, when the speaker system blasts the unmistakable first notes of the iconic theme song from the classic movie 2001: A Space Odyssey.
As the music fades it's replaced by the sound of a dozen different voices repeating just two words, "The King." That's when smoke billows out of a small machine tucked into the back of the lounge's stage and hundreds of spinning red and green dots of light swirl around the room and across the walls and the small audience gathered on this night.
At that moment Brian "Elvis" Simpson strides through a side door and takes to the stage where his partner in both life and business, Rhonda Williams, hands him a guitar and he launches into "See See Rider," an energetic version of an old blues song first recorded in 1924 by Gertrude "Ma" Raine. In later years Elvis Presley often used it to open his shows. For tonight's performance, Simpson is wearing an Aztec-inspired, turquoise-blue and black sequinned jumpsuit, a $5,000 replica of one Elvis famously wore known as the "Alpine."
Simpson doesn't simply perform the song but brings it to life complete with hip-shaking moves and a lip curl even Elvis would be proud of. His efforts are not lost on the women sitting front and centre at the closest table in the room to the stage. With each pelvic thrust, knee shake and lip snarl, the women hoot and holler, slapping each other on the shoulder or knee when Simpson performs a particularly athletic move.
It's the Ultimate Elvis Show, which plays each Tuesday night at the Chandelier Lounge, named for the surprisingly ostentatious light fixture that hangs above the lobby of the Super 8.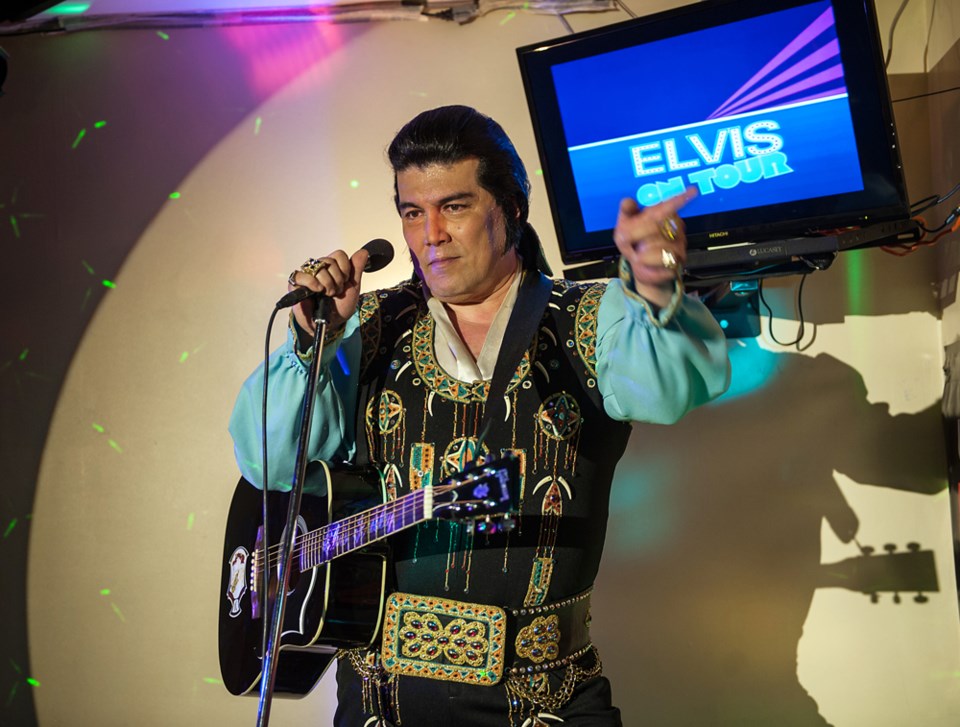 "I like to call it Ultimate Elvis Light," kids Simpson prior to the start of the show. "Here it's just me and one other performer. My actual Ultimate Elvis Show includes a lot more tribute artists."
Simpson explains there's a difference between Elvis tribute artists, or ETAs as they're often referred to, and Elvis impersonators. Elvis Aaron Presley was an iconic American singer and actor often referred to as the King of Rock and Roll. Born in 1935, he died unexpectedly in 1977, leaving behind a legion of fans old and new who have never forgotten the King.
"An ETA strictly performs and then puts it away," says Simpson. "Impersonators are more like actors who wear Elvis clothes and live it 24/7."
Simpson became a lifelong fan of the King after watching the Aloha from Hawaii TV special broadcast in 1973.
Despite the fact Simpson made his living as a musician and singer for years, he says it never occurred to him to become an ETA until his audiences demanded he perform more Elvis songs.
"I never thought I was worthy," says Simpson. "But then I thought, what better way to pay tribute to the King."
So Simpson decided to become a full-time ETA with a personal promise he would treat the job with sincerity and dignity. That decision paid off and for years Simpson was ranked one of the top 10 tribute artists in Canada. He won four world championships and placed in the top 20 in the Images of the King World Championship in 2002. Since then Simpson has graced the stage with Elvis's original drummer D.J. Fontana, Elvis' female backup group Sweet Inspiration and the King's male backup singers, the Jordanaires. Today Simpson not only regularly performs as the King but also produces Ultimate Elvis, a comprehensive tribute to the singer including up to six performers at a time who cover songs from all of his eras, including his military, movie and 1970s performances.
Joining Simpson on this night's production of Ultimate Elvis is Kitsilano resident Terry "Aaron" Wong, who pays tribute to the King's military and movie years. Wong, who wasn't even born at the time of Elvis's death, grew up listening to the King's music thanks to his parents who were both fans. Unlike Simpson, Wong was not a professional singer before pursuing a career as an ETA.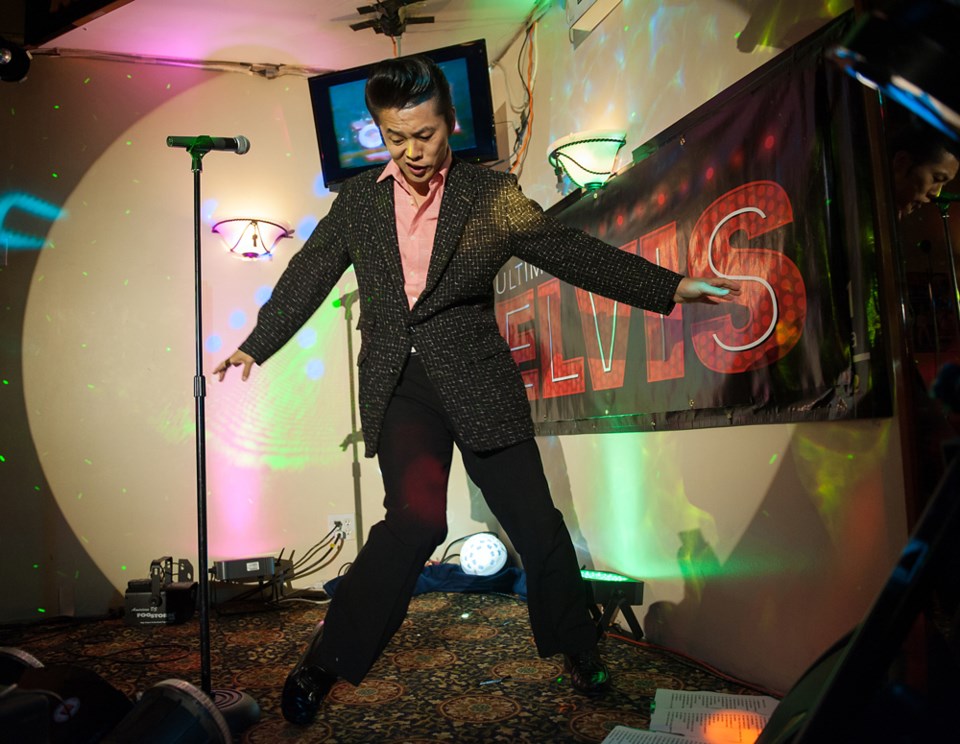 Instead Wong dropped into an ETA Meetup where he met Sandor Gyarmati, an ETA and reporter with the Delta Optimist newspaper. At the time, Gyarmati and other ETAs were performing at a now-defunct venue called Stars on Broadway. Gyarmati is the founder of the newly formed Vancouver Elvis Fan Club on Facebook.
Wong signed up for Elvis 101, a course Simpson offers to budding ETAs. His talent was soon obvious and within two short years Wong's tribute to 1950s Elvis saw him named non-professional grand champion at the now-famous Penticton Elvis Festival, which draws ETAs from across North America. Wong, a graphic designer by day, also plays Elvis in Red Robinson's musical theatre revue On the Air.
Sitting at a table along the wall of the Chandelier Lounge, Wong, wearing a 1950's-inspired pink shirt and oversized, vintage black and white jacket, appears truly humbled to be doing what he does. But that shy persona vanishes on stage where Wong is all swagger and lip-curling snarls as he belts out early Elvis tunes, starting with a raucous rendition of "Hound Dog." Again, as the athletic performer dances, legs shaking and defying gravity by leaning back while balancing on nothing more than the tips of his toes, the female fans seated in front shout their approval, particularly when singing the song "Trouble" from the 1958 movie King Creole, Wong adds the name of one of the women to the lyrics.
"Because I'm evil, my middle name is misery, well, I'm evil, so don't mess around with me, Cora." The addition of the woman's name to the song has her giggling like a school girl and her friends laugh with delight. There is no rivalry amongst the group, which on this night includes Elsie Jackson, Val Eely, Gloria Schenk and Cora, who prefers not to give her last name. The women, all retired, met during the Ultimate Elvis Show at the Admiral Pub in Burnaby. The women regularly attend that show as well, typically with a group of about 15.
"We saw each other sitting there and just started talking," says Cora. "Then we became friends."
"During the 1950s show with Buddy Holly and Elvis, I crawled onto the stage," Eely remembers, a comment that sends her friends into fits of laughter. "Well, I got a kiss."
Not long after, Eely makes her way to the Chandelier's stage while Simpson is performing and is rewarded with a scarf and another kiss.
"Where else is it OK for a bunch of mature women to hoot and holler over young guys," adds Eely, laughing.
The women use Facebook to keep in touch and stay up to date on upcoming ETA shows. It's obvious the women aren't just fans of Elvis, but also of these local performers. At least two of the women admit to a hard-core addictions to collecting Elvis memorabilia and the majority of the group has travelled to the annual Penticton Elvis Festival more than once to watch their favourite ETAs perform.
Many of those beloved ETAs learned their moves from Simpson, who was named world champion four times between 1997 and 2002. Simpson's Elvis 101 course instructs budding ETAs on everything they need to know about performing as Elvis.
One of those former ETA students doing well right now is Eli "Tigerman" Williams, who after only five years performing was named grand champion of the 2012 Pacific Northwest Elvis Festival, an annual Elvis Presley Enterprises registered event. That win qualified him to enter the Ultimate Elvis World Championship in Memphis, Tenn., where that same year he finished 15 out of 96 in the King of the World contest. In January 2013, Williams won the first Ultimate Elvis competition held in Waikiki, Hawaii, followed by a fifth place finish in the Concert Years division of the Ultimate Elvis World Championship in Memphis — despite the fact the airline lost his luggage and he had none of his own costumes to perform in.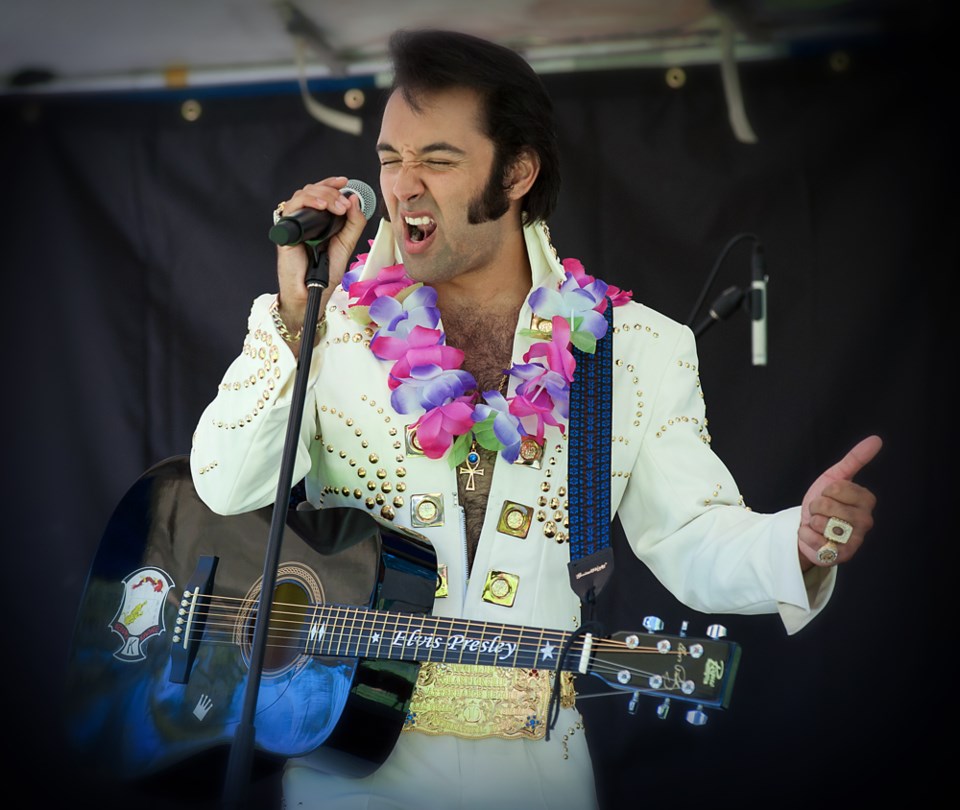 A few weeks earlier, Williams headlines West End Fest 2014, where he performs on an outdoor stage in the field out back of the West End Community Centre, surrounded by inflatable palm trees, a bouncy castle, members of the Vancouver Police Department's Mounted Unit and a group of elderly women seated on walkers in the shade of several large trees. Giving back to community is something all of these ETAs take seriously and they often donate their time or perform for very little pay to help raise funds for charities and non-profit groups.
On this sunny Vancouver day, Williams performs the classic Elvis hit "Blue Suede Shoes," much to the delight of the audience seated in rows of foldable chairs. To the right of the stage a 50-something-aged couple dances enthusiastically to the tune, while nearby a toddler jumps up and wiggles his bum, waving his arms to the music. Seated in the front row is an older woman decked out in sequinned pants, crystal-dotted sunglasses, a T-shirt adorned with a reproduction of  Elvis' Blue Hawaii album cover, a white cap with an Elvis pin at the front and a bag with a photograph of Elvis covering both sides. The woman, who introduces herself as "Rose Elvis," says she grew up listening to the singer and watching this young generation of ETAs brings back memories.
"I remember seeing Elvis on the Ed Sullivan show when he did all those moves," Rose says in reference to the infamous occasion when while performing the song "Hound Dog" the singer's gyrating hips caused such a scandal that on many future TV appearances Elvis was filmed from the waist up.
"I used to go to the record shop and play his 45s," remembers Rose. "Elvis was such a good person, he'll never die."
Williams says it's fans like Rose who make performing as an ETA so rewarding.
"I'll often perform in retirement homes and generally those people are the ones who actually saw Elvis and can relate to his music so I get a great response," says Williams, who explains his name has nothing to do with the Canadian hockey player Dave "Tiger" Williams. "It's an ode to Elvis's karate days."
Williams, a graphic designer, agrees there's a difference between Elvis tribute artists and impersonators.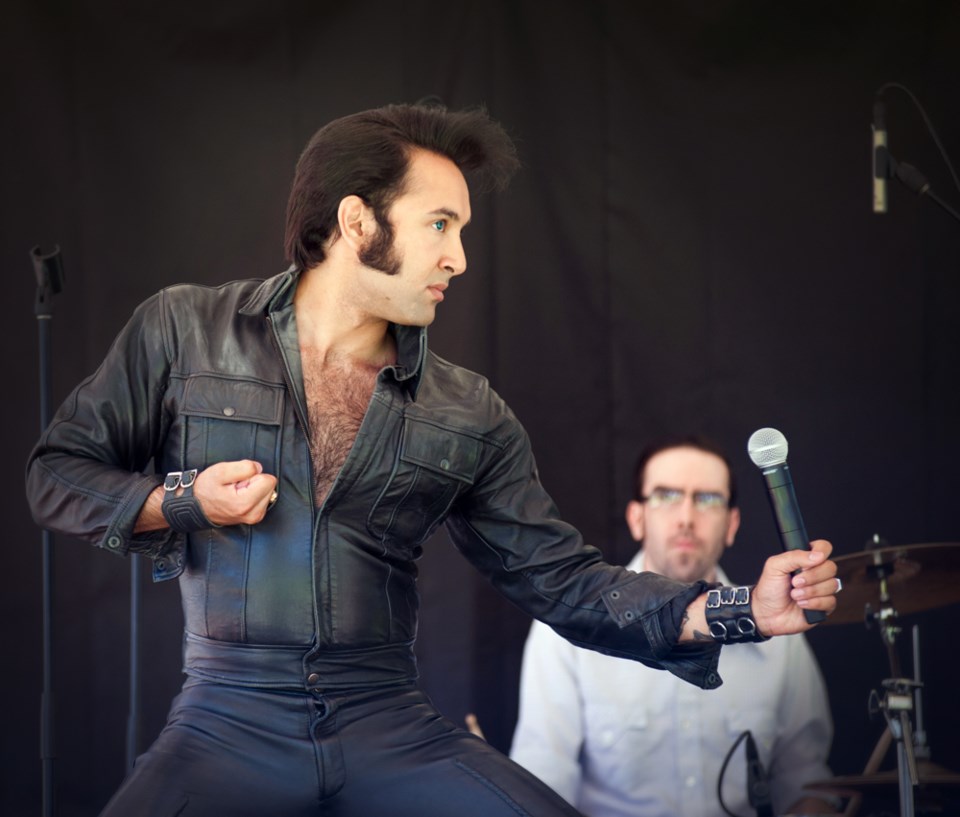 "The other ETAs I know are just like myself, normal guys who like to get together and do this," says Williams, who also appears in the Ultimate Elvis Shows at the Admiral Pub and Chandelier Lounge. "It's just like any group of buddies who go golfing or fishing, only we like to dress up like Elvis and perform."
During Simpson's performance back at the Chandelier Lounge, an apparently inebriated man with a jug of beer in front of him heckles the performer.
"You're not as good as Elvis," the man yells from his table.
"No, I sure am not," Simpson calmly responds.
The man's comments have the female fans at the front of the room staring him down, with one yelling "Shut up."
The man, oblivious to the fact his remarks have had an effect on these women akin to poking a mother bear with a stick, continues with a loud, "Blah, blah, blah," as Simpson attempts to introduce another song.
"I'm going to go back there if he keeps this up," one of the women warns.
Ignoring the man, Simpson launches into the Elvis hit "It's Now or Never," hitting all the big notes despite an ailing throat. As Simpson belts out the final line of the song, "It's now or never, my love won't waaaaaaaaait," he gets perhaps his biggest compliment of the night.
The heckler puts down his beer, staggers to his feet and gives Simpson a long and loud standing ovation.
The Ultimate Elvis Show takes place at 8 p.m. each Tuesday night at the Chandelier Lounge at the Super 8 Motel, 725 Southeast Marine Dr.
sthomas@vancourier.com
twitter.com/sthomas10