It's unlikely neighbours living beside #407-6893 Prenter St. in Burnaby two years ago imagined the scene just on the other side of their walls.
Inside that suite – in a quiet Burnaby Highgate townhouse complex – drug dealers with an arsenal of loaded firearms were cooking up deadly drugs with Magic Bullet blenders and frying pans.
Had they been on the lookout, the people next door might have seen them coming and going with barrels, pails and duffel bags, bringing deadly drugs, guns and ill-gotten cash into the complex.
They might also have noticed a second set of strangers – undercover cops – nosing around their hallways.
A chaotic scene
When police finally entered #407 with a search warrant in March 2016, they quickly backed out again after finding open foil packages of fentanyl on the kitchen counter.
Decked out in hazmat suits, members of the RCMP Clandestine Laboratory Enforcement and Response Team returned to find more than 1,578 grams of the deadly drug.
Fifty times more potent than heroin, a typical street level hit of fentanyl weighs about one or two grams – about as much as a grain of salt.
The Prenter Street apartment was being used to cut it with fillers in Magic Bullets and cook it in a frying pan to achieve the colour, texture and even smell of pebbled heroin.
Court documents describe a chaotic scene:
"Many of the drugs and related chemicals were stored in or on kitchen countertops, cabinets and drawers, intermixed with dishware and what appeared to be various food or grocery items."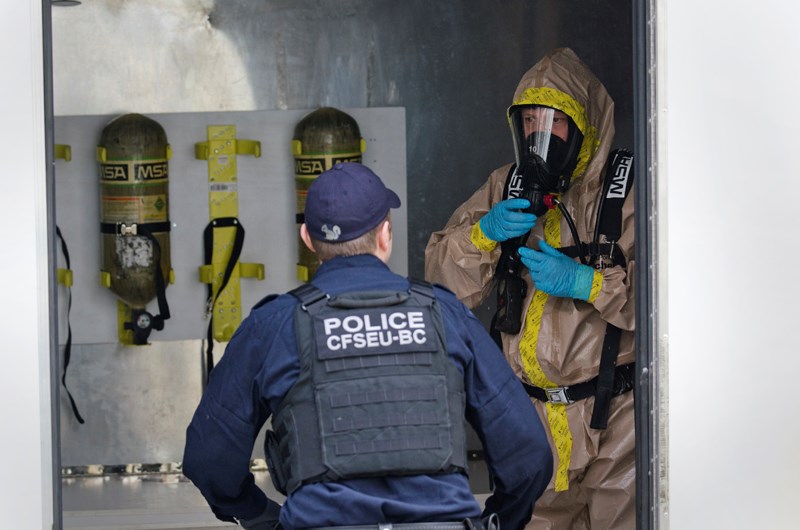 If any of the more than 670 men, women and teens who died of fentanyl overdoses in the Lower Mainland in 2015 and 2016 took drugs cooked up in the Burnaby apartment, their loved ones will never know.
But the dealers knew what they were doing, according to law enforcement officials.
"The accused were carefully protecting themselves with respirators, gloves and goggles during the process and yet went on to knowingly sell this product to unsuspecting users," reads a 2016 Delta Police press release.
Unbeknownst to their neighbours, the stove used to cook up these "highly toxic products" was also being vented directly outside of their complex, according to court documents.
Besides fake heroin, a kind of strawberry-and-coconut-flavoured cocaine was also being processed at the Prenter Street apartment.
One of the dealers, Adam Summers, bragged to an uncover police officer it was his speciality, accomplished through washing process that took a day and a half.
In total, the estimated street value of the drugs – fentanyl, furanyl fentanyl, W-18, cocaine, heroin, methamphetamine, MDMA, ketamine and GHB – seized from the apartment was $1,366,160.
Police also found a satchel stuffed with $11,000 in $20 bills and another $57,500 in 20s tucked away in a shoebox, as well as ammunition, a silencer, three handguns and four rifles – with some of the firearms found fully loaded.
Police sting
The lab was busted on March 17, 2016, after a yearlong Delta Police dial-a-dope investigation dubbed Project Starboard, which culminated in the arrest of the dealers and the execution of simultaneous search warrants at the Prenter Street apartment and two other residences in Richmond and Surrey.
Undercover officers posing as drug users had started buying drugs in 2015 using a phone number provided by informants.
Their purchases eventually got them in touch with Summers, who identified himself as the manager of the drug line, and Scott Pipping, whom police believed to be his boss.
Summers told the undercover officers he could supply any kind of drug they wanted, according to court documents.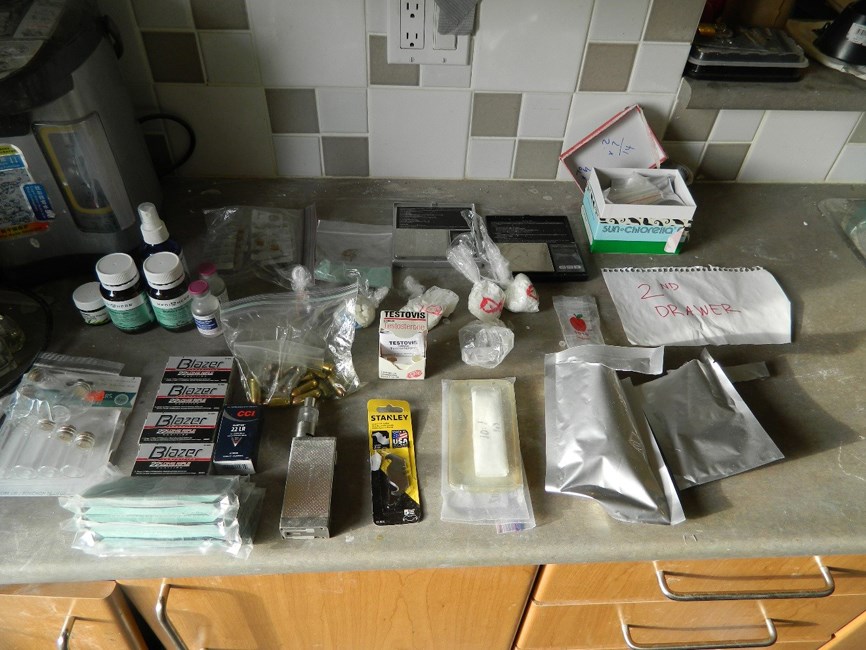 Unbeknownst to residents of the Prenter Street complex, undercover cops started surveilling the townhouses in at least February 2016.
On March 4, they spotted Pipping and Summers leaving the complex, according to a Nov. 16, 2017 court document.
"Summers carried a black and white Lululemon bag," it states. "They proceeded directly to a pre-arranged sale of narcotics with an undercover officer where, on arrival, they presented to him a black and white Lululemon bag containing 5 ounces of cocaine.  They received in return $10,500.00 in cash, which was contained in a brown paper Starbucks bag." 
Officers then saw the pair return to the Burnaby apartment with the Starbucks bag of cash.
That observation helped them get a search warrant for surveillance inside the complex, and, on March 11, 2016, they secretly watched from a fourth floor hallway as Pipping entered unit #407.
The investigation culminated seven days later with the dealers selling an undercover officer in Coquitlam a final $23,400 worth of strawberry-flavoured cocaine, purple pebble heroin and fentanyl.
Police followed Summers's 2000 Ford Taurus for a short distance after the deal before pulling the pair over for an alleged traffic violation on Canada Way near Kensington Avenue.
They were convicted last month, with Summers found guilty on 11 counts of drug trafficking and possession for the purpose of trafficking; and Pipping found guilty on 10 counts of drug trafficking, possession for the purpose of trafficking, producing a controlled substance and firearm offences.
Summers will be sentenced on June 29, the same day Pipping's sentencing hearing is scheduled.
'Serious threat to life'
Whatever fate awaits them then, it won't be the end of it.
The pair now also face two civil suits, one from the province's director of civil forfeiture, who is going after Summers's Ford Taurus and nearly $1.5 million in alleged drug money seized from the Burnaby, Richmond and Surrey residences.
The other suit comes from the owner of the Prenter Street townhouse.
Mani Ranjbar, a Burnaby businessman, found out about the drug lab operating in his rental property three days after police executed their search warrant, according to a notice of civil claim filed in B.C. Supreme Court in March.
He is now going after the drug dealers and a tenant – Stephen Tajiri – who allegedly gave them access to the suite.
He is suing them and an unnamed woman for the destruction of appliances and fixtures in the apartment and for the contamination of the suite with fentanyl and other toxic chemicals.
The contamination made the apartment "a serious threat to life," according to Ranjbar's claim.
The landlord claims the defendants are also responsible for damage to common property at the complex, including "air-flow systems" and "playground equipment."
To get a new occupancy permit for his rental apartment, Ranjbar says he had to pay for multiple inspections to make sure the place was properly decontaminated of toxic drugs.
No sum is included in his notice of civil claim, but Ranjbar is suing for damages, breach of contract, trespass, loss of rental income and loss of value.
He declined to comment to the NOW on his suit, saying it was before the courts.