Carl Baird isn't sure what he's stepped in, but he thinks it's something.
It looks valuable, smells valuable and has the hallmarks of a kitschy, historic gold mine. 
Two years ago around this time, Baird happened upon an abandoned dossier with newspaper clippings and other ephemera centred solely around the life of U.S. newspaperman, philosopher and actor Will Rogers.
Across dozens of pages resembling a scrapbook, pristinely preserved newspaper clippings from upwards of a century ago speak to Rogers' life, his thoughts on the world and, ultimately, his death. Era-specific ads promoting life in the Midwest, whiskey, stoves and even cattle ranching are also found in the scrapbook.
"This is 'USA! USA!' beyond belief," Baird told the Courier. "Imagine in 100 years finding a Wayne Gretzky scrapbook in Florida or Hawaii. It's wild."
Baird's apartment building near Main and 19th is slated for redevelopment in the coming months, and he's looking to purge some belongings before inevitably moving to a smaller place.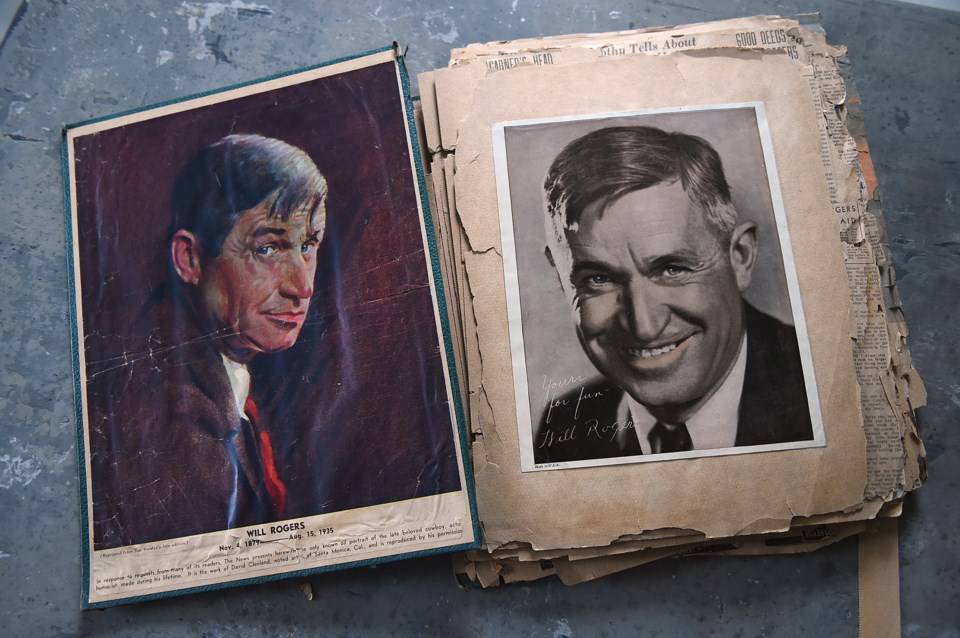 Among the items that must go is the Rogers scrapbook, though Baird isn't sure what "go" means just yet. Getting some money for the scrapbook would be nice, but that's not necessarily Baird's end game. 
"I think it's a treasure. I'm not sure what you'd get for this in an auction, but I'm not sure you can put a dollar value to this," Baird said.
Hailing from Oklahoma and born in 1879, Rogers was a renaissance man in every sense of the term. He was cast in 71 films — both of the silent and "talkie" variety — and had more than 4,000 published articles in newspapers across the U.S. He frequently appeared on radio broadcasts and could be seen hobnobbing with Charlie Chaplin and U.S. president Franklin Roosevelt and Dwight D. Eisenhower, before he became president.
Many of the clippings in Baird's possession start with a headline reading "Will Rogers Said," followed by Rogers' musings on life.
His thoughts combine wit, satire and the kind of outlook befitting of a man who had travelled the world numerous times, eschewed politics and stood up for the everyman.
Some examples:
"We are here just for a spell and then pass on. So get a few laughs and do the best you can. Live your life so that whenever you lose it, you are ahead."
"Ten men in our country could buy the whole world and ten million can't buy enough to eat."
"Too many people spend money they haven't earned to buy things they don't want to impress people they don't like."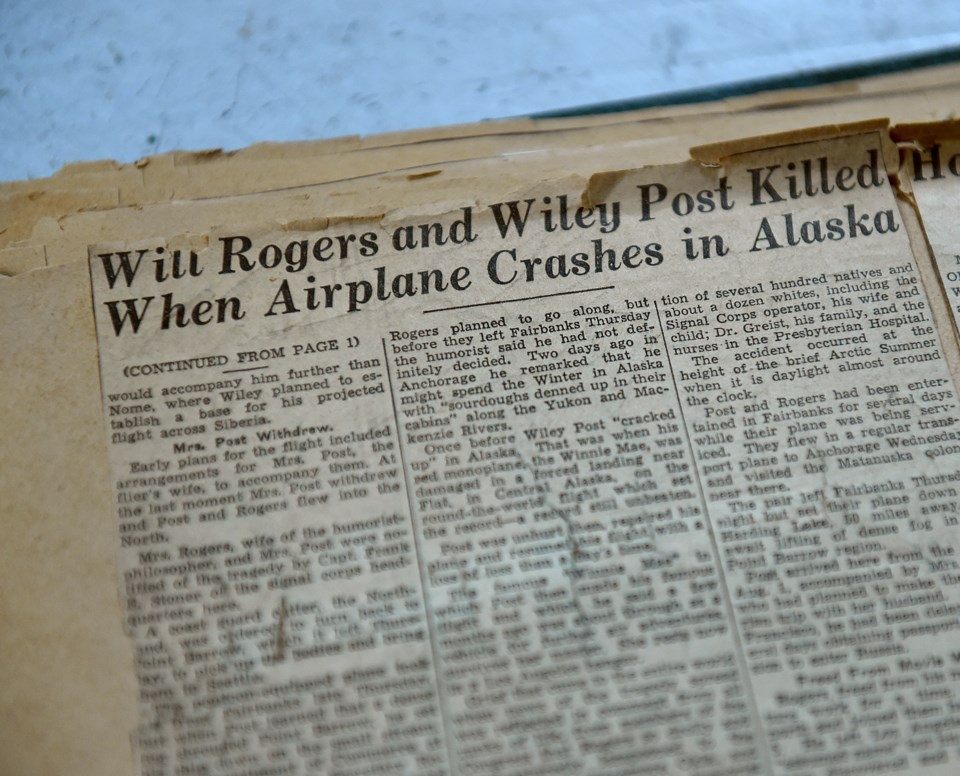 Rogers died Aug. 15, 1935 in an Alaskan plane crash alongside famed aviator Wiley Post. His death was commemorated across the U.S., as statues went up and schools were named after him. 
A reported 100,000 people attended his funeral.
"I was shocked to hear of the tragedy which has taken Will Rogers and Wiley Post from us," Roosevelt was quoted as saying one day after Rogers' death. "Will was an old friend of mine, a humourist and philosopher beloved by all."
It was only in death that Rogers had some semblance of a connection to Vancouver outside of Baird's discovery. According to an anthology of stories published between 1931 and 1956, Rogers' body was temporarily stored at YVR — four years after it was built — as his mortal remains were in transit back to the U.S.
Smaller planes rarely flew at night at the time, so Rogers' final voyage had to be broken down over legs. A reporter from Seattle caught wind of the story and came up to Vancouver to confirm Rogers' remains were, in fact, being secretly held in a locked hangar.
None of this was on Baird's radar until two years ago around this time. He found the scrapbook leaning against a tree near his apartment in the pouring rain. Baird said the scrapbook would have likely disintegrated that night had he not picked it up.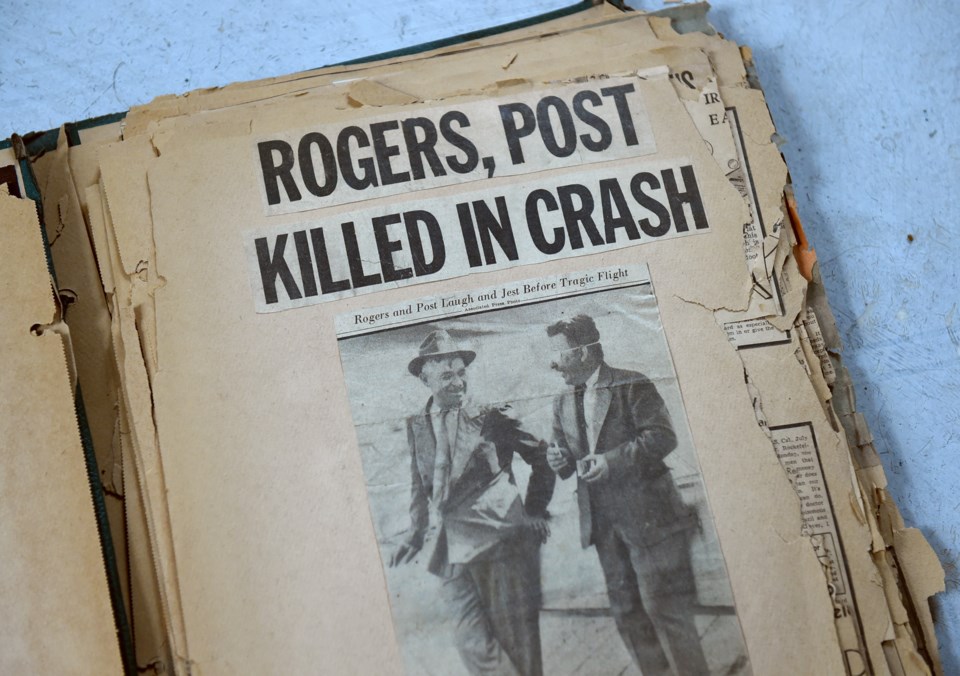 He reckons the previous owner was taking it to a nearby antique store and forgot it. Or, perhaps the book was appraised as being worthless and the owner left it outside.
Baird has repeatedly contacted the Will Rogers Memorial Museum in Oklahoma and received no response. The Smithsonian Institution has also turned down Baird's offer to donate the scrapbook.
So now the scrapbook is condemned to a type of historical purgatory, and Baird doesn't know what to do. Having it sit on his shelf does little for Baird, the preservation of history or those interested in early 20th century Americana.
"This has to be protected, something has to be done with this," Baird insists. "I've never put any thought into how much it would be worth — I have no idea and I wouldn't want to sell it. I want it archived to some degree — photographed, talked about and for people to enjoy it."
@JohnKurucz