The Paper Feature is a weekly column and sidebars that appears in the print edition of the Vancouver Courier newspaper. Track it down!
---
If you like the Canucks' signings in free agency, it could be for a number of reasons. You might prize Jay Beagle's Stanley Cup experience, Antoine Roussel's energy, and Tim Schaller's penalty killing. More than that, you, like Jim Benning and the Canucks, probably like that they'll take on defensive responsibilities so that the team's younger, more skilled players can be put in a more offensive role.
Benning, however, sees another benefit to signing the three veterans: injury prevention.
"With those guys we signed," said Jim Benning during an interview on TSN 1040, "they're big, strong guys...We've had a lot of injuries the last couple years and one of the things that we looked at is maybe we're not big and strong enough up front."
"That was the thinking that went in behind signing those guys," he added.
It's an understandable line of thinking. Big, strong players presumably get injured less than smaller, softer players and big, tough players might potentially protect skilled players from predatory hits, scrums, and fights.
There's just one issue: it's not true.
Let's start with the Canucks themselves. The biggest forward and biggest defenceman on the team are Brandon Sutter and Erik Gudbranson. They've also been two of the most injured Canucks since they were acquired.
Sutter missed 62 games in his first season with the Canucks, stayed healthy in his second season, then missed another 21 games last season. Gudbranson has missed as many games as he's played over the last two seasons: 82. Their size didn't prevent their injuries.
That's not really their fault. Injuries happen for a whole host of reasons, many of them outside a player or team's control. Derek Dorsett is tough as nails, but there was nothing he could do about the spinal injuries that ended his career. Sven Baertschi is a smaller forward, but that had little to do with the puck that deflected off the glass and broke his jaw.
Injuries have a lot more to do with conditioning, recovery, nutrition, and just plain luck than they do with size. In fact, larger, tougher players tend to get hurt more over time as they're the ones hitting and getting hit the most. This is particularly true as players get older, as it's harder to recover from the myriad small injuries that occur over the course of a season.
Then there's the argument that size in the lineup prevents injuries to other players, presumably from intimidation. That's been the defence of having enforcers in the lineup: if you go after our skilled players, they say, we'll send our tough guy after you or, alternatively, after your skilled players.
Unfortunately, there's no evidence that this actually prevents injuries at all. For example, Matt Cooke's brutal headshot that effectively ended Marc Savard's career came while two of the biggest, most intimidating players in the NHL were on the ice with Savard: Milan Lucic and Zdeno Chara.
Last season in the NHL, a team's size had little correlation with the number of games they lost to injury. In fact, what little correlation there was moved in the opposite direction: larger teams actually had more injuries on average. The St. Louis Blues were one of the biggest teams last season: they lost 320 man-games to injury. The Tampa Bay Lightning were the smallest: they lost 104 man-games.
Really, the distribution looks mostly random, because it mostly is. But the clear takeaway is that bigger teams don't get injured less than smaller teams and adding size in order to prevent injuries just doesn't make sense.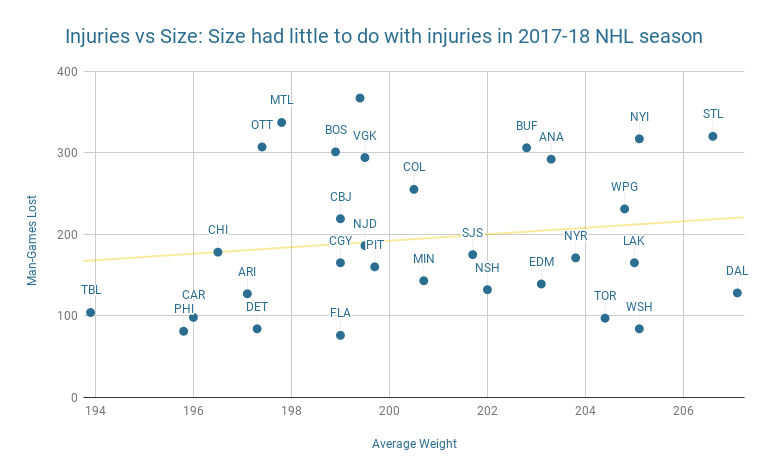 Stick-taps and Glove-drops
A tap of the stick to Jim Benning and the Canucks for avoiding arbitration when it came to re-signing Troy Stecher. The defenceman re-signed for two years at $2.325 million per year.
I'm dropping the gloves with the end of July. There isn't supposed to be a bunch of Canucks news at the end of July, particularly on the weekend. What's with that?
Big Numbers
6 - Stecher's contract is fine value, but the Canucks now have six defencemen signed for over $2 million. The only other team in the NHL with that many is the Pittsburgh Penguins.
367 - Jim Benning is definitely right about the Canucks' injury troubles. The team had the highest man-games lost to injury in the NHL (excluding goaltenders) with 367.