Suzanne Venuta suffered unspeakable horrors when she was a child but when she stood on the stage at the Vancouver Convention Centre Thursday night, her message was one of inspiration.
"If there's only one thing you remember from my speech tonight, may it be this: that connections save lives. It did mine," she said as she accepted the 2018 Courage To Come Back award in the mental health category. "Connections are what hold hope together and hope allows us to dream."
With more than 1,800 attendees, the fundraising dinner was the biggest ever held in British Columbia. Celebrating its 20th anniversary, the evening also raised a record-breaking $3 million for Coast Mental Health, which provides housing, support and employment to people with mental illness throughout the Lower Mainland.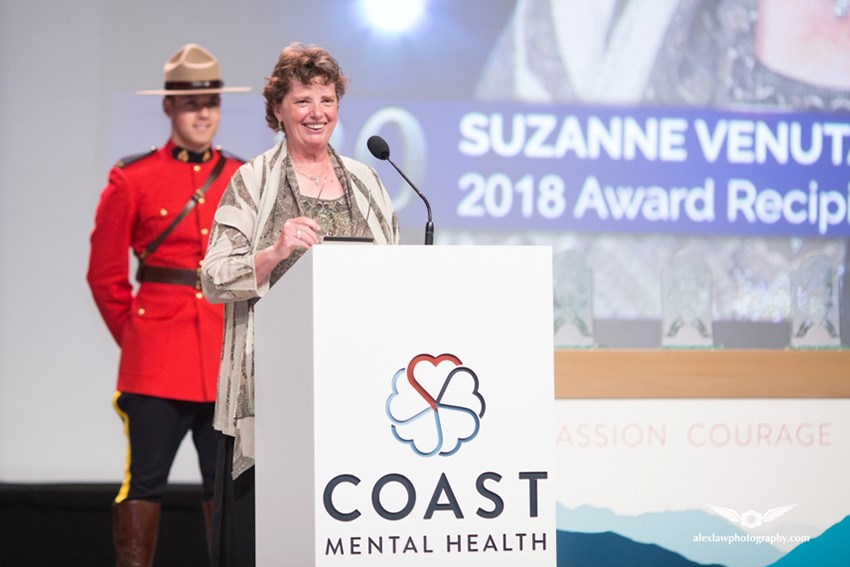 And, as person after person stood up to pledge a donation — anywhere from $25 from former Courage recipient Jeneece Enroff to $400,000 from an anonymous donor —, it also became clear that other connections were at play.
Many of the people in the room knew personally or had done business with the Segal family, whose business interests are matched by their philanthropy.
Joe and Rosalie Segal donated $12 million to the new mental health pavilion at Vancouver General Hospital — they also donated $100,000 to Coast on Thursday night — and their son Lorne has been chair of the Courage awards for the past 13 years. His personal commitment to and passion for the cause has been credited with lifting the Courage awards to such fundraising heights.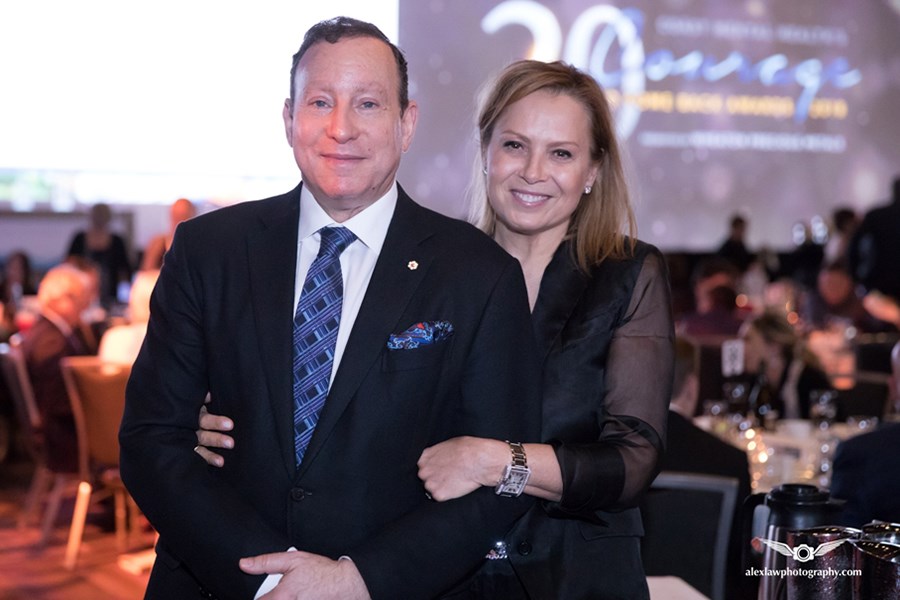 "I'm speechless," Segal said as he took to the podium after Howard Blank announced the fundraising total, which was $500,000 more than the already lofty goal. Referring to the number of donors who remarked they were inspired by the Segals to make a donation, he added, "I'm not sure if I have any friends left."
He noted that "more families are here than ever before [to] feel the extraordinary power of the human spirit and deep humanity so often lacking in our lives."
Reflecting on one of the things he's learned from recipients' stories of resilience and survival, he said, "God gives us problems because problems are the resistance we need to push against to sculpt our character, sculpt our soul."
"I would not wish cancer on anyone," echoed medical recipient Ingrid Bates, who survived two bouts with cancer and graft-versus-host after a transplant, "but it was a catalyst that opened up a new life full of joy.
"I did it and you can, too. Give of yourself to those you love and care for those in need."
Howard Blank, who has hosted the fundraising portion of the event for several years, had given the crowd a challenge. One of Coast's philosophies is that recovery from mental illness is about more than just taking a pill. Among the things a person with mental illness needs are a safe home, a meal, a peer support system, counselling, and the prospect of employment. Twenty-five-hundred dollars gives a Coast client access to its services for a year. He called upon everyone to band together help 1,000 people with a mental illness on their way to recovery.
He let the crowd do the math: the goal was $2.5 million which, on its own, would have been a new record for the Courage awards. (The first event, held 20 years ago at the Hotel Vancouver, raised $80,000 among the almost 600 people there.)
Another person whose story inspired the crowd's generosity was former Canucks goalie Corey Hirsch, who talked about the struggles in his life before his diagnosis for obsessive compulsive disorder. Those watching him play would never have imagined that in his thoughts he was living in "a deep, dark place." He reached the point where he had two choices: reach out for help or kill himself.
"I thought if I could every get through it, I'd help someone else," he said.
Twenty years ago when Courage began, few people dared to say those words aloud, let alone in front of so many people. That ability to talk openly without fear of judgement or reprisal has always been one of the Courage awards' goals. Sharing stories is a way break down barriers that lead to better understanding and awareness of the challenges many people face, often through none of their own doing.
"I am making change happen," said Suzanne Venuta, "one conversation, one connection at a time and so can you."
The 2018 Courage To Come Back recipients are Josh Dahling, addiction; Ingrid Bates, medical; Suzanne Venuta, mental health; Jim Ryan, physical rehabilitation; and Alisa Gil Silvestre, youth. The awards are open to residents from across British Columbia; this year there were more than 100 nominees. To find out more, visit CourageToComeBack.ca.