With the development of their young stars and their off-season acquisitions, the Canucks seem intent on turning the corner on their rebuild and competing for the playoffs.
Despite their improvements, the Canucks will still be hard-pressed to make the playoffs and will need a lot to go right in the coming season. The safe bet is for them to finish near 90 points, keeping them in the playoff hunt right to the end, but finishing just short.
There's a chance, however, that the Canucks could out-perform those expectations. There are plenty of reasons for optimism, from the rookie season of blue-chip prospect Quinn Hughes, to the addition of talented wingers like J.T. Miller and Micheal Ferland to help the young forward core of Elias Pettersson, Brock Boeser, and Bo Horvat.
There's one other big reason for optimism: the Canucks play in the Pacific Division.
While the Pacific was once one of the toughest divisions in the NHL, the script has flipped over the past few seasons. Now the Pacific is arguably the weakest division in the league, which could give the Canucks an advantage as they push to get back into the postseason. Could the Canucks sneak into one of the top-three spots in the Pacific?
Let's take a look at the other seven teams in the Pacific and why each of them is vulnerable. Like Drake, we're going to start from the bottom.
Los Angeles Kings
The Kings weren't supposed to be bad last season. They were coming off a 98-point season, after all. Sure, they had missed the playoffs in two of their last four seasons and were knocked out in the first round in the other two seasons, but surely they wouldn't crash and burn, right?
Unfortunately for them, age and a lack of depth caught up to them. Their stars don't shine as brightly as they used to and they don't have enough young talent on the way up to replace them.
The Kings are particularly weak on defence, where Drew Doughty is still the cornerstone, but has very little help. Jake Muzzin is gone, traded to the Toronto Maple Leafs, which also takes a chunk out of a guy like Alec Martinez, who thrived with Muzzin as a partner, but has struggled away from him. That's not to mention that Doughty himself, despite his 45 points last season, struggled significantly at even-strength.
At forward, they aren't getting any younger. Anze Kopitar, Dustin Brown, Jeff Carter, and Ilya Kovalchuk are all over 30 and, while they have elite talent like Alex Turvotte, Gabriel Vilardi, and Arthur Kaliyev in the hopper, none of their prospects look ready to make a significant impact this season.
Jonathan Quick isn't the goaltender he once was, though he certainly hasn't been helped by the Kings' defence in front of him. By the metric Goals Saved Above Expectations, from Evolving Hockey, Quick was the worst starting goaltender in the entire NHL by a pretty wide margin.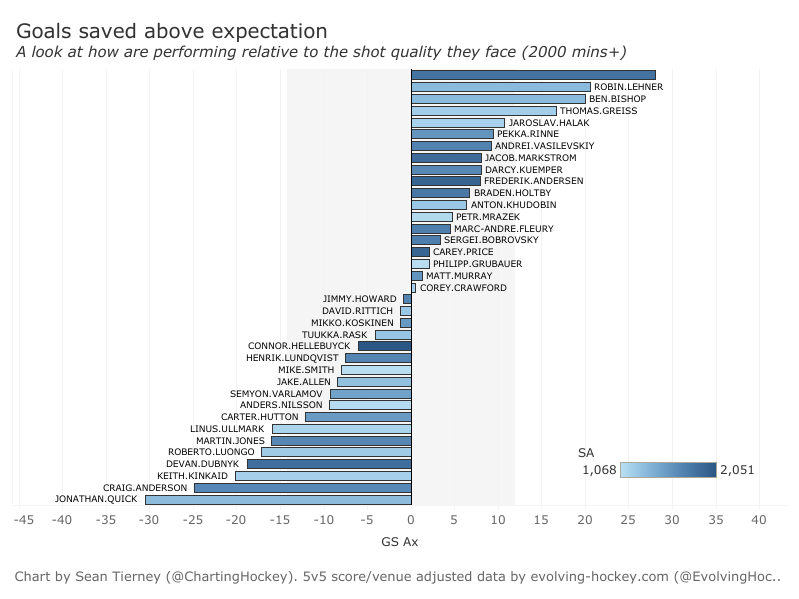 Quick's .888 save percentage was easily the worst of his career in a full season and only four goaltenders that played more than 10 games last season were worse.
Can Quick get back to good? Maybe, like Matchbox 20, he don't know how, but we'll see. He's only a year removed from winning the Jennings Trophy for the lowest goals against average and he did deal with injury troubles, so maybe he can bounce back, but he's also on the wrong side of 30.
The wild card for the Kings is if one of their other goaltenders, Jack Campbell and Cal Petersen, can steal the starting job from Quick. Both were much, much better than Quick last season, but Quick has the history with the team, including a Conn Smythe Trophy from their 2012 Stanley Cup, that could keep him in the Kings' net for longer than he should be.
Edmonton Oilers
How can a team with Connor McDavid be this bad?
There's a strong case to be made that McDavid is the best hockey player on the planet and he's still just 22 years old. Riding shotgun with McDavid is another elite talent in Leon Draisaitl. After those two, however, things get dire.
Zack Kassian, who has a career high of 29 points, is expected to start the season on the first line with McDavid and Draisaitl. The Oilers are desperately hoping that James Neal can rebound from his dreadful season with the Flames last year to solidify a second line with Ryan Nugent-Hopkins. Their big free agent signing was, uh, Markus Granlund? That can't be right.
The Oilers have dreadful depth at forward, relying almost solely on McDavid and Draisaitl to drive their offence, but they're arguably even worse on defence. Darnell Nurse and Oscar Klefbom are decent enough, but not necessarily gamechangers, and Adam Larsson only succeeds in shutting down his own team's offence.
Somehow, despite having six goaltenders, the Oilers have no goaltending.
Perhaps that's a little harsh, but Mikko Koskinen is as unproven as they come, even if the Oilers handed him a $4.5 million-per-year contract after half a season of league-average goaltending, which was followed by half a season of below-league-average goaltending. He'll be backed up by Mike Smith, one of the most volatile goaltenders in the league. He's capable of being elite, but also of being a complete disaster. He's also 37, which means a decline is far more likely than a bounce back season.
The Oilers do have a new general manager and head coach, so perhaps things will be different, but when you look at their lineup, it's hard to avoid any conclusion other than another wasted season for McDavid.
Anaheim Ducks
The Ducks buck one of the trends in this article: their goaltending isn't an issue at all. John Gibson was a beast last season, briefly making them look like a legitimate playoff team. Behind Gibson, they have a solid veteran backup in Ryan Miller, giving them a great one-two punch in net.
Unfortunately, for the Ducks, everything else is a problem.
Gibson faced the highest-quality shots in the NHL last season, as the defence in front of him folded like a cheap card table. Hampus Lindholm, Cam Fowler, and Josh Manson are the team's best defencemen, but they struggled last season; unless they bounce back, Gibson will once again have to be spectacular in net.
Up front, the Ducks have some good pieces in Ryan Getzlaf, Rickard Rakell, Ondrej Kase, and Jakob Silfverberg, but not enough of them. The Ducks were the lowest-scoring team in the NHL last season, putting a big strain on Gibson: if he didn't shut the door, the Ducks didn't have a chance of winning.
The Ducks went as far as buying out Corey Perry in the offseason, moving on from one of their former stars. They do have some good young forwards ready to step in, like Sam Steel, but will it be enough to quickly get them back into the playoffs or will they need some more time to rebuild?
With a goaltender like Gibson, anything is possible, and the Ducks do have a new head coach in Dallas Eakins that might be able to wring more out of the lineup than Randy Carlyle last season. Combine that with some better luck with injuries and maybe they'll sneak in the playoffs; odds are, however, that they won't.
Arizona Coyotes
It feels like every year we wonder if this will be the year the Coyotes turn things around, based on a good stretch during the previous season, an acquisition in free agency, or some other reason. Well, we're here again.
The Coyotes might be good next season. At the same time, they're the Coyotes.
They added Phil Kessel, who is a great offensive talent, particularly on the power play, but he's also quite questionable defensively and about to turn 32. The issue really is, who's going to get him the puck? Nick Schmaltz? Derek Stepan? That's a step down from Sidney Crosby and Evgeni Malkin.
The Coyotes do have decent depth at forward, with surprisingly solid players like Michael Grabner, Brad Richardson, and Vinnie Hinostroza in their bottom six, but that doesn't make up for their lack of elite offensive talent. They were the third-lowest scoring team in the NHL last season, ahead of only the Ducks and Kings. Kessel will help, but will he be enough?
On defence, the Coyotes are good, but not great. Oliver Ekman-Larsson, Niklas Hjalmarsson, and Jakob Chychrun are all very good defencemen and provide different dimensions to the Coyotes' blue line, but does the team have enough depth on defence?
The team's biggest strength is their goaltending, with Antti Raanta and Darcy Kuemper sharing starting duties. The question is whether Raanta can stay healthy. He had a lower-body injury that ended his season last year at 12 games. Is there a risk that made him susceptible to a repeat of the same injury? Who knows: the Coyotes never detailed what the injury actually was.
That makes their goaltending both a strength and a question mark. With Raanta out, Kuemper was very good last season: can he have a repeat of last season, the first time he'd ever played more than 40 games?
Maybe it seems like I'm reaching for something to criticize, but I've been burned by being too optimistic about the Coyotes in the past and it's made me wary.
Vegas Golden Knights
Now we get into the teams that are actually good: the three teams from the Pacific Division that actually made the playoffs last season. Yet even here, there's reason for skepticism, which means hope for the Canucks.
The Golden Knights have a fantastic top-six, buoyed the addition of Mark Stone, legitimately one of the best wingers in the NHL. He joins a dangerous forward group that includes Max Pacioretty, Paul Stastny, Jonathan Marchessault, William Karlsson, and Reilly Smith.
To go with that top six, the Golden Knights have solid depth, like Brandon Pirri, Cody Eakin, and Alex Tuch, along with some intriguing prospects.
On defence, Nate Schmidt is a legitimate number-one defenceman and Shea Theodore seems poised to break out at 24 years old, but I'm a little more skeptical about the rest of their group. Brayden McNabb and Jon Merrill are fine, but I'm not a big believer in Deryk Engelland. The team could really miss Colin Miller, who was dealt to the Buffalo Sabres for cap reasons.
If their defence falters, that means a lot will depend on their goaltending. Marc-Andre Fleury is the number one guy and let's just say that I'm skeptical about relying that much on a 35-year-old goaltender known primarily for his athletic ability. Fleury has been fantastic for Vegas, so perhaps I'm being pessimistic.
If Fleury falters or gets injured, that's where things get sketchier for the Golden Knights. Malcolm Subban will be the backup and he was well-below average last season.
The speed and talent of the Golden Knights' forwards may make my concerns about their defence and goaltending a moot point, but I feel that Vegas is a little more vulnerable than most might think.
San Jose Sharks
One issue that's frequently brought up for the Sharks is that they're old.
Logan Couture, the Sharks' youthful captain, is 30 years old. That doesn't seem like it could possibly be true, but it turns out time is continually moving forward and people are always older than they used to be.
Brent Burns is 34, Marc-Edouard Vlasic is 32, and old man Joe Thornton is still trucking on at 40. Thing is, the Sharks have actually gotten younger in the offseason, saying farewell to 35-year-old Joe Pavelski. The real question is if the Sharks can avoid getting worse because of their off-season losses.
Losing Pavelski, along with Joonas Donskoi and Gustav Nyquist, will have an impact on the Sharks' offence, even if Nyquist was only a trade deadline acquisition. Suddenly the Sharks depth on right wing looks very questionable.
That said, the Sharks still have a strong top six, led by Couture, Timo Meier, and Tomas Hertl. Kevin Labanc is a steal of a deal on a one-year, $1 million deal, and the Sharks have rookie Sasha Chmelevski as a wild card.
On defence, Erik Karlsson and Brent Burns are elite offensive talents, but there are questions elsewhere on the blue line. Marc-Edouard Vlasic isn't the advanced-stat darling he once was and the team lacks depth. I'm just not sold on the Sharks ability to defend in their own zone.
That's potentially trouble, because the Sharks' goaltending could be atrocious this season.
Martin Jones and Aaron Dell both had save percentages under .900 last season and, while they were hung out to dry by their defence at times, that's not a good sign. It's hard to put all the blame on the defence when the goaltending is that bad.
Can Jones and Dell recover? They'd be hard-pressed to be much worse, but the Sharks' free-wheeling offensive-minded defencemen might once again hang them out to dry in the coming season.
Calgary Flames
The Flames have the 2019 Norris Trophy winner on defence. Their leading scorer last season had 99 points. They had the best goal-differential in the Western Conference last season, and it wasn't even close: they were +62 and the next best team was +28. They looked like an outright dominant team and a favourite to go to the Stanley Cup Final from the West.
Instead, they got their butts whooped in five games in the first round of the playoffs by the wild card Colorado Avalanche.
This season, the Flames should once again be the best team in the Pacific. Unfortunately, at this point it should be clear, that's not saying much.
Still, the Flames have the top-tier talent to be a contender. You can question their depth — their biggest offseason move was acquiring Milan Lucic — and question whether the sheer number of players that had career years in 2018-19 can repeat their performances, but the Flames should still be an offensive powerhouse. There's just one problem.
In what has become a common theme, the biggest question mark for the Flames is goaltending.
The Flames have two options in net: the relatively-untested David Rittich or the probably-not-good-anymore Cam Talbot. Rittich is 27 years old, but was technically a rookie last season, so doesn't have a long track record in the NHL. Last season, he was fine: by most metrics, he was completely average, which isn't the worst thing for a starting goaltender.
The question is whether that's as good as Rittich can be. Is "average" Rittich's peak? Will he regress this season?
As for Talbot, he was the worst backup in the entire NHL last season. It's hard to put much faith in him bouncing back with the Flames.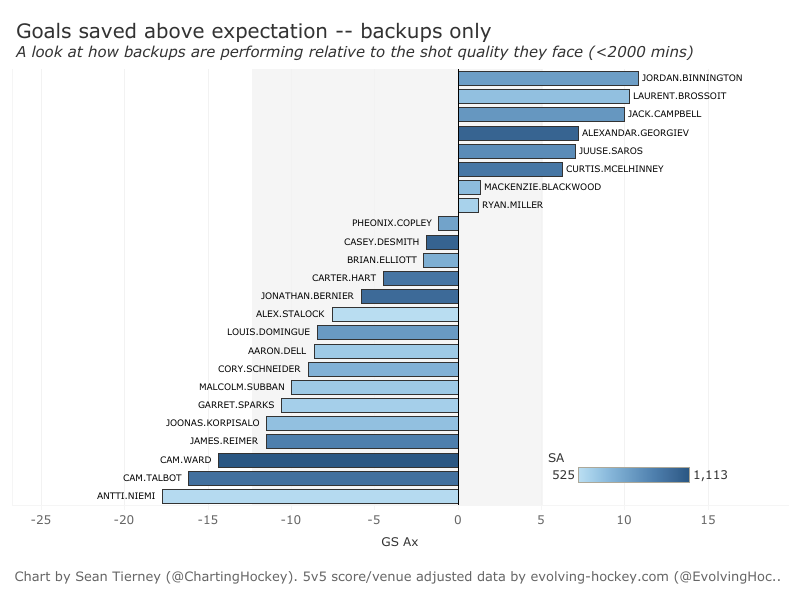 If the Flames' goaltending flames out, they'll be an easier opponent than their elite talent would suggest. They might not be able to score their way out of the hole their goaltending digs.