The Paper Feature is a weekly column and sidebars that appears in the print edition of the Vancouver Courier newspaper. Track it down!
---
Jordie Benn's first NHL training camp was with the Vancouver Canucks, over a decade ago.
Benn grew up across the Georgia Strait from Vancouver, cutting his teeth with teams like the Peninsula Panthers, Victoria Salsa, and Victoria Grizzlies, where he was teammates with his younger brother, Jamie. While Jamie got drafted by the Dallas Stars and quickly rocketed to stardom, Jordie took the road less traveled.
In 2008, Benn signed his first professional contract with the Manitoba Moose, then the Canucks' AHL affiliate, after a strong performance as an invitee at a prospect camp. That's how he ended up at Canucks' training camp in September of 2008.
"I'm pretty sure there's a picture of me at camp with no beard and zits all over my face," said Benn, who now sports a giant, red-tinged beard that makes him look a little like Yukon Cornelius, the prospector from the Rankin/Bass Rudolph the Red-Nosed Reindeer special.
He didn't have a shot at earning a contract with the Canucks that year and couldn't even stick with the Moose. Instead, he came back home to Victoria to play for the Salmon Kings in the ECHL. Most players that start out their professional careers with a full season in the ECHL have a low chance of making the NHL, but Benn was determined to buck the odds.
"It's a lot of stages to go through, but it's just part of the game," said Benn at the time. "I have to do it to get where I want to be."
Benn got the opportunity to get to where he wanted to be with his younger brother's team. He played a season with the Allen Americans, the CHL affiliate of the Dallas Stars, then worked his way up to the Texas Stars in the AHL the next season. Slowly, but surely, Benn worked his way up the depth chart of the Dallas Stars until he was finally a full-time NHL defenceman.
Eventually, a trade brought Benn back to Canada, but on the opposite side of the country with the Montreal Canadiens. While he loved Montreal, he knew that he couldn't pass up a chance to bring things full circle and play in Vancouver.
"When you have a chance to go home and play in front of your friends and family and a team that you grew up watching, it's just one of those things that I've always wanted to do," said Benn. "I told my brother and he told me just to go for it, so I'm ecstatic to come home and play for the Canucks."
There's the added bonus that his family is so close by.
"I couldn't pass up going home and watching my little niece grow up and hanging out with my family," he said. "I got a chance to be a ferry ride away from my family and I thought I thought it was a no brainer for me."
Benn doesn't have delusions of grandeur about how he will fit into the Canucks. He knows he's not a puck-rushing defenceman or a power play specialist.
"I'm just going to come in and log a few minutes and hopefully I can help out on the penalty kill," said Benn. "It's our job to get those fast, young forwards the puck and let them do the work, so it should be entertaining hockey."
He also foresees stepping up physically to help out the Canucks' young core.
"We've got to give our forwards room and take care of the young kids and show them the ropes," he said. "If anyone really messes around I can step in there and take the brunt of it."
That would immediately make Benn a fan-favourite for a Vancouver fanbase that has frequently complained about the team being too soft. Before long, fans could be bringing him old Victoria Salsa jerseys to sign.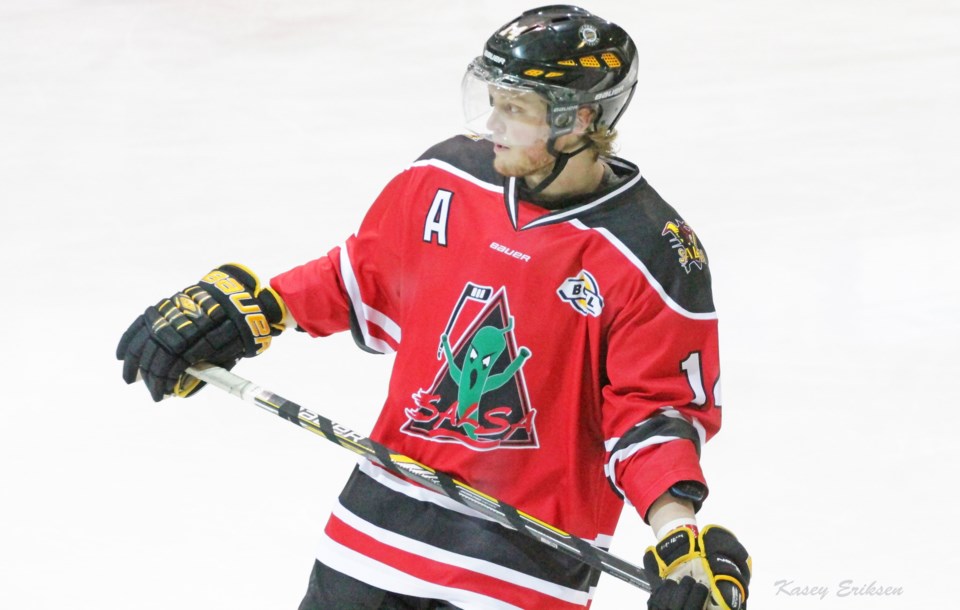 ---
Stick-taps and Glove-drops
A tap of the stick to the Montreal Canadiens for actually signing a restricted free agent, Sebastian Aho, to an offer sheet. Sure, the Carolina Hurricanes immediately matched the contract offer, but at least someone remembered that offer sheets exist.
I'm dropping the gloves with the Canucks' cap crunch. A combination of bad contracts handed out to bottom-six forwards and Roberto Luongo's cap recapture penalty kept the Canucks from adding a top-six winger in free agency.
Big Numbers
203 - Tyler Myers is listed at 6'8", but his more precise height in centimetres is 203 cm, which comes out to 6'7.92". Conspiracy!
30 - It was a far cry from the big numbers in the rumour mill, but the heftiest contract handed out by the Canucks in free agency still belonged to Tyler Myers at $30 million over five years.