Lydia Cotic-Ehn's urban life started when she was born in the family condo. She was the youngest of three siblings, and their family of five shared a unit with two bedrooms and a den.
Growing up, there was a time when she wanted a backyard.
"My parents would tell me, 'But you do have a backyard. You have Stanley Park, you have the beach, and you have downtown.'"
Cotic-Ehn grew up in the West End, one of Vancouver's densest neighbourhoods. The West End is 1.7 per cent of the city's land, but about seven per cent of the city lives here. It's an iconic part of Vancouver, with its highrises on the downtown peninsula.
However, are downtowns good places to raise kids? There are still some planners and politicians who will say no, citing dangers, such as traffic, and challenges, such as space, which Cotic-Ehn sometimes felt having to share a bunk bed with her sister.
Some believe that cities' urban cores are for singles, seniors, and even young couples, but not families.
Today, Cotic-Ehn is 18 and would disagree with anyone who thinks that an urban childhood is lesser than growing up somewhere more suburban. She knew her neighbours just the same (even helped babysit in her building), trick-or-treated just the same (apartment lobbies welcomed kids with open doors) and biked around the neighbourhood just the same (rides along the beach and the seawall).
It's so convenient in the West End that not only is a car unnecessary to get around, but Cotic-Ehn rarely takes transit.
"I walk everywhere," she says. Friends, shops, restaurants and school are minutes on foot.
Even the challenges, like bunking with her sister, have upsides. Cotic-Ehn says it brought them closer.
But before you use these anecdotes as examples of urban living to advocate for more density or sell condos in Vancouver, you need to realize community doesn't simply happen when you pack more people together.
There's a lot that's special about the West End that makes it work, from its diversity to the fabric of its streets, and you can see and feel it immediately when you go for a walk in the neighbourhood.
As development continues in the city, there's a lot that can be learned from the West End on how to build for people.
West End walk
It's lunchtime at King George, downtown's only high school.
One boy outside asks his friends, "Wanna go shopping again?"
A girl in a hoodie returns from the Safeway Starbucks, less than four minutes away, with a Frappuccino.
This time of year is pretty chill, says Cotic-Ehn. It's late May, the school year is ending, and the anxiety of post-secondary applications is over.
It's also chill because a game of Spy vs. Spy is on, with a cash prize of $120. The graduating Grade 12s drew names and have to shoot their targets with water guns. Some students are skipping class to avoid being shot.
Cotic-Ehn isn't playing. Instead, she's on a walk with Johnathan Dimalanta, also 18. They've been friends since preschool.
Friendships like this aren't uncommon, they say. There are other peers and families they've known forever. It's something that just happens when you live in one place your whole life.
Cotic-Ehn and Dimalanta step onto Denman Street, where they often get pho, sushi, Mongolian or Middle Eastern. It makes it hard to choose what to eat — even when it comes to Cactus Club, there are four different locations, says Cotic-Ehn.
"I hardly bring my own lunch," Dimalanta confesses.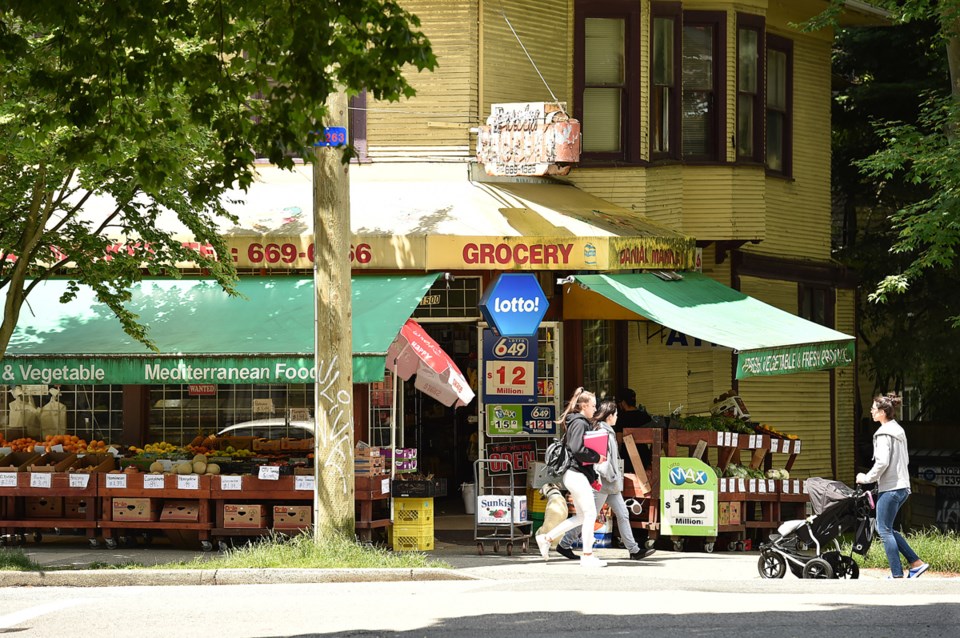 Building big? Think small
The West End has bustling strips of convenient local businesses with everything from gay bars to delis to laundromats, but tucked behind them is a different treasure: the neighbourhood's residential streets.
Cotic-Ehn says walking them can be like being "in a bubble" because it's so calm and quiet.
In the 1970s, the city began adding road diverters and mini-parks in the West End.
"It was called traffic calming, but it was really public space making, knitting the fabric to a human scale," says Sandy James, a former planner at the city for 28 years.
Maintaining a human scale means prioritizing the human experience in urban design — creating places where people feel welcome. That means safety for pedestrians but also convenience and delight, inviting people to slow down and stick around.
"All the buildings are a bit different in the West End," James says. "There's visual interest. They have a different rhythm."
There are heritage single-family houses (the West End was the city's elite neighbourhood before Shaughnessy), masonry and wood-frame apartment buildings and concrete highrises. Their colours are everything from forest green to cream to pink to lime. And tying them all together are mature, leafy trees.
Maintaining a human scale also paves the way for street life, even in residential areas. The West End has lush side gardens, bulletin boards covered with notes and well-used apartment porches with plants and furniture. Good neighbourhoods like this allow residents to express themselves.
Encouraging a slower pace and places to pause also lead to interactions.
Even as Cotic-Ehn and Dimalanta stroll down Bidwell at lunch, they bump into friends.
"It's so cool running into people you know or getting to know people around you," Cotic-Ehn says.
Planner James, who is an expert in walkability, loves to point out walking's health and community benefits. For example, some scientists believe walking helps reduce chances of dementia. And then there's the fact smiling at people on your walks is good for you.
"If you smile at someone on the street, you release the same chemical, oxytocin, as running six miles. It's also known as the cuddle chemical," James says. "Smiling changes the nature of the conversation, and how people are treated on the street."
Because of all this, despite its density, the West End feels intimate.
If you live in Vancouver, chances are there's a new development near you (maybe even a master-planned community). If you want to find out whether it maintains a human scale and is as inviting as the West End, it's not hard to tell.
"If it's done poorly, you always know right away," James says. "You just don't feel right. It's a feeling of absolute void."
The power of diversity
The West End also has ethnic diversity. Neighbourhoods like the West End, with a stock of affordable rental housing (though rents are slowly increasing today), often attract immigrants.
Dimalanta's basketball coach at school, Darko Kulic, was one of them. Kulic and his family moved to Vancouver from wartime Sarajevo in 1994 along with many others from former Yugoslavia.
Kulic was seven at the time, but remembers his first memory of the West End well.
"Mountains, beaches and towers," he said. "It was quite neat."
Kulic and his father had a love for sports, and the West End's courts, parks and beaches made for a welcome new home.
"We used the city as our own little playground," he said.
Kulic would even meet his wife in the West End. They were in the same Grade 6 class and in high school would message each other at night on MSN. Their first date was watching horror flick The Ring at Capitol 6 theatres on Granville.
Kulic, now 30, still lives in the neighbourhood. He works at the West End Community Centre and volunteers on many teams. He just finished coaching his 10th year of basketball at King George.
"People always tell me our team is so diverse," Kulic says. "We have people from all over the world and even all kinds of incomes. Some live in co-ops, some have single parents, some live in Trump Tower or the Shangri-La."
Perhaps it's the West End's openness to diversity — from newcomers to the LGBTQ2+ community — that led the neighbourhood to have the mentality that kids could live there. And when that mentality is shared by city governments like Vancouver's, it usually paves the way for policies, programs and priorities that make downtowns even more family-friendly.
Liam Bear said his downtown elementary school, Elsie Roy, really embraced the idea of an urban childhood. They were educated at a young age about safety downtown, from crosswalk etiquette to how to deal with strangers.
"We not only had school smarts but street smarts too," says Bear, who's now 18.
Students were even given special privileges.
"During our lunch breaks in Grade 6 and 7, we were actually allowed to leave the school premises if we had our parents' permission. I remember looking forward to that freedom since Grade 4."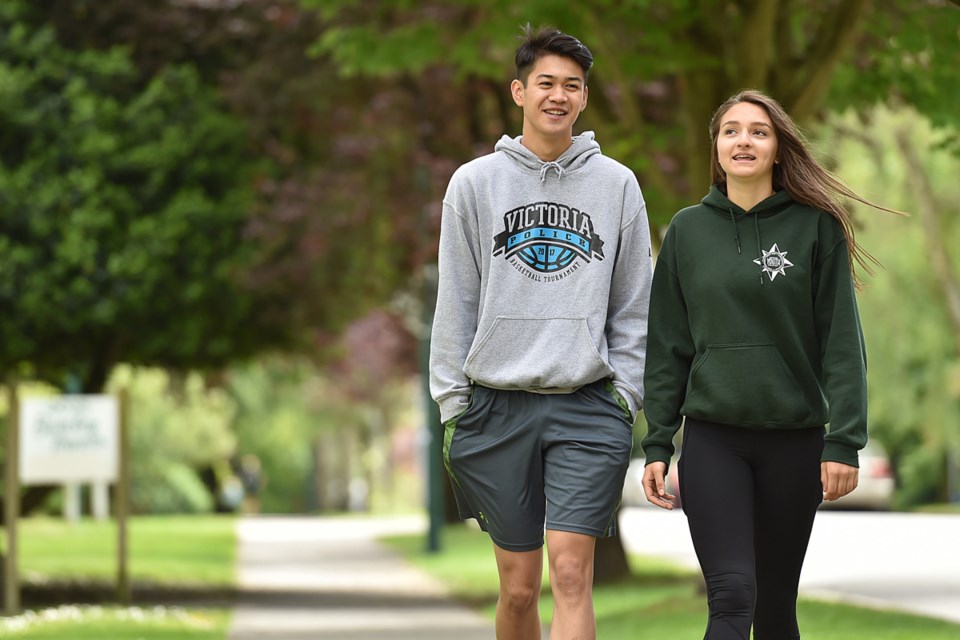 Urban life
Most would consider it lucky to live in and own a Vancouver house. Dimalanta and Cotic-Ehn have other thoughts about that.
"I have a lot of friends who live in more residential areas with houses, and when I first visited them, I was shocked," Dimalanta says. "I thought people lived how I lived. I didn't realize how lucky I was. I live so close to everything. There's actually one King George student who lives in Coquitlam and it takes him an hour to transit."
When Dimalanta bikes to school, it takes him about a minute.
Cotic-Ehn also remembers when she started visiting friends in houses.
"It was definitely cool to see that that's how some people live," she says. "But for me, I'd much rather live in an apartment."
bychrischeung@gmail.com
@bychrischeung