The Canucks capped off October with a resounding win over the visiting Chicago Blackhawks and found themselves in an unexpected place: first in the Pacific Division.
Certainly, the Canucks have played more games than anyone else in their division, giving them more opportunities to pick up points, but there's no denying that the team has been a lot better than anyone expected. Most experts and statistical models predicted a last place finish in the Pacific, so this hot start could throw a wrench in those projections.
Here's the thing: the Canucks had a great October last year as well.
Fueled by a hot-shot rookie in Brock Boeser, who led the team in scoring, the 2017-18 Canucks surprised a lot of people to start the season. After their strong start, however, they fell apart as the season progressed. By the end of the season, they were second-last in the Pacific, ahead of only the hapless Arizona Coyotes.
Are the Canucks more likely to keep the good times rolling this time around? Let's compare the Octobers of the 2017-18 and 2018-19 Canucks in a few key areas.*

The Canucks earned more points in October this season, but mainly by virtue of playing more games. In terms of the percentage of available points they earned, the 2017-18 Canucks came out slightly ahead. It's mostly a moot point — after 14 games, the 2017-18 Canucks also had 16 points.
There are a number of similarities between the two years. They each averaged a similar number of goals per game. Special teams are close as well: this year's power play has been slightly better, while last year's penalty kill had a slight edge.
The differences between the two teams, however, are troubling: this year's Canucks have given up a lot more goals per game, particularly at 5-on-5. They're averaging just 26.2 shots per game; only the Anaheim Ducks and New York Islanders are averaging fewer this season.
Then we get to the underlying percentages. Last season, they weren't too bad in these areas through October, with both corsi (shot attempt) and scoring chance percentages over 50%. It didn't last: by the end of the season, they were in the bottom third of the league in both categories: 47.72% corsi and 45.75% scoring chances.
That means the 2017-18 Canucks out-attempted and out-chanced their opponents through October, but got crushed over the course of the season.
The 2018-19 Canucks are starting from a worse foundation, with a bottom-five corsi percentage and bottom-three scoring chance percentage. Suffice it to say, this is a cause for concern. These two statistics are a better predictor of future goal differential than current goals for and against.
It's not all doom and gloom, however. The Canucks' underlying numbers may not look great overall, but they are trending in the right direction. The chart below from Sean Tierney (@ChartingHockey on Twitter) illustrates how the Canucks' average corsi differential has been improving over their 14 games this season.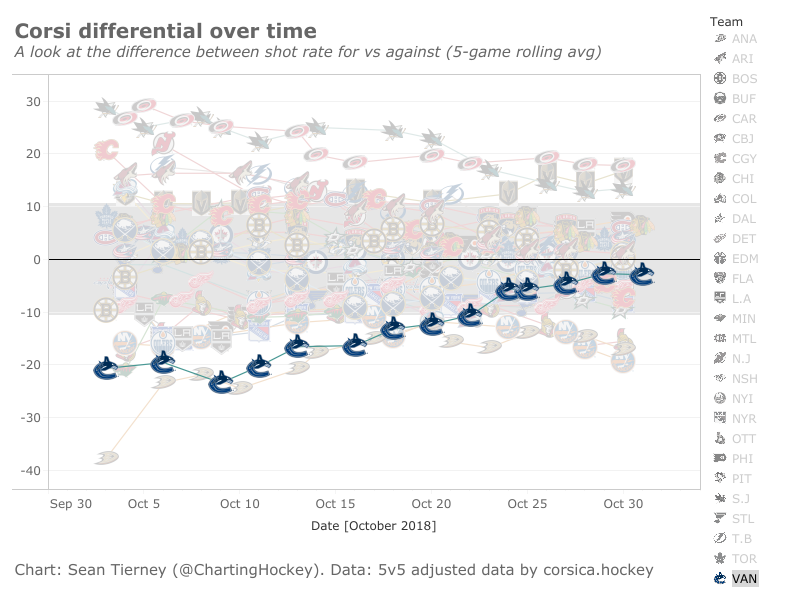 That improvement is coming from both sides of the puck: they're taking more shots and allowing fewer than they did at the start of the season. There's still a lot of room for improvement, but it's potentially a promising sign.
Another reason for optimism, oddly, is the Canucks' injury woes. One of the reasons they crashed and burned as hard as they did last season was the injuries they accumulated after their early run. Alex Edler was the most significant injury in October, but the team was otherwise healthy.
It was after October that the worst of the injuries began. Derek Dorsett's season and career ended in November. Chris Tanev's first injury of the season came in November. Sven Baertschi and Bo Horvat both got injured in December.
This season, the Canucks have already absorbed some significant injuries, while still picking up wins. The Canucks are currently missing Baertschi, Edler, Tanev, Brandon Sutter, Jay Beagle, and Anders Nilsson. There's a possibility that Troy Stecher could miss some time too after he took a hit to the head on Wednesday.
On top of that, Elias Pettersson and Brock Boeser missed some time in October, but the team adjusted. It's possible that this year's edition of the Canucks is better prepared to deal with injuries and the team can hope for better health for the rest of the season when the players currently out of the lineup return.
Ultimately, there are reasons to be cautious with your optimism about the Canucks this season. Their October was certainly enjoyable, particularly with Pettersson providing highlight reel plays every game, but there are some reasons to be skeptical about the sustainability of their approach.
There's nothing inherently wrong with enjoying unsustainable runs; in fact, unsustainable runs are one of the most enjoyable things about sports. Who doesn't enjoy an underdog success story or a fourth-line grinder becoming a playoff hero with a scoring streak? A season is composed of unsustainable runs, both good and bad. Enjoy the good times while they last and don't lament the bad times too much, because they won't last forever.
---
*All data from NHL.com and Natural Stat Trick.