If there is one story Vancouverites follow election night, it will be the same one many Canadians have been captivated by for the better part of a year: the saga of Jody Wilson-Raybould and what comes next in her political life.
The nation will get an answer Oct. 21.
Not in recent history in Vancouver has there been a more dramatic showdown to emerge in a federal election, particularly with such a riveting back story.
Wilson-Raybould's unforeseen shift from Liberal cabinet minister to independent candidate has been well publicized since she resigned from cabinet in February over the SNC-Lavalin affair, and was subsequently removed from the Liberal caucus.
The media storm that raged for several months subsided as summer approached, only to rise again in mid-August with the release of a report from federal ethics commissioner Mario Dion.
In his report, Dion concluded that Prime Minister Justin Trudeau violated the Conflict of Interest Act by improperly pressuring Wilson-Raybould to prevent SNC-Lavalin from being prosecuted in a corruption and fraud case.
Her reaction: "Vindication of the independent role of the Attorney General," she said in an emailed statement that was circulated widely to media and via social media.
Her pledge: "Personally, I remain committed to doing politics differently and engaging in important discussions in a way that honours what is best about Canada, to work across party lines and to continue to do the best job I can as the independent Member of Parliament for Vancouver-Granville."
It is Wilson-Raybould's run as an independent — and against the Liberal Party machine that she belonged to in the 2015 race — that will test the strength of her public story and stated convictions of a candidate without a party.
She anticipated the questions to come and addressed some of them in a letter posted on her website, which is largely designed in black and white fonts and colours, shedding the Liberal red of her 2015 campaign.
Wilson-Raybould is also dressed in black and white in a prominent photo that accompanies her letter titled, "Why I'm running as an independent."
Is she suggesting there is no grey area in her politics?
"As you consider your vote in October 2019, some may tell you that a vote for JWR is a wasted vote," she wrote.
"Nothing could be further from the truth. I can assure you, in this period of transition, that a vote for JWR will ensure that you have a strong independent voice in Ottawa who will work with whichever party is in power, and with MPs of all political stripes, for the betterment of Vancouver-Granville and our country."
What Wilson-Raybould doesn't address is how she will convince her Liberal supporters in 2015, who gave her 44 per cent of the vote, to stick with her as an independent in 2019.
Dr. Allan Tupper, a University of B.C. politics professor, said Canadian voters tend to vote for candidates who belong to parties. A party's brand — what it stands for, who it represents — and the ability to form government are reasons, Tupper said.
"Parties remain central vehicles and most people see politics through parties," he said. "Equally, people look at parties — not everyone, but many people — as the sort of bringer of things to ridings."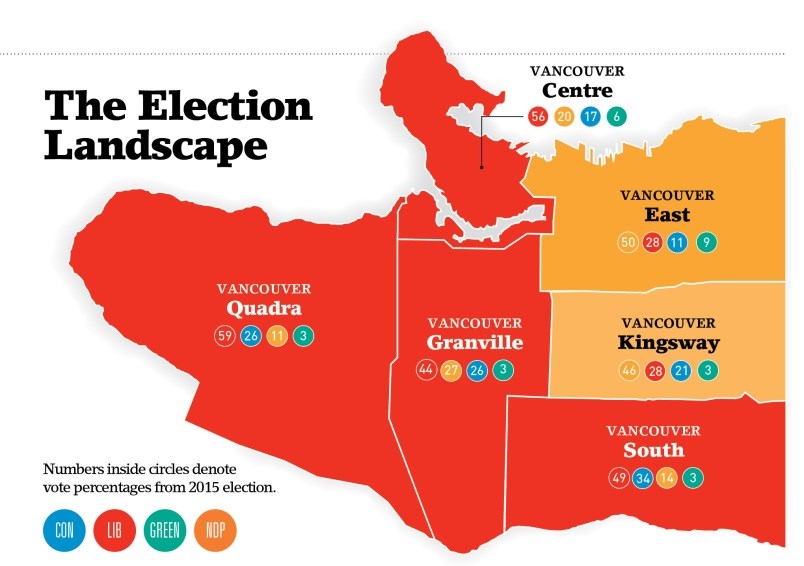 The 2015 election results for Vancouver-Granville show the NDP and the Conservatives were almost deadlocked for second place at 26.9 per cent and 26.1 per cent of the vote, respectively.
"Those votes aren't going away, to a degree," Tupper said. "[Wilson-Raybould] has to knock off a lot of Liberals to do this, and shift a lot of some people from other parties."
Added Tupper: "There's a lot of questions going on there. How far that name recognition carries you is also hard to tell. Her presence will be a force in this, one way or the other. How it's going to divide out, we don't know."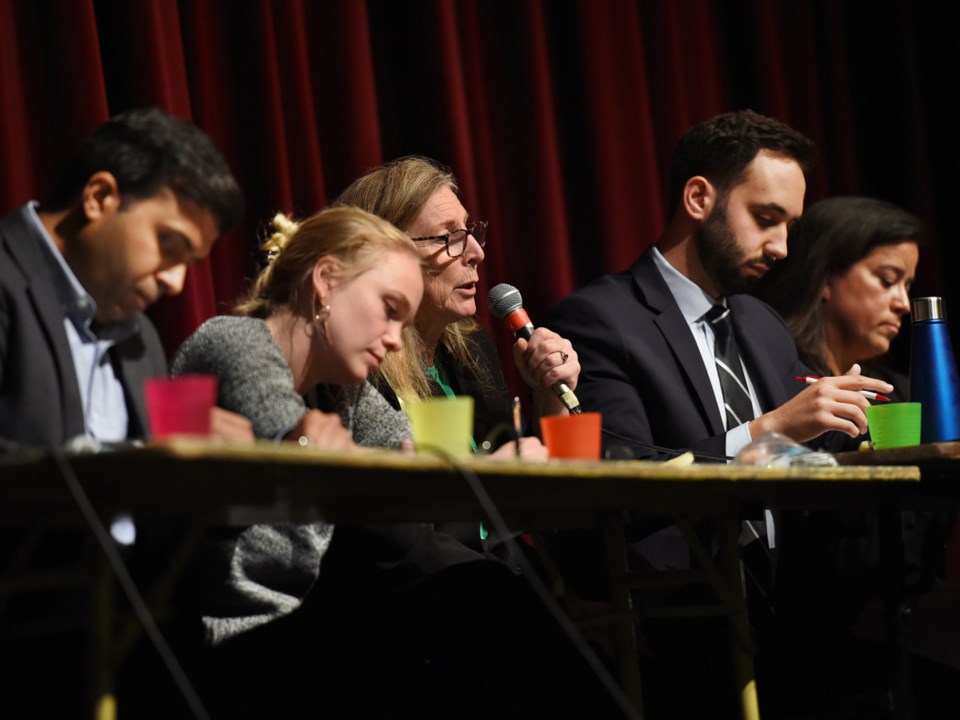 Tech entrepreneur Taleeb Noormohamed, whose bid to become Vision Vancouver's mayoral candidate in 2018 was cut short by a heart problem, is the Liberal candidate in the race.
He's not only battling to keep the Liberal votes won by Wilson-Raybould in 2015, but — as alluded to by Tupper — keeping an eye on the NDP's Yvonne Hanson and the Conservatives' Zach Segal.
The Greens' Louise Boutin's campaign, meanwhile, is at a noticeable disadvantage, with Green Party leader Elizabeth May publicly stating she supports Wilson-Raybould.
May has pledged the same allegiance to Jane Philpott, another ousted Liberal cabinet minister, who is running as an independent in Ontario (Markham-Stouffville).
May's support for both candidates extended to her speaking at an event — "A night for independent voices" — in September at the Hellenic community centre in Vancouver, which featured Wilson-Raybould and Philpott.
"I believe that Canada needs more strong female voices like theirs speaking out against political party backroom operators and standing up for more honesty and transparency in government," May said in an email Tuesday to the Courier.
Whether May's support is a factor in the race is an unknown for Tupper, who pointed out the Vancouver-Granville riding's political temperature has only been tested once.
The riding covers a large swath of the Granville, Oak and Cambie corridors from the north arm of the Fraser River to West Sixth Avenue and was created for the 2015 race.
Party strongholds
The races for Vancouver's five other ridings aren't likely to capture the nation's attention, with the NDP's Jenny Kwan in Vancouver-East and the NDP's Don Davies in Vancouver-Kingsway looking to maintain the party's strongholds in the city.
Trudeau, however, has visited Vancouver-Kingsway at least twice in recent months, giving a boost to the campaign of Liberal newcomer Tamara Taggart, a former television broadcaster.
Speaking to the Liberals' dominance of Vancouver in previous elections, Tupper pointed out the Liberals' percentage of the vote in Vancouver-Quadra (59 per cent for Joyce Murray, who is seeking re-election) and Vancouver-Centre (56 per cent for Hedy Fry, also seeking re-election) was the highest of all six ridings in the 2015 race.
Trading places
While those ridings appear safe for the Liberals, Vancouver-South appears less certain because of the party's history of trading places with the Conservatives, including the party's candidate Wai Young, who is campaigning to win back a seat she held from 2011 to 2015.
Harjit Sajjan, a former Vancouver police officer who served as Trudeau's defence minister, is the Liberal incumbent. He won 49 per cent of the vote to Young's 34 per cent in the 2015 race.
"That one is tough to tell, it's bounced around, it's been highly competitive," Tupper said.
Key issues
More broadly, questions Vancouverites will be asking before they cast a ballot is whether the Trudeau government delivered on key issues identified by voters in 2015: affordable housing, the environment, transit, the opioid crisis and reconciliation with Indigenous peoples.
The Trudeau government's purchase of the Trans Mountain pipeline will be top of mind for many voters in Vancouver, many of whom attended the 100,000-strong climate strike march Sept. 27 from city hall to the art gallery.
Tupper noted many voters live in parts of the city where they can see oil tankers in Vancouver waters, and can envision what an increase in tanker traffic — the result of twinning an existing pipeline to Burnaby — would look like from their windows.
Also to be considered is the weight of criticism Indigenous leaders have levelled at the Trudeau government for not delivering on reconciliation and, most recently, a decision to fight a court decision related to the compensation of First Nations children and their families.
In a recent essay in the Globe and Mail, Wilson-Raybould said progress was made on Indigenous issues. But the former regional chief of the Assembly of First Nations for British Columbia added "we still cannot say with confidence that the ship's course has been shifted sufficiently to turn it in a new direction – away from denial and toward unqualified recognition."
The recent black face controversy involving Trudeau could be another factor in how people to choose their candidate, with Tupper noting the diversity of opinions from the public, with many enraged at the Liberal leader.
Green machine
Another story to watch in Vancouver is whether the Greens get more than 10 per cent of the vote. The party's highest percentage in 2015 was nine per cent in Vancouver-East, followed by six per cent in Vancouver-Centre and three per cent across the board in the other ridings.
Tupper said there has been a lot of talk and articles written about how the Greens are looking to take votes nationally from the NDP. But that remains to be seen, he said.
"People are saying all kinds of things about the weakening NDP and the strengthening Greens," he said. "And Vancouver would be one place you'd figure you'd see a Green coming up, but it's not talked about very much. It's surprising."
The election is Oct. 21.
@Howellings