There are many lessons to learn from designing and making a gown out of paper.
The fragile structure of paper teaches students the importance of patience, exploration through technique, planning and diligence.
It's one of the unique journeys first year Design Formation students at Langara College must tackle.
This year, 24 students recreated designer gowns for the Langara College Paper Couture Exhibition at Oakridge Centre.
All of the dresses are made from a variety of recyclable white or brown paper, tissue, tapes, glue, spray paint, adhesives, paper twine, coffee filters, cardboard, string, thumbtack and other raw materials.
The dresses are so detailed, it is hard to believe they're not fabric.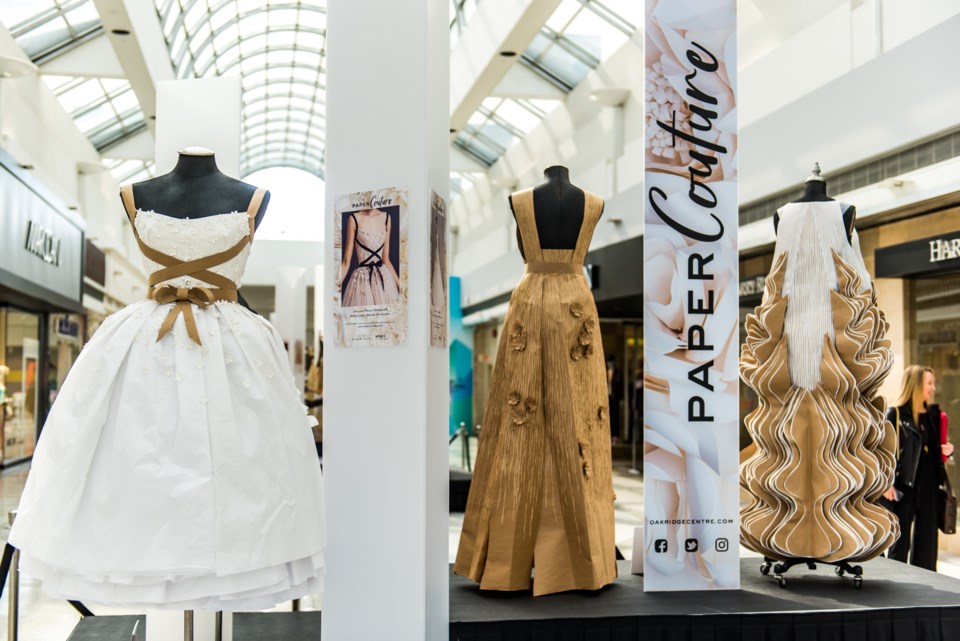 The design students had only four weeks and 16 class hours to research, finalize their chosen design and re-create their original piece using modest paper supplies.
Student Juliana Shih, who is working towards becoming a graphic designer, said creating a paper dress has opened her eyes to the "possibilities of every type of material."
"It really blows my mind what you can do with paper," she told the Courier.
Shih recreated her favourite Chanel dress. To replicate the dress's sheer appearance, she chose a light tissue paper and a layering technique.
What came next was a lot of measuring, cutting and trial and error.
"In my mind the plan worked, but when you are actually making it, it is a different story," she said.
"Fabric and paper – they work very differently."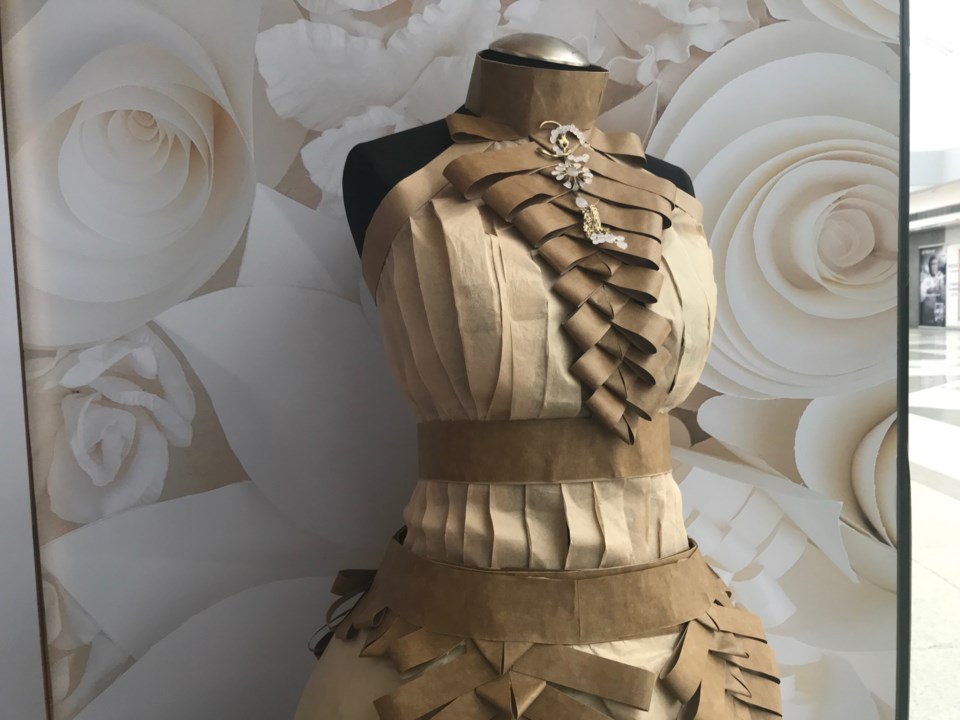 She said the most challenging part was recreating the top of the dress.
"I had to be very careful around the curves. The most difficult part was the chest. I had to layer the tissue paper and make sure it didn't tear," she explained.
"I cut so many stripes, I don't know how many. So many. Then I put them on one by one with double sided tape."
While it took an extreme effort, Shih said she was pleased with the final product. She said the piece was even detachable and could actually be worn. Although, it could be a little risky to wear such a fragile garment.
Shih said the exhibition was "something you have to see in person to feel the power of how you can make a dress out of paper."
"When we set it up it looked so amazing under the lights in Oakridge mall. It gave it energy and life," she said.
"All the dresses are so different.
"My classmates did a phenomenal job."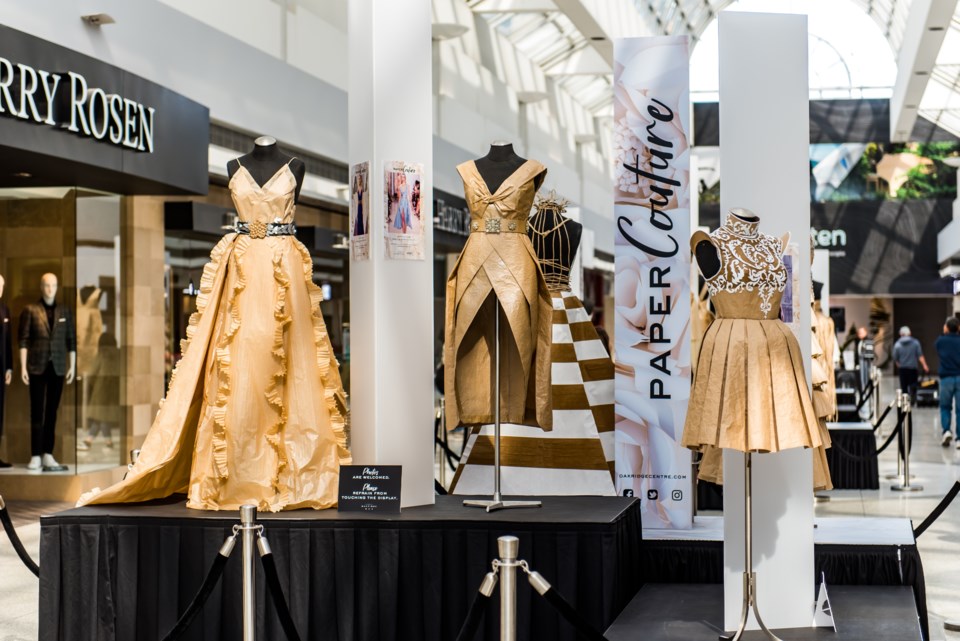 There are a few dresses viewers with a keen eye for fashion may recognize without having to check the label.
Student Oona Forrester recreated the infamous "Swan Dress" worn by Björk during the 73rd Academy Awards. Marjan Pejoski originally designed the dress for the Fall 2001 collection.
"I wanted the dress I chose to be a statement piece, easily recognizable, something that doesn't take itself too seriously, and can be enjoyed as entertainment," said Forrester
Kevin Smith, program instructor, said the Paper Couture project was now in its sixth year, and he was equally impressed by how creative his students were each time.
"I am continually impressed at how innovative, willing and adventurous the students are with the simple resources that they have to work with, and how well they can manipulate these materials to meet the desired effect," Smith said.
"The students challenge themselves – that's the biggest part of this project."
He said the most satisfying part of it all was seeing the raised level of confidence in his students.  
"Yes, the end results are amazing, but it is the whole journey," Smith said.
"Their self esteem blossoms, and that for me that really is the coolest part of the project."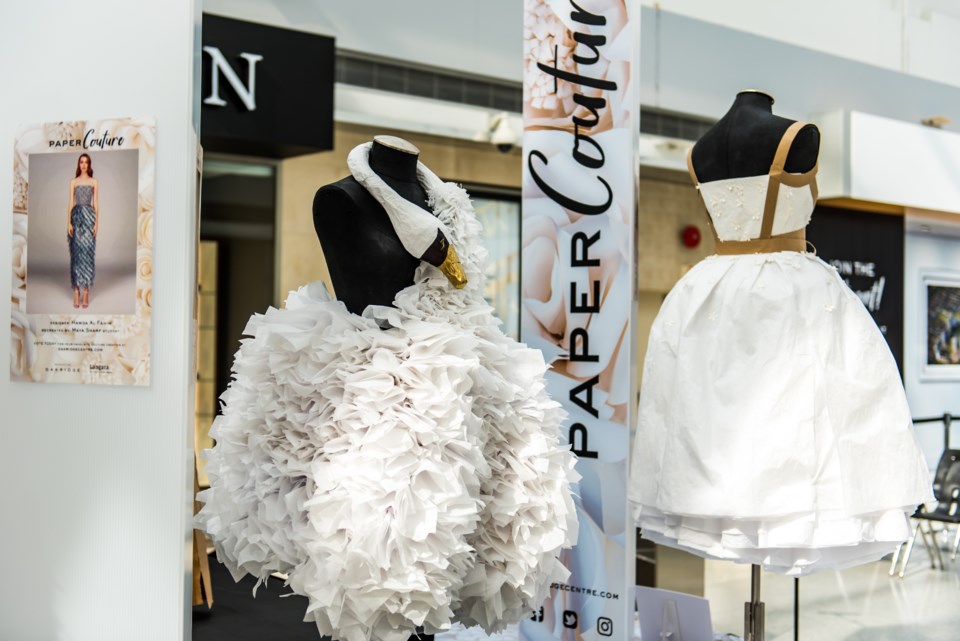 He encouraged people to go down and see the dresses at The Langara College Paper Couture Exhibition in the East Galleria of Oakridge Centre.
"You're never going to see this again. These are one of kind, bespoke pieces," he explained.
"The craftsmanship, the artwork, the thinking behind them … it is quite extraordinary.
"The dresses are truly works of art."
The exhibition runs until May 20.
Viewers can also vote for their favourite dress online HERE for the chance to win a $500 Oakridge shopping spree.
The winning student will receive a $500 bursary.
eseeber@vancourier.com