Richard Quan sits in his wheelchair, his electric guitar lying flat on a special table in front of him. He gathers his thoughts and then tells his assistant that he's ready to start. The assistant hits play on his iPhone and the background music track begins on a catchy blues piece.
Richard's right hand starts to pick at the guitar strings; his left hand glides up and down the guitar's neck, bending and shaping the notes. The song fills the living room of the Quans' East Vancouver home, as Richard leads everyone on a soulful, sometimes plaintive journey.
Guitar playing is Richard's passion. He first played in public at the winter talent show during his last year at John Oliver Secondary. He didn't think he'd have the nerve to be alone on the stage. But he'd taught himself not to be afraid of a challenge and, with his teacher's encouragement, he thought, "I want to go out with a bang, so why not?"
His fellow teenagers "went crazy" as Richard played the Beatles' Back in the USSR; Richard's spirit fed on their enthusiastic response. "It was a confidence booster," Richard says a couple of years later. "I realized I can do anything as long a I put my mind to it. Just don't give up."
What also meant a lot to him is that when he played, his schoolmates saw him as a musician, not the kid in a wheelchair. It was liberating.
It's going to be another thrill when Richard takes to the stage of the Vancouver Convention Centre on May 16. As the 2017 recipient of Coast Mental Health's Courage to Come Back award in the youth category, Richard's resilience and determination will be applauded by the 1,500 people gathered to find hope and inspiration from the recipients' stories.
Richard was diagnosed with Duchenne Muscular Dystrophy when he was three. It's a disease that causes the gradual and permanent deterioration of muscle tissue. There is no cure and while the average life expectancy is the mid-20s, some may live into their 30s and 40s.
Richard's now 22 but he and his family, including an older sister Rosanna, try not to let their thoughts linger in that dark place. His parents, Bennie and Bernice, have always focused on helping their son concentrate on what he can do rather than what he can't.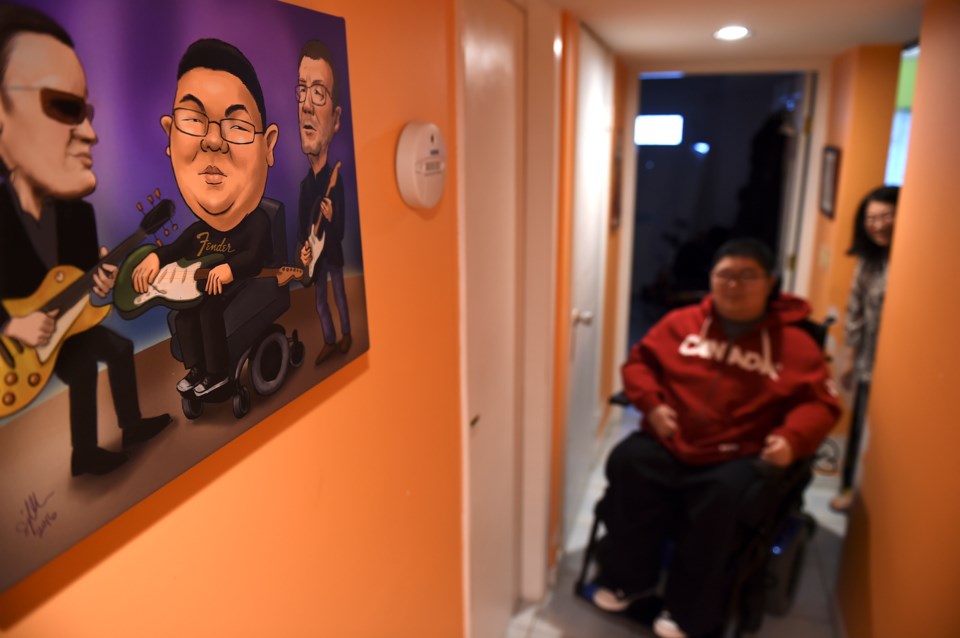 It hasn't always been easy. As other children Richard's age ran in the park, he often had to be pushed in a stroller because he tired easily. People accused the Quans of babying him. The principal of his elementary school thought the Quans were faking Richard's disability. "I know your son can walk," the principal said, to which the Quans replied, "Why would we spend $50,000 on a wheelchair just to pretend he was disabled?"
Fellow students didn't realize his muscles were getting weaker with age and wouldn't hold the door open for him, stranding him on the playground. They teased his looks and said mean things. Teachers thought he was lazy because he took a long time to absorb the lessons. No one realized he had dyslexia, making it difficult to read.
Richard's frustration sometimes turned to anger and he'd act out. Then he'd be punished even more by his teachers, sometimes being forced to sit at his desk facing the wall. "I had to keep a lot of stuff bottled in," he says. "I got in trouble a lot at school. I thought, 'They're not going to listen, they're not going to believe so just suck it up.'"
Berniece says it was difficult to watch. "He looked so healthy; they couldn't see the muscle weakness. But we're not the only family facing this challenge and we won't give us fighting for our son."
A psychologist at B.C. Children's Hospital helped the Quans identify those challenges and gave Richard the coping skills to accept that he wasn't to blame for the difficulties he was facing.
"I realized all my learning stuff is not my fault. It's okay just to be myself. It's okay if I don't know everything. I accepted I had a different way of learning.
"My safe place was my mind. I just had to keep reassuring myself it wasn't my fault."
A love of Japanese animes helped him over the reading hump. His favourite animes were dubbed at first. Then, to his dismay, the characters switched to speaking Japanese and the translation was in the subtitles. Richard couldn't read fast enough. Would he have to stop watching?
Instead, he hit the pause button, taking his time to figure out the subtitles. Gradually he discovered something else he enjoyed doing — reading.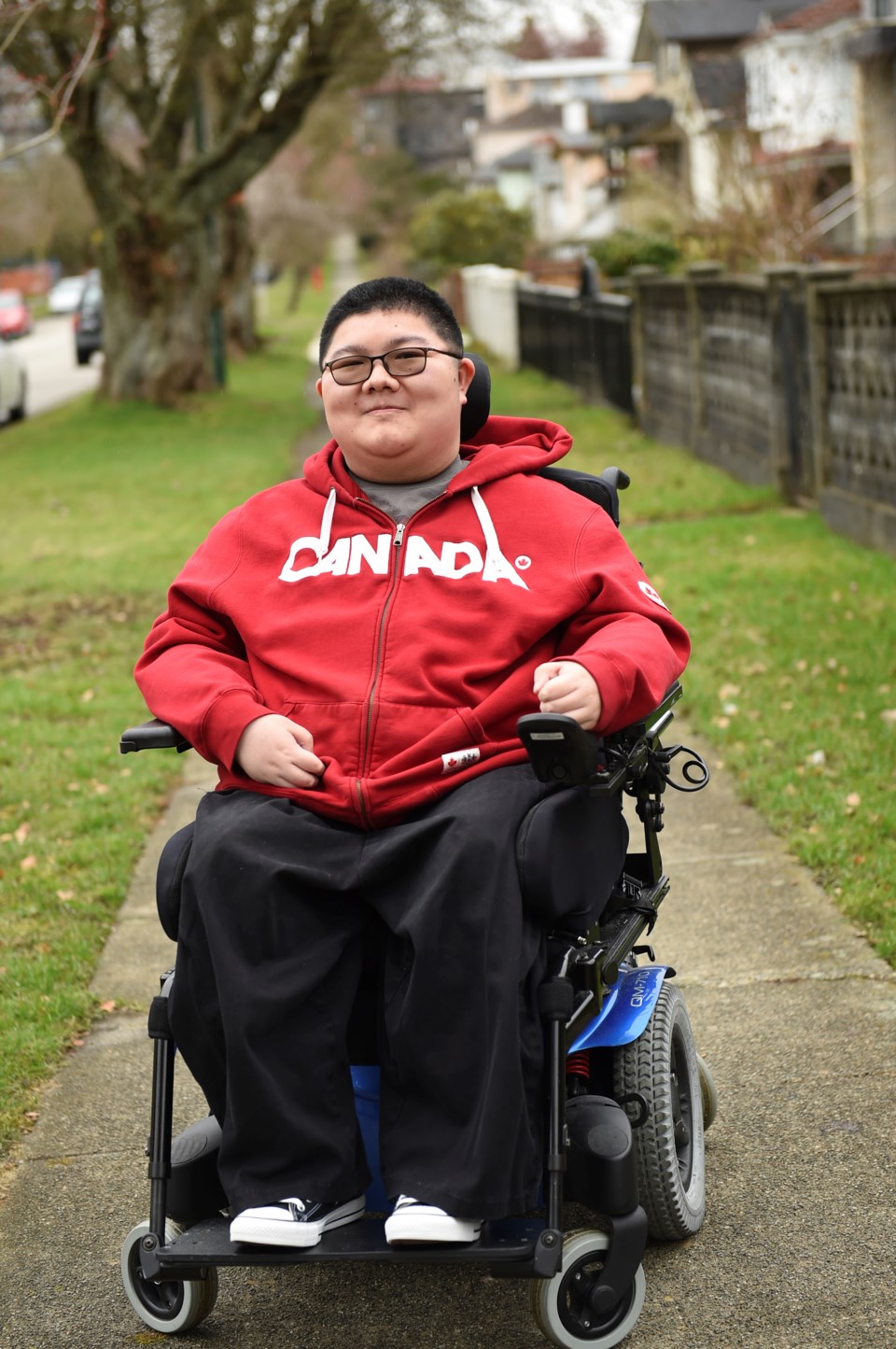 An electric wheelchair gave him the freedom to get away from his computer and outside the house. His parents enrolled him with everything on offer — wheelchair sailing through Sam Sullivan's program, wheelchair hockey, adaptive hiking, and drum lessons. At the G. F. Strong Rehabilitation Centre he immersed himself in swimming lessons and art classes, studying painting and pottery.
He thrived in art and dreamed of being able to attend the Vancouver Art Institute after high school. It was a blow when the muscle deterioration in his arms made that dream impossible. Rather than concentrate on what he couldn't do, Richard once again moved on to focusing on what he could do.
"I'm really thankful I did all these activities before I wasn't able to do them any more," he says.
It was a fascination — and then frustration — with Guitar Hero that led him to playing with the Vancouver Adaptive Music Society and forming his own band.
He'd done everything he could with the video program that simulates playing in a rock band. At G.F. Strong he noticed a guitar. What about learning to play a real one? It was too difficult to hold it in the conventional way so he put it on his lap. Still, his arms hurt. Eventually, with the help of Vancouver's Tetra Society, which supports people in wheelchairs, a special guitar platform was built.
Hours were spent practising and taking private lessons. He caught the ear of the Vancouver Adapted Music Society which invited him to perform a 10-second solo on one of its CD. Richard hesitated, thinking he wasn't good enough yet. Then, with further encouragement from VAMS, he thought, "What do I have to lose? Let's just do it."
Emboldened, and wanting more than just a 10-second spotlight, he later asked, "Is it okay if I try something different?" They said yes and were so taken by his performance that he was asked to play at the live concert at SFU Woodwards with The Odds.
"I was pretty nervous that I'd play the wrong notes. I got on stage and played the first few notes and all my nerves went away. I just got into the song and escaped into that world."
He's been playing ever since, forming his own band — Richard Quan and the Progressive Blues Experience — and performing at various fundraising concerts for charities. His mere presence on the stage conveys the message that everyone can, and should, follow their dreams.
The Quans don't know what the future will hold. "We don't focus on the diagnosis; there's so much more," Mrs. Quan says. "The time we have is precious."
One day in high school, his teacher noted that Richard never complained about all the usual teenaged stuff everyone else in the class was indulging in. Why not? The room fell silent when Richard said, "I don't get to complain about silly things like other teens. Life is short and I don't know how long I'll have. I don't want to waste my time complaining about little things. I actually like homework because the teachers believe I can learn."
Those lessons are hard won and, through the Courage award, Richard can do even more to share his story of determination with others, whether they too are facing a debilitating disease or simply overwhelmed by life.
"Don't let anyone tell you what you can or cannot do in this world," Richard says. "Do what you love in life and don't give up. Try anything that's out there. You might find something you're passionate about. Anything is possible if you put your mind to it."
The Courage To Come Back awards, presented by Silver Wheaton, are May 16. The gala is a major fundraiser for Coast Mental Health, which provides on-the-ground support and housing to people with severe mental illness. You can buy tickets here.