On Monday morning, Paria Assadipour walked the back alley behind her office to grab her usual "tall Pike in a grande cup" from the nearby Starbucks. It's a ritual thousands of Vancouverites take part in every morning, and what happened next was equally as common. Assadipour was attacked by a crow.
"I had this horrible feeling as I walked alone," said Assadipour who is a marketing and sales assistant at the Vancouver Courier. "And as I'm turning around, this crow is coming directly at me, at my head. So I kind of spazzed at it, swatted and flailed at it and ran away to the Starbucks… I survived."
Not only did Assadipour survive, she lived to Tweet about it.
Man down! I've been dive-bombed by a #crow!! I managed to get away unscathed. Protect yourselves & your loved ones https://t.co/jUzdKRDJ5K

— Paria Assadipour (@Pariaaaa) June 19, 2017
She also posted the location of her winged attack on Crowtrax, an open-source Geographic Information System (GIS). Developed by Langara Continuing Studies instructor Jim O'Leary, Crowtrax is an interactive, user-generated map that tracks the location and severity of crow attacks.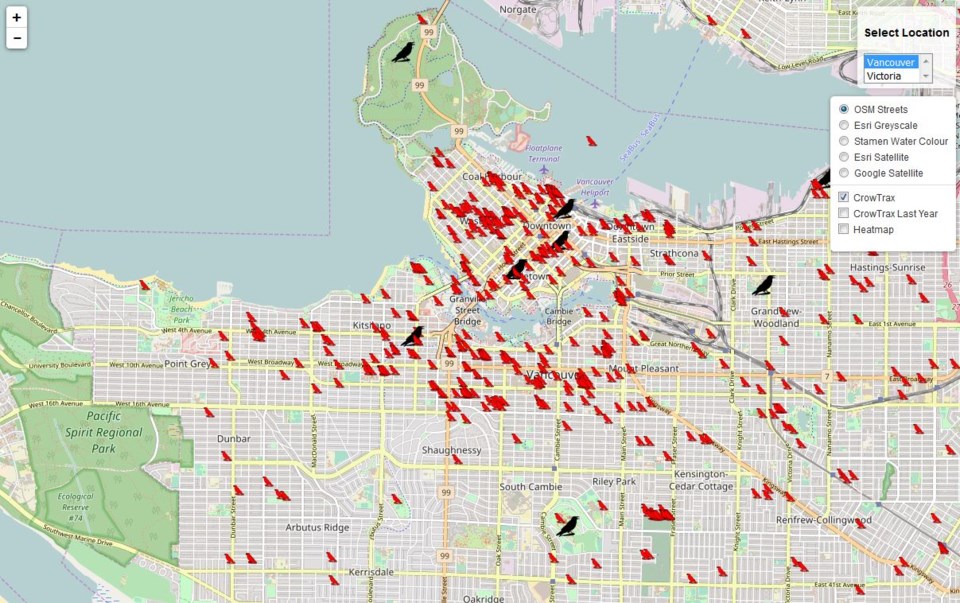 O'Leary launched Crowtrax in April 2016, inspired partly by co-workers' and colleagues' frequent anecdotes of being attacked by crows. Last year, he received approximately 1,500 reports of crow attacks, while this year the number climbed to more than 3,000.
"It really hit a nerve. Just about everybody has a story about a crow attack," says O'Leary, who adds he's noticed his site has evolved into more than just a data resource.  
"It's become sort of a social media site or a therapy site."
According to the map, hot spots for crow attacks include Robson Street between Thurlow and Bute, and Ontario Street between Fifth and Sixth avenues.
April to July is nesting season for crows, so attacks have been on the rise as crows ward off pedestrians who they see as a threat to their young. 
Assadipour wasn't entirely surprised by the avian ambush. She had been warned by co-workers who had been dive-bombed the previous year by aggressive crows in the neighbourhood. Although Assadipour wasn't injured, there was one lasting effect from her encounter. "I'm avoiding that alley from now on," she said. 
Besides crows, O'Leary, who vets every report, has had to contend with another nuisance common to Vancouver — Internet trolls.
"People will say, 'A crow followed me into a bar and ran off with my girlfriend.' And sometimes there's foul language," O'Leary says. "Somebody made about 10 reports the other day quoting from Edgar Allan Poe's 'The Raven.' Of course I don't want that on."
To see where crows have been attacking pedestrians or to post your own incident, go to giscourses.net/crowtrax/crowtrax.html.
This story has been updated since first published.