There is a fog over Sunset Beach Friday as pot enthusiasts gather for the annual 4/20 celebration.
Dozens of tents in neat rows on the beachside sell an array of pot products, from joints, to dabs to edibles.
The smell is intense, and everywhere you turn someone asks, "You want some kush?"
A stage has been set up overlooking the vendors, for concerts and speakers later in the day, and steady beats enhance the festival atmosphere.
As legalization looms, there are people who are excluded from lawful consumption. It will still be illegal for people 19 and younger to buy or consume cannabis, something law enforcement has said they will take seriously.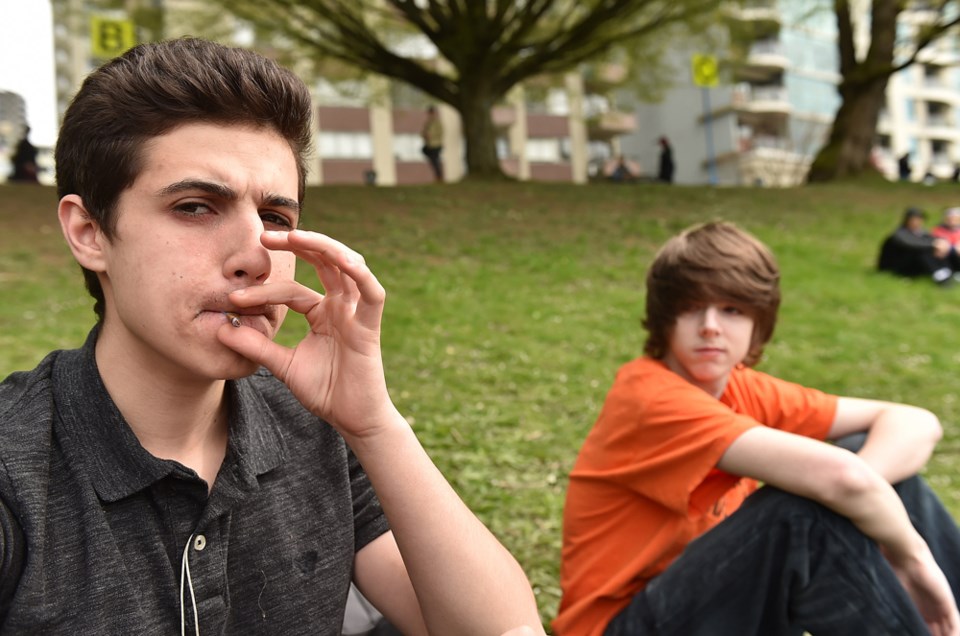 Jeff is 15, Ty is 16. They came in from Langley for 4/20. It's lunchtime and they're sitting on the hill overlooking the vendors' tents with a group of their friends. It's Jeff's first time here, but Ty's second. They say they're not in school, though Jeff's working on some online courses. They each say they've been smoking pot for more than a year. 
For them, pot is a means of escapism — "the feeling, the de-stress, the creativity, just all that stuff," says Jeff. "It just kind of makes me forget about what I don't wanna deal with, and also just makes me feel good."
Even if they're not included in cannabis legalization, they support its implementation. "It's stupid that it was illegal in the first place," says Ty.
Along the beach behind the festivities, smaller groups congregate to have a picnic, escape the crowds, or simply smoke up.
A crowd of five teenagers surrounds a glass bong. They say they're not skipping school, because they're in a special program that gets Fridays off, though Zak, 15, chimes in that he's missing school.
They agree with the legislated age limit.
"I think that's a smart idea," says Molly, 15.
 "You can still get it anywhere," says Cole, 16. He says they can find it everywhere at school.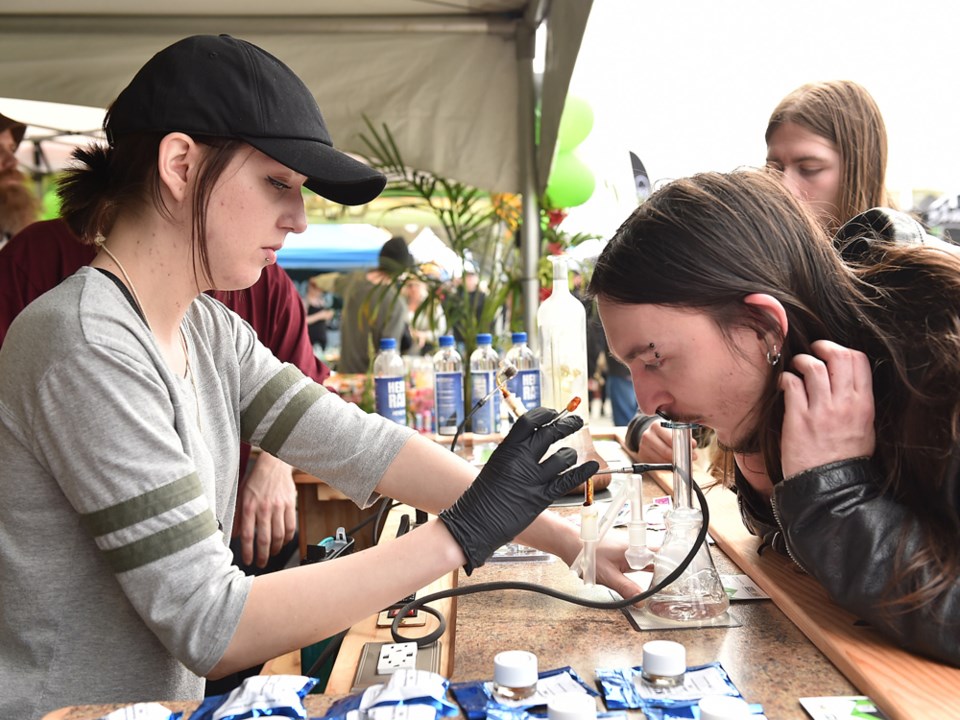 However, the group agrees that regulation and taxation shouldn't affect them.
"Dispensaries [prices] are going to go up, but not where we get weed," says Molly. She says she's been doing pot for five years. Amidst fears of laced product, she says she hasn't had a problem with her supplies.
A concern with some professionals has been that youth believe that they can drive better under the influence of weed, but this group thinks that's preposterous.
"I've never heard that," laughs Molly.
These teenagers reiterate what Ty and Jeff say, that marijuana is a means of dealing with their lives.
"I've had anxiety forever," says Molly.
"It helps you cope," says Cole.
"It puts you to sleep," says Zak.
Though the teenagers are at 4/20 festivities, they have not bought any product here. "Everywhere IDs you," says Molly.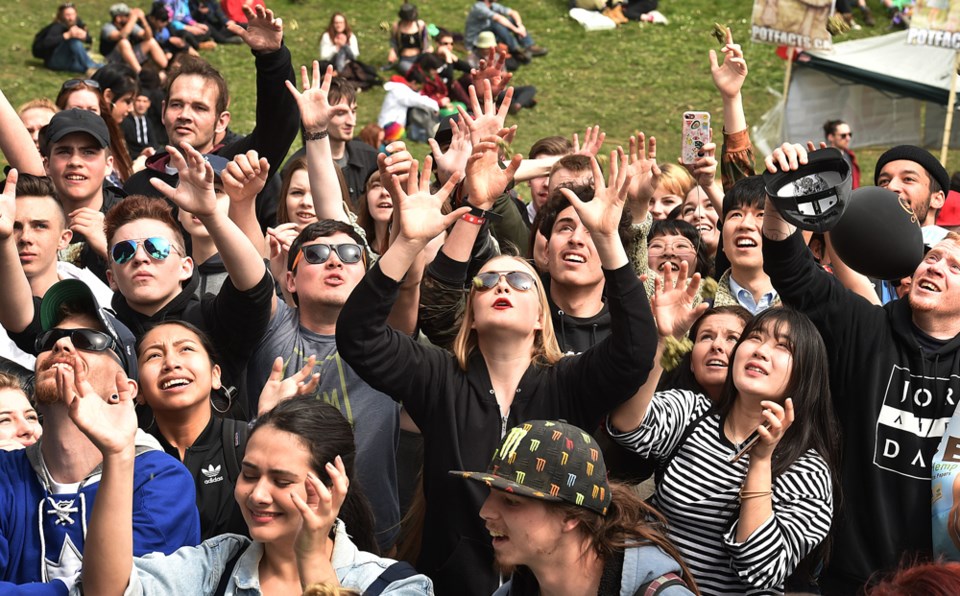 When asked, vendors consistently said they enforced a no-users-under-19 policy, though at one point free cannabis was being thrown from the 4/20 mainstage.
The very young aren't the only 4/20 first-timers.
Off to one side on the beach, three older women watch the festivities.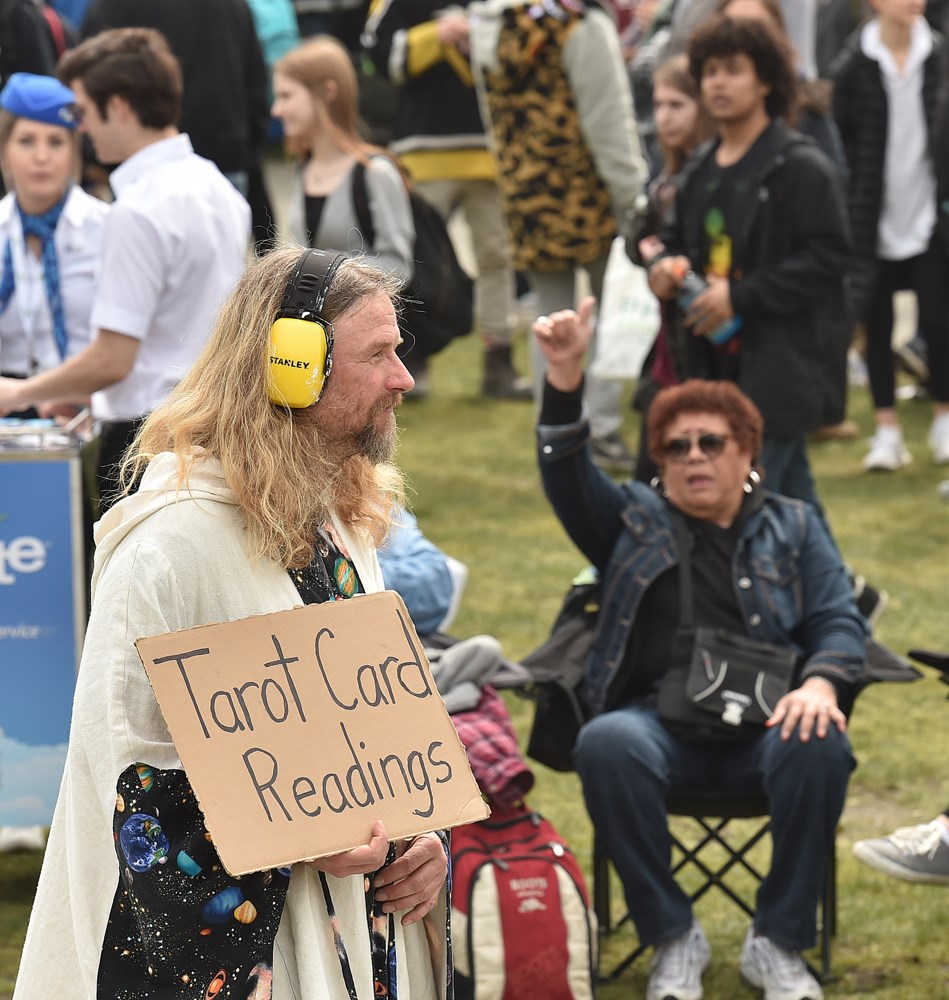 The oldest is 79. She is a polished looking woman, with a black turtleneck and black glasses with floral ornamenting. "This is amazing,  I cannot believe it," says Judy Gibbons. "I've never seen seen so much pot in my life. I have smoked it for many, many years, but I've never ever seen anything like this. It's wonderful, it really is.
"And you watch the people, everybody's happy. That's what means a lot. That means a lot in life nowadays, to see everyone so happy.
"Life can be too short, you have to have a good time."