In wake of the recent ruckus over a park board proposal to get rid of the Mount Pleasant skate park, we thought it was an apt time to post a 2004 feature story on the history of skateboarding in Vancouver and the tenuous relationship between skateboarding community and the powers that be.
***
Originally published June 9, 2004
Anyone seeking insight into the mind of a skateboarder should look no further than Peter Ducommun's legs. Ducommun — a.k.a. "P.D." — and his war-torn, 41-year-old gambs are a testament to a life dedicated to and defined by skateboarding.
A six-inch metal plate holds his left ankle firmly in place, while a hollowed piece of tubing an inch in diameter, inserted into the bone that connects the knee to the ankle, reinforces his right leg. Because the left ankle repair was done in the U.S., it contains screws with a Phillips head.
His right leg, however, was operated on in Vancouver and thus bears the distinctly Canadian and harder-to-find Robertson screws.
In 30 years spent on — and occasionally under — four wheels, the founder of Skull Skates and owner of Vancouver's long-serving skateboard emporium, P.D.'s Hot Shop, has seen Vancouver evolve from a guerrilla-like network of backyard ramps and found skate parks into one of the world's premier skateboarding destinations. And while high-profile competitions like Slam City Jam have been attracting skaters from around the globe to our fair shores for years, it's the role skateboarding has played in shaping this city that has really put Vancouver on the international map.
"You could ask anybody who skateboards anywhere in the world who sort of knows what's going on and they're all going to say that Vancouver is one of the top skating destinations in the world," P.D. says. "California was kind of king for years... but they still don't have anywhere near the kind of facilities that we have here."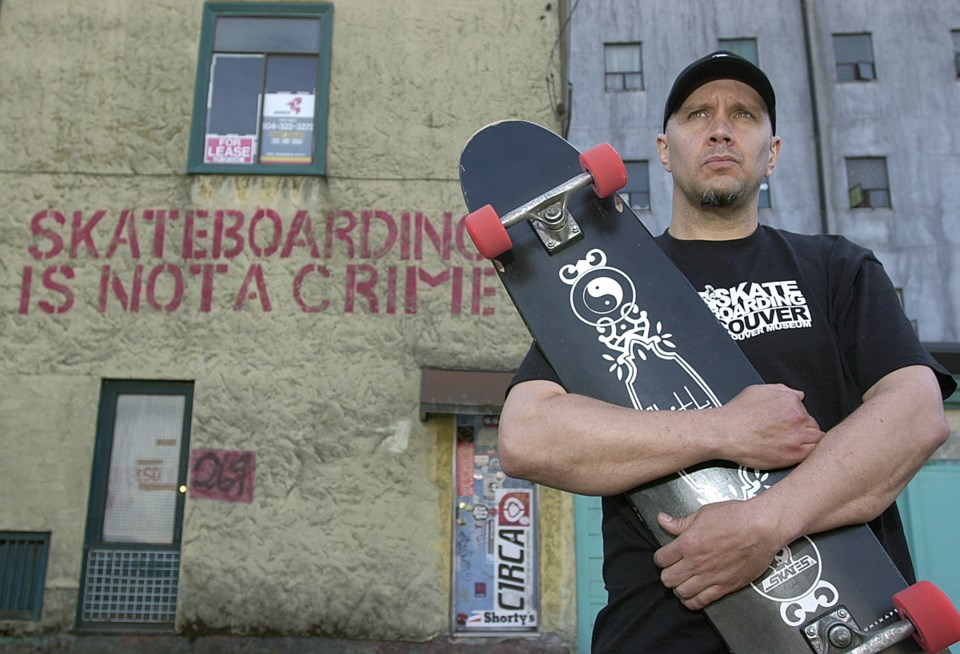 Head to Hastings Park, where the city opened one of the more impressive skate parks around in 2000, and chances are, you'll find a number of cars from out of province and the U.S. parked nearby. P.D. says he's seen his share of families from the U.S. and Europe holidaying in Vancouver with the sole purpose of visiting the more than 30 skate parks scattered across the Lower Mainland.
Out-of-towners and locals can download a directory of B.C. skate parks from the Skull Skates website or pick one up directly from P.D., who estimates he's given out thousands over the years.
The directory not only provides detailed directions to the parks, but descriptions of the facilities and friendly warnings such as "watch your back for crazed rednecks" (Abbotsford), "beware of grumpy old Italian guys packin' Bacci [sic] balls" (Burnaby), and "avoid drinking septic creek water" (North Van's Griffin Park).
Fittingly, in April of last year, Vancouver's newly anointed mayor declared the first ever Skateboard Week, which coincided with the city permanently repealing the bylaw that had made skateboarding illegal on secondary streets and bike lanes.
While some brushed the announcement off as just another stunt to further the city's "fun" image, along with later bar hours and belly-dance performances at council meetings, many saw it as a key step in recognizing the significance of skateboarding to Vancouver.
History lesson
While the roots of skateboarding go back as far as the early 1900s to foot-propelled scooters, skateboarding as we know it was born out of California's surf scene in the 1960s. Commonly referred to as "sidewalk surfing," skateboarding was strictly a street sport at first.
Early skateboards were smaller than they are today and used clay wheels, which, not surprisingly, didn't grip the road all that well, leading to numerous injuries.
Safety concerns turned into a full-fledged backlash, and skateboarding's initial boom had all but fizzled out by the mid-'60s, even spawning anti-skateboarding propaganda films like the Canadian-made Devil's Toy.
It wasn't until the early '70s that skateboarding took off again with the advent of urethane wheels, giving skaters considerably more traction, not to mention a smoother ride.
Suddenly, skaters were no longer tied to the ground, and skateboarding moved from a horizontal sport to a vertical one, with ramps, embankments and emptied swimming pools becoming the new playing fields.
Because of Vancouver's mild climate and proximity to California, the skateboarding craze hit here before anywhere else in Canada.
It's a time Kevin Harris remembers fondly. The former pro skater and founder of Ultimate Skateboards was 13 when he picked up his first skateboard — the mass-produced Cal 240, commonly known as a "banana board."
The year was 1975, knee-high tube socks were more popular than Pierre Trudeau and skateboarding was all the rage.
Back then, according to Harris, if you had a skateboard and knew how to use it, the Granville Banks was the place to be. Located under the north end of the Granville Street Bridge, the Granville Banks was just that — a large embankment in the upper corner of a parking lot. The spot still exists, but after a few years, it was covered with premixed concrete to prevent skating.
"There were scenes everywhere," says Harris. "There were ramps that would go up for a couple of weeks before the neighbours complained and had them taken down. There was the, 'Oh, go to the Holiday Inn swimming pool — it's empty.' And that would last like two weeks before security came and filled it up or kicked us out of there. There were constantly these hotspots. And at any given time, there was anywhere between 30 to 50 hotspots in the city through the mid '70s that were all really underground."
Harris's parents even let him build a ramp in the back yard of their Richmond home, which sometimes attracted more than a hundred kids on a busy day.
Around the same time, Canada also had what was considered to be one of the best skateboarding contest circuits in the world, thanks to a skateboarder from the '60s named Monty Little. Little helped organize Canada's first skateboard contest in Stanley Park in September of 1976.
In attendance was Ray Addington, president of Kelly Douglas and Company, which owned Super Valu stores across Canada. His two sons had taken part in the Stanley Park competition, prompting Addington to ask Little to help him promote skateboard safety through a series of skateboard contests.
From 1977 to 1979, Little organized more than 150 contests in Super Valu parking lots across the country, effectively training future skateboard stars like Harris.
Little was later asked to help put together the World Skateboard Championships (one of the first of its kind) at Expo '86, which was in many ways a precursor to the skate/music/tradeshow extravaganza Slam City Jam.
Canada's first public skate park opened in West Vancouver in 1977, and was soon followed by others in North Van, East Vancouver and a shortlived ramp in the West End.
Some of Vancouver's finest skaters would also hone their craft at Burnaby's Skateboard Palace and the Richmond Skate Ranch, which Harris ran until 1993. (Harris recently helped open Canada's largest indoor skate park — the jaw-dropping, 30,000-square-foot RDS Indoor Skate Park in Richmond.)
Though a little slow to catch on, by the early '90s, municipalities across Greater Vancouver were starting to develop much-needed skateboard facilities. "We went from having four parks in 1985," says Harris, "to probably 15 or 20 parks by 1993."
It remained illegal, however, to skateboard anywhere except the parks. Compounding the problem was the fact that around the early-to mid-'90s, the style of skateboarding had begun to change — it was becoming more technical and returning to the streets. Suddenly, the entire urban landscape was fair game — railings, curbs, stairs and ledges, the more pristine the better.
Needless to say, conflicts between skaters and the powers-that-be escalated, with board confiscations and fines becoming commonplace. Outraged building owners installed Skatestoppers — metal clamps used to render curbs, ledges and other surfaces unskatable.
According to P.D., Vancouver can lay claim to inspiring the now ubiquitous anti-skateboarding device, first developed in an area of West Hastings close to Vancouver's financial district known as the "New Spot."
"It just so happened that the location was right next to this club for all these old-school dudes and businessmen who run shit in the province," recalls P.D. "Well, all of a sudden they had all these clackety-clack kids making noise, and how can they be running everything when they've got these snotty little kids making noise during their power lunches or whatever the hell it is they do?"
As lore has it, the businessmen hired people to film the skaters from the roofs of the surrounding buildings. They then reviewed the film and hired someone to develop devices that would put an end to the skateboarding.
Conflicts between skateboarders and non-skateboarders, however, go back to the beginning of skateboarding, says P.D. "I think to some people, skateboarders represent too much freedom and they can't handle it... Pretty much since I've been a skateboarder, most of society kind of looks down upon you or has some kind of attitude."
Harris agrees. Back when he was on the pro circuit, he often encountered hostility from everyone from security guards to overzealous community centre employees who didn't like the idea of him skateboarding in a public place, even if it was just an empty lacrosse box.
"If I was a top tennis player out of this city, I would have been on the front page of sports," says Harris. "Here I'm placing in the top three in events all over the world and I'm getting this guy kicking me out? I was like, 'God, skateboarding has a long way to go.'"
Decks and the city
Though the battle to legitimize skateboarding has been an uphill one, the city has come a long way in fostering a healthier relationship with the skateboarding community.
Part of the reason, says Harris, is demographics.
"Even 10 or 15 years ago, people who were on city council or who worked at the city didn't understand skateboarding. They didn't have kids who skated, they never skated as kids themselves... Now we've gone through a couple of generation changes and you've got people who skateboarded when they were young or have kids that skateboard, so they're warming up to it."
One city staffer who's warmed up to skateboarding — some might say to the point of boiling over — is Michael Gordon.
As an area planner, Gordon played an integral part in legalizing skateboarding on city streets as well as ending the practice of skateboard confiscations.
He's also been busy working with parks board staff and skateboarders to create more skate parks and "spots," where skateboarding is permitted but not formally designated, around the city, especially downtown.
"When we consider planning issues, we all have to be careful with the downtown being what I call 'adult centric' and remember you've got young people here who look at the city and experience the city in a very different way," says Gordon. "[Skateboarding] is a pretty deep subculture in terms of what is has to offer. So in terms of the impact it has on the city, it's one more way in which we can give young people and youth a voice and a profile in the city."
What makes Gordon particularly unique is that since getting involved with the skateboarding community five years ago, the 50-year-old Kitsilano resident has fulfilled a lifelong dream and taken up skateboarding. Now he rides his 34-inch "transition board" across 22 blocks and five hills to and from work every day.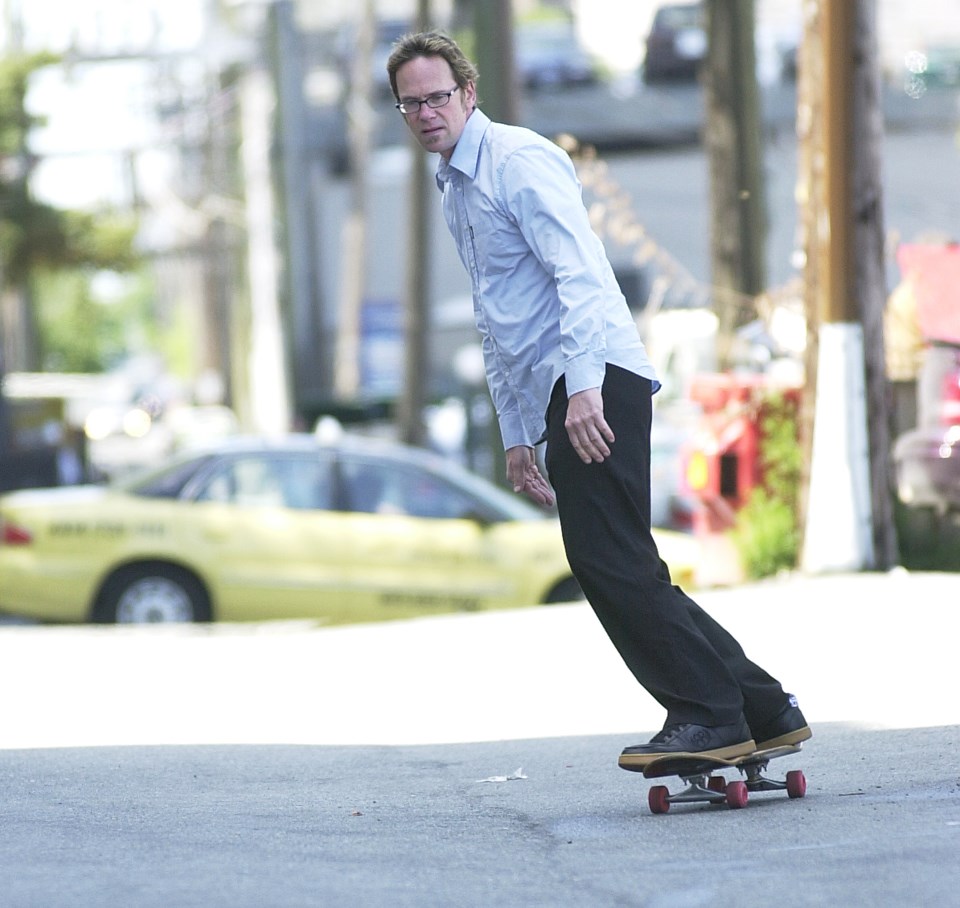 "It's one of the ways I'm able to work really hard because it's a great stress reliever and it's one of the funnest times of my day." He adds matter-of-factly, "I don't do tricks. I basically skate bowls, skate on the street and skate transitions in the skate park, like banks and things like that."
Another skateboard owner on the city's payroll is parks board commissioner Lyndsay Poaps, though she admits to being somewhat deficient in the skills department and has the scars to prove it. "I'm a young person," says the 25-year-old. "I live in the urban city, and [skateboarding] is definitely part of my friends' and my culture, and I think it's important that it gets more priority."
Recent parks board projects include the opening of a mini skate park in Strathcona last year, approval of a skate facility at Quilchena Park slated for fall, and the soon-to-be-completed downtown street-style skate plaza under the Georgia Street viaduct at the intersection of Quebec and Union streets.
Mark Vulliamy, manager of research and planning for the parks board, says skateboarding has become a priority in part because the board has so much catching up to do. "As is often the case, programming for adolescents is not something that's been invested in, and they're a challenging bunch to program, quite frankly."
Much of the parks board's skateboard-friendly attitude, says Vulliamy, is in direct response to the conflicts that have arisen.
"There are conflicts in public spaces where people are skateboarding where they shouldn't be and we need to address this problem proactively and not through bylaw enforcement and the seizure of equipment."
Vulliamy, who's been with the board for 25 years, says the shift occurred sometime in the mid-'90s, though finding appropriate sites has always been a problem, especially in the case of the new downtown skate plaza, which has been in the works for nearly a decade.
"It's embarrassing we've taken this long, because 10 years may not be long for a planner, but it's an eternity for a 16-year-old."
Vulliamy also credits the efforts of local skateboarders for helping the city see the light. "The whole skateboarding community has also evolved. With public awareness, you have pretty sophisticated advocacy happening... and they know they need to win the hearts and minds of neighbours."
One group that's been working closely with the city is the Vancouver SkatePark Coalition. Since 1996, the volunteer group has been a rallying point for local skateboarders, BMX bikers, artists, designers, politicians, youth workers and community service providers.
"A skateboarder without a place to skate can be a problem," says SkatePark Coalition president Travis Cutler.
The 28-year-old sign-maker and skateboarder says while he appreciates that the city has started to accommodate skateboarding, its motivation is more pragmatic than altruistic.
"I think the quote from [retired police] Inspector Dave Jones was, 'Skateboarding is better than crack.'"
Besides the Strathcona and downtown parks, other Coalition successes include the removal of Skatestoppers from Andy Livingstone Park and the establishment of a skate spot under the north side of the Cambie Street bridge, with benches donated by the coalition and the city specifically for skateboarding.
"It's a great spot because there's actually no sign saying you can or can't skateboard--it's just a spot, and to the culture of skateboarding that's a very important thing."
Cutler also points to last year's bylaw changes as particularly significant.
"The fact is that it's written somewhere that you're allowed to skateboard. Put in the context of the rest of the world, there's nowhere else. Nowhere. You can't go to L.A. and skate--that's totally illegal there. Can't do it in San Francisco, can't do it in New York... Now, there's a precedent that you can in fact skate here."
Regardless of laws, however, skaters aren't going anywhere, he adds. "They've tried to outlaw this so many times and each time it's come back with more people enjoying the sport. And it's proliferating everywhere. So I think [the city] finally got the idea, 'We can't crush this. So if we can't crush it, then we have to accommodate it so that it doesn't come back and bite us in the ass.'"
Skateboarding on display
The role skateboarding has played in the city has not gone unnoticed by the Vancouver Museum. Last month, it launched "Skateboarding Vancouver," an ambitious 15-month exhibition documenting the history of skateboarding in Vancouver and beyond.
Thirty-one-year-old Lee Drever, who does marketing and communications for the museum, first got the idea for the exhibit after visiting Skull Skate's online museum. Drever, a skateboarder himself, approached P.D. and with some prodding and reassurances, convinced P.D. to lend the Vancouver Museum some 200 skateboarding artifacts from his mind-bogglingly extensive personal collection.
"It's worth talking about these issues, because like it or not, Vancouver is being shaped by skaters," says Drever. "Architecture is reflecting skaters — whether it's to prevent it or accommodate it, architecture now has to take [skateboarding] into consideration."
Joan Seidl, curator of history at the museum, admits skateboarding was completely foreign to her when Drever proposed the exhibit.
"It was a world I knew nothing about. I had never stepped on a skateboard, my kids never skateboarded. I didn't think I even knew any skateboarders. It turns out I actually do know skateboarders, but they were in the closet."
What impressed Seidl, besides the rich history of skateboarding in Vancouver, is how skateboarders interact with the city.
"Skateboarders have a real unique perspective and awareness of the city that is kind of a privileged awareness in the sense that they know it so viscerally," says Seidl. "My husband uses a wheelchair, and for the same reasons this is a great city for him to live in, it's a great city for some of these boarders."
Teetering on the edge of mainstream
As for the future of skateboarding in Vancouver, the possibilities are endless. Already, the once-outlaw activity is teetering ever closer towards the mainstream, with rumours of skateboarding becoming an Olympic event.
American pro skater-turned-X-Games-poster-boy Tony Hawk is pulling in a reported $10 million U.S. a year, and the "long board" — designed specifically for cruising — has inundated the scene, attracting legions of first-time skateboarders. (This Sunday marks the fourth annual Take Over the Seawall Cruise organized by Coast Longboarding.)
Even this year's 11th annual Slam City Jam at B.C. Place garnered a slew of corporate sponsors, from Tylenol and Right Guard to Ford Trucks.
Still, there are those who see skateboarding as an exclusive club, despite its ever-growing popularity and civic endorsement, and that suits them just fine.
"Skateboarding's saving grace is its difficulty, which always ensures limited participation," says P.D. "What we see now with the acceptance of skateboarding is a lot of people with the clothing and the shoes and all the kinds of fashion styles that relate to skateboarding, but they still can't ride a skateboard. It's kind of like being a chicken. They may have wings, but the frustrated buggers still can't fly."