Reclaimed cedar covers the exterior of Samantha Gambling's tiny home. Parked at Westcoast Outbuildings in North Vancouver, it's a work in progress but it's almost completed.
Construction tools and materials are scattered about the interior, where partially finished cabinets and a three-burner RV stove are positioned against one wall. A mini fridge sits next to French doors waiting to be installed. The washroom at the far end of the 220-square-foot space is compact although it's as wide as the home itself, with a shower on one side and space for a toilet on the other. A skylight illuminates the 10-foot-by-10-foot sleeping loft above.
To Gambling, this small space represents a big dream to live tiny.
She started thinking about moving into a tiny house while at UBC finishing her master's degree, which focused on integrated studies in land and food systems. Gambling's goal was to get a job in the non-profit sector working towards food sovereignty and sustainable food systems. She also "wanted and needed" to live at a slower, more mindful pace.
"I knew I wasn't going to be happy trying to pay my way into the current system," she told the Courier. "I saw tiny houses as a way to be economically free so I could pursue this work that was really meaningful to me in my community."
A documentary called We the Tiny House People deepened Gambling's interest, convincing her that living in a tiny house was within the realm of possibility.
In September 2015, she bought a flatbed trailer for $8,000, which came with some materials. Thus began her effort to turn her dream into reality.
After construction is finished on her home, she hopes to transport it to land near 41st and Main. There's one hitch — tiny houses aren't legal in Vancouver.
That's where the B.C. Tiny House Collective — co-founded by Gambling and Anastasia Koutalianos in July 2016 — comes in.
Last week, the collective submitted a detailed proposal to the City of Vancouver, asking that Gambling's tiny house be permitted as a demonstration unit and that it be designated as a temporary caretaker dwelling to be used for research, community feedback and engagement. There would also be an urban farm on site.
It's one of numerous research, pilot project and public engagement initiatives the collective is working on under its "Go Tiny" campaign, the aim of which is to see tiny houses allowed in municipalities across Metro Vancouver.
It's unclear when or even if the proposed pilot will get the green light, but Gambling is optimistic.
"I'm really hopeful. I think that there's definitely potential. I want to say I'm optimistic because the interaction with the city has, so far, been great. But that said, I don't know what barriers I'm going to stumble across when I get into the nitty gritty of bylaws."

Seeking approval
A tiny house, based on a working definition by the B.C. Tiny House Collective in an effort to differentiate it from other small dwellings, is one that's less than 500 square feet. It's also a fully functional single housing unit that includes all the basic amenities of a permanent home (detached or semi-attached as part of a housing complex). It's mobile — on wheels or a temporary foundation, customizable — tailored to individual taste and budget, and designed and built on the principles of affordability, community and ecological sustainability.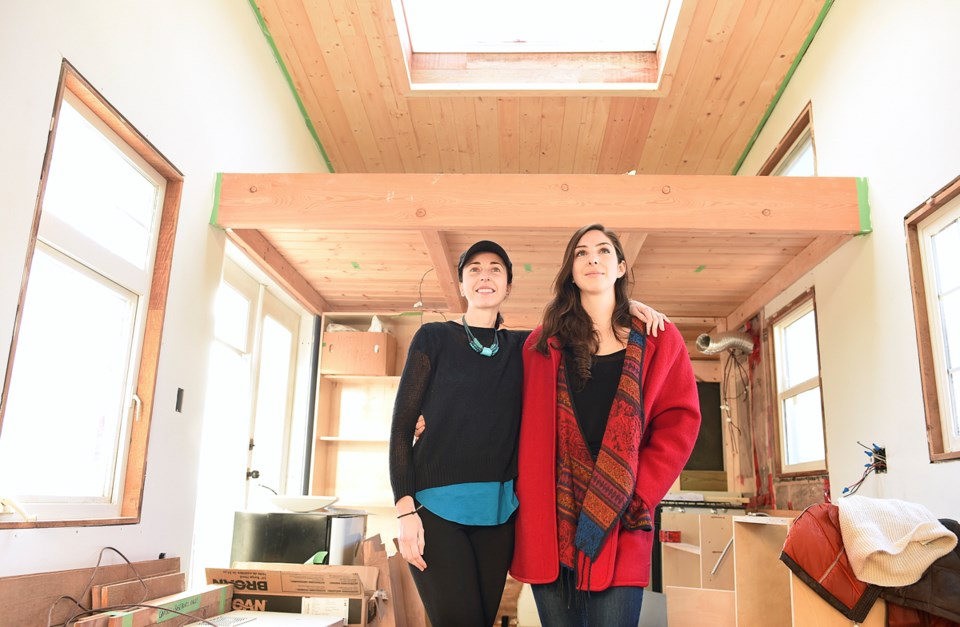 The hurdles to make them legal aren't insignificant. Anita Molaro, assistant director of urban design for the City of Vancouver, said the city currently doesn't have any policy to support them.
"Our policy construct that we have is to allow for micro suites. We're looking for small, residential units. Our typical condominium size is 398 square feet, but we can relax down to 320 for secured market rental units," she said. "And then, in the Downtown Eastside plan, we allow for micro-units in social housing and again for secured market rental. We can go down to 250 square feet. [But] we don't, at this point and time, have any construct to consider moveable tiny houses."
Molaro said there would need to be a "fulsome analysis" before tiny houses could be approved, looking at issues like building code implications, how they would be serviced in terms of utilities such as sewer, water and electricity, and what the impact additional dwelling units would have on other city services like community amenities.
"It's quite a broad undertaking to understand [issues including] what the uptake would be on them as a result. There's a lot of complicating factors," she said, adding the city would also have to study what other jurisdictions have done. "They are quite broad, complex questions to consider."

Home investment
For her part, Gambling had considered living in a laneway home, which are increasingly popular, but that didn't meet her overall objectives because they can only be rented, rent can be steep and they don't provide long-term housing security.
"I was just trying to find a way that I could stay in the city and do the work that I wanted to do without going into massive and impossible debt," she said. "At the same time, I really crave a home. I think everyone does — a secure place that is yours… I needed a stable home."
Gambling estimates the final tally for her tiny house will be in the $70,000 to $80,000 range. About $6,000 was fundraised, she invested all of her savings, she borrowed money from family and she earned in-kind donations and sponsorships.

Reaching out
Building a tiny home is one matter. Finding a place to put it is another. In Gambling's case, a socially conscious developer who's interested in contributing to the city's affordable housing stock offered up the site near 41st and Main for use in the pilot while the land is awaiting development.
But where future tiny houses could go is among myriad issues the collective is researching.
"That's a big question and I think what goes along with tiny houses is looking at alternative tenure models. Because it's unique, it's on wheels, so how do you connect it with the land," Gambling said.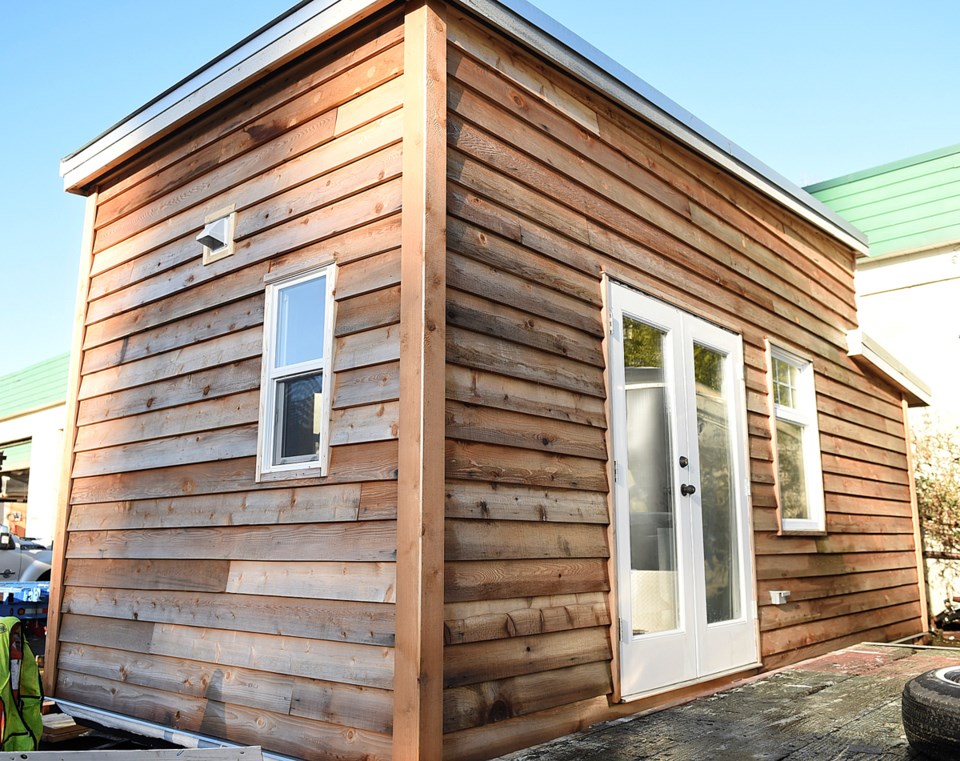 One option being explored is a community land trust where the land would be owned by the city or a non-profit housing provider and individuals would lease plots on that land. Other options include a co-owned piece of land where individuals would either rent or own a portion of it, an existing landowner could rent a parking pad in their backyard, or under-utilized land such as property awaiting a development permit could be used.
In any case, the collective has spent months wrestling with these and other subjects arising out of a stakeholder engagement event held last August, which identified three themes that could serve as obstacles to getting tiny houses approved — cultural, financial and legal.
They're working diligently to address those concerns and to turn "barriers into opportunities," according to Koutalianos, who works in communications and public engagement.
Koutalianos is convinced the timing is right for multiple reasons: municipalities such as Vancouver are focusing on affordable housing, they're considering houses of different sizes and tenure and they're championing the principles of sustainability. Metro Vancouver also recently passed its Regional Affordable Housing Strategy, which outlines the importance of issues including increasing the supply and diversity of affordable housing and it recommends some key actions that municipalities can take on. Signals from across the border are also promising. In December, the International Code Council in the U.S. approved a proposed housing standard for houses smaller than 400 square feet, which jurisdictions in the States could adopt in 2018. Koutalianos suspects it makes it more likely something similar will happen in Canada eventually.
But the collective is not leaving anything to chance in their Go Tiny campaign.
Koutalianos and Gambling have met with experts and city officials in Vancouver and elsewhere in the Lower Mainland. They're collaborating with innovation hubs, non-profit groups and educational institutions such as UBC, Vancouver Community College, BCIT and Emily Carr University of Art and Design on a vast array of topics, including, but not limited to, sustainability, how to deal with grey and black water, the advisability of going on or off grid, feasibility issues, public health implications and potential sites for tiny houses.
They've also reached out to financial institutions to look at financing and the effects to tenure and land value, and they've applied for a B.C. Housing grant to explore a tiny house building code. They'll find out if they get that grant in April.
Koutalianos also envisions holding a design and build contest through the collective that uses tiny houses as a model for renewables and the use of deconstructed building materials.
"The city of Vancouver is interested… a lot of municipalities are, but I think there's still a lot of grey zone in terms of is there going to be opposition in terms of cultural, political, zoning bylaws and all that jazz. Financial [too]," she said. "What's going to happen to land value, tenure, how will this change? Is this the density that the city needs?"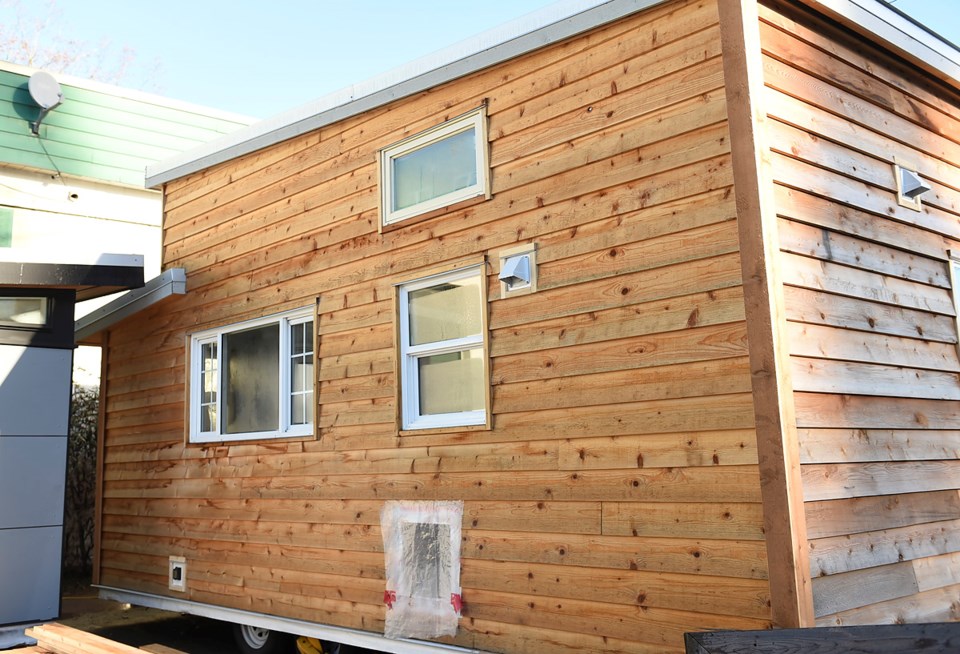 Public opinion is another concern.
The collective is seeking input through a survey it posted on its website in late December, which runs until the end of March. It's designed to gauge awareness, support and demand for tiny houses in Metro Vancouver, B.C. and across Canada. Preliminary data found 90 per cent of respondents so far would be interested in living in a tiny house. Support is also coming from people who don't want to live in a tiny house but are open to seeing them in backyards, on empty lots, in pocket villages or as infill.
"Really [the idea is] very new for cities. What we're trying to do, [what our] Go Tiny project is looking at is research, engagement and piloting to be in service to cities and provide them with the information they need to move this forward," she said.
Back inside her almost-finished home, Gambling is happy the topic of another housing form is being discussed and she remains hopeful the pilot project will ultimately work out.
"There's been a lot of support from the public, from my friends and family, and there's been a lot of support from the cities that I've been talking to, and the experts that I've been talking to," she said. "I've been listening closely to them and I think it's worth pursuing."
noconnor@vancourier.com
@naoibh