Wood is piled on the ground at Callahan Tufts' outdoor "research lab" at Granville Island near the public market. Much of it is brand new, but there are odd sizes. It's excess material from construction sites that he collected at transfer stations where it was destined to be recycled — possibly chipped for use in compost or to be burned as fuel.
Tufts, an industrial design student who just graduated from Emily Carr University of Art and Design, has a different plan.
He's using the material for a tiny house build taking place outside Science World May 20. The so-called tiny house "barn-raising" is part of a B.C. Tiny House Collective day-long event called Go, Go Tiny, which will also feature tiny houses to tour, community pop-up tents and an evening panel discussion.
Tiny houses, according to the collective, are typically less than 500 square feet, function as a single housing unit with the basic amenities of permanent homes, are mobile — on wheels or a temporary foundation, are customizable and are designed and built on the principles of affordability, community and ecological sustainability.
Saturday's tiny house build is an extension of Tufts' larger Rescued Homes project he worked on at Emily Carr, which saw him plan and construct shelters made out of recycled material — a dog house, a small wheeled urban dwelling and a cabin. They all share the same design language in terms of their shape, but for each version Tufts scaled up the amount of materials he had to collect.
Part of the inspiration for Rescued Homes came from his job at 1-800-Got-Junk?, where he saw how much potentially usable and often untouched material winds up at transfer stations. He maintains it could serve as material for smaller-scale homes or shelters.
"It's great that so much of our stuff is getting recycled, but I feel like recycling shouldn't be the answer. It should be the last resort," he said.
In preparation for the tiny house build, he's been visiting transfer stations early in the morning to collect material.
The rest of Tufts' days have been spent fine-tuning the home's design and prefabricating portions of it, so it can be put together more easily within a limited time frame on Saturday.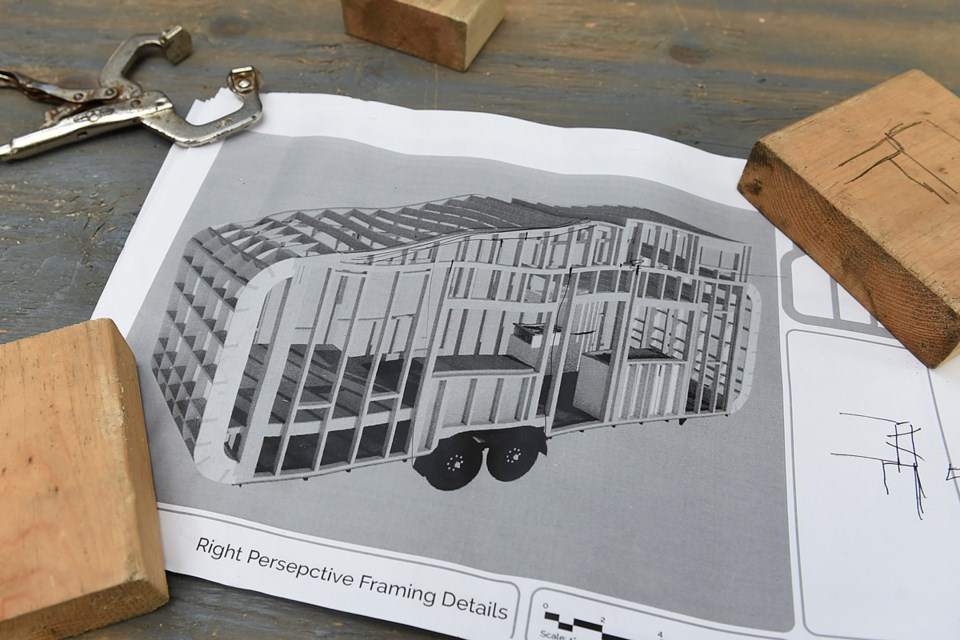 "The fun thing about this design project is you really have to adapt depending on the materials you get," he said.
The house is being constructed on a 26-foot trailer that's meant specifically for tiny houses. Alcoves built off the end will make the internal dimensions closer to 29 feet. The house will have an interior height of just under 11 feet, there will be a kitchen, shower, toilet, sink, a loft above the kitchen and living space.
On build day, Tufts and an army of about 30 volunteers —  including BCIT students, designers, architects and carpenters — plan to complete the framing, install windows and doors and waterproof the structure. The interior won't be finished due to the time constraints.
"I'm still trying to figure out siding and roofing, but at the very least it will have all the waterproofing membranes, all the windows. So it'll look like a house. It just might be missing the fancier finishes to the exterior," Tufts told the Courier last week.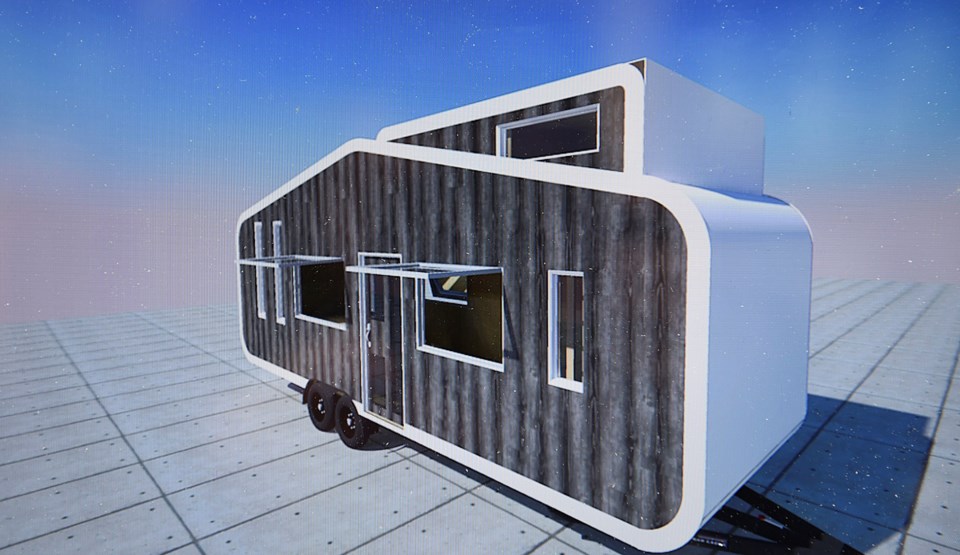 Eventually, he plans to park the tiny home at another location, finish the interior and display it at future B.C. Tiny House Collective events. He also hopes to live in it one day, assuming the city eventually adopts regulations approving them.
But on Saturday, his objective is simple — he wants the conversation to be about the materials.
"At the end of this, I want not only the public, but city officials and the people who make decisions, to have a different conversation about what's going on with the materials that we're getting rid of," he said.
Anastasia Koutalianos, one of the B.C. Tiny House Collective founders, is organizing Go, Go Tiny.
"The whole day, really, is about sustainable design and construction, innovation and showcasing local talent," she said.
Components that go into tiny houses such as compost toilets will be featured.
Koutalianos wants to educate the public and city officials about what a tiny house is, as well as get buy-in and feedback.
Ultimately, she hopes the city considers tiny houses as a viable housing form as part of its overall "reset" of Vancouver's housing strategy.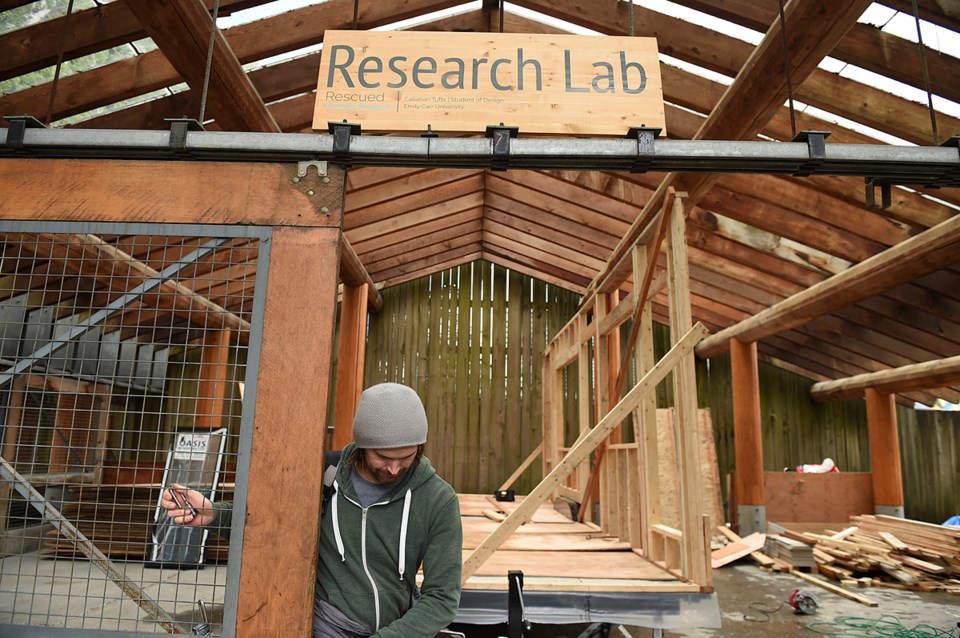 For more information about Saturday's Go, Go Tiny event, see bctinyhousecollective.com.
The outdoor event runs from 10 to 6 p.m. The evening panel runs from 7 to 9 p.m., but the panel event is sold out. Panelists include Tufts, Sean Ruthen (Royal Architectural Institute of Canada fellow/VIA Architecture), Ben Garratt (Tiny Healthy Homes), Akua Schatz (Canada Green Building Council/Small Housing BC) and Bryn Davidson (Lanefab).
More information about Tufts can be found at callahantufts.com.
Note: This story has been updated since first posted.