It's a popular misconception that Mother's Day owes its origins to greeting card companies, chocolatiers and/or florists as a way to cash in on the fact every single person on Earth has (or at least once had) a mother.  
Instead, Mother's Day, as we know it today, was brought to life by a woman who never had children of her own and who died deeply regretting what the holiday grew into.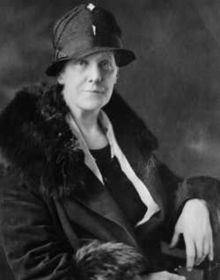 Anna Jarvis, a 53-year-old West Virginia woman, first began lobbying the government for a formal Mother's Day in 1907, three years after the death of her own mother, as a way to help reunite families who'd been split up by the American Civil War. Her mother Ann, who gave birth to 13 children in total, was an activist who in her youth helped organize "Mothers' Work Day Clubs" to provide medicine for the poor, shelters for children with tuberculosis, and care for wounded soldiers from both sides of the war. She was also a follower of Julia Ward Howe, who made the famous "Appeal to womanhood throughout the world," which later became known as the Mother's Day Proclamation, calling upon mothers everywhere to unite in the struggle to abolish war.
Jarvis's home state became the first of several to adopt special Mother's Days, and U.S. president Woodrow Wilson eventually signed it into law as a national holiday in 1914. Ironically, this was the same year the country entered an even bigger war overseas that plenty of mothers probably would have much preferred their sons not be sent off to die in.
But she soon became enraged by the by the crass commercialization of the holiday since the idea was for people to express love and gratitude to their mothers, not to simply buy them a card or gift. "I want it to be a day of sentiment, not profit," she said. "A printed card means nothing except that you are too lazy to write to the woman who has done more for you than anyone in the world. And candy! You take a box to Mother — and then eat most of it yourself."
Sadly, Jarvis went broke organizing boycotts and launching lawsuits to try and return the holiday to its reverent roots, and even once got arrested for disturbing the peace after crashing an event where women sold white carnations — her chosen symbol for mothers — to raise money for the war effort. She ended up penniless and died of dementia in a state sanitarium in 1948 at age 84.
Anna Jarvis wanted people to honour their mothers rather than just buy them flowers or candy. It's hard to image what she would make of a $200 "limited-edition Mother's Day premium Starbucks card" worth only $50 in credit, which is an actual thing this year.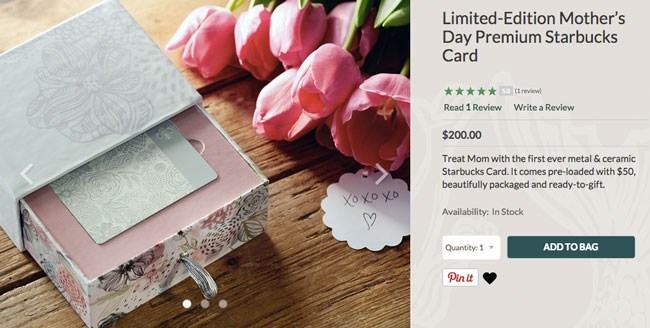 Here are 10 suggestions for ways for Vancouverites to show their moms some love this May 10.
1) Go for brunch: While breakfast in bed is a well-worn Mother's Day cliché, chances are good she'd prefer a special meal that won't risk including crumbs in the sheets or a mess in the kitchen. A variety of local restaurants are offering special Mother's Day deals, including Boulevard Kitchen & Oyster Bar, the Boathouse at Kits Beach, Diva at the Met, and the new Big Rock Urban Eatery.
2) See a movie: May 10 is the closing day of the 14 annual DOXA film festival, and there are some suitably mom-friendly documentaries to choose from, including The Age of Love (about seniors and the speed-dating scene), Madame Phung's Last Journey (about a Vietnamese transgender matriarch who runs a troupe of travelling performers), Tea Time (a Chilean film exploring female friendship through a group of elderly women who've been meeting for a weekly tea for 60 years) and Iris, Albert Maysles' final film that tells the tale of larger-than-life "octogenarian starlet" Iris Apfel.
3) Grab some gelato: Everyone loves good ice cream. Mothers are no different. The city has plenty of high end options to choose from, including Bella Gelateria and Chocolaterie de la Nouvelle France.
4) Take a hike: For outdoorsier moms, there are plenty of day hikes in the Vancouver region that are both kid-friendly or, if she'd rather ditch the wee one for the day, not so much. The Courier has a number of good suggestions to choose from.
5) Get happy: Whatever outstanding issues you have with your mom are sure to be put on the backburner with a visit to the Museum of Vancouver's new exhibit, The Happy Show, by award-winning designer Stefan Sagmeister, which highlights the importance of loved ones for personal happiness.
6) Catch a show: The Arts Club's production of the Tony Award-winning, family-friendly musical In The Heights opens May 6. The salsa-flavoured show, set in a largely Latino neighbourhood of New York City, centres around "Abuela" Claudia, the loving matriarch of the barrio who knows everybody and is like a grandmother to all.
7) Organize a picnic: You can book a designated picnic site for groups of fewer than 50 people in parks across Vancouver through the City of Vancouver's website.
8) Visit a garden: The new zipline isn't up and running yet but Queen Elizabeth Park's free garden is in bloom and well worth checking out. Or splurge on a visit to VanDusen Botanical Garden or Bloedel Conservatory.
9) Go to church with her: If she's a regular church goer and you're more of a once-in-a-blue-moon type, she'll probably appreciate the gesture. A number of churches are also putting on special Mother's Day concerts, including Pandora's Vox and Espiritu Vocal Ensembles at West Vancouver United Church and the Marcus Mosely Chorale's Times Are A Changin' concert at Highlands United Church.
10) Donate: Another option would be simply to write a letter or phone your mother to let her know how much you love her and, instead of spending your money on expensive gifts or dinners, donate it to earthquake relief efforts in Nepal. Plenty of mothers are currently in desperate need, and no doubt Ann and Anna Jarvis would approve.