Vancouver has long been known as a hotbed for bike thefts.
A 2016 report by Square One Insurance found that the city had the highest rate of bike thefts in the country with 513 per 100,000 residents. But the winds of change are blowing, at least for the first half of 2017.
So far this year, the Vancouver police have seen a significant decrease in the number of stolen bikes. As of June 30 there were 857 reported bike thefts. By the same time last year, there had been 1,380.
Of course, those numbers don't include the numerous bike thefts that go unreported each year, but they also don't include bikes that are recovered and returned to their rightful owner.
So how can you avoid becoming a bike theft statistic?
"Prevention is the key," said Sgt. Jason Robillard.
And the top tip from cycling advocacy group HUB Cycling?
Invest in a good lock, and use it.
"Never use a cable lock," said Laura Jane, HUB's director of corporate engagement and events. Even the best cable locks can be easily cut.
Tips for protecting your bike:
Secure it
The best way to protect yourself against bike theft is to park your bike in a secure bike parking facility. Many workplaces have bike rooms or cages, and some TransLink stations provide lockers and parkades. Other good choices include monitored parking facilities and bike racks in a high traffic area.
Record your serial number
It is often on the underside of your pedal (crank) shaft, and keep it in a safe place.
Register it
Use the free 529 Garage registry at project529.com/garage or use the app anywhere in Metro Vancouver. It alerts others that your bike is stolen and helps police recover and return it to you.
Report it
If your bike is stolen, report it to your local police as soon as possible, your best chance for safe return.
Broadcast it
Social networks have been proven to increase the chance of recovery — post a photo and details of your bike theft experience on Facebook, Twitter and Instagram.
Look for it
Watch online marketplaces, and report or flag suspicious listings.
Police do not recommend residents confront bike thieves on their own.
"If you see someone on your bike, maintain visual contact with the bike and call 911 because that is a crime in progress," Robillard said, adding that reporting a stolen bike after the fact can be done through the non-emergency line.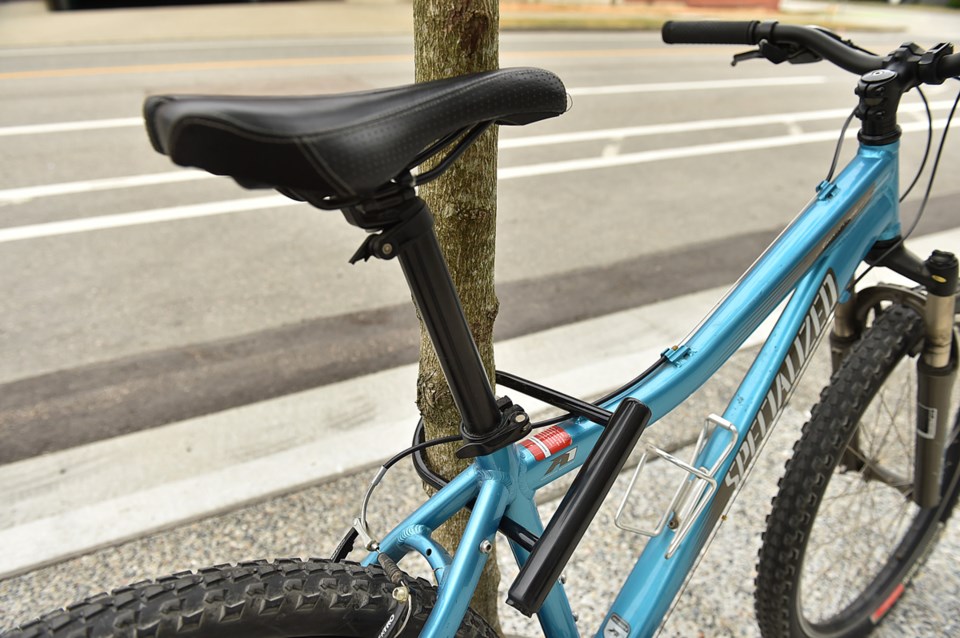 Locking tips:
Use a good lock. Don't use a cable lock as your primary lock. They can be easily cut. Use a high-quality U or folding lock.
Size matters. Smaller U-locks are harder to break.
 Don't just lock the wheel to the rack. That leaves the rest of the bike vulnerable. Lock both the wheel and the frame to the bike rack.
Don't leave your bike out overnight, or in places where it looks like you'll be gone for a while. Whenever possible, take your bike inside with you.
If locking your bike to a pole or parking meter, make sure that it's firmly screwed in. Try to only use bike racks in busy areas and take any bags or lights with you. Vancouver police recommend avoiding poles and parking meters altogether because bolts can be removed, and the heads of the parking meters come off easily.
Consider switching out quick release components on seats and wheels for bolts.
https://youtu.be/Mfxq1QIdUV8