The vacationing Texan was having a night out on the town and looking to extend his party beyond pints and pizza.
It was in mid-December and the revelry took him to Downtown Eastside dive bar Funky Winkerbeans.

"He was very obviously looking for cocaine, but our staff wouldn't direct him towards cocaine," said bar manager Eric Neilson. "Everyone warned him, the day shift and the night shift staff, to not buy random things from strangers because you're probably going to get fentanyl. He went out and bought something off the street and he was overdosing on the sidewalk in front of Funkys shortly thereafter."
Three shots of naloxone later, the man was revived. Neilson's bartender saved the tourist's life and has administered naloxone five times in overdose situations in the past few months alone. Funkys has two naloxone kits and several staffers trained to use them.
Whereas Vancouver bars, pubs and music venues used to emphasize Foodsafe and Serving it Right courses, their concern is increasingly focussed on naloxone training to prevent overdose deaths.  
The new norm 
A few blocks east at the Smilin' Buddha Cabaret (SBC), co-owner Andrew Turner doesn't even keep track of how many times naloxone has been used due to how frequently it's occurred. The life-saving opioid medication has been at the East Van venue/skate ramp — located steps away from the supervised injection site, Insite — for more than two years. Both SBC co-owners have first aid and naloxone training, as does security personnel.
"There's a hidden toll being taken in terms of what frontline workers and community members are going through. It's traumatic. We're tired of watching friends die," Turner said via email.
The Courier attempted to contact dozens of music and performance venues, bars and pubs to gauge whether those businesses have naloxone, what prompted them to acquire the kits and how often they've been used.
BC Coroners Service statistics released Jan. 31 show that 1,422 people died of a suspected drug overdose in B.C. last year, with 358 in Vancouver. The statistics revealed 88 per cent of the deaths occurred indoors, with 60 per cent in a private residence and 28 per cent in other inside locations: facilities, occupational sites, public buildings and businesses. Others occurred outside on the streets, sidewalks, parks and in vehicles.
The majority of people who died — 82 per cent — were male, with 90 per cent of overall deaths occurring to people between 19 and 59.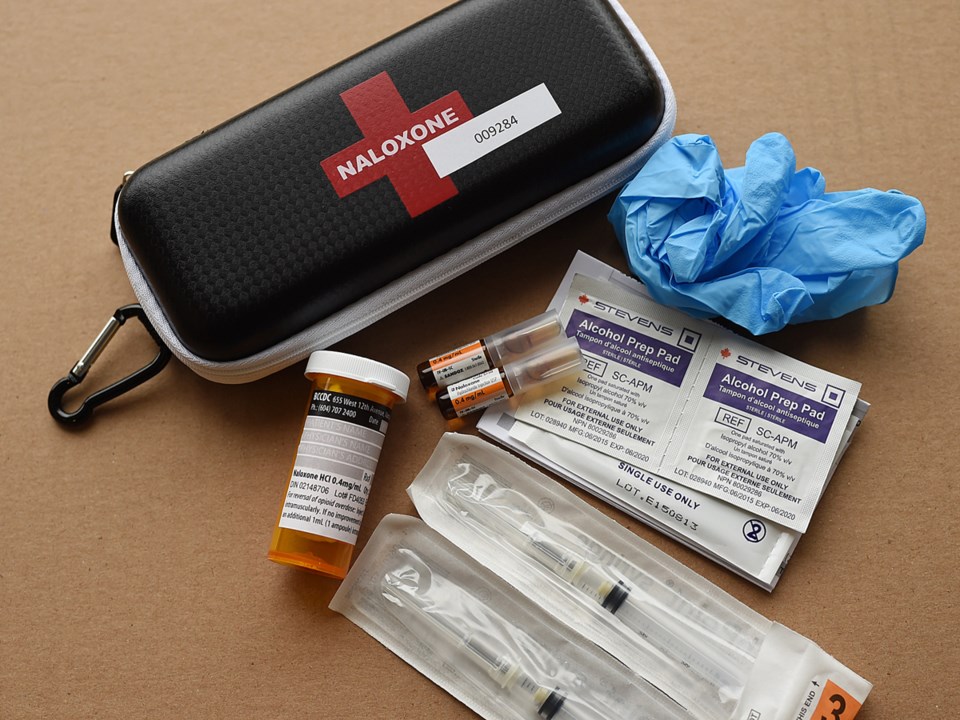 A stone's throw east of SBC, the Rickshaw Theatre also has a naloxone kit and two staffers trained in its use. Theatre owner Mo Tarmohamed told the Courier he's in the process of finding training for the 20-plus staff at the Main and Hastings venue.
Managers at both the WISE Hall and Pat's Pub didn't respond to the Courier's request for comment, though wendythirteen, the promoter responsible for both venues, did.

She received naloxone training 18 months ago and carries a kit to every show she promotes, typically between two and five per month. She hasn't had to use the kit yet, but knows of "dozens and dozens" of people connected to the punk and metal scenes whose recent deaths were attributed to fentanyl. The former Cobalt manager kicked cocaine addiction 20 years ago, alcohol addiction five years ago and remembers seeing fentanyl first emerge while still managing Funkys five or six years ago.
"We'd see all kinds of ODs across the street," said wendythirteen. "They'd cross the street and collapse after shooting up in the tent city. And it's not letting up now. What a mess."
Pubs, bars and cocktail lounges are also taking notice. Donnelly Group spokesperson Paul Done told the Courier that all 13 establishments owned by the entertainment conglomerate in Vancouver have kits.
"The first naloxone kits were issued to the nightclub venues in September 2016 with training given to first certified aid and door staff. Since then, kits have been issued to all pub and cocktail bar locations," Done said in an email to the Courier. "Staff at all the nightclub venues along with key pub management have been trained in naloxone use. Training for pub floor staff is ongoing."
Demand for training   
Munroe Craig can attest to that continued uptick. Craig is the co-founder of Karmik, a Downtown Eastside harm reduction group that offers services ranging from naloxone training to educating music festival goers about the drugs they might ingest.
In the last year alone, the number of naloxone training requests she's fielded has skyrocketed: UBC, SFU, graffiti removal companies, a slew of construction firms, dispensaries, pharmacy students and community groups from across Western Canada have all reached out for training.
To put that increase in perspective, last year Craig offered the training course once every few months. Now they're happening every two weeks.
"I'm kept very busy, I must say. Unfortunately or fortunately, I'm not sure," Craig said.
Karmik receives its naloxone kits free of charge from the B.C. Centre for Disease Control and the Towards the Heart Program. The training courses last about 20 hours, and volunteers are given naloxone kits once their training wraps up.
"Oftentimes people will find me and I have no idea who they are or how they found me, but word of mouth spreads very quickly," Craig said. "If I could stop I would stop, but quite honestly there's such a need for it that it keeps me going." 

Information around naloxone training and availability is online at towardtheheart.com.