A Burnaby tree cutting company with a long history of bylaw violations in Vancouver, including an unpaid $18,000 fine for felling a tree in Dunbar that was home to an eagle's nest, has had its mobile business licence revoked across five municipalities.
Vancouver city council's three-person business licence review panel voted unanimously Wednesday to prevent ABC Tree Men and Consulting from continuing to operate in Vancouver for the remainder of the year.
The decision by the panel, which comprised councillors Christine Boyle, Melissa De Genova and Rebecca Bligh, also means the company cannot operate in New Westminster, Richmond, Delta and Surrey for the same time period.
Cutting and topping more than 30 trees without permits in Vancouver, damaging trees and filing misleading arborist reports were among the complaints and violations registered against the company, which was incorporated in 2009.
ABC also has four trials pending, one involving an allegation that it facilitated the destruction of a 65-year-old Douglas fir home to another eagle's nest at 2660 Trinity St. in Hastings-Sunrise.
"There have been many instances whereby ABC Tree Men activities violated the Protection of Trees Bylaw, however due to the statute of limitations, we were unable to prosecute," said a case history report contained in a City of Vancouver "evidence book" presented at Wednesday's hearing.
ABC was operating with an inter-municipal or mobile business licence and has a municipal licence from Burnaby, where the company owned by Josef Klimo and wife Ayako Tatsuno, is based.
The mobile licence, which was acquired for $250, allowed ABC to work in Vancouver, Richmond, Surrey, Delta, New Westminster and Burnaby. The panel's decision revoked ABC's mobile licence, but not its municipal licence in Burnaby.  
"Their [municipal] licence will remain [in Burnaby], unless that municipality decides to take action against it and then they can go apply for an individual licence in the other jurisdictions in which they'd wish to operate," said Sarah Hicks, the city's deputy chief licence inspector, at the hearing.
The business licence revocation in Vancouver could extend to five years because ABC was convicted in court in the Dunbar case at 3854 West 38th Ave. and in another case in Dunbar at 3692 West 18th Ave. involving the topping of trees.
Fines total $56,400
The two cases were successfully prosecuted in 2016 and 2017, with Josef Klimo, two property owners and a developer found guilty and fined a total of $56,400.
Because the convictions occurred within the last five years, municipal law states ABC's licence can only be reinstated in Vancouver on successful appeal to city council.
The panel heard that ABC has 11 violations dating back to 2015 for removing more than 30 trees on private property in Vancouver without a permit.
The city's evidence book doesn't provide an exact count of the number of trees affected, but it is much higher than 30. The "more than 30 trees" indicated by the Courier is based on numbers tied to the violations.
For example, some violations vaguely state "multiple trees" were removed at 7564 Elliott St. and a "row of trees" were removed at 2147 Franklin St.
The book does not indicate the types of trees, age or size.
Some of the infractions also relate to ABC workers causing damage to trees with spurs of logging boots and illegally topping trees, including two topped at 3692 West 18th Avenue.
Those trees were topped to the extent that they are "unlikely to ever regain their health or characteristic appearance," according to the city's evidence book.
In that case, Josef Klimo was fined $12,000 and property owner Xin Fu Zhang was fined $5,000. The panel heard Wednesday that Klimo had not paid the $12,000 or the $18,000 fine related to the property at 3854 West 38th Ave.
The case on West 38th Avenue, which led to a charge against ABC of "facilitated with intent to kill an eagle habitat tree," also saw owner Lai Ping Mak fined $5,400 and KC Dev Ltd. fined $16,000.
The panel didn't hear whether Mak and KC Dev Ltd. paid their fines.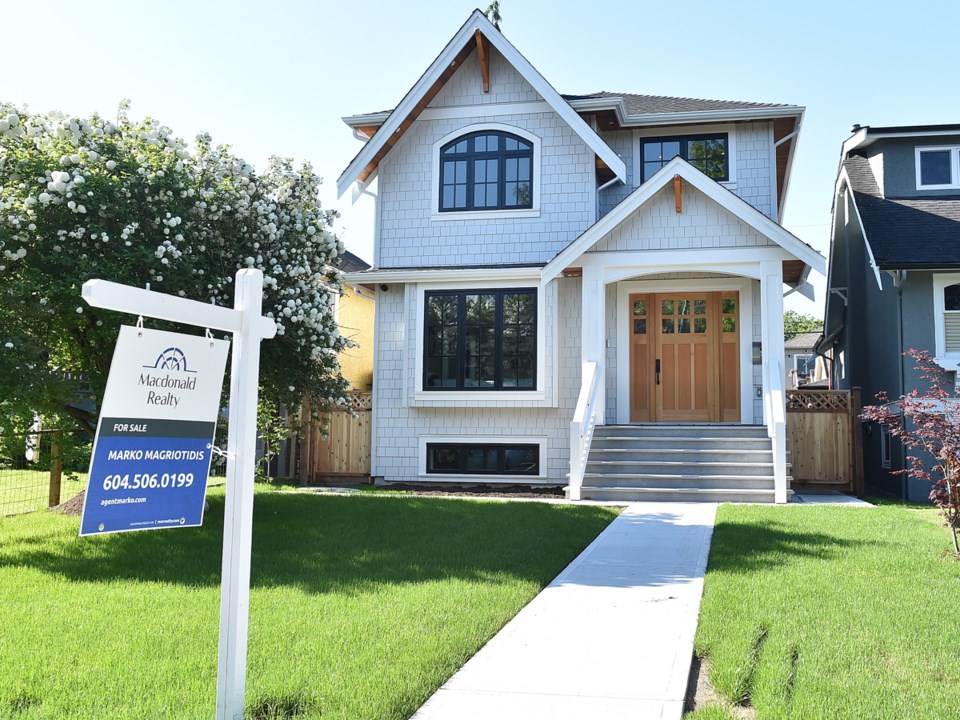 The case on Trinity Street involving the Douglas fir with the eagle's nest generated outrage in the neighbourhood. The tree was cut down in July 2018.
Neighbours launched an online petition that urged the city to impose "stiff penalties" against the developer and builder for "intentionally killing a majestic Douglas fir tree."
"This tree was one of three planted many years ago by very proud parents wishing to commemorate the births of their children," the petition said.
"The landmark tree was not only an eagle habitat, but also offered protection and sustenance to other wildlife. Residents close by benefited from its cooling shade during the hot summer months."
The charge against ABC is that it "facilitated the destruction of a significant retention tree on Trinity Street," according to the evidence presented to the panel, which heard Klimo's son, Francis, deny the company cut down the tree.
He said the Douglas fir was already damaged from an arborist who was previously on site to ABC. Klimo also told the panel the property owner said the city was "taking too long" to approve a permit.
"I did not remove the tree, as far as I know," Francis told the panel. "I did not remove the tree. Our company did not remove the tree."
Bligh said she was confused by Klimo's answer and asked city lawyer Iain Dixon, who is assistant director legal services in charge of enforcement and prosecutions, to clarify the city's position.
"I can't provide any further information with regard to it," said Dixon, noting a trial is pending. "Mr. Klimo has a story that I presume he'll provide to the court at that time."
The panel heard that nothing prevents Klimo from starting a new business and applying for a licence, although ABC's history of violations in Vancouver would be known to other municipalities.
New Westminster cases
The City of New Westminster raised concerns about ABC's practices in a Dec. 10, 2018 email from arboriculture technician Jeff Case to Heath Czypionka, a landscape development specialist with the City of Vancouver.
In the email, Case said the City of New Westminster has and continues to experience problems with ABC related to operation, consulting and filling out tree risk assessment reports.
Case also identified an incident where ABC employees were working dangerously close to power lines, which led to a report with WorkSafeBC.
The lift operator, Case said, was not a certified utility arborist, or CUA.
"Neither the bucket operator or the site foreman were aware of the limits of approach, or what a CUA is," he said. "It further illustrates the ignorance [willful or not] of the company that put their employees' lives at risk without adequate certification and/or training. So one can only assume that this ignorance would be/is applied to the knowledge/understanding of municipal tree bylaws and arboricultural best management practices."
The panel, which heard ABC works mainly in Vancouver, New Westminster and Burnaby, didn't hear of any other issues with the company in other municipalities.
Francis Klimo told the panel he became the manager of ABC in August 2018 after his father retired. B.C. Registry Services still lists Josef Klimo and his wife Ayako Tatsuno as directors of the company.
Francis Klimo, who is in his 20s, said his father has been out of the country for just under a year. He said he now has authority to "manage the crew, as best as I can."
"It is a new position, so I'm still learning new things of the business," he said, acknowledging violations occurred since he began managing the business, including one on a day he met with the city's deputy chief licence inspector to discuss the series of violations.
"Some of them I have questions for, which I'd like to appeal. But, as a general idea, I do think I will get into a position where this company would not have any violations whatsoever."
He said he didn't know why the fines of $12,000 and $18,000 were not paid, noting he didn't open his father's mail. He added that he was probably still in school when the fines were levied in 2016 and 2017.
"As months go by and I assumed director-ownership in August, I am probably going to have the payments made in order for the City of New Westminster and City of Vancouver," he said in response to a question from De Genova. "I'll get that managed."
De Genova also asked Klimo whether it was ABC's policy to check with the city whether a tree permit was obtained by a property owner or developer before cutting down or topping trees.
"It is now," he replied.
Klimo told the Courier after the hearing "it's one of those lessons you learn in life," when asked his reaction to the panel's decision.
"Hopefully, I can do some changes and make sure we provide a great service to the Greater Vancouver area," he said.
City statistics show that 96 per cent of all trees lost in the city between 1995 and 2013 were on private property. In 2013 alone, 4,900 trees were removed on private property.
A city staff report to council in December 2015 said increased inspections of trees and the repealing of a bylaw that allowed one tree per year to be chopped down on a property resulted in more than 2,500 trees saved from the chainsaw.
The city has a goal to plant 150,000 trees by 2020 to increase Vancouver's tree canopy. That involves 53 per cent on private property, 33 per cent in parks and other city property and 14 per cent along streets.
Case history of violations against ABC Tree Men and Consulting in Vancouver:
7564 Elliott St., multiple trees removed without permit (2015). Result: Not prosecuted.
3692 West 18th Ave., trees topped (2015). Result: ABC Tree Men and Consulting fined $12,000.
2147 Franklin St., row of trees removed without permit (2016). Result: Not prosecuted.
2027 East 42nd Ave., five trees removed without permit (2016). Result: Applicant found guilty, no prosecution against ABC.
3251 Quesnel Dr., seven trees removed without permit (2016). Result: Not prosecuted.
6718 Arbutus St., tree removed without permit (2016). Result: Not prosecuted.
3854 West 38th Ave., "facilitated with intent to kill an eagle habitat tree (2017)." Result: ABC fined $18,000.
1537 Burnaby St., six trees removed without permit (2018). Result: Trial pending.
1630 Burnaby St., removal of two trees without permit (2018). Result: Trial pending.
2660 Trinity St., "facilitated with intent to kill a significant retention tree (2018)."Result: Trial pending.
2930/38 Charles St., removal of retention trees without permit 2018). Result: Trial pending.
@Howellings