In the wake of Vancouver's latest gun-related slaying, we're resharing this story from 2008, in which police and border officials describe how a flood of high-powered foreign firearms — illegal and legal — had hit the Lower Mainland. 
Twenty-six years ago, while working the overnight shift, Dean Robinson rolled up to the back of the Mr. Sport Hotel on Kingsway to cover one of his fellow police officers.
Only two years on the job, Robinson got out of his cruiser to get a closer look at the scene: his classmate from the police academy aiming his gun at a notorious criminal splayed out on the pavement.
Another officer approached, searched the man and was shocked to find a loaded .357 Magnum handgun, also known as "a bit of a cannon" in those days. "That was such an extraordinary event that almost all the officers who were free in the south part of the city came over to view the firearm," recalls Robinson, now an inspector in charge of the Vancouver Police Department's drug and gang-crime units. "It's not that firearms weren't around, they just weren't very prevalent. And it was rare to take someone into custody with a loaded firearm."
Officers made the arrest and tagged the gun at the firearms locker at the police station on Main Street. News travelled fast, and soon officers working the north section of the city gathered to have a look at the big piece of steel.
Today, says Robinson, officers seizing guns from criminals is a common occurrence. And a Magnum is old news compared to the arsenal of high-powered rifles, shotguns, military assault rifles and machine-guns recovered in investigations.
Police are also seizing body armour and custom vehicles fortified with extra metal and bullet-proof glass to prevent bullets from reaching the occupants.
The drug trade is largely fueling the need for guns and it has created a black market industry for illegal gun dealers in the city and Lower Mainland. It's a trade that appears to be growing as police seize more caches of guns, respond to more gun calls and investigate homicides in which victims died of gunshot wounds.
A Statistics Canada report released last month revealed that Vancouver and the surrounding metropolitan area had the highest rate of gun crime, per capita, of all major Canadian cities in 2006. There were 45.3 violent offences involving guns for every 100,000 people, well above the national average of 27. 5. Winnipeg's rate was 43.9 and Toronto's was 40.4.
The news is unsettling for Robinson, who rattles off a list of innocent victims, including Lee Matasi and Rachel Davis, whose lives were cut short by bullets in downtown Vancouver. Then there's the growing list of officers in Canada killed by guns in the last few years. Vancouver officers haven't been among the dead, but the chance of that happening troubles Robinson.
"I've never been more concerned for the safety of our police officers and other police officers than I am now. There are just too many firearms out there everywhere."
Why so many?
Take your pick, answers Robinson. There's the violent drug trade, the increase in gangsters, a porous border, not enough law enforcement officers, loopholes in Canadian law, young kids influenced by violence on television and video games, etc.
And where are they coming from? Though police trace a majority of illegal guns to Washington State, others are stolen in burglaries from registered gun owners and some are built with parts obtained legally through the mail. There's also the issue of local movie prop masters and gun shops that can import otherwise illegal guns from other parts of the world to be used in movies.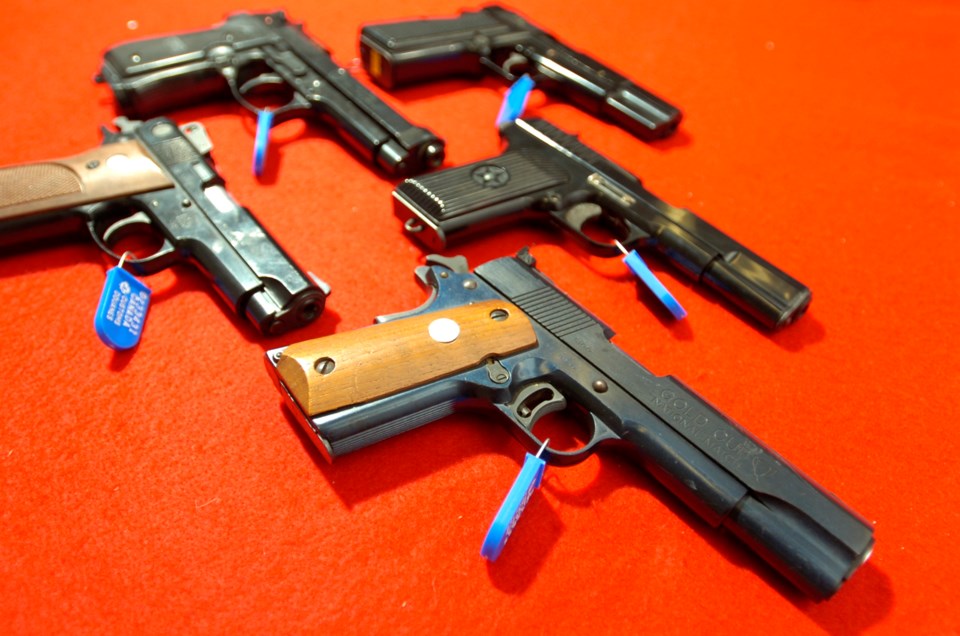 In 2006, police raided three Burnaby businesses and arrested five people, including two Vancouverites, for allegedly selling more than 2,000 movie handguns to criminals across Western Canada.
"Guns have a tendency to migrate and they'll find their way to crooks," Robinson says. "With a heavily populated region here, you'll find more firearms are going to work their way here because of the drug trade, because of the criminal population. It's like a magnet."
After a spate of gang killings last fall, senior officers from the Lower Mainland assembled in November to create the Uniform Gang Task Force.
Robinson was appointed commander of the task force, which includes officers from Lower Mainland municipal and RCMP police departments. Robinson holds this position in addition to his duties with the VPD's drug and gang-crime units. The task force's role is to suppress gang activity. That means arresting gangsters, seizing guns, gathering intelligence and, ultimately, sending a message to bad guys that gunplay will not be tolerated. The task is difficult considering the more than 500 incidents of confirmed shots fired across the Lower Mainland in the past two years. In Vancouver alone, 21 murders were committed last year, many of which were linked to gangs and the drug trade. Guns were used in 12 of the homicides.
Kyle Richard Wong, 20, is the latest victim. He was gunned down Saturday night outside his townhouse in southeast Vancouver. The city's first gun killings this year occurred Jan. 19 outside Gotham Steakhouse on Seymour Street. Two men, including Ricardo Scarpino, 37, who was recently released from prison, were shot as they sat in a Land Rover. Their killers are still at large.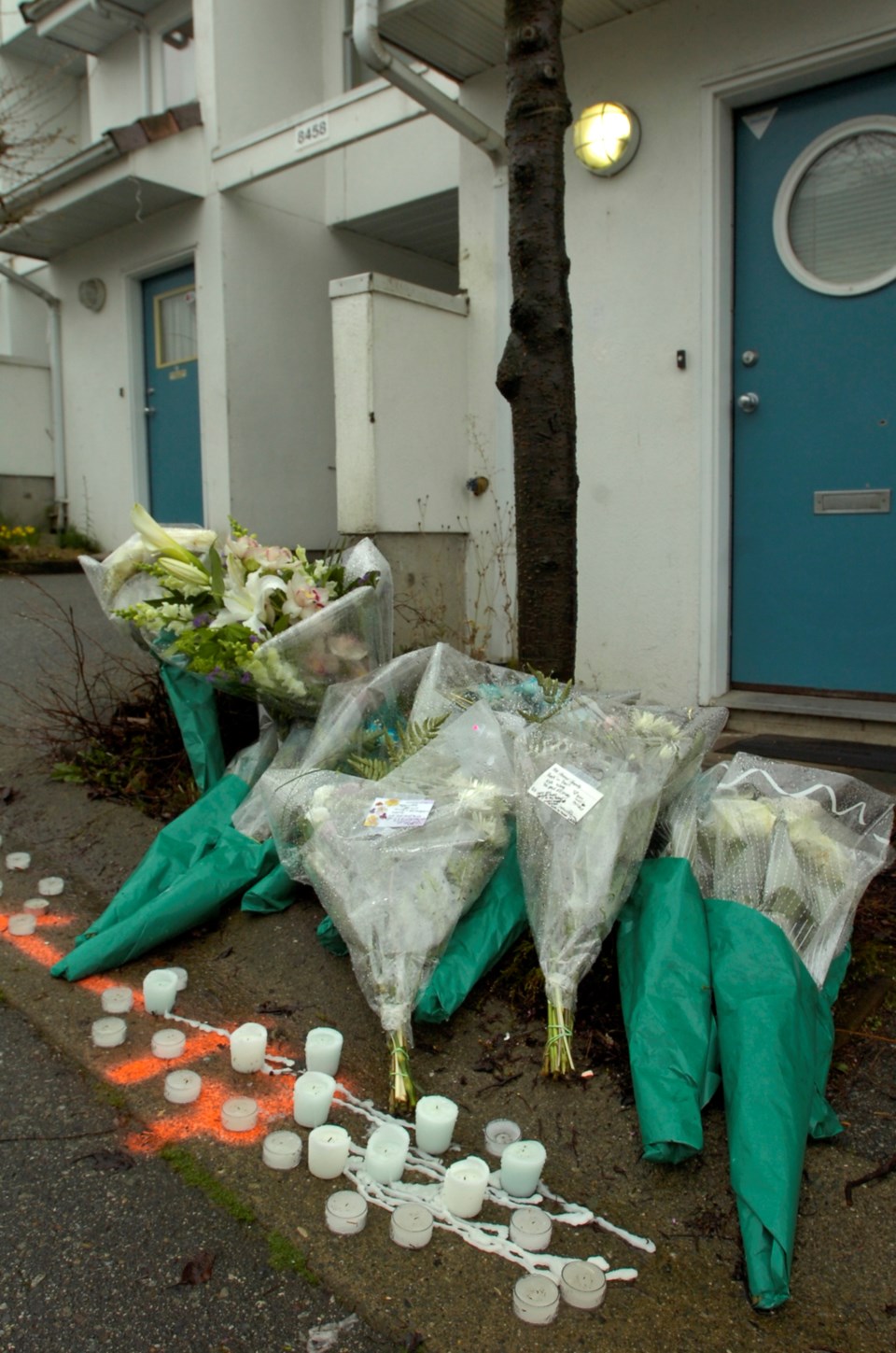 Two weeks later, Pritpal Singh Virk, 19, died of gunshot wounds after police found him in the 400-block of East 54th Avenue. Then Earl Steve Seymour, 40, died Feb. 5 after a gunman shot him in a van in the 300-block of Carrall Street. Matthew Ryan Wall, 26, of Vancouver is charged with first degree murder.
"The people who become involved in this are risk takers," says Robinson, sitting in an empty media room at the VPD's offices on Cambie Street. "To be involved in gangs, the drug trade and gang crime, it had better be worth your life because that's exactly what's at stake."
As of Feb. 27, the gang task force has checked 5,754 people, stopped 1,820 vehicles and searched 6,340 unoccupied vehicles since beginning operations in November. Police seized 15 guns, five sets of body armour and four vehicles customized with armour. Investigators recovered 11 pounds of marijuana, one kilogram of cocaine and $63,000 in cash.
The task force's work led to 28 arrests and 46 charges, including possession of guns and drugs.
Jong Ca John Lee wasn't among the suspects, but his name is well known to Robinson, whose VPD members arrested Lee in April 2007 after responding to a hang-up 911 call.
Officers arrived at 1128 Quebec St., near Science World, and knocked on Lee's door to investigate why the caller hung up. When Lee opened the door and then quickly attempted to shut it, police were shocked at what they saw. "There were firearms all over the place," Robinson recalls.
Pistols, military assault rifles and a military-grade MG82 machine-gun on a tripod were among the 10 guns. Some were loaded, some had defaced serial numbers and there were almost two dozen magazines of ammunition and at least one silencer.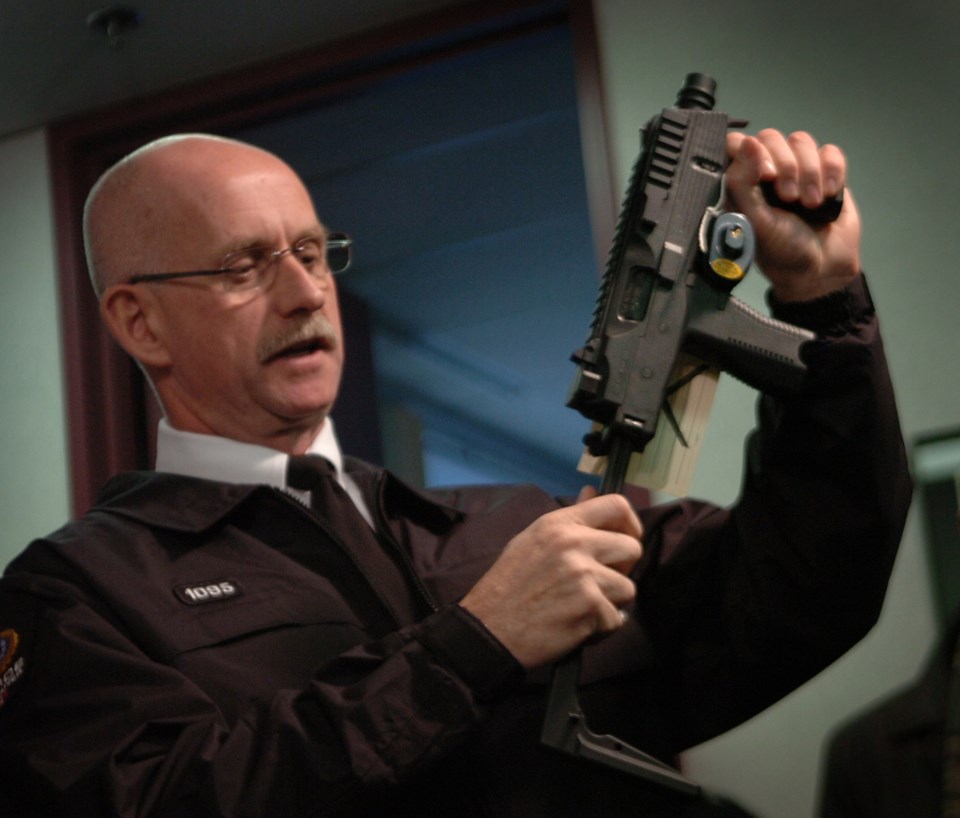 Lee pleaded guilty in September to the gun possession charges and to possessing 3.5 kilograms of ecstasy, 900 grams of marijuana, a stun gun and three stolen Canadian passports. Police also found $4,000 in cash, a balaclava, cellphones, BlackBerries and military paraphernalia. It was enough evidence for Robinson to conclude the obvious. "There's an individual that, I believe--even though he refuted it--was in the business of providing illicit firearms to criminals."
Lee is serving five years in prison. Now police are trying to determine where the guns originated. That's the job of the National Weapons Enforcement Support Team (NWEST), which traces guns recovered by police across the country. Det. Bruce Pearce of the VPD is a member of NWEST, which is operated by the RCMP. Pearce says police traced five of the guns in the Lee case to the United States.
Police obtained trace results that listed the first legal purchasers and are continuing to investigate how the guns got across the border into Lee's apartment.The original purchasers won't be contacted. The time from the purchase of the guns to police recovering them in Vancouver was too long to warrant a costly search and, ultimately, not relevant to the case.
"Too many years have passed," Pearce explains. "Unless it was a very, very serious crime, we're not going to try and track down the first purchaser of this gun from 16 years ago and try and follow the firearm through its various owners. It would be a huge amount of police work. And at the end of the day, you have to ask yourself what benefit is there to the taxpayer in spending that kind of money."
Adds Pearce: "But let's say somebody bought a gun in Las Vegas. It's in the records that the gun was bought in Las Vegas 20 days ago and it ends up in Vancouver. Then a situation like that, it would be worthwhile."
In the Lee case, police traced a .25-calibre pistol to a gun and tackle store in Port Richey, Fla. A resident of Spring Hill, Fla. legally bought the gun June 9, 1989--6,530 days before police recovered it in Vancouver.
Police traced a Colt AR15 .233-calibre rifle to a gun store in Bellevue, Wash. A resident of Tacoma legally bought the gun Feb. 7, 1998--3,365 days before it was found among Lee's arsenal. The three other guns--a 7.62 calibre rifle, a .22 calibre pistol and a .45 calibre pistol--were traced to California, Las Vegas and Louisiana.The other guns police recovered at Lee's apartment either had their serial numbers obliterated or trace requests to other countries were not returned.
Pearce credits the U.S. Bureau of Alcohol, Tobacco, Firearms and Explosive (ATF) for providing records of the first purchasers of the guns. "They have experts with a huge amount of expertise in tracing firearms," says Pearce, noting the ATF has sponsored gun smuggling conferences in Vancouver. "Without them, I would say that things would become more difficult for us."
ATF agent in Vancouver
Terry Alverson is intimately familiar with the workings of NWEST and the thriving illegal gun market in the Lower Mainland and the rest of the province.
Alverson is a special agent with the ATF and has worked out of the U.S. Consulate in downtown Vancouver for four years. He is the point man for law enforcement in Western Canada on investigations involving Americans engaged in gun smuggling and other gun crimes.
Though the bureau's work includes tobacco, alcohol and explosives, Alverson says 95 per cent of his job is dedicated to gun-related cases. He cites a case two years ago that best describes his effectiveness in working with Canadian police to capture criminals attempting to smuggle guns from the United States into Canada. Police on Vancouver Island recovered a gun and wanted to find out the last known legal purchaser. An NWEST member on the island contacted Alverson, who discovered the gun was purchased 12 days earlier in Washington State.
He and his colleagues in Washington State were led to Christian Lindsey, a U.S. citizen attending Simon Fraser University at the Burnaby campus. Agents learned that Lindsey, who was in his 20s, legally purchased more than 45 guns at various gun stores in Washington State and made repeated trips to B.C. during that time.
His name was given to Canada Border Services Agency and two days later he was arrested on a commercial passenger bus attempting to come into B.C. Investigators recovered six guns and Lindsey was charged and later sentenced in B.C. to 15 months in prison. Alverson believes Lindsey has since been deported to Washington State. "We don't know for a fact, but we have a pretty good idea that most of those guns probably came to Canada because that appeared to be what he was doing. But not all of them have been recovered yet."
Americans like Lindsey take the risk of smuggling guns because it is lucrative, says Alverson, pointing out that a gun purchased for $300 to $600 in the U.S. can fetch up to a couple of thousand dollars in Vancouver.
Alverson says estimating the number of guns smuggled into Canada is impossible. He is typically involved in 20 to 30 gun-related investigations per year, some more serious than others.
In most cases, illegal guns recovered in B.C. are traced back to a dealer in Washington State. The state doesn't necessarily have more guns than others, but it does share a border with B.C. "It has a lot to do with geography."
In Washington State, a U.S. citizen who legally purchases a gun can sell it to his neighbour without filling out any paperwork. Firearms are freely sold at gun shows and garage sales.
As far as Alverson knows, there are no plans to change U.S. federal laws that allow such a provision, although he adds he can't speak for each state and its laws. "This gets into the whole issue of gun control in the United States. It's a topic with people on both sides of the issue [who] feel very strongly either way, and it's an issue that's gone back and forth for years and will probably continue for years."
For Cpl. Norm Massie of the RCMP's border integrity unit, the provision in U.S. law that allows private sales of guns is a big concern to him and his investigators.
It's a fact, he says, B.C. residents attend gun shows and garage sales in Washington State to buy guns and smuggle them across the border--on foot, in a vehicle, by boat and aircraft. "If you've got the money, you've got the gun--no questions asked," he says, adding that B.C. residents also pay U.S. citizens to legally buy guns for them. "If an American is questioned about this, all they have to say is that it was stolen from his house."
Massie spoke to the Courier from a non-descript RCMP building in Surrey, where he displayed 14 handguns--several with silencers--seized in a smuggling case now before the courts.
He pointed out where the guns were manufactured: Mint Hill, N.C., Atlanta, Ga., Smyrna, Ga., Bellflower, Calif., Irwindale, Calif., among other states. Gun sales over the Internet have also drawn Massie's team into cross-border investigations.
Beretta 93R machine pistol
Octavian Emilian Olaru, 19, of Port Coquitlam pleaded guilty in January to one count of importing a prohibited weapon from the United States. RCMP arrested Olaru in Surrey in November after information relayed from the ATF showed the teenager was attempting to buy automatic weapons from gun dealers in the southern states. One of those dealers notified the ATF that Olaru was prepared to pay $6,000 for two machine-guns with silencers, a Glock 18C with a 33-round magazine and a Beretta 93R machine pistol and magazine.
Police set up a sting operation in a public space in north Surrey and posed as the deliverers of the weapons. RCMP deployed one of its emergency response teams to make the arrest. "He was by himself, and we don't have him associated to any gangs or organized crime," Massie says. "So we don't know what his intentions were, and that's what is particularly worrisome about this case."
Olaru is expected to be sentenced this week.
Canada has its own problems with guns within its borders.
Massie points out the Canada-wide Canadian Police Information Centre has roughly 85,000 registered guns on its system listed as missing since 1974. Most were likely stolen in burglaries from hunters, competitive shooters and others who legally bought the firearms. Then there's the unknown number of guns passed on through families that were never re-registered and are sitting in basements and closets.
"Take that 85,000 number and multiply it a whole bunch of times. Then look at the number of gangsters out there--and they're all carrying a handgun--and then it gives you an idea of what the numbers are of guns in this country."
The movie prop business is another matter. Under Canadian law, companies in business to supply guns to movies are legally allowed to import otherwise illegal guns. This includes fully automatic machine-guns. There are stringent guidelines to being granted such approval but there are loopholes, as police demonstrated in what was dubbed Project E-PORK in 2006.
The Integrated Gang Task Force, which oversees Robinson's task force, launched an investigation after a gang shooting in Regina, Sask. in 2005 led to the recovery of a semi-automatic handgun with the serial number removed. Police restored the serial number and traced the gun to the Royal Sportsman gun store in Burnaby. A probe led police to execute search warrants at the Royal Sportsman, Merrica Trading and Slav Industries, also of Burnaby.
Police believe more than 2,000 handguns from those businesses were sold to criminals, says Supt. John Robin of the Integrated Gang Task Force.
So far, police recovered 90 handguns across the country and another 127 pistols, with defaced serial numbers, from a man allegedly connected to the probe who lives on Beach Avenue in Vancouver. More than 1,900 handguns are still missing, says Robin, noting that four men are before the courts on various firearms charges.
"Most gun shops [and movie prop masters] are legitimate, but this is a gap that was identified that could be exploited by people who want to pump guns out on the street."
Canadian Firearms Centre records indicate 1,320 guns were registered to the Royal Sportsman, 851 to Merrica Trading and none to Slav Industries.
RCMP Sgt. Nathalie Deschenes in Ottawa says there are 103 businesses in Canada--65 in B.C.--licensed to possess prohibited firearms for use in television, movie, video, theatrical productions and "publishing activities." Of those, 61 are licensed only to possess prohibited handguns with a barrel length of 105 millimetres or less that discharge .25 or .32 calibre ammunition and 42 are licensed to possess all classes of prohibited firearms.
If the firearms are found in the possession of someone who is not authorized to have them, they can be traced back to the business through registration records, Deschenes says.
The business remains accountable for the firearms for as long as they remain registered to the business. Businesses are also subject to periodic inspections to confirm they are conducting business lawfully and can account for all firearms registered to them, she adds.
Police are working with the firearms centre to tighten rules and have federal firearms officers continue to check inventories of companies legally allowed to own otherwise illegal guns.
"Firearms officers in B.C. do their best and they're very diligent, but there's a number of gun shops in British Columbia and it's a fairly extensive process to do inventory checks," Robin says.
'Deactivating guns'
The law concerning gunsmiths deactivating guns also worries police. As Robin understands it, gunsmiths simply send a fax to the firearms centre saying a gun is deactivated, which means it can be sold to a collector or for means other than movies.
"There's no checks for showing that a gun, in fact, was deactivated," he says, pointing to an investigation in New Westminster that found so-called deactivated automatic rifles with serial numbers removed in illegal hands.
So where's the weakness in the police and political systems that have made the Lower Mainland a magnet for guns and gunplay?
It's a question Robinson takes a stab at before wrapping up the interview; Robin just called him on his cellphone and it appears urgent. "The weakness is spread throughout the entire system. Some of it's funding, some of it's got to do with legislation, some of it's got to do with some of the laws, some of it's got to do with prosecution issues, some of it's got to do with sentencing."
He pauses.
"A lot of it's got to do with police capacity and just how busy we are."
Robinson catches himself. He doesn't want to sound defeatist. He's coming up on 28 years on the job, and he's got a 20-year-old son wanting to join the VPD.
No doubt the guns are here, no doubt the city's violent crime rate is higher than other cities. But here's what's important, he says, leaning forward to make his point. "The last thing we need is to have everybody from the public to the police to the media to governments to the Crown to the courts become desensitized to this and say, 'You know what, it's cyclical, it's just the way it goes, we've just got to get over it, it's because we're a big city now and that's life.' Well that's wrong. It's not life and we shouldn't have to live with it. Period."