It seems unthinkable now, but Troy Stecher was a healthy scratch earlier in the season for a game against the Los Angeles Kings.
"You're never happy when you come out of the lineup," said Stecher later that week. "You're pretty pissed off, doesn't matter who you are."
There's no taking Stecher out of the lineup now, and not just because the Canucks' defence corps has been depleted by injuries and trades. Stecher has emerged as arguably the Canucks' best defencemen over the last couple months, or at least their steadiest and most reliable. In the process, he's made a strong argument to be a significant part of the Canucks' future.
After the Canucks returned this season with the same defence corps that struggled last season, GM Jim Benning has stated that overhauling the defence is going to be a priority. The trades of Michael Del Zotto and Erik Gudbranson this season have ensured that they can't stick with the status quo.
The 24-year-old Stecher, however, should be sticking around. While Benning and the Canucks have struggled in their evaluation and acquisition of defencemen, Stecher is a feather in their cap, growing from an undrafted free agent signing to a legitimate top-four defenceman.
Of course, it seemed like Stecher had earned that place by the end of the 2017-18 season, when he was playing big minutes alongside Alex Edler on the top pairing. It was odd to see him in a third-pairing role to start this season.
Part of that was arguably out of necessity. Head coach Travis Green and defence coach Nolan Baumgartner wanted to have Alex Edler and Chris Tanev as the top pairing to soak up tough minutes. They could have put Ben Hutton and Troy Stecher together on the second pairing, but that would have left a third pairing of Derrick Pouliot and Erik Gudbranson.
Instead, Hutton and Gudbranson got the second-pairing minutes, while Stecher toiled with Pouliot and Michael Del Zotto.
As the season progressed, however, Green and Baumgartner started to lean more and more on Stecher, eventually giving him significant minutes in all situations. Injuries played a role, but Stecher's steady play made it difficult to deny him those minutes. When they finally, mercifully ended the Hutton/Gudbranson experiment, Stecher was more than ready to step in.
You can see the growth in ice time for Stecher over the course of the season in the chart below. The blue line is his 5-on-5 ice time, expressed as a percentage of available ice time. The yellow line his short-handed ice time, again as a percentage. The red line is his 5-on-5 corsi (shot attempts for) percentage, as a rough guideline for his performance throughout the season.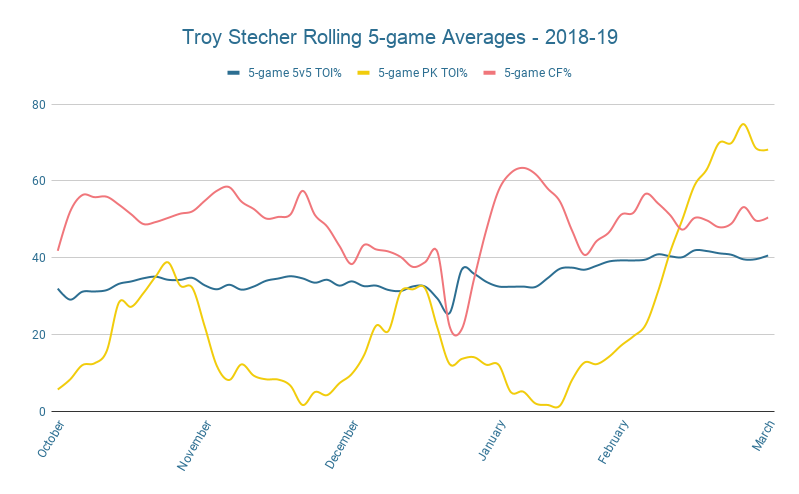 Stecher's 5-on-5 ice time has seen steady growth, but the big jump up comes on the penalty kill, where Stecher has become one of the leaders on the team. Since mid-February, Stecher leads the Canucks in short-handed ice time.
Part of that is obviously due to the injuries to Edler and Tanev, but it also seems to be an acceptance that Stecher is one of the best penalty killing options on the Canucks.
Those of us in the Smylosphere with an analytics bent have been arguing for Stecher to get more time on the penalty kill for a couple seasons now. That hasn't changed this season.
Here are Stecher's on-ice statistics at 4-on-5, along with his rank among the 120 NHL defencemen that have played at least 75 minutes in that situation.

Stecher is in the top tier of penalty killers in every single one of those statistics. The only Canucks defencemen ahead of him in fenwick and shots against is Edler.
For whatever reason, it's taken Green and the Canucks a long time to recognize Stecher as one of their best penalty killers. Part of it likely stems from a blind spot when it comes to undersized defencemen.
Stecher isn't the smallest defenceman in the league, but at 5'10" and 186 lbs, he's certainly below average. There's an assumption when it comes to smaller defencemen that they won't be as good defensively as a larger defenceman. A larger defenceman has more reach and presumably has the size and strength to win more puck battles.
Along with that comes the assumption that a smaller defenceman has to be an offensive defenceman, who can skate like the wind and put up points. Otherwise, why not go with a bigger player?
Someone like the 5'9" Jared Spurgeon, who is outstanding defensively, should have laid to rest those assumptions years ago, but they're hard to dismiss. Stecher's steady defensive play and excellent work on the penalty kill should silence any remaining doubters.
Instead of relying on size, Stecher uses his mobility to close gaps and prevent easy zone entries, both at even strength and on the penalty kill. In the zone, he uses his low centre of gravity and a smart stick to win puck battles against larger players and is quick to close off lanes with good reads and smart positioning.
In addition, Stecher can handle the puck, so when he does win a battle or pick off a pass, he's efficient at clearing it out of the zone, frequently with possession.
While Stecher may never be a big point producer — he's had limited success in his power play stints — his value as a two-way, puck-moving defenceman is clear.
Stecher is signed for one more season to a $2.325 million per year contract and will be a Restricted Free Agent when it expires. That gives the Canucks a chance to see where Stecher fits in their defence corps as they revamp it with prospects and free agents, and also gives Stecher a chance to make his mark. Judging from this season, Stecher won't disappoint.