Alex Beim's notion of high art doesn't come with any of the pretenses around don't touch, don't participate or don't photograph.
In his world, participation is the essential element in making the artistic boat float.
Such will be the case when he's done with Ackery's Alley, a laneway that sits adjacent to the Orpheum Theatre. Beim's art and design firm Tangible Interaction is in the process of transforming the space into a live, interactive art installation complete with sensors, light and sound.
Slated for completion towards the end of October, the concept is called "Field."
"I love the English language because of how much meaning you can put into a single word," said Beim, who was born in Uruguay. "I love the idea of Field as a field of light, a place to work and play or a space where people can congregate."
Through 35 sensors and accompanying lights, the project will emit sound and light unique to a person's height and movement in the alley. Beim's firm is also behind the OH! project at Science World that sees users control the large dome's light through a miniature version nearby. 
Beim was brought on board to the project alongside the Downtown Vancouver Business Improvement Association and HCMA Architecture + Design under the banner More Awesome Now. The City of Vancouver has also tossed some grant money towards the group.
More Awesome Now was also behind the Alley Oop project on Hastings Street between Granville and Seymour. Opened last fall, the laneway was reimagined with paint, basketball hoops, hopscotch and patio furniture.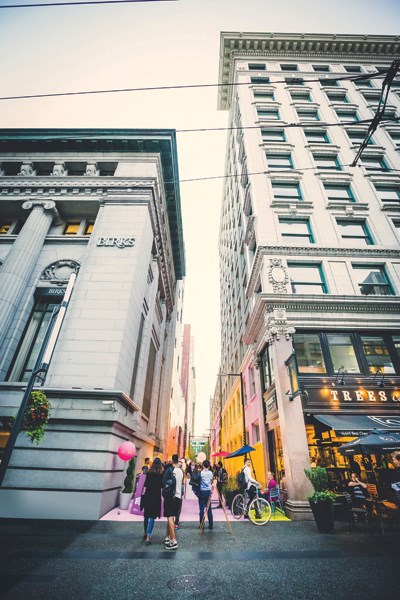 HCMA principal Paul Fast said foot traffic in the alley increased 200 per cent after Alley Oop's completion. Out of that number, there was a further 50 per cent increase in the amount of female pedestrians, an indicator Fast sees as a sign of increased safety.
"We recognize that what our cities need from us these days is different than what our cities needed from us 10 or 20 years ago," Fast said. "We need to start collaborating with more people outside of our discipline, we need to start thinking beyond the traditional boundaries of our practice and kind of reinvent ourselves."
Getting Field off the ground started with a Kickstarter campaign that surprised everyone involved. An initial goal of $35,000 was set, and double that amount was raised in three weeks.
Construction is expected to begin on Field with the last few weeks of August, with a tentative opening slated for October.